Best places to stay Cornwall – The historic county of Cornwall is in southwest England and it is a holiday destination for thousands each year. This beautiful area is wonderful to visit year-round and is full of activities such as watersports, golf, fishing, hiking, birdwatching, wine tasting, shopping, train rides, boat tours, and biking.
Cornwall is home to wonderful fishing villages, resort beach towns, and charming cities. This list will tell you the best places to stay in Cornwall and which villages you must visit on your next holiday. 
1. Fowey 
This small town at the mouth of the River Fowey is rich in history and natural beauty. Located on the south coast, Fowey is one of the places from which the D-Day invasions were launched and is also known for its history of exporting china clay. This town is considered one of the best areas to stay in Cornwall thanks to its relaxing atmosphere, stunning views, historic castles, and beautiful beaches. 
Things to see and do in Fowey
Fowey is home to several beautiful castles, the most famous is St. Catherine's castle and it is certainly worth the visit with its stunning interior and amazing views of the town and sea below. You can also visit Polruan Castle and Castle Dore for more incredible seascape views. Additionally, while you are in Fowey make sure to see the sunset from Polruan Hill, hike in the Fowey Estuary, and take the ferry to the small town of Bodinnick. During the summer you should also check out the Fowey Town Hall museum and aquarium. 
2. Newquay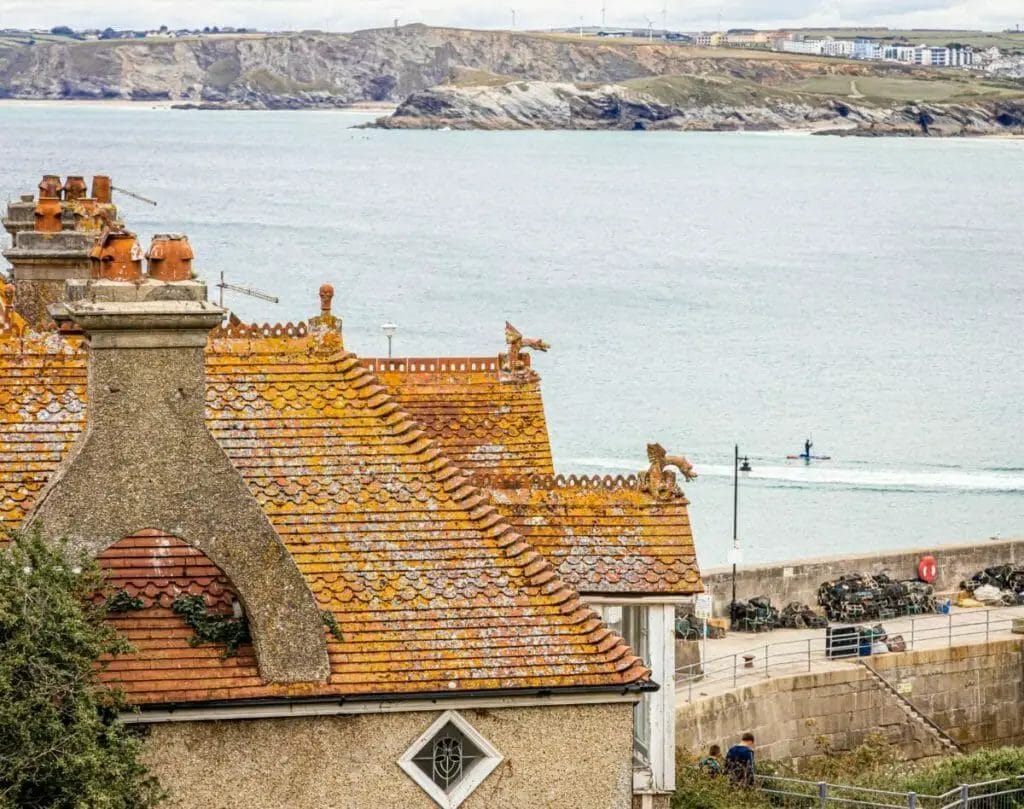 If you are visiting Cornwall, this seaside town must be on your list of places to visit. Newquay is a center for aerospace engineering and has a large fishing industry, but is becoming increasingly focused on the touristic sector. This vibrant town is known for its watersport competitions, parties, festivals, independent shops, world-class beaches, and fun family activities. 
Things to see and do in Newquay
This cool place to stay in Cornwall offers surf lessons, shopping, the Blue Reef Aquarium, Newquay Zoo, and twelve beaches to choose from. Fistral beach is a popular destination for tanning and surf lessons while Towan beach is a surfing hotspot (→ Book your surf course here*). But no matter the beach you choose, you won't be disappointed by its natural beauty. Nearby is Kappa Valley where you can take train rides or boat trips as well as Watergate Bay with great surf, food, and watersport activities. If you want a range of activity options, visit Trenance Gardens and Boating Lake for a mini railway, tennis, crazy golf, playgrounds, swimming pool, boating, and more. 
3. Truro 
This county town was developed between the rivers of Allen, Kenwyn, and Truro, hence the name Truro which is Cornish for three rivers. It is a center for 
administration, leisure, and retail trading as well as an area filled with fine dining, cycling, nature, markets, culture, outdoor spaces, and shopping.
Things to see and do in Truro
There is plenty to do and see in the town of Truro, beginning with the Truro Cathedral, an amazing Gothic revival building with Victorian stained glass. The best part is that it is open daily, with no entrance fee, and has guided tours every day at eleven. A four minutes walk away is the Royal Cornwall Museum with science, local history, and art. For beautiful gardens, visit the Trelissick garden which is protected by the National Trust, and the Victorian Gardens with perfectly manicured grass, a fountain, and a waterfall. If you want even more outdoor time, check out the Cornwall Area of Outstanding Beauty for activities such as hiking, birdwatching, row boating, and paddle boarding. 
4. Penzance 
It is hard to think of this town without being reminded of the famous play of The Pirates of Penzance. However, this beautiful town offers much more than this legacy. Overlooking Mount's Bay, Penzance is one of the coolest places to stay in Cornwall with its vibrant art scene, sandy beaches, coastal walks, quirky cafes, subtropical plants, and winding cobblestone streets. 
Things to see and do in Penzance
When visiting Penzance make sure to visit the Penlee House Gallery & Museum, Newlyn Art Gallery, Tremenheere Sculpture Gardens, and Tanglewood Wild Garden. You should also visit the Polgoon Vineyard Ltd where you can stroll through the orchards and sample delicious wine.
If you visit in late June, you will be treated to the Golpean Festival which is a revival of an ancient festival that celebrated the arrival of Midsummer. This ten-day celebration involves live music, fun events, amazing food, and even fireworks.
Then in December, there is the Montol Festival to celebrate the winter solstice. The culmination of this event is the lantern parade and lighting of the Cornish Yule log on the eve of the winter solstice. 
5. Port Isaac 
The name Port Isaac comes from the Cornish words for "corn port" but this small fishing village is hardly known for trading corn anymore. Now this village is most known for its charming 18th and 19th-century cottages, narrow streets, exports and imports of coal, pottery, and timber, as well as being the backdrop for the television series Doc Martin (→ Doc Martin Tour*). 
Things to see and do in Port Isaac
A trip to Port Isaac is guaranteed to be a tranquil experience. Spend your time here by walking along the coast, taking a fishing trip from the picturesque harbor, visiting their rocky beach or driving to nearby sandy beaches, and visiting Port Quin. You can either drive to reach Port Quin or even walk there from Port Isaac, which will provide amazing coastal views throughout the hike. Before you leave, also make sure to walk through Squeeze Belly Alley which is adequately named, considering it is one of the narrowest passageways in Britain.
6. Marazion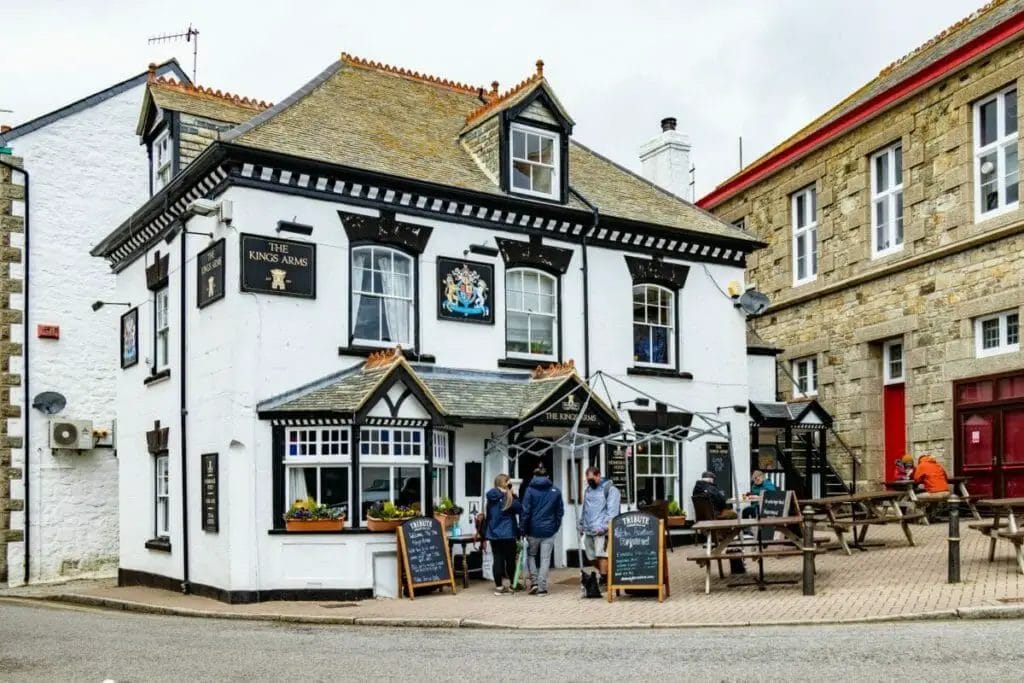 Marazion is the oldest town in Cornwall and was once a busy tin trading port. Now it is a tourist resort with a lively art scene, historic pubs, artisan shops, and popular beaches. This quaint town is filled with old merchant's houses, local artists, pottery shops, and activities for kids.
Things to see and do in Marazion
Perhaps the most famous landmark of Marazion is St. Michael's Mount, a castle sitting on top of a fantastical island surrounded by turquoise water. To reach this monument you can walk across the sand when there is a low tide or take a ferry at high tide. After touring the beautiful castle, make sure to grab lunch at the 
island restaurant and soak in the stunning views. Back at Marazion, spend your days sailing, surfing, kayaking, or tanning on the beaches before strolling the streets at night, and checking out the local galleries and markets. Other activities include biking to Mousehole, a picturesque fishing village, or birdwatching at the RSPB Bird Sanctuary. 
7. Padstow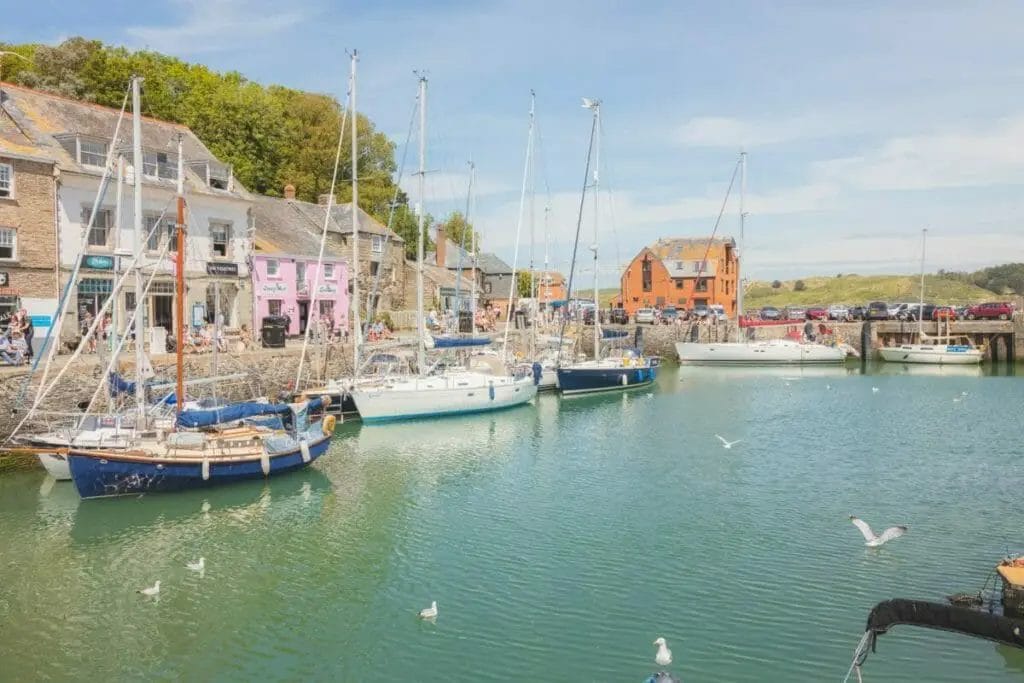 It can be hard to choose when visiting Cornwall where to stay when there are so many beautiful towns to choose from. However, Padstow makes the decision-making process a little easier because there is no way you can miss this place! This small fishing town with amazing beaches, rugged coastline, excellent cuisine, family attractions, and more is a popular holiday destination for all. Not only is it known for being a great get-away town, it is also where celebrity chef Rick Stein opened his first kitchen. 
Things to see and do in Padstow
If you are a foodie, Padstow will be your personal paradise. There are ice cream parlors, pastry shops, chip shops, and pub gardens galore. For a fancier bite, go to the Trevibban Mill Vineyard and pair wine with a delicious lunch, visit the National Lobster Hatchery for a tour and fresh seafood, and of course, try Rick Stein's Fish and Chips.
Once you have eaten more than enough food, you can move on to the non-culinary activities of Padstow such as hiking the Camel trail along the Cornish coast, visiting the coastal village Rock, taking a boat trip on the Jubilee Queen, and tanning in the sheltered area of St. George's cove.
8. Falmouth 

This resort town is known for its large natural harbor, three beaches, and young atmosphere. Falmouth is a working harbor town and is one of the biggest towns in Cornwall. Many come here for the amazing energy of the place, Falmouth has a fun, bohemian vibe that enchants all visitors. 
Things to see and do in Falmouth
To begin your day, buy some fresh pastries and head over to Pendennis point for a relaxing start to your day (and the possibility of seeing dolphins and seals). Afterward visit the National Maritime Museum Cornwall for its undersea gallery, lookout tower, performances, history lessons, and major exhibition of Titanic Stories.
Your next stop from here will be wandering the lively streets and finding your favorite gastropub for lunch. After this, it is time for a drink at one of the many coffee shops Falmouth has to offer. A great option is Jam Records, a tiny retro cafe with vinyls, technological relics, and quality coffee. The next stop is The Poly, a collective for live events, theatre, cinema, art exhibitions, pottery workshops, concerts, and more. You won't want to miss this unique place.
To end your day, have dinner at the famous Wheelhouse Crab and Oyster Bar (only open Wednesday and Saturday) then grab a drink at The Chintz, a quirky Alice in Wonderland-themed bar with live music and open mic nights.
9. St. Ives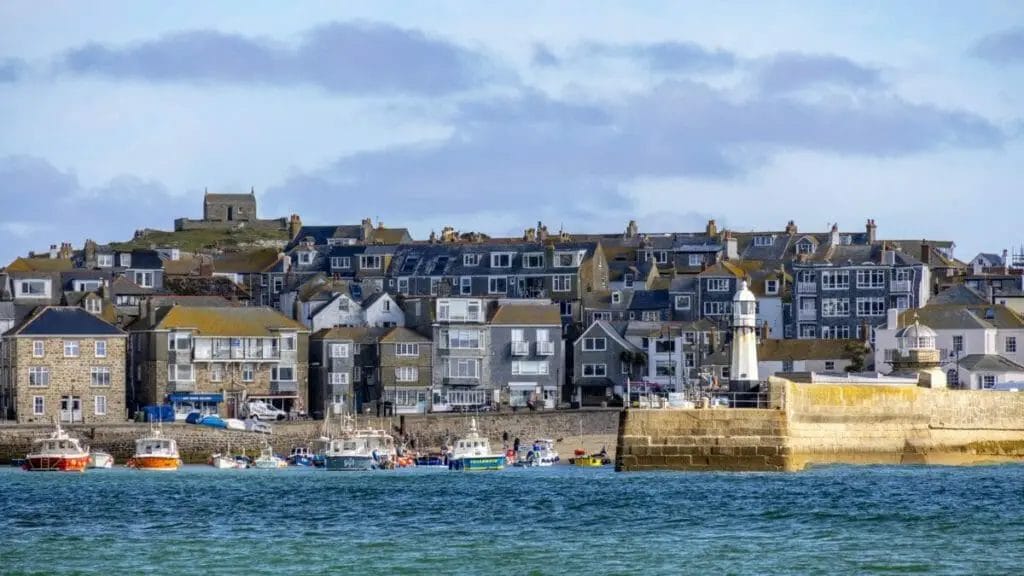 This busy seaside town is famous for its artistic heritage, former fish exportation to Portugal and Spain, and mining industry. Now it is one of the best places to stay in Cornwall, with a beautiful harbor, narrow cobbled streets, great beaches, and family-friendly activities, you'll never want to leave.
Things to see and do in St. Ives
There are many beaches to choose from but two of the best are Porthmeor, which is great for surfing, and St. Ives Harbour, which is fun for the whole family. You can also take a boat to Seal Island, where you will see lots of sea life and capture amazing photographs of the Cornish coastline. On the mainland, visit Tate Gallery for contemporary art and the Barbara Hepworth museum and sculpture garden to see Hepworth's world-renowned works. Besides this, simply walk around the narrow peninsula of St Ives and browse the great beach cafes, seafood restaurants, pubs, and coffee shops. 
10. Looe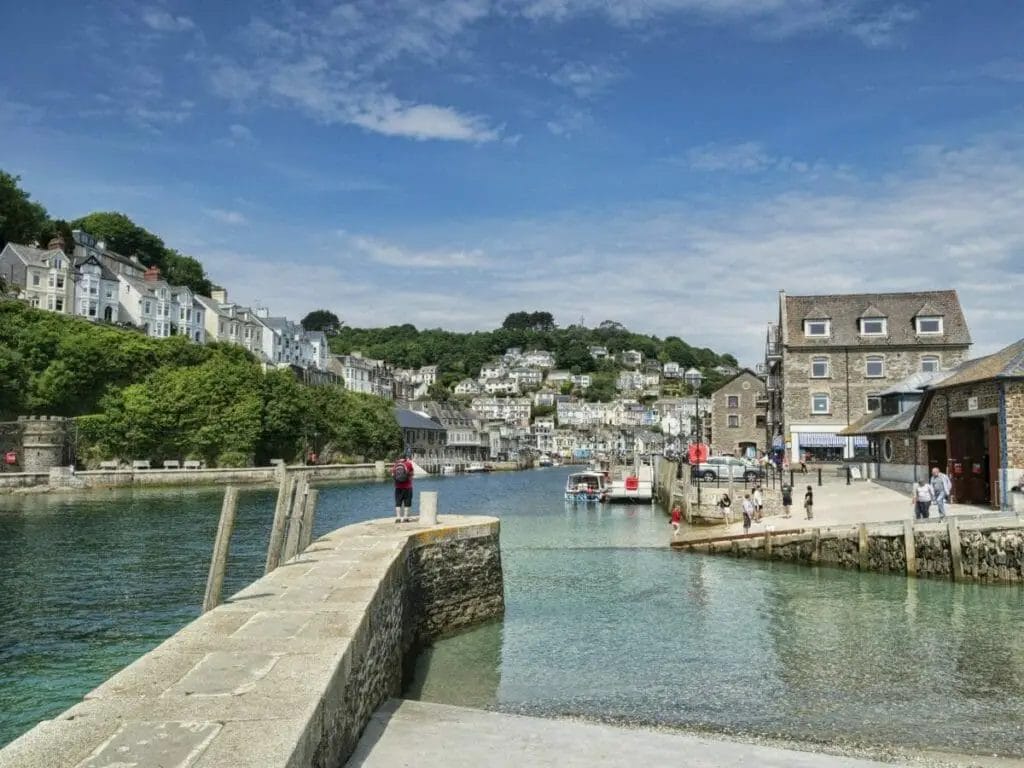 This holiday resort town is great for the whole family with its festivals, snorkeling, boat tours, hiking, museums, churches, and amusing activities. The unique fishing village of Looe is separated by River Looe, creating an East and West Looe which are joined together by a bridge. East Looe is considered to be more popular and lively while West Looe is more tranquil. 
Things to see and do in Looe
Looe offers the usual vacation activities plus much more. Here you can tan on the beach, go shopping at the malls, paddleboard on turquoise waters, and visit old museums and churches. Taking it up a notch, you can also go to the Adrenaline Quarry for zip lining, an aqua park, go-karting, and ax-throwing. Or visit the Woolly Monkey Sanctuary. Or take a shark fishing tour. Or attend the Looe Music Festival, if it is September.
There is almost too much to do! But don't get so distracted that you forget to visit the Looe island (or St George's Island), which is a part of the Whits and Looe Bay marine conservation zone. This beautiful natural area is well worth the visit and has a wonderful history.
11. Bude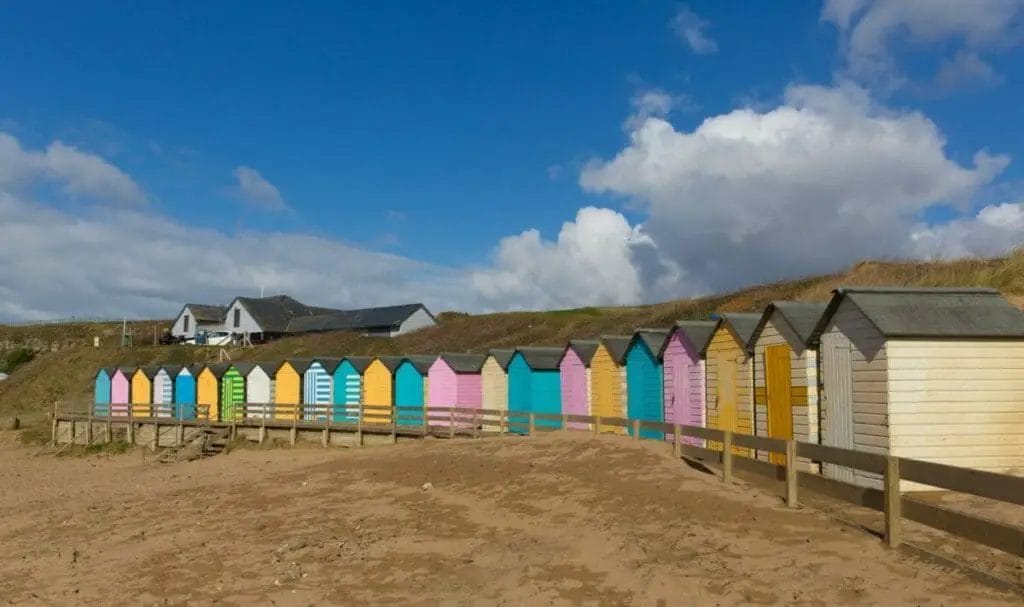 The town of Bude first became popular as a resort area in the Victorian era when hundreds flocked to the golden sand beaches for sunbathing and relaxing. Nothing much has changed, this town in northern Cornwall continues to be a tranquil destination with stunning beaches and laid-back activities. Surrounded by miles of wild countryside and sandstone cliffs, it is easy to see why people keep returning each year.
Things to see and do in Bude
Bude is a wonderful place to visit year-round. During the winter the streets are lined with hot chocolate stands, and Christmas markets and the cozy restaurants glow with seasonal cheer. On Christmas Day there is even a traditional swim in the freezing ocean where many dresses in Santa outfits. During the summer you can swim in the turquoise water, hike in nature, and walk the town while enjoying the sun. For family fun, visit the Summerleaze beach or Tamar Lakes Country Park for canoeing, cycling, boating, windsurfing, and swimming. There is also the Bude Sea Pool which offers calm water and tanning on sunbathing terraces.
A short drive away is the Gnome Reserve in West Putford which hosts the world's largest collection of garden gnomes. Not only is this a quirky and hilarious place for photos and laughs, but it is also a gorgeous woodland reserve with impressive trees and wildflowers. 
12. St. Just 
Originally the center of the tin mining industry, St Just (also known as St Just-in-Penwith) has managed to preserve its stone architecture and character all of these years. The historic town is surrounded by natural landmarks, prehistoric sites, and the beautiful Cornish coast. 
Things to see and do in St. Just
While you are visiting, walk around Cape Cornwall and enjoy the St Just Coastal walk which spans for 3.5 miles. Nearby is the Land's End Landmark Attraction, where you can take stunning pictures and walk with views of the sea. Next up is the Maison Nature et Megalithes discovery center and discovery trail which show you the standing stone megaliths. Before heading back to St Just, also stop at the Botallack mine and Geevor Tin Mine for a great underground tour led by ex-miners. In the town of St Just you need to see the modern gallery space of the Jackson Foundation and the charming Tregeseal Gallery. 
13. Bodmin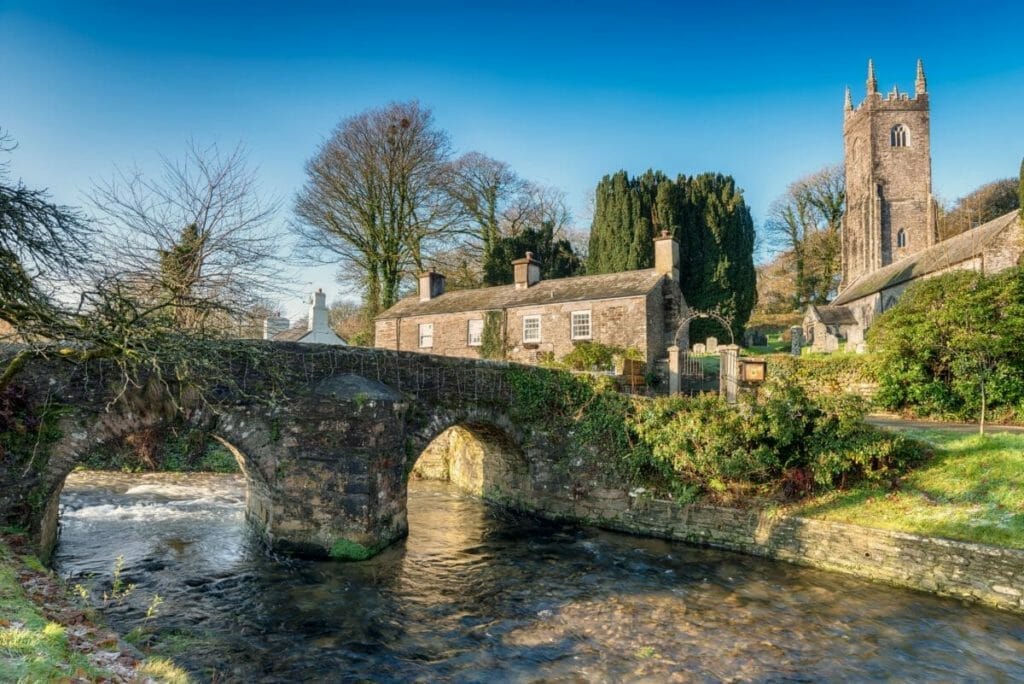 When deciding where to stay in Cornwall, don't overlook this inland town. This former county town is surrounded by expansive countryside, has many historic houses, is rich in history, and has lovely winding streets.
Things to see and do in Bodmin
In Bodmin make sure to see St Petroc's church (the largest parish church in Cornwall), the Bodmin Keep military history center and the famous Bodmin Jail for a ghost tour. Once you've walked around the town, take a ride on Bodmin and Wenford steam railway for scenic views of the romantic countryside.
Nearby there is also Lanhydrock, an impressive Victorian country house and estate preserved by the National Trust. For a hiking adventure, venture onto the Camel Trail for an eleven-mile trek to Padstow, or to simply sit in nature, catch the sunset at Bodmin Moor. 
14. Tintagel 
History buffs will immediately recognize this town as the supposed birthplace of King Arthur, but Tintagel has much more to offer than this legend. This wonderful town is full of natural beauty, interesting history, culture, and quaint stores for window-shopping. 
Things to see and do in Tintagel
The most famous landmark in the area is Tintagel Castle, where you can see paintings, and sculptures, and learn about King Arthur. Recently a new footbridge was constructed, leading straight to the castle entrance and crossing over a large natural chasm. The best ocean-related activities include visiting Tintagel Haven beach, Barras Nose cliff area, West cave, Merlin's cave, Bossiney cove, and Benoath cove.
On the outskirts of Tintagel, there is also the woodland destination of St Nectan's Glen which is home to St Nectan's Kieve, a 60-foot-high waterfall. It is believed to be one of the UK's most spiritual sites. In the town itself, be sure to visit the cute Tintagel Toy Museum, where you will find collectibles, comic
books, and a crystal collection. It is a small museum, but the free entry and childhood memories make the visit well worth it. 
What is the best area to stay in Cornwall? 
The best area to stay is North Cornwall, it is teeming with quaint fishing villages, natural wonders, and fun activities. As already mentioned, there are the towns of Bodmin, Bude, Port Isaac, Rock, and Tintagel in this area. However, you can also visit the charming villages of Mawgan Porth, Boscastle, Wadebridge, and Launceston.
Spend your days hiking, surfing, touring museums and galleries, eating amazing local food, wine tasting, and so much more. In North Cornwall, your home base should definitely be Newquay as it is a lively town with plenty of things to do. As for your hotel reservations, the best places to stay are The Headland Cornwall and Fistral Beach Hotel and Spa. They are on the expensive side but well worth it for the amazing hospitality and atmosphere. 
Where is the prettiest place in Cornwall? 
No Cornwall stay is complete without visiting the Lost Gardens of Heligan. There are so many places from which to choose, but this is the prettiest place in Cornwall thanks to its spiritual vibrance, unique qualities, exotic flair, and tranquil environment. This destination encompasses 200 acres and is considered to be one of the finest gardens in England.
Here you can see wild animals, admire the amazing variety of subtropical plants, relax in the Pleasure Garden, and explore the only outdoor jungle in the UK. This jungle is full of exotic plants, stunning views, bamboo tunnels, picturesque wood boardwalks, giant rhubarb, banana plants, and a rope bridge hanging 100 feet high.
After your jungle adventure, make sure to stop at the Heligan Kitchen & Bakery for a Cornish Cream tea and fresh pastry or perhaps a light lunch created from the produce in their productive garden. 
Which is the best seaside town in Cornwall? 
Gorran Haven is the best seaside town in Cornwall because it isn't filled to the brim with tourists and it is a tranquil place with outstanding natural beauty. This village is in southern Cornwall, and it is a traditional town with fisherman's cottages and 13th-century buildings. It is a wonderful place to get a true sense of the UK and its history, without all the tourist attractions. This is a place to relax, surf, paddleboard in the cove, and hike.
At the end of the day go to the Barley Sheaf at Gorran for a pint and friendly faces. Alternatively, in the nearby town of Mevagissey, you will find a lively nightlife scene with fun clubs and pubs. Also, the Lost Gardens of Heligan happen to be right in this area so you can see the prettiest place in Cornwall and the best seaside town, all in one. 
More travel tips for you
Feel free to follow us on our social channels, like Facebook, Instagram, and Pinterest. On these platforms, we take you with us on our current trips and show you magical pictures & videos and reveal our best travel tips.
*In this post, we use so-called "affiliate links" (advertising links). These direct you to products and services that we can recommend to you 100%. If you book or buy something through these links, we will receive a small commission as a thank you. You will not incur any further costs. This advertising revenue helps us to offer all our content, images, and videos completely free of charge to you.
This might be also interesting for you