No matter what type of trip you are searching for, Italy is the answer. There are sleepy beach towns for the relaxed vacationer, historic cities filled with museums and culture for the history buff, wondrous landscapes for the adventurer, romantic destinations for couples, vibrant cities full of nightlife for the partier, and incredible cuisine at every corner for the foodie.
It is very difficult to compile a list of the most beautiful and best cities in Italy to visit because there are too many from which to choose. This sunny country is truly overflowing with beauty, but in this list, we've managed to narrow down the options so you can see the best of the best cities in Italy.
These 17 very best cities in Italy offer dramatic landscapes, colorful coastlines, mouth-watering food, shopping, culture, vibrant art scenes, famous landmarks and churches, world-famous museums, ancient ruins, lively nightlife, festivals, and much, much more. 
1. Best Cities in Italy – Lucca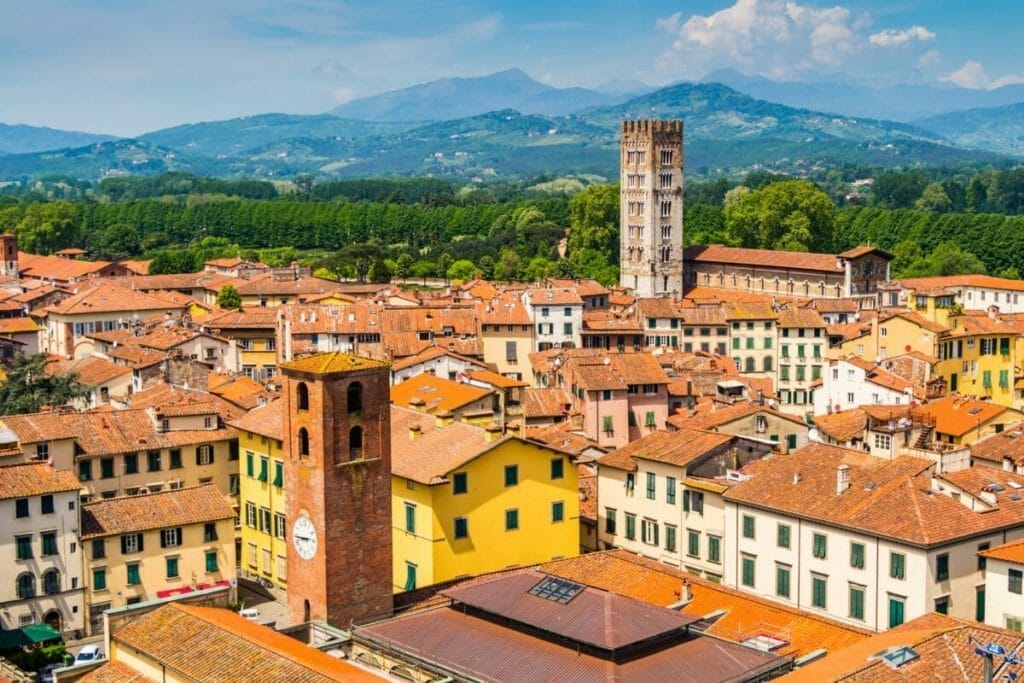 This beautiful Italian city nestled in the Tuscan countryside is considered by many to be the hidden gem of Italy. Lucca is best known for its historic city center which is surrounded by an impressive 16th-century stone wall. It is a great place to see religious sites that aren't overcrowded; while you're there you can visit the Duomo di San Martino, Saint Micheal's church, and Saint Frediano's basilica. This historical city also has many Roman monuments, one of which is the Roman amphitheater.
After visiting these important sights, you can indulge yourself by visiting Via Fillungo, the main shopping street in Lucca. Shopping can be followed by a delicious dinner of Lucca's specialty pasta, tordelli lucchesi, a flour and egg pasta stuffed with meat and topped with even more meat. To finish this decadent meal, try a slice of buccellato, a traditional sweet bread cake made in Lucca.
As you finish your visit to Lucca, you can also plan a day trip to Pisa, one of Tuscany's most famous cities. Pisa is predominantly known for the Leaning Towers of Pisa and is filled with tourists, so a day trip may be all you need. Btw: Here are some common travel mistakes in Italy and how to avoid them.
2. Rome
There is certainly a reason why millions of people visit Rome each year. This city is filled with historic landmarks, entertainment, lively nightlife, art, and family-friendly activities. On the top of your list should be the Colosseum, Roman Forum, and Palatine Hill. Even if you aren't a history buff, these ancient landmarks will awe you with their grandeur (and besides, have you ever been to Rome if you didn't take a picture in front of the Colosseum?).
Rome is also home to many amazing museums, including The Vatican and the National Gallery of Modern Art. You'll also have to make sure you see the Trevi Fountain, St. Peter's square, and basilica. As for fun family activities, you can rent bikes and peddle your way through Villa Borghese, a giant park in the center of the city. If you aren't with family and looking for something to do at night, the Trastevere neighborhood is known for its vibrant bar scene as is Via San Giovanni in Laterano, which is considered to be the gay neighborhood of Rome.
Lastly, if you are visiting in the summer you must attend the Lungo il Tevere, an annual summer festival spread along the edges of the Tiber river. There is free theater, film, dance, art, and music, as well as many local artisanal shops, pop-up restaurants, and tiny bars. This festival starts at 5:00 pm, so it is a great way to relax after a day of sightseeing; you can grab an aperitif, sit by the river, and people watch as the sunsets. Conversely, this might be where your night begins, you can pre-game here with a tasteful craft beer or fruity cocktail before heading off to one of the nightclub districts. 
3. Venice
Venice is unlike any other city and is a must if you are visiting Italy. This floating island city is a magical maze of tiny alleyways, cobblestone streets, storybook bridges, and gondola-filled canals like the grand canal. If you are looking for an Instagrammable destination, look no further.
There are endless bridges, colorful houses, and unique alleys where you can shamelessly pose in front. One of the images most associated with Venice is of course the gondola rides and there is much debate as to whether the high price (usually 80 euros for half an hour) is worth it, but you can make that decision for yourself.
Other popular destinations in Venice include St. Mark's square, the Ca' d'oro museum, the Gallerie dell'accademia (hosting art by Leonardo da Vinci, Bellini, and others), and the Peggy Guggenheim Collection (hosting art by Dali, Picasso, Magritte, and others). Top off the night by walking through the lively Dorsoduro district and perhaps enjoying an Aperol Spritz. However, be careful how many drinks you have, the streets are hard enough to navigate sober and with daylight. 
4. Bolzano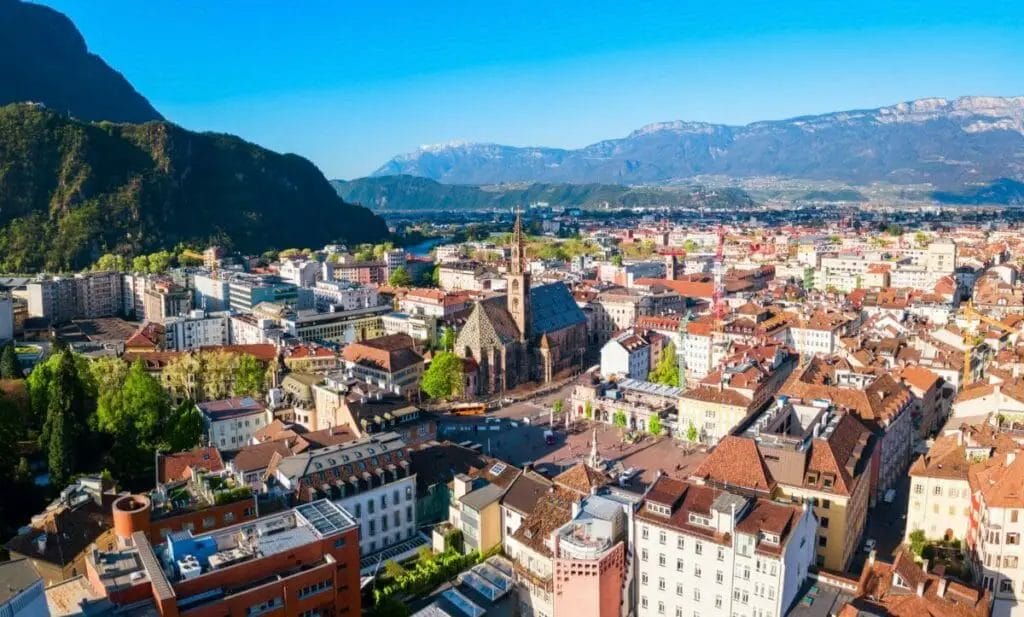 This sleepy mountain town is one of the best Italian cities to visit, especially if you need a break from fast-paced city life. The quaint town of Bolzano is close to the Austrian border and German is actually spoken more than Italian here.
The blending of these cultures has created a special atmosphere with beautiful houses, interesting traditions, and unique cuisine such as local cured ham, homemade gnocchi, pretzels, and fresh pork sausages. While in Bolzano, you can follow the lead of the locals and slow down your pace of life. Take a bike ride through the town, walk through the daily markets, and sample wine from one of the many local vineyards.
If you want a little more activity, you can also take a cable car up the mountains for panoramic views, hike one of the many trails in South Tyrol, or tour the medieval castles nestled in the hills. 
5. Naples
Naples is a coastal city filled with amazing food, art, and archeological treasures. While you are visiting you must have at least one pizza, as Naples is the birthplace of pizza. Sorbillo and Pizzeria da Michele are two historic pizzerias with amazing reputations.
If you happen to tire of pizza (which seems impossible), you can also try street food such as fried mozzarella cheese, a cuoppo of calamari, palle 'e riso (rice balls stuffed with different fillings), or lemon granita (a sort of lemon slushie). For a hole-in-the-wall, authentic Italian food experience, sit down at Osteria La Chitarra, everyone who eats there seems to have nothing but great things to say.
Of course, Naples has more than just food, as you walk around you will find plenty of street art, colorful markets, and beautiful beaches. If the street art doesn't quite satisfy your artistic cravings, check out the contemporary art at the Madre Museum and the Palace for the Arts in Naples.
As for archeological treasures, there is The Treasure of National Archeological Museum of Naples, the nearby city of Pompeii, the Capua Amphitheater, the Tomb of Agrippina, and so much more. 
6. Bologna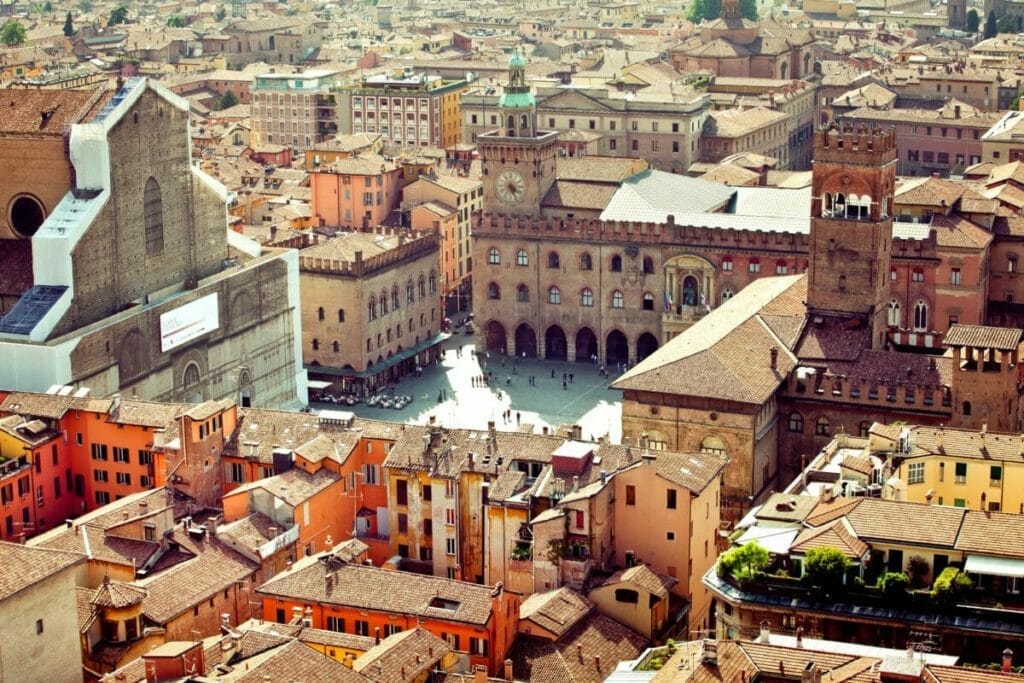 Bologna is a student city with something for everyone, from museums to food markets to film festivals. One of the first places you likely find yourself in is the San Petronio basilica, it is an enormous structure in the middle of the city and impossible to miss. It is definitely worth a visit inside, although you need to remember that like most Italian churches you need to wear modest clothing in order to enter.
Besides San Petronio, there are countless other churches to visit, but none are as impressive. As for food, you should visit their many food markets, two of the most popular are Mercato di Mezzo and Mercato del Erbe. Here you can try the famous Bologna tortellini or tagliatelle al ragu (thin, flat pasta with hearty meat sauce).
If you visit this northern Italian city during the summer there is an outdoor cinema called Sotto le Stelle and throughout the year there are also several film festivals. There are also many music festivals, live music bars, and outdoor concerts that occur year-round.
7. Milan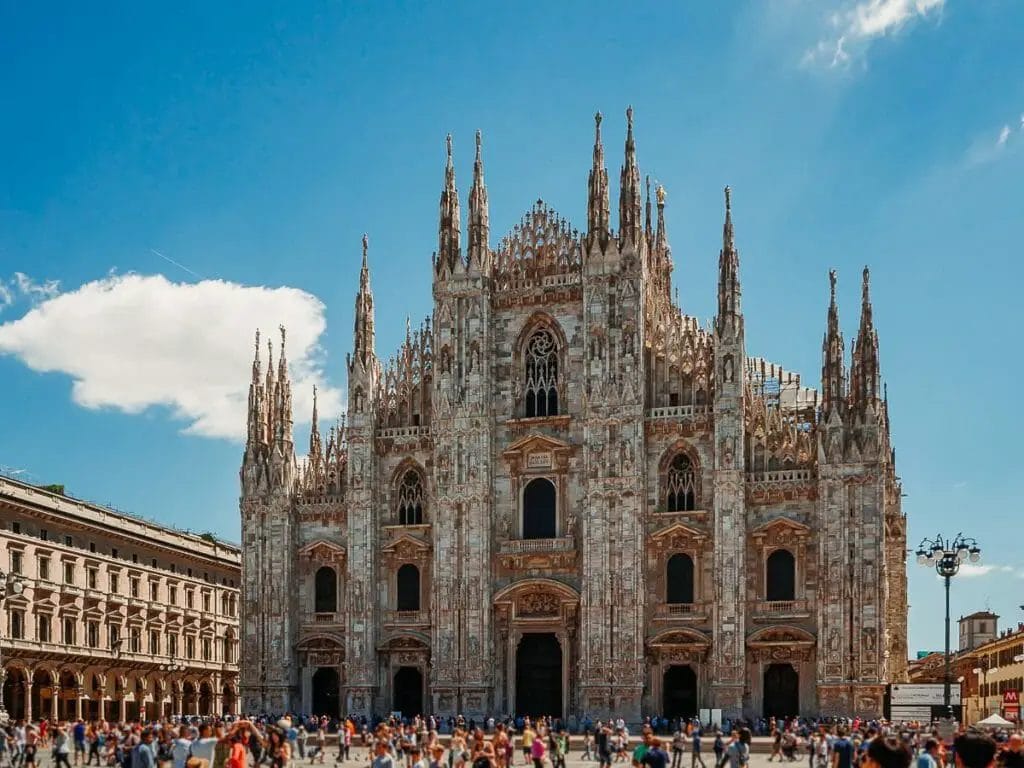 This popular destination is the largest city in Italy and is considered to be one of the biggest fashion capitals of the world. Grab your nicest shoes and most expensive ensembles, because locals use the streets of Milan as their personal catwalk, and tourists with fanny packs and cargo shorts stick out like a sore thumb.
If you decide to freshen up your wardrobe, there are plenty of options in this shopping paradise. Via Montenapoleone is home to luxury brands such as Prada and Valentino but if you want more affordable options head over to Via Torino and Corso Buenos Aires. Besides fashion, Milan is known for inventing the aperitivo, a magical hour between 6 and 8 where Italians grab a drink and snack. Take your aperitivo at Piazza Duomo for an incredible view of the Duomo and great people-watching.
Of course, you can't just see the outside of the Duomo di Milan, this church is truly magnificent and deserves a tour inside as well. You can also climb to the rooftop and have an incredible view of the city. As for the best museums to visit, you should go to the Pinacoteca di Brera to see Italian paintings, Museo del Novecento for modern art, and Triennale di Milano for the history of Italian design. 
8. Florence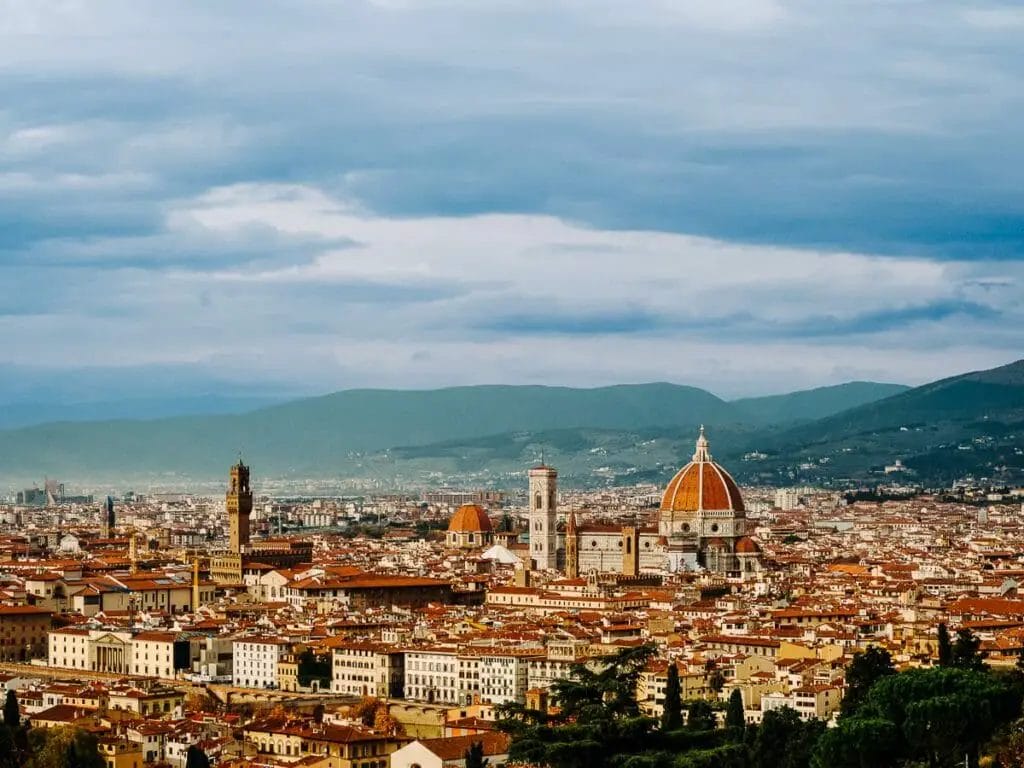 One of the most famous cities in Italy is the beautiful Florence, it is known predominantly for its stunning architecture, art, and culture. It is home to the world-famous Uffizi Gallery with artwork from Michelangelo and Leonardo da Vince as well as the Galleria dell'Accademia di Firenze which holds Michelangelo's David.
There is also the mesmerizing Cathedral of Santa Maria del Fiore, you could spend hours staring at the intricate details on the outside of this landmark. While you are in Florence, you should also pack a picnic and watch the sunset at the Giardino dell Rose park, as well as stroll through the Bardini and Boboli gardens.
For dinner, if you enjoy meat, you should try the bistecca alla fiorentina, the Florentine beefsteak. If you are feeling extravagant, you can book a table at the oldest restaurant in Florence, Buca Lapi, and order their world-famous bistecca alla fiorentina. 
9. Sorrento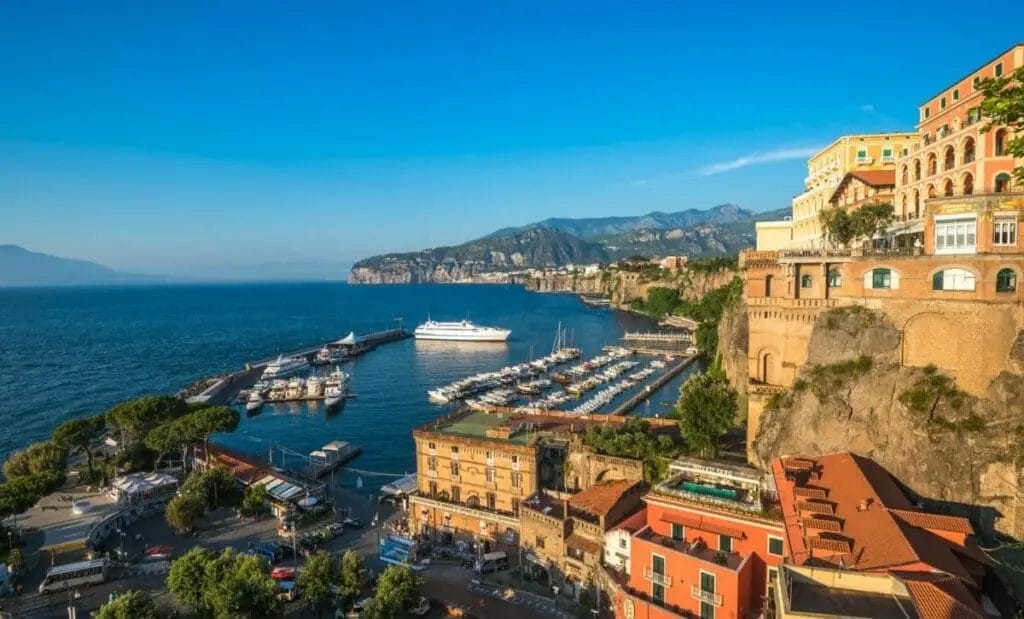 If you are searching for a lively beach town surrounded by nature, look no further than Sorrento. This beautiful paradise is perched on high cliffs and overlooking the Mediterranean sea. Sorrento is great for young and old, during the day the vibe is relaxed and calm, and when the sun sets there is plenty of nightlife.
Spend your days sunbathing on the beach, walking through the historic center, sipping coffee at Piazza Tasso, and visiting the nearby fishing villages. For an unforgettable sunset, visit Villa Comunale where you can see not only Sorrento but also Mount Vesuvius.
Also, before you leave you should definitely tour the nearby lemon groves and try the limoncello (sweet Italian lemon liquor) made from those very same lemon trees. 
10. Syracuse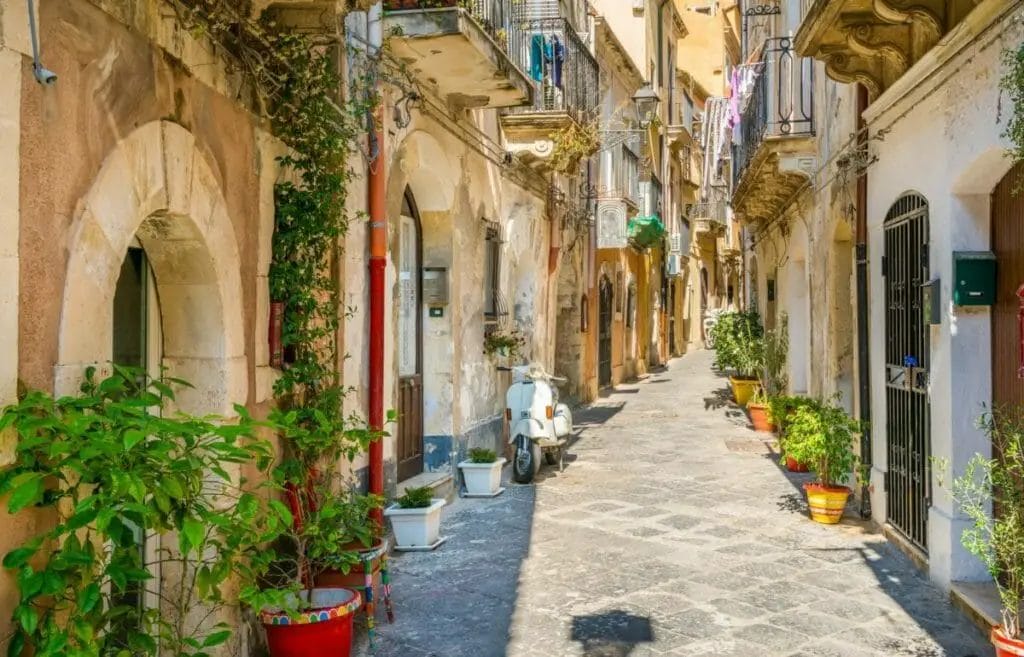 The large Italian island of Sicily is home to the beautiful beach town of Syracuse. This is a popular destination for a relaxing, sandy getaway under the Mediterranean sun. Spend your time tanning on the many beaches and coves, sailing to nearby islands, and strolling through the museums and archeological sites.
For a bit more adventure, you can try your hand at cliff diving, hike the necropolis of Pantalica, or take a snorkeling tour. While visiting, you also need to walk through Ortigia, the small island that holds the historical city center of Syracuse.
Don't forget to try their famous delicacies of pachinko tomatoes, pecorino sheep cheese, and arancini, fried rice balls stuffed with different fillings. 
11. Genoa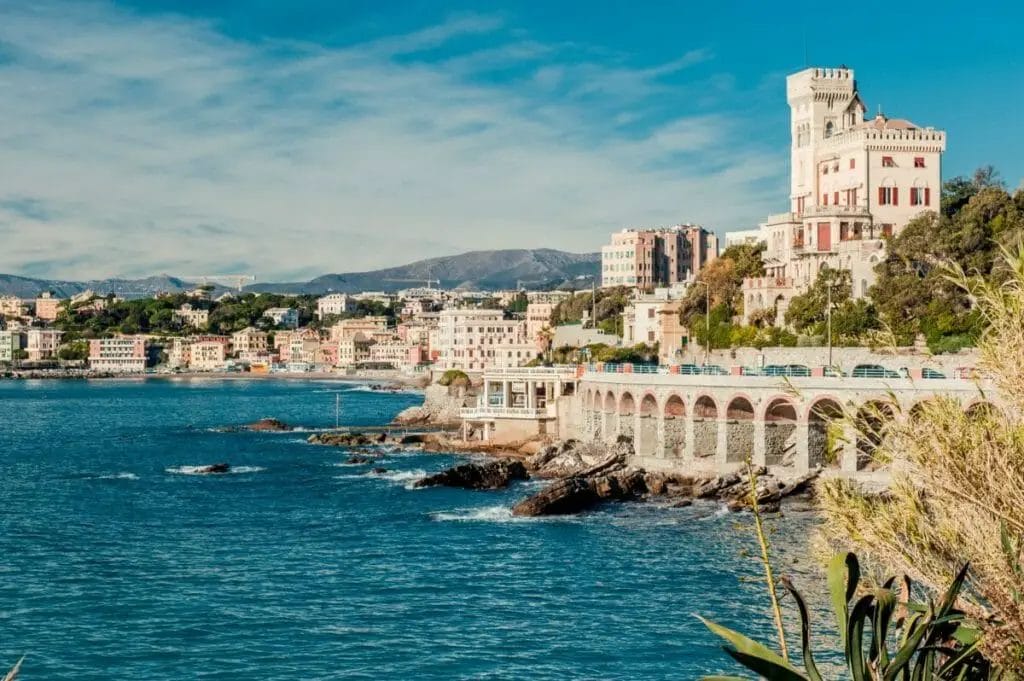 The colorful port city of Genoa is a city rich in history, art, and natural beauty. Take a walk through the cobblestone streets of Christopher Columbus's hometown and see why it is the country's biggest tourist port.
The city is dotted with monumental squares, palaces, churches, and interesting modern structures such as the Acquario di Genova. This aquarium is the largest in Italy and its sphere structure filled with tropical plants makes it especially unique.
You can also take to the sea and embark on a boat excursion to see whales and dolphins, as well as snorkel and dive in the azure waters. Once you've built up an appetite, be sure to try the local street food of panissa fritta (chickpea fritters), focaccia bread, and vegetable pies.
You'll surely enjoy this rich and colorful town, but a word to the wise, although Genoa is touching the Mediterranean ocean, there aren't any beaches. If you want to sunbathe on the sand, you'll have to take a bus to reach nearby beaches. 
12. Verona
As the setting for Shakespeare's Romeo and Juliet, Verona is the perfect town for theater buffs and romance lovers. This medieval town has lovely architecture, amazing restaurants, and many important monuments.
The Roman amphitheater, the Arena, and the Roman Theater of Verona are two of the Roman monuments you can't miss. You also should visit the Torre dei Lambert for sunset and enjoy the view of the entire city. Verona is a great destination for couples, there is an abundance of candlelit restaurants and rose-filled boutique hotels.
If you can't get enough of the romance, there are food and wine tours that show you the most romantic spots of Verona while experiencing local cuisine. Two of the most popular tours are Pinot Noir and Tortellini and The Sunset Verona Food & Wine Walking Tour. 
13. Tropea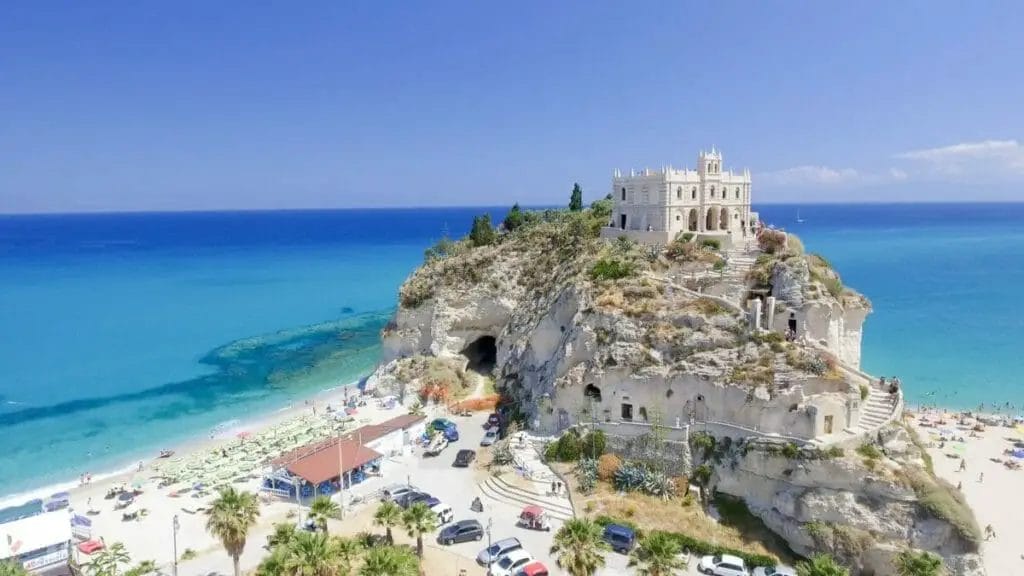 This sleepy beach town is heavily frequented by Italian tourists and oddly known for its red onions. Tropea has lovely white sand beaches, stunning cliffs, and plenty of hidden coves to explore. While visiting you can rent a paddleboard or kayak to check out the coastline, or simply relax at a private beach and rent an umbrella and lounge chair.
You can also walk through the historical center, enjoy their daily markets with local produce and fresh seafood, visit the picturesque monastery of Santa Maria dell'Isola, and enjoy live music on the streets.
At night you can put on your nicest clothes, enjoy a delicious dinner by the beach, and cap off the night at a piano bar or lively nightclub near the sea. And of course, don't leave Tropea without trying their famous red onions. 
14. Positano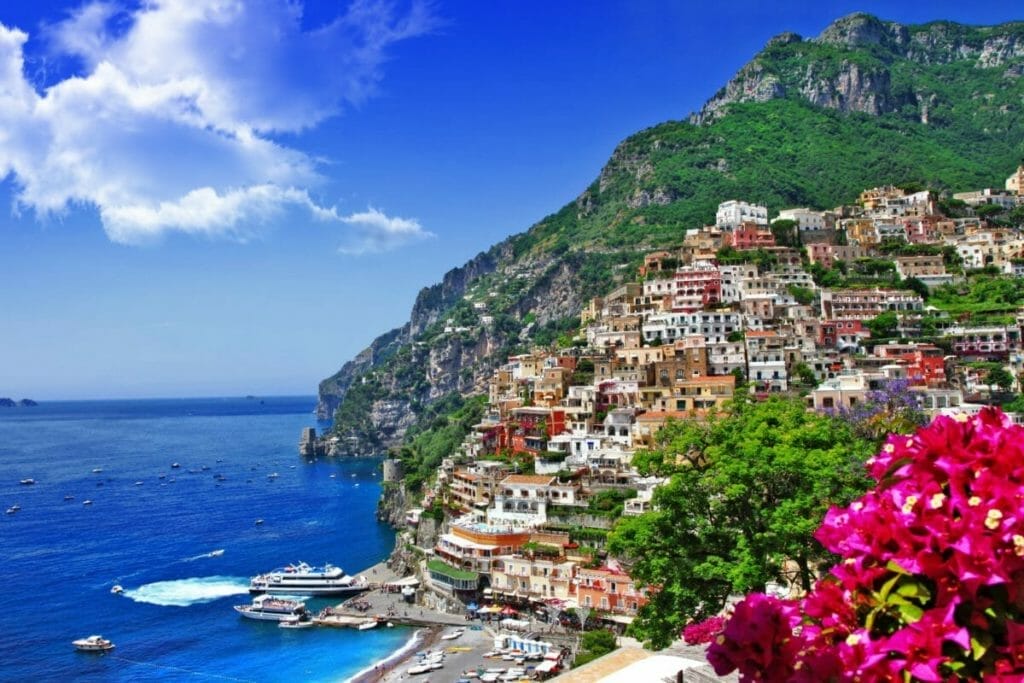 When asking about the best Italian cities, Positano seems to be on everybody's list and it's not hard to see why. This colorful Mediterranean town is on the stunning Amalfi coast and is surrounded by a magical landscape. It is Instagram famous with its rainbow of houses climbing up the steep cliffside and its sophisticated nature attracts even celebrities. Of course, this means that Positano is an expensive destination, but it is well worth at least a weekend of extravagance.
While visiting you can spend your time strolling on the pebble beaches, hiking up the cliffs for incredible views, window-shopping the many boutiques, and dining at excellent restaurants. Make sure to try an artisan pastry at the famous Zagara shop and a dinner of fresh squid and potatoes. If you tire of the steep streets, you can take a day trip by boat to explore the Amalfi coast or a sunset cruise with champagne and savory snacks.
If you want to visit Positano but don't want to spend that much, you can also consider staying in Sorrento which is close by and slightly cheaper. There is a bus that costs $2 and takes 35 minutes or a ferry for $19 and a 30-minute ride. 
15. Taormina
Taormina is a hilltop town located in Sicily and it is known for its beautiful surrounding nature, beaches, stylish nightlife, and rich cultural scene. Visit a variety of churches, castles, and museums, as well as the Greek Theater Taormina.
You can also wander down Corso Umberto, the giant main street of Taormina that is filled with boutiques, street performers, and pottery stores. For the culture fanatics, the Taormina Arte is a must-see, this cultural institution holds events for music, theater, film, and dance.
Near Taormina is Isolda Bella, an island nature preserve with exotic plants and plenty of opportunities for birdwatching. There is also Mount Etna, Europe's largest active volcano, which you can hike up or take a cable car to the top. After the sun sets in Taormina, grab a drink at one of the many bars lining the streets and go to La Giara nightclub if you want to dance until the sun comes back up again. 
16. Siena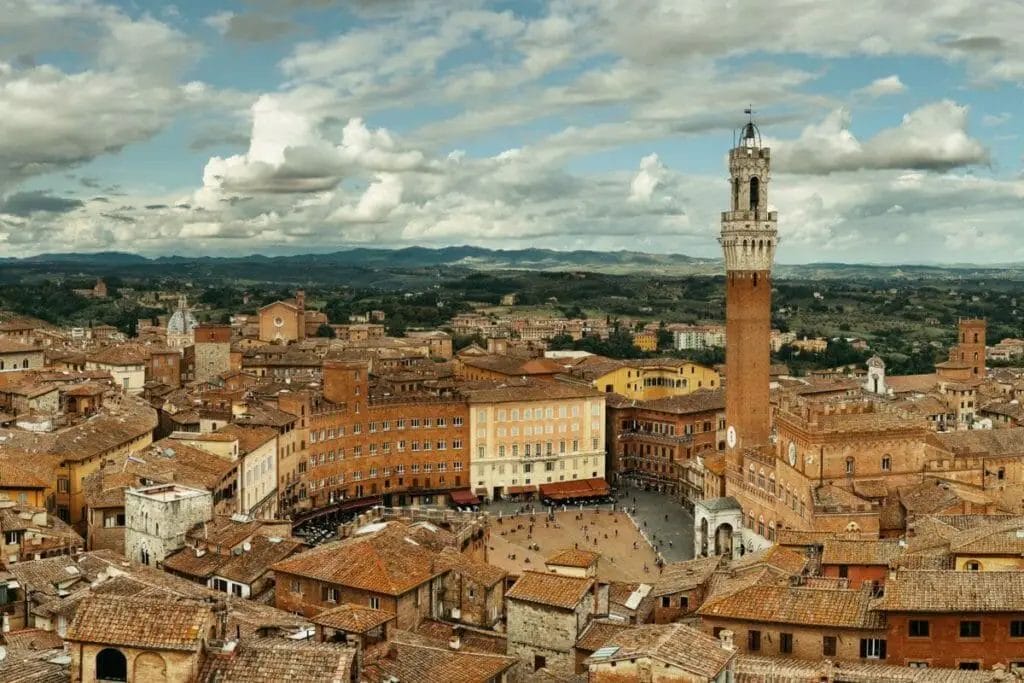 Siena also provides an artistic and beautiful town in Tuscany. The place is not at all that much bigger than the nearby Florence, but is highly desirable for both residents and tourists! Siena is a charming medieval city located close to Florence and its picturesque countryside.
The historical center has UNESCO world heritage status, with an overall reputation as an amazing city worth visiting. A few days is enough for a relaxing and enjoyable stay without going anywhere like in big cities and sifting through traffic.
17. Matera – Italian Cities to Visit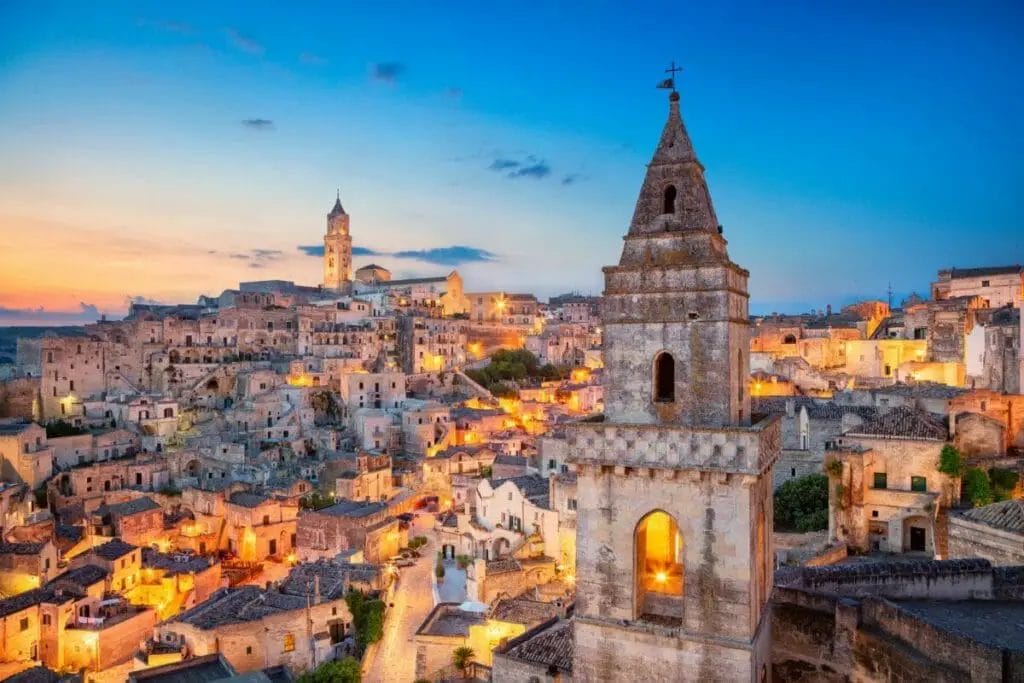 The city of Matera is a hidden gem in Italy, an ancient city that has been inhabited since the Paleolithic era. It was designated as a UNESCO World Heritage Site in 1993 and is a popular tourist destination thanks to its Roman history and natural beauty. Perched in the gorgeous countryside of southern Italy, Matera is an ancient Roman city that still stands to this day.
One of the best experiences you can get in Matera is to walk through the Sassi di Matera. You get incredible views over the historic city and get to see where locals live. Take that sightseeing tour – it's totally worth your time.
These caves are over 9000 years old! They are some of the oldest settlements in Italy, which is why they were just awarded UNESCO World Heritage status. When you visit, it becomes clear as to why.
More Places in Europe to Visit