Devon villages are one of the famous villages of the English countryside. It's the best holiday spot for tourists. Natural beauty is found in abundance in these villages. The atmosphere of these villages is also pure and remarkable and free from all kinds of pollution.
Most of these villages have the features of history, and they are the best source to enjoy peace, calm, and solitude. It is rightly said that beauty lies in the eyes of the beholder. You can enjoy the natural beauty in these villages. Most of the villages of Devon consist near seashores and beaches, which increases its worth.
Furthermore, many villagers dwell in the deep valleys, and these villages have narrow streets and roads which can be the best source of entertainment for visitors. 
The profession of these villages is fishing and farming. These villages are the best spot for hikers as well. You can enjoy surfing and can enjoy the stunning waves of the ocean. 
In the following passages, we discuss some of these 15 must-visit Devon seaside villages you have heard about before. Maybe you have visited some of these villages before, but they're all worth seeing and put everlasting effects on your memories. It would be best if you visited these places with your family. You'll find more Famous UK Landmarks here.
There is a range of Brend Hotels across Devon, waiting to provide luxury three and 4-star accommodation between your trips to these beautiful Devon villages.
Following are the best Seaside Towns in Devon
1. Woolacombe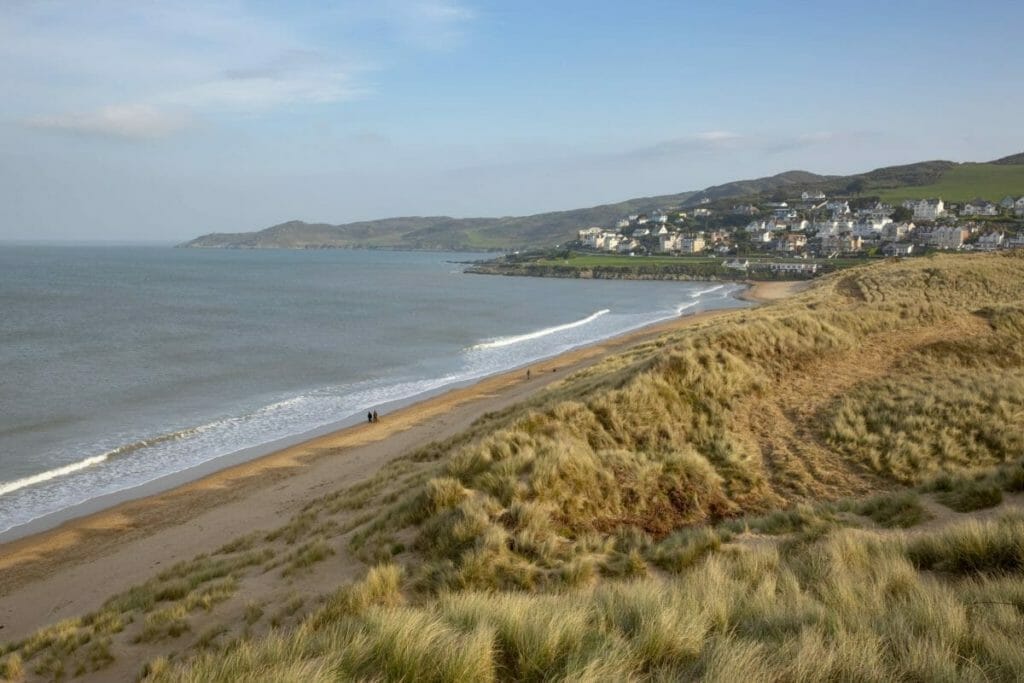 Woolacombe is a remarkable seaside town in Devon. It is not only a beech but a village as well. It is situated on the north Devon coast; Woolcombe has made its significance due to its worth. It is a prosperous village, and it has huge offers for the people who are visiting coastal recoil. It has won the award of Trip Adviser of the best beach in the UK constantly for two years.
Woolacombe has open blue seas that are best for swimming and surfing. It has three miles of golden sand for walking. It is the beauty of the village that attracts the visitors to itself. The people living over here are kind-hearted. Their nature is friendly, and they welcome every person happy. There are shops of the local and special national brands as well.
There are very beautiful places to dine. You can enjoy your dinner with your partner and can enjoy sea views. There is too much hustle and bustle during summer on its seashores. People from over the world come to see it. This beach is stunning.
2. Clovelly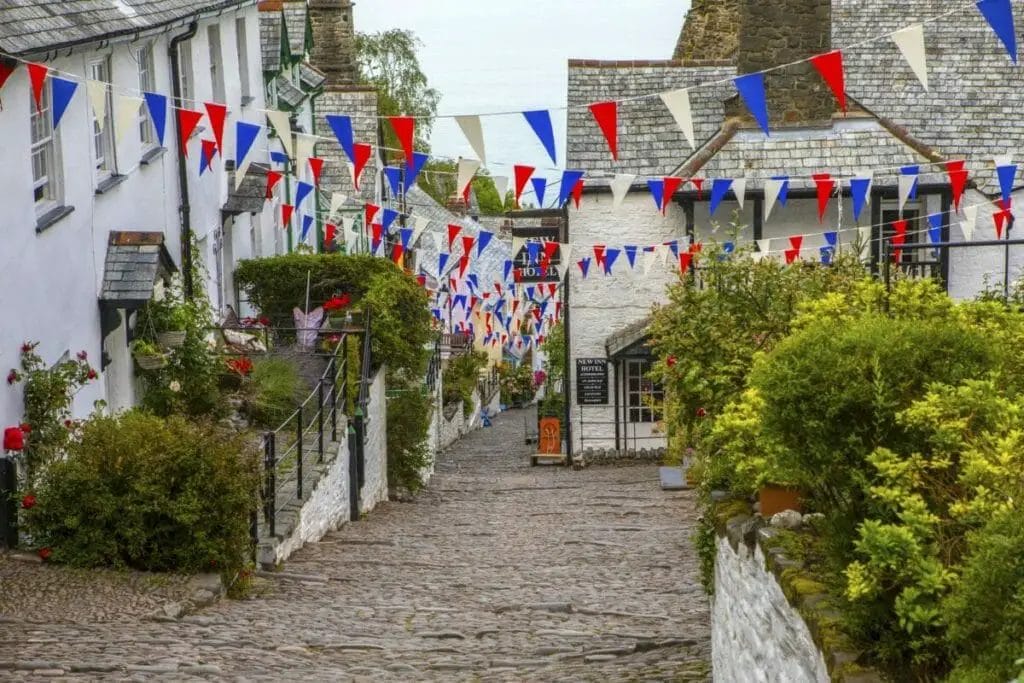 Clovelly is a very charming village in Devon. It is also an old village with paved streets.  It is situated on the hillsides. It is a very striking village with a feel of history. Its streets and houses are very narrow, so cars are not allowed to go. Its narrow paths fell 400 feet to the harbor. Its cottage reveals a fabulous view, and the greenish-blue ocean has an everlasting effect on our eyes. They have a donkey for transport still. They live in stables, and when there is good weather, tourists enjoy riding on them. It is a very amazing experience to take photographs of that historic region. It is one of the places that should not be skipped.
The fee is charged on the gates to visit this pretty village; however, the charges. There are magnificent shops. You can enjoy very delicious local food. Its other sights are the fisherman's Cottage and the Kingsley Museum.
3. Lee
Lee is a small Devon coastal town. It is situated on the North Devon coast near Woolacombe. It is made up of 100 properties. Narrow roads and country walkways surround this fantastic village. These country walkways are located in the deep valley. This valley is too much dense with forests. 
This wooded area is the best attraction for tours and the perfect place to explore this pretty village. There are traditional cottage gardens and many unusual types of fruitful trees like palms, figs, and vines. Outside the Memorial Hall, there is an alpine garden. There is an old-fashioned fruit, flower, and vegetable garden near the school. 
There is little coverage of rocks over there. Lee is a perfect place for hikers. There are various splendid ways of hiking. This is an amazing experience for the hikers who want to hike in this splendid village. So you must visit that pretty village. It would give you an everlasting experience.
4. Appledore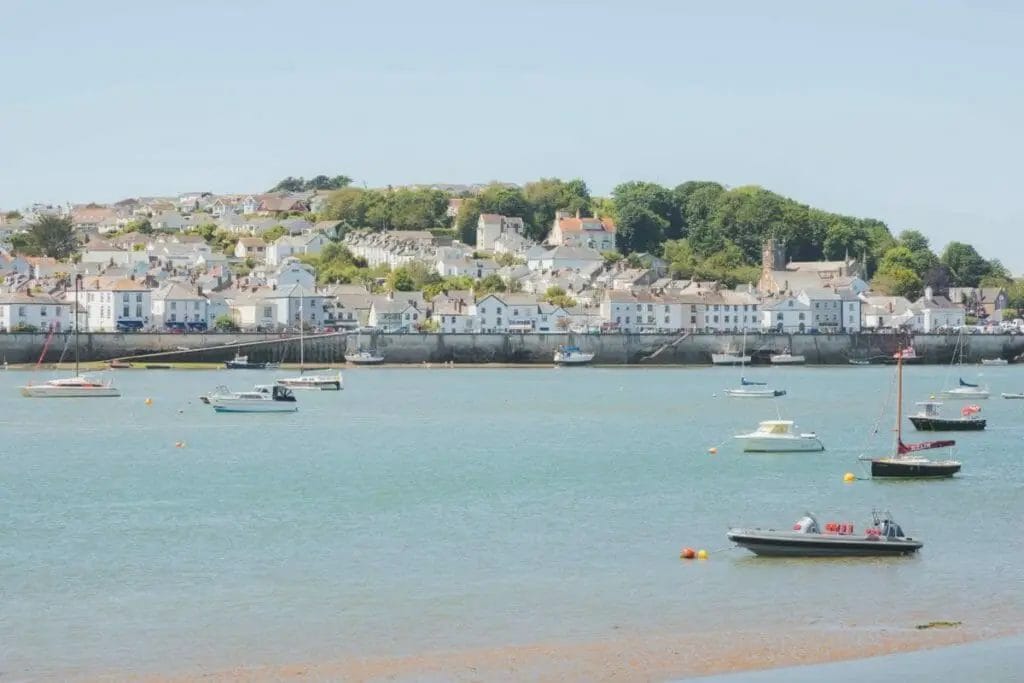 Appledore is a splendid seaside town in Devon. It is situated near Near Bideford in North Devon. Appledore is a large village, and it is full of fishing history. 
Narrow streets and colorful houses surround it. Their business is finishing and boat making from the history which still exists. Many regular events are held throughout the year. 
Every September, there is The Appledore Book Festival. Tourists from all over the world go there and collect a very good collection of books. In this way, it fractures international authors.  Appledore is also a good source to explore a wide range of fishing trips,   
There are so many activities that should be taken and which are enjoyable. You can have the best opportunity in the Appledore Instow Regatta to cheer on the gig boats. You can also participate in other competitions like beach tug war and crabbing. There are a small number of shops and restaurants. You can also enjoy the very popular Hocking ice cream.
5. Heartland
Heartland is a marvelous Devon coastal town, It is the headland which is later named the heartland. It is situated near the North Devon and Cornwall border. It is famous for its dramatic cliffs and shoreline. 
It's a very amazing experience to explore the village of Heartland. It is in a remote area, but it is full of charm, and it has little crafts shops and potteries. There are very outstanding restaurants and cafes for visitors. There are very long and broad streets and wonderful cottages, attractions for tours. These long main streets lead you to the church of St. John.
Now you can imagine the spectacular walk on the seashore Heartland is so pretty that it looks like a paradise. There are long streets and marvelous cottages. You can enjoy the beautiful scene of big waves which amazingly crash into the rocks and spray water into the air. This site is mind-blowing, and you can put its marvelous memories into your mind.
Heartland Quay remained busy shipping granite, coal, and various other farm products till the 19th century. Unfortunately, there is no original Quay, but there are very splendid shops and museums. Hikers start their hikes from the Quay and pass from coastal paths and end it into waterfalls tumbling into the sea.
6. Shaldon

If you are looking for a peaceful space, then Shaldon is the place to visit. Shaldon is a very beautiful village in Devon located to the south near the river Teign. Sheldon is the best source of attraction for visitors. One of the features of Shaldon is that it has a thriving community. 
This beautiful village is also associated with the fishing industry, and most of the population of Shaldon is linked with this industry. This famous village is situated near the river, so it is easy to access the boats and calm water. This is the first place through which you can explore the life of Devon completely, and, like other places is not son commercial.
There are realities of shops and much, much more. Suppose you want to relax so you should go to this amazing and wonderful area. 
Shaldon is located on the South West Coast path, so there are many things to explore, like various walks that lead to the pretty locations with the sight of coastlines. Even though Shaldon is a small town, the people of Shaldon have many pets like mammals and birds of different species. You can enjoy the beauty of nature in this beautiful village.
7. Instow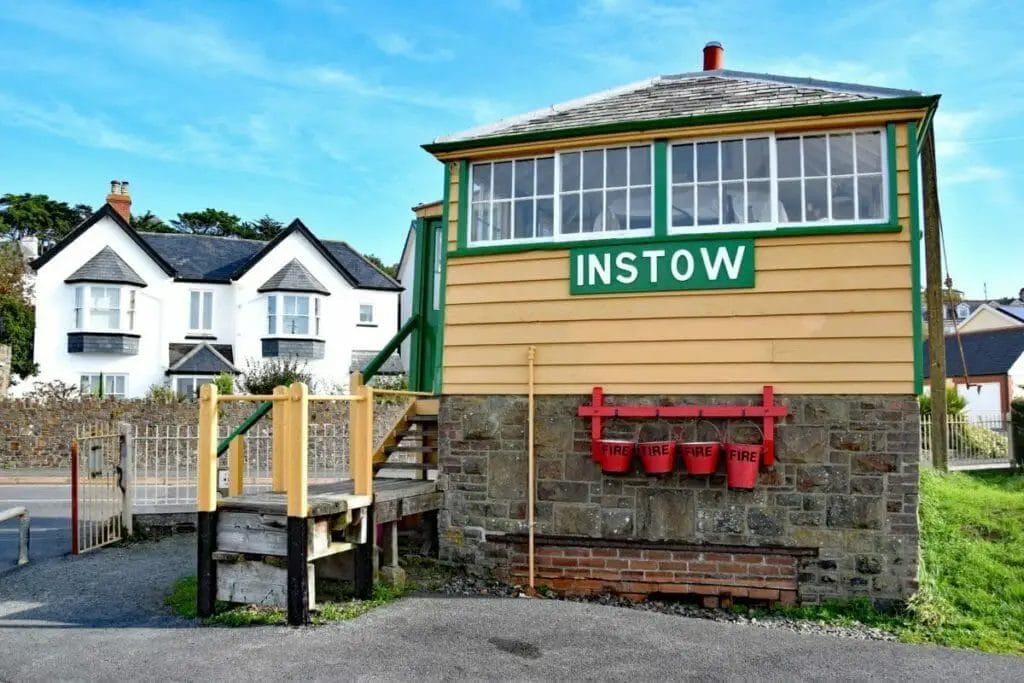 Instow is Devon coastal town located in North near Bideford. Instow is a small village situated near the bank of an estuary. It is a very famous place for a picnic with the family. The sight of birds flying is too fascinating. If the weather is not fine or cloudy, there is no need to spoil your visit. 
You can enjoy visiting the waterside Galley and see the finest artistic work of North Devon's finest potters and craftspeople. There is a chance to spot wildlife and enjoy the cool breeze during summer. Tarka Trail is the best source to explore on both feet or by bike. 
It is the best place for kids to play. They can easily make a sandcastle on the beach, which is the best activity for kids. Some people enjoy flying kites. A ferry service works across the estuary from Instow to Appledore, situated on the bank's other side.
8. Cockington
Cockington is a well-known village in Devon situated on the south Devon coast near Torquay and Paignton. Cockington is a historic village, and many memories are linked with this village.
It is a very quiet and calm place far away from the crowded area, so if you want some peace in your life or to fade away from the worries of life, then it is the best place to get relief. 
It has narrow lanes, and all houses are linked with each other. When you visit Cockington, you will have the opportunity to explore the watermill, which is still hidden. It is said that Cockington existed from the 10th century, but it was discovered in the Iron Age 2500 years ago. So there are many things to be explored from history. 
Once there was a dear medieval park in place of Cockington cricket pitch. Its country park is a very amazing picnic place. This park is the best place to experience peace. 
9. Widecombe-In-The-Moor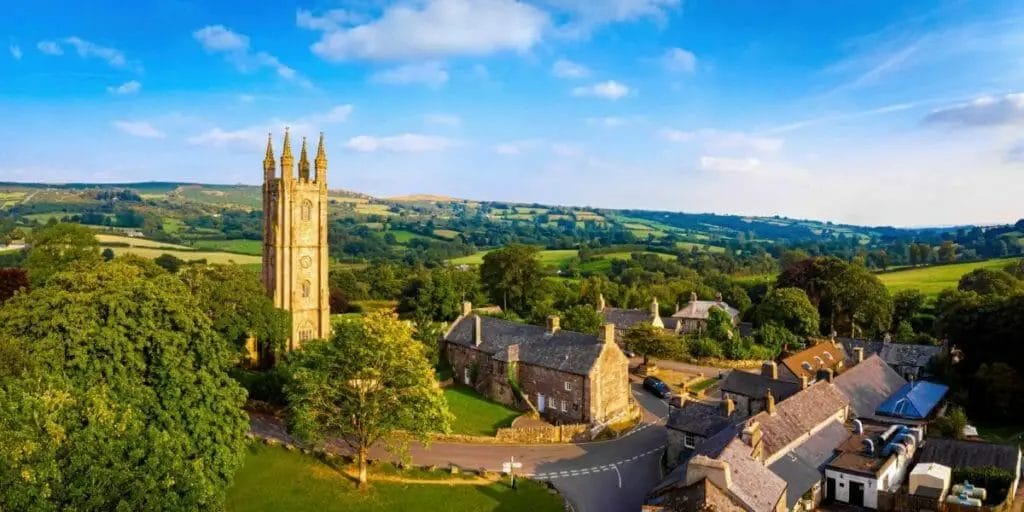 Widecombe-In-The-Moor is a splendid Devon coastal town. Widecombe-In-The-Moor is the name of a deep valley, Widecombe in the Moor. It is so deep beyond your imagination. There are few houses located in this area. They are near less than 200, but you still have many things to explore in this beautiful village. 
An annual fair is held in Moor, but you can enjoy tea rooms, shops, and gorgeous settings. Moor is so beautiful, like a paradise for visitors. You can see sheep, ponies, and other cattle grazing in the green area. You can enjoy riding on ponies. The sights around the village are dramatic. It is a very amazing experience going down. 
It is a fantastic activity to explore things. You can enjoy the moors on the doorsteps. If you want to hunt, the locals will help you hunt. If you want to enjoy this region deeply, you should have a permanent guide to exploring the things.
10. Beer
Beer is a very beautiful Devon coastal town. It is located in South Devon near the Seaton. As mostly, all the villages of Devon are associated with the fishing industry, so this beautiful village also is a charming fishing spot. You can go with your family to the beach surrounded by limestone cliffs. 
This beach is particularly built for boats. So this beautiful beach is, particularly for this purpose. Some very skilled fishermen will take the fishing trips for visitors. You can enjoy many coastal walks around this area. 
These include the Heritage Coast, Dorset and the East Devon World, and the South West Coast Path. You can also explore Beer Quarry caves. When you take regular tours of these caves, you will have the opportunity to explore underground caverns and view the artifacts and history. 
You can also experience huge halls decorated with Beer stones that resemble a vast underground cathedral. You must experience this splendid place with your family and enjoy this splendid beach and village. Most of the villages are so humble and kind over here.
11. Braunton
Braunton is an amazing seaside town in Devon. It is situated to the North of Devon near Barnstaple. Barnstaple is considered the capital of North Devon. People in the past considered it the largest village, but it is not true. You can find so many shops for eatables in this beautiful village. You can see stone-baked pizzas and other tasty places. 
There are also surf shops, charity shops, bakeries, and many more shops. This beautiful village has a thriving center with squires. You can explore a lot of walks and hikes. If you want to enjoy the beautiful scenery of this wonderful village, then you should take Tarka Trail on foot or on a bike. 
You can also enjoy the journey of 4 miles by car. It is a Broadway of golden beach and surf hotspot at Saunton Sands. One more important place to be explored is Braunton Burrows Reserve. The sight of rolling stone dues is very amazing. It stretches too far away. Before these cases, a golf course opened up on the beach.
12. Dunsford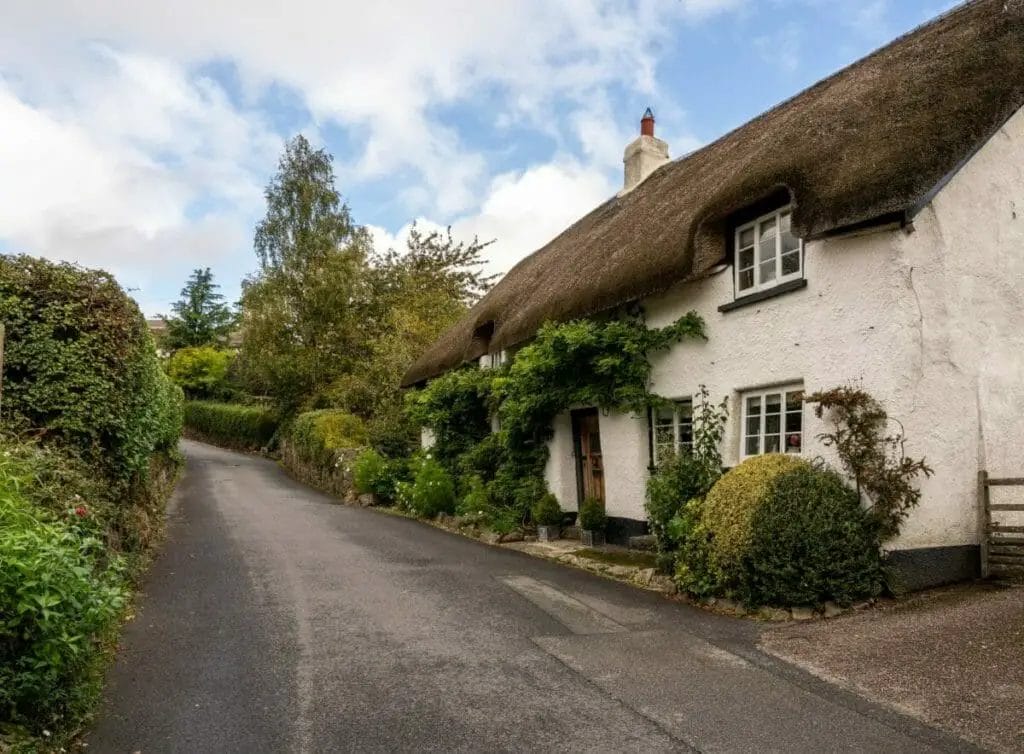 Dunsford is an astonishing Devon coastal town.  It is situated in the northeast of Dartmoor village. There are very beautiful cottages like cob, thatch, and Moorstone.  This village is located on the top of the Teign Valley near wooded hills and goes deep down to the river in this way. For the people who want to fade away from the tensions of life and want some peace, Dunsford is the best place for this solution. 
The history of Dunsford is described in the democracy book of 1086 as 'Dunesforda,' which means Dunn's Ford.' According to its history, the Parish Church of St.Mary was built around 1430. The meadows of the Dunsford are very splendid. 
You can get a stunning view of the Dartmoor. You can find Steps Bridge. This bridge was built in 19 the century. There is a well-known Dunsford Nature Reserve. Yellow daffodils can be found in this area. The scene of these flowers is splendid. 
You can also find a swimming pool, school, and a few shops and sports fields. Plenty of daffodils is found nearby Dunsford Nature Reserve. This scene is amazing to explore in the spring season, especially because many yellow daffodils bloom in spring. Mr.Jim has been originated in2005. After that,  Karen Moris from March 2010.                                                                          
13. Dittisham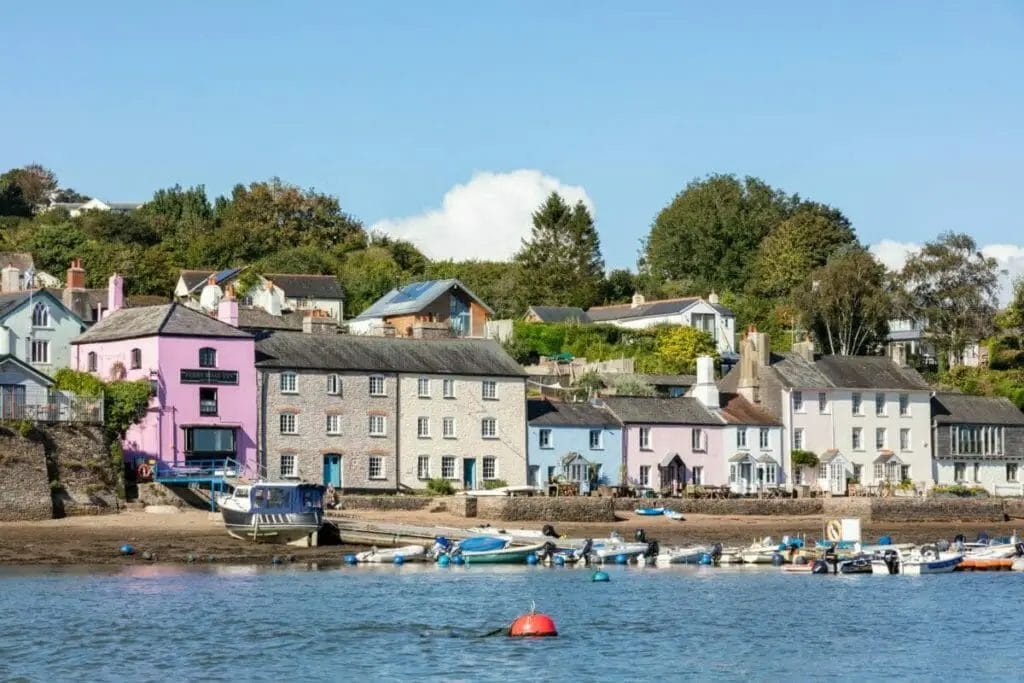 If you are looking for a peaceful, quiet, and calm place in Devon, Dittisham is the best place. It is an impressive seaside town in Davon. It will give you full entertainment on the riverside. Dittisham is one of the gorgeous villages in South Devon. It is situated on the banks of the River Dart, and it is just two miles away from Dartmouth. The river is known as Ditsum. 
The river views are very dramatic with the changing light of the sun. This site is very dramatic and amazing. It is not only an ideal spot for tourists, but you can also enjoy one day trip. The countryside looks very beautiful, and there are many walks to enjoy. 
You can experience the views of many rivers around it. The sight of these rivers is fascinating. You have a chance to hike in these areas. You can enjoy surfing and can enjoy the stunning waves of the ocean. The scene of flying birds is very eye-catching. 
The walk near the beach is also awesome. You can experience the cool splashes of water on your face, and it is a fantastic activity. The atmosphere of this village is so nice, and there are many splendid walkways. You can hire a passenger ferry to take to the downhill. This traveling is also wonderful. So you must visit the village of Dittisham. 
14. Croyde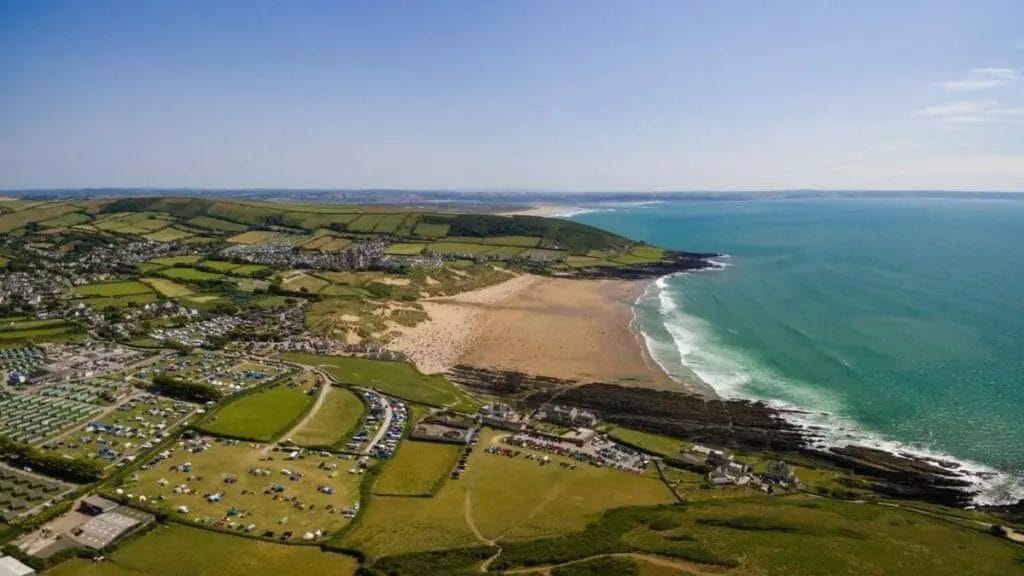 Croyde is a stunning Devon town. If you are fed from the tough routine of life, then you must visit Croyde. Croyde is situated near Near Braunton, in North Devon. It is a small village near the beach. It is an amazing experience for surfers and sunbathers. 
Most of the visitors come in the summer season. There is a wide range of many shops and restaurants. Suppose you are looking for a picnic place for some beach, so it is one of them. Croyde is a remarkable place for surfing. If you want to enjoy a coastal walk in Croyde it is Natural Trust's Baggy Point.  
People of all ages can enjoy walking freely on these beaches. You can take all your eatables, except drinks, ice cream, and a surfboard in the sun. The people who love to hike, it is the place for them. You can experience a true adventure by doing wonderful activities in Croyde. 
The activities which they can enjoy are cycling and horse riding. Every June there is the activity of Gold cold ocean fest, and the village became busy because people from many regions come to enjoy it. If you want to enjoy this beach calmly, you should go in early June.
15. Lustleigh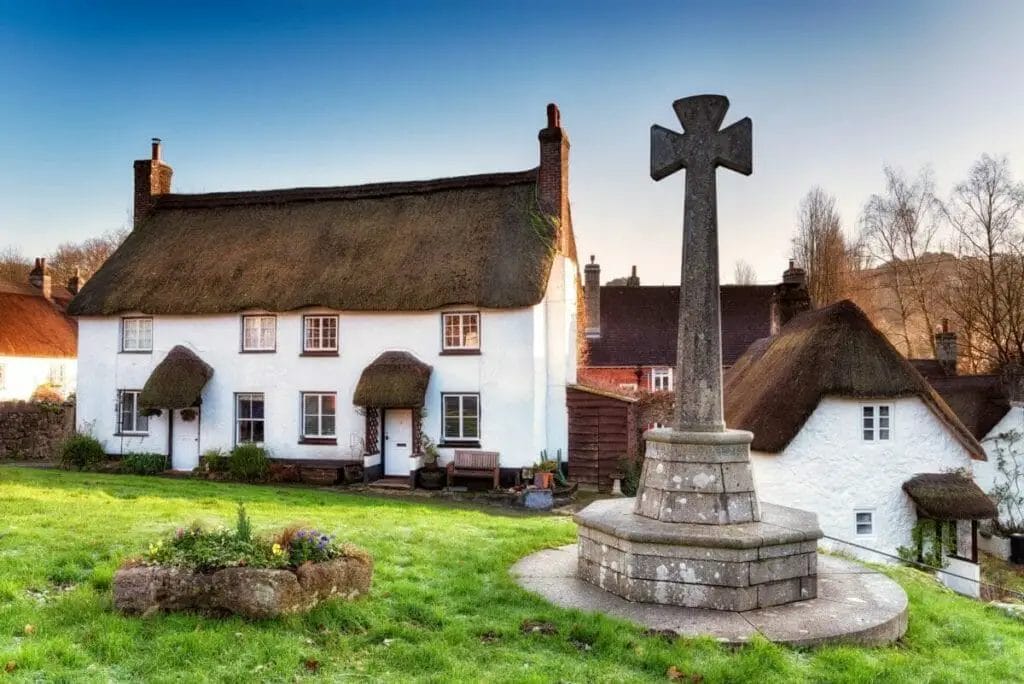 Lustleigh is one of the wonderful villages in Devon. It is situated in Dartmoor near Bovey Tracey. It is a very classic and picturesque village. 
Lustleigh is one of the prettiest villages in Dartmoor. It is a famous stay point for walking on the moors. It is wonderful to experience walking through the village along narrow country lanes. This village is on the downside of the rocks and is surrounded by trees which enhance its beauty. A beautiful river, Teign, is running between it. It attracts the hikers and gives a very amazing view of the valley and the others surrounding it.
The most popular show is the Lustleigh show which is held every year. Like other villages of Devon, many annual events are also held in Lustleigh. The village orchard is used as the venue for these events.
There is also a church with fabulous stained glass. There is also a Cleave Public House in which food and drinks are available. You can also enjoy tea rooms with cakes and lunches. There are also beautiful cottages and striking summer gardens.  So you must visit to enjoy the beauty of Lustleigh. It would put an everlasting effect on your memories.
What is the most beautiful village in Devon?
Dittisham is the most beautiful village in Devon, according to many people.
The village is surrounded by green plains and rolling hills, and it has a number of National Trust properties, including one that houses the longest building in England. In addition, Dittisham is known for its bells and boats–golden sunlight and sounds of ringing make it a very special place. Finally, Dittisham makes a great base for holidaymakers looking for peace and quiet; it's close to other destinations, such as Dartmoor National Park and Dartmouth Castle.
Which is the best part of Devon?
There are many great areas in Devon, but if we had to choose just one, it would have to be Exmoor National Park.
This beautiful park is located on the border of Devon and Somerset, and it offers stunning views of the Bristol Channel. It's also home to some of the best hiking trails in the country, so if you're looking for an adventure, this is definitely the place to go.
Of course, there are plenty of other great areas in Devon as well. The East Devon region is easy to reach but has plenty of natural beauty, while Mid Devon has a low tourist population but still offers plenty of enjoyable activities. So no matter what you're looking for, you'll be able to find something perfect in this charming corner of England.
Is North Devon or South Devon better?
When it comes to North Devon and South Devon, it can be hard to decide which one is better. On the surface, they both seem like great places to visit. But if you dig a little deeper, you'll find that each area has its own unique set of attractions and benefits.
For starters, North Devon is known for its Steam Railway and River Boat. This makes it a perfect place for those who love spending time outdoors and enjoying nature. Additionally, North Devon is the perfect destination for visitors looking to relax and get away from the hustle and bustle of city life.
South Devon, on the other hand, is the top attraction in South West England. If you're looking for beautiful scenery, then this is definitely the place for you! From picturesque beaches to rolling hills covered in green trees, there's something here for everyone. In addition, South Devon offers plenty of glamping opportunities as well as outdoor activities such as cycling, kayaking, hiking, and horseback riding.
So what's the verdict? Both North Devon and South are great places to visit – it just depends on what you're looking for!
More travel tips for you
This might be also interesting for you