Summer season in most Europe is important and beaches play a big role. The world's largest number of destinations offer competitive beach holiday stays for tourists in Europe.
The list of amazing beaches in Europe is extensive, from the wild beaches in Croatia and private beaches on the Greek islands to stylish Italian seasides, it can feel as if the possibilities are endless. This article will help you narrow down the options; here are the absolute best beaches in Europe and what makes each of them unique. 
1. Bestouan Beach, France
One of the most gorgeous beaches in Europe can be found in Côte d'Azur, France. This pebble beach is near the village of Cassis and has an incredible view of Cap Canaille. The facilities here include showers, toilets, paid parking, and snack bars. People come here to escape the crowds and enjoy the cleanest beach in the area.
Bestouan beach boasts the Blue Flag award, meaning it has met high standards for the quality of water and environment of the beach. This is the perfect place to snorkel with amazing clarity, tan under the hot sun, swim in the bright blue waters, and take a breath of fresh sea air. Near this picturesque cove is the city center, so after your day at the beach, you can enjoy a dinner of traditional French cuisine. 
2. Bolata Beach, Bulgaria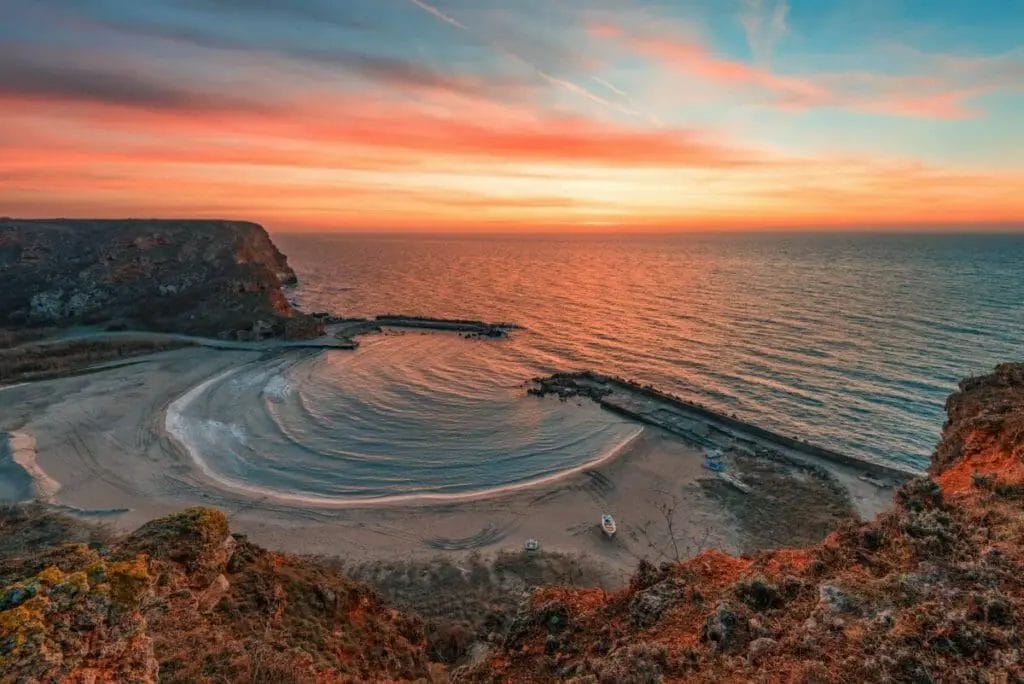 Bulgaria is sadly overlooked when it comes to tourism within Europe, but you won't want to miss this gorgeous protected cove with stunningly steep cliffs.
Bolata beach is in Northern Bulgaria near the Black Sea and it is known for its rugged beauty. The area is part of the Kaliakra Reserve, so the environment has been very well preserved. You will be impressed by the vibrant greenery, turquoise waters, limestone cliffs, and the amount of sea life in the water. Come here to snorkel, tan on the sandy beach, explore sea caves, and birdwatch for rare birds like herons and grebes.
One thing you should remember is that this is a remote area, so there are no amenities or even stores nearby. Make sure to pack all of your snacks and maybe a drink, if you want to join the summer night parties that often occur on the beach. 
3. Bolonia Beach, Spain
Bolonia beach is a stunning beach on the Atlantic coast, in the province of Cadiz (→ Medieval City Tour Cadiz*) in southern Spain. This Spanish beach is about 2.4 miles in length with natural pools and crystal clear waters. The beach is part of El Estrecho Natural Park, so its wild beauty is well preserved. While you are here, make sure to see the Gran Duna, the Great Sand Dune, which is about 100 feet high and 650 feet wide.
This impressive landmark was declared a natural monument in 2001. Nearby there is also the Lighthouse Camarinal, where you will be treated to panoramic views and the kids will love sliding down the sand to get back to the beach.
The last thing to do before entering the water is the Baelo Claudia Archaeological Complex, this 2nd century B.C. Roman village was discovered in 1917 and it is truly an incredible trip to the past. As for beach activities, this area is great for snorkeling because the waters are clear and kitesurfing is wonderful with the strong winds in the area. 
4. Cala Sa Boadella, Spain
This will easily become one of your favorite beaches with its soft sand, aquamarine water, rock formations, and wild rugged cliffs. The cove is a secluded area, which explains why there is a nudist section here, but it is also a romantic destination for couples. This is the ideal place for a romantic getaway; rent a villa or apartment on the shore and enjoy the tranquil beach before dining by the seaside at one of the nearby towns.
The coastline of Costa Brava is all worth exploring as well, as you drive along you will find many other beaches, sea coves, and lookouts. However, Cala Sa Boadelle will surely be your favorite. Besides its beauty, it also has many beach facilities, including a lifeguard, cafe, and showers. 
5. Zlatni Rat, Brač, Croatia
Also known as the Golden Cape, Zlatni Rat beach is on the Brač peninsula off the coast of Croatia. It is one of the most unique beaches in Europe, with its naturally formed triangular shape that is stunningly white. The white is beautifully contrasted by turquoise and inky blue water and a pine tree forest.
Activities on this beach are endless. You can windsurf, paddleboard, jet ski, snorkel, go on a banana boat ride, and kayak. Nearby there is also a tennis court, volleyball court, and scuba diving at Borak beach. Zlatni Rat beach is perfect for families as well, there is a lifeguard in the summer and the endless activities will keep the kids entertained for ages. 
6. Cala Pregonda, Menorca, Spain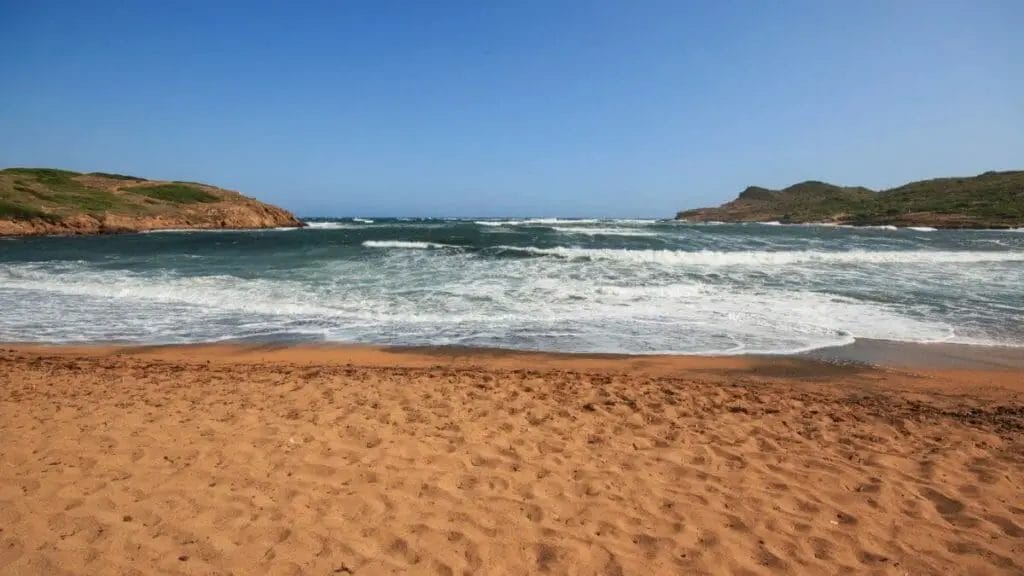 On the Balearic island of Menorca, you will find the pink sand beach of Cala Pregonda. This remote area is one of the most beautiful beaches in Europe, thanks to the fact that it has remained mostly untouched. The wild nature of the beach of course implies that there are no amenities and while the parking is nearby, you do have to walk a bit.
It is all worth it once you arrive, you can explore the natural pools at low tide, cliff jump from the red stone cliffs, swim in the safe waters, and snorkel with great visibility. 
7. Cala Violina, Maremma, Tuscany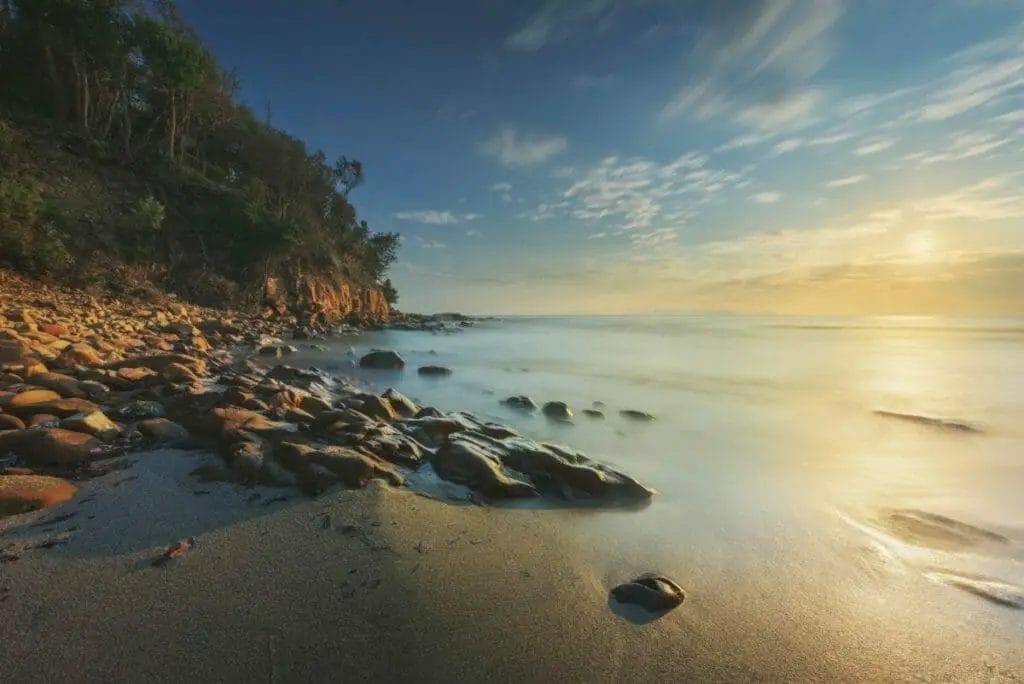 This is one of many beautiful sandy beaches in Tuscany, but what sets Cala Violina apart is its natural environment and tranquil air. The beach is in the Bandite di Scarlino Nature Reserve, which is very expansive and offers plenty of hiking and horseback riding opportunities. The beach itself has sandstone boulders, crystal clear water, and the surrounding forest provides a striking backdrop.
To reach the beach, you must park in the parking lot and then walk three miles. This is part of the charm of this area, you will enjoy the forest walk almost as much as the fine white sand beach. Spend your day at Cala Violina by snorkeling and seeing tiny fish, swimming in the shallow waters, and picnicking in the shade.
8. Cape Drastis, Greece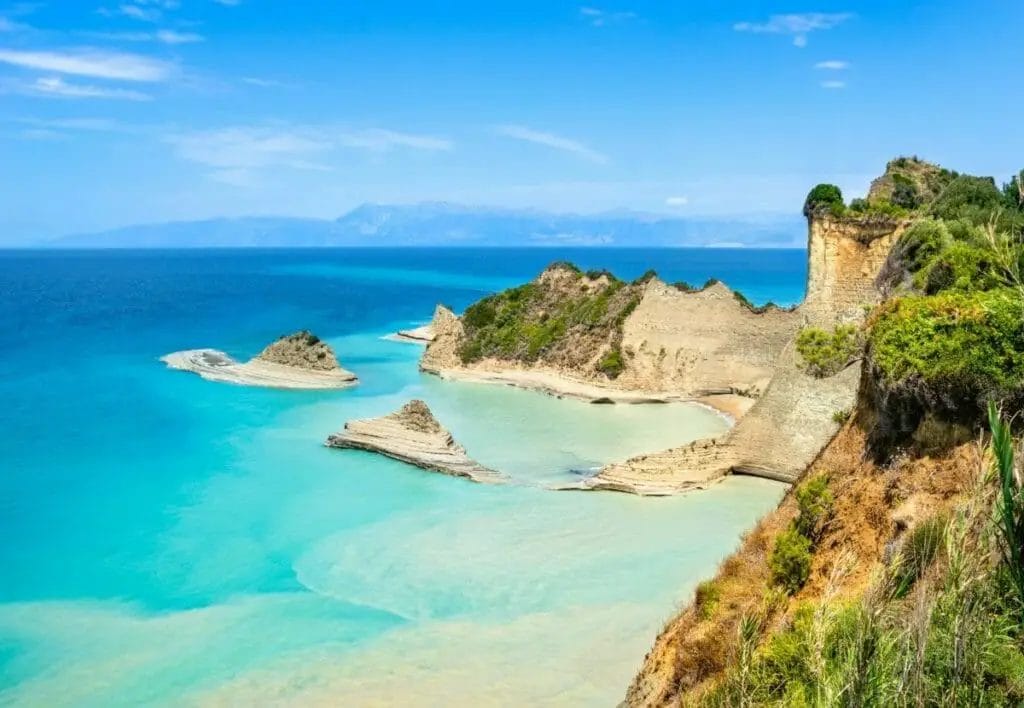 With dramatic white cliffs, vibrant greenery, and turquoise water, Cape Drastis is picture-perfect. This cape is located on the Greek island of Corfu, surrounded by the Ionian Sea. The cape can only be reached by boat, making this an exclusive beach. This sandy cape has very strong winds, so it is not advised for kids.
However, it is the perfect place for a photoshoot and to escape the beach crowds. One of the best times of day is sunset, you will capture unforgettable photos from the cape. On the beach, people also love to sunbathe and rub the natural clay onto their skin as a DIY skin treatment. It is also very popular to try diving in this area.
To get a view of Cape Drastis from above, drive past the town of Peroulades that sits above and drive to the end of the white cliffs. From here you will have amazing views and it is also a great sunset destination. 
9. El Rompido, Huelva, Andalucía
Another wonderful Spanish beach is El Rompido in Huelva, Andalucía. This golden sand beach is surrounded by pine trees, green vegetation, sand dunes, an estuary, and the salt marshes of Rio Piedras. This beach is very clean and lively, with amenities such as showers, toilets, lifeguards, and parking.
While at the beach you can birdwatch for rare birds, walk along the pristine coastline, and tan on the soft sand. To end your day you should definitely try Marisquería Doña Gamba, a traditional Mediterranean restaurant near the beach. Enjoy a fresh seafood meal or grab a drink at the bar and watch the sunset over the beach.  
10.  Lido Fiori, near Menfi, Sicily
This long, sandy beach in Italy is a very popular destination. While many people visit this beach, it doesn't feel crowded thanks to its giant size that allows for people to spread out. Lido Fiori has many beach bars, great seafood restaurants nearby, free parking, restrooms, and was awarded the Blue Flag.
Two of the best accommodation options are renting a beachfront rental or staying at Planeta Beach club. This shady seafront property comes with a private beach, many beach amenities, and a cafe on site. Either way, Lido Fiori is a great destination for relaxing during the day and partying at night, with live music and dancing at the nearby beach bars. 
11. Playa De La Concha, San Sebastián
This beach is practically on every postcard for San Sebastian. Thousands come here each year and it is easy to see why. From the golden sand beach, you have an incredible view of the crescent-shaped cove that is covered in green hills and colorful houses. Playa de la Concha first became popular in 1845 when Isabel II began spending more time here because her doctors said the saltwater would help her skin ailments. Since then, this Spanish beach has only increased in popularity.
Now there are plenty of amenities such as showers, bathrooms, lockers, sunshades, and beds for rent, and in the summer season, there is a floating dock for kids to play on. After a fun day in the sun, there are plenty of restaurants nearby to watch the sunset and eat delicious tapas. 
12. Les Grenettes, Île de Réunion
On the small island of Ré, in France, Les Grenettes beach is one of the best surf spots and areas for water sports. Many come here for surfing, thanks to the great waves from the Atlantic, and there are even surfing competitions hosted here.
Besides water sports activities, you can fish, walk along the expansive pebble beach, explore tidal pools, and hunt for crabs, oysters, and clams at low tide. Amenities include ample parking lots, toilets, nearby playgrounds, and restaurants. 
13. Mamaia Beach, Romania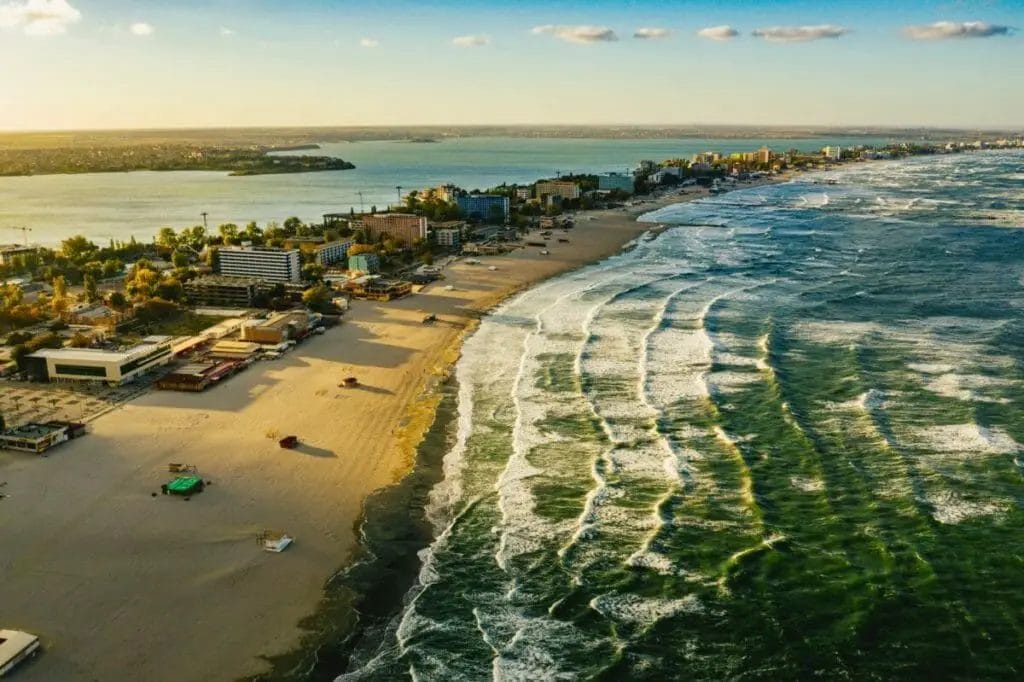 This is Romania's most popular beach resort (→ 26 Famous Romanian Landmarks), located on the Black Seashore. There are hardly any year-round residents, this area is mostly a vacation town, meaning it becomes very lively in the summer season. This is a great destination for families, couples, and friends alike.
For families, there are fun activities such as amusement and water parks, boat tours, sailing, snorkeling, and luxury resorts. For couples, there are romantic boutique hotels, cute cocktail bars, and sunset boat tours. As for the friend groups, there is scuba diving, tanning, camping, lots of street food, and wild nightlife with clubs and bars.
You can't miss this spacious, urban beach with soft sand and colorful background. Everyone will enjoy this getaway. 
14.  Montmartin-sur-Mer, Normandie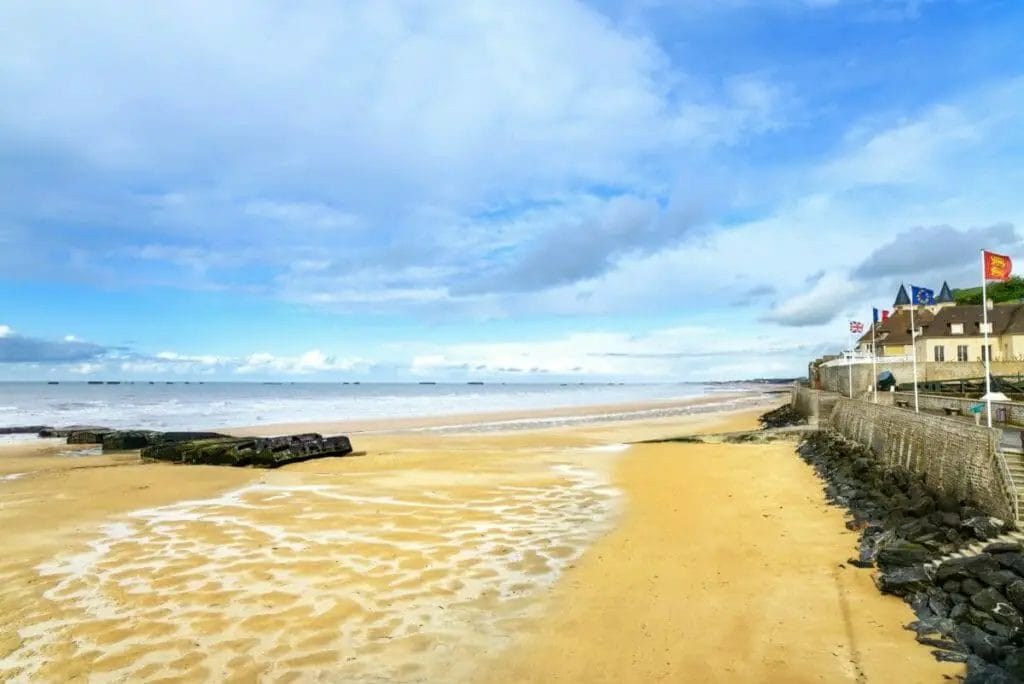 Montmartin-sur-Mer is a romantic beach on the Normandy coast in France. The beach is very long, so it is easy to find a secluded area for privacy. It is sandy, dotted with grassy dunes, and has a distinctly wild quality. One of the best parts is that you can also bring your dog, which many places on this list don't allow.
While you are here you can stay at a nearby bed and breakfast, campsite, or hotel, all with amazing views of the ocean. If you happen to visit in July, you should also consider going to the music festival Chauffer dans la Noirceur in the small town of Montmartin-sur-Mer. It is a vibrant music festival with mostly French people attending and it is a great way to integrate into the culture. 
15.  Nazaré, Portugal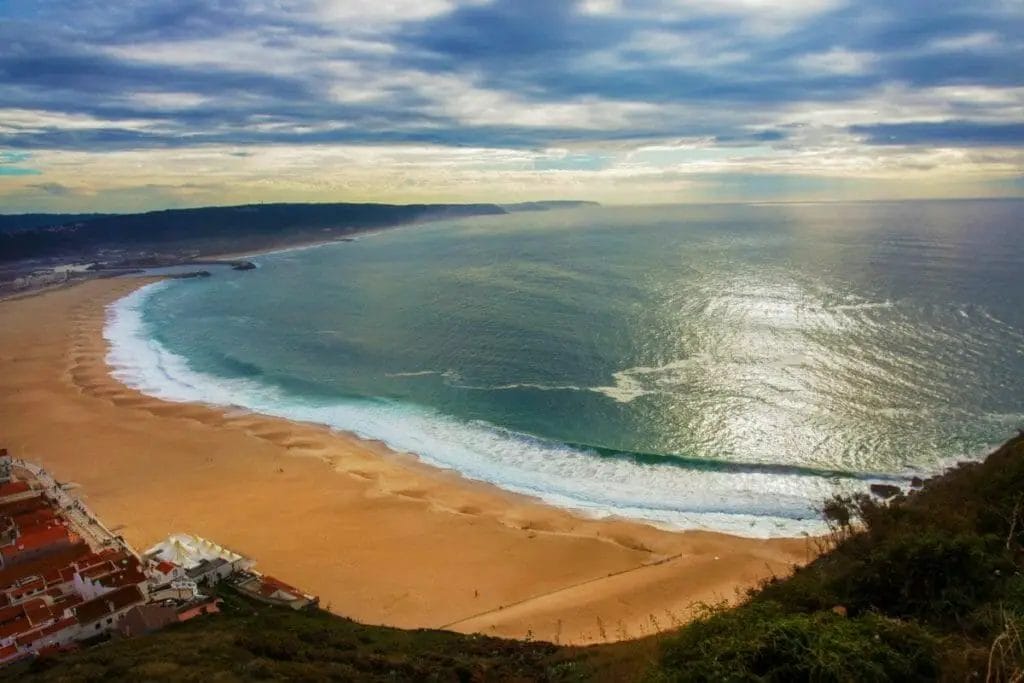 Surely you have heard of Nazaré as it is one of the most famous beaches in the world. Nazaré sits on the west coast of Portugal and it is known for its world-class waves. The biggest wave ever to be surfed was here, António Laureano rode a 101.4-foot wave at Praia do Norte, in Nazaré.
Thousands come each year to see these giant waves and the brave surfers that risk their lives to ride them. To see these waves or watch a surfing competition, the best place to go is next to the lighthouse Fort of São Miguel Arcanjo from November to February. Of course, the beach Nazaré isn't all scary waves, in the off-season, this is a tranquil place to learn to surf or simply play in the water.
It is also beautiful with its sandy white beach, rugged cliffs, and backdrop of red-roofed houses. You can either stay in the quaint town of Nazaré or take a day trip from Lisbon, which is only a 2-hour train ride. 
Insider Tip: If you are bored of Nazaré or find it too flat, make sure to check out Ericeira, it has 13 gorgeous beaches to explore. Get more information on where to stay in Ericeira here.
16.  Playa Calahonda, Nerja, Spain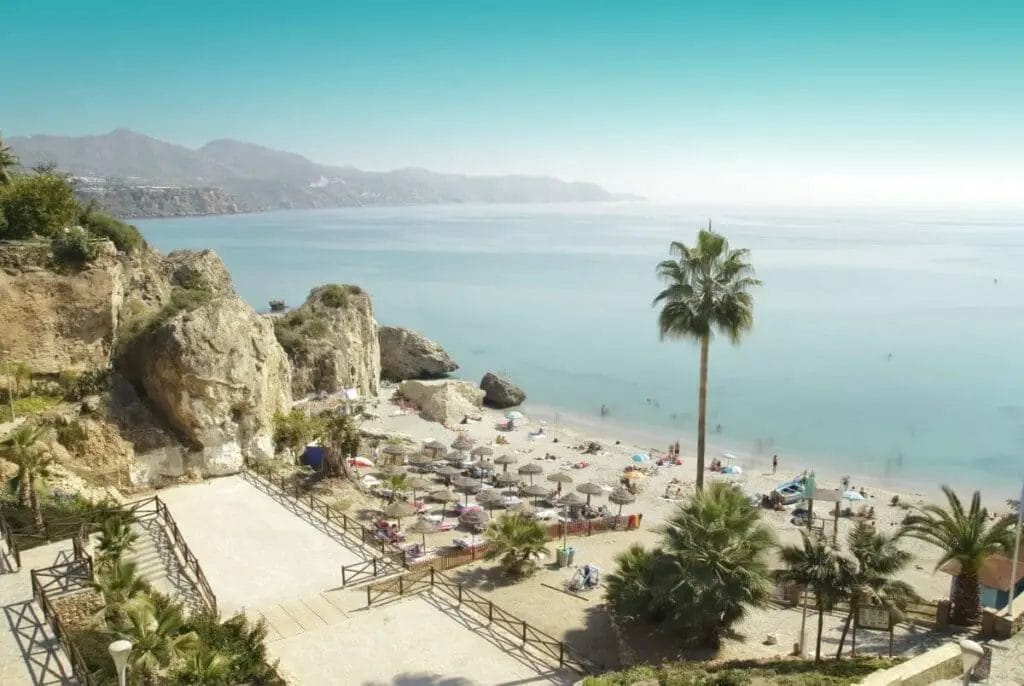 There are many beautiful beaches to choose from in Nerja and honestly, you can't go wrong with any of them. However, Playa Calahonda has a special quality that makes it stand out. With the Sierra de Tejeda mountains in the distance, cream and blue houses sitting on the hillside, unique rock formations, and waving palm trees, this place is paradise.
Playa Calahonda is on Costa del Sol in Spain and here it is sunny year-round. Come here any time of year for scuba diving, snorkeling, a romantic walk on the wooden boardwalk, and delicious beachside meals.
One of the best beach bars is Cocoa Beach Marbella, where you can rent sunbeds for 17 dollars a day, enjoy cocktails on the beach, dance to live music at night, and eat fresh seafood dishes. 
17.  Numana Alta Beach, Italy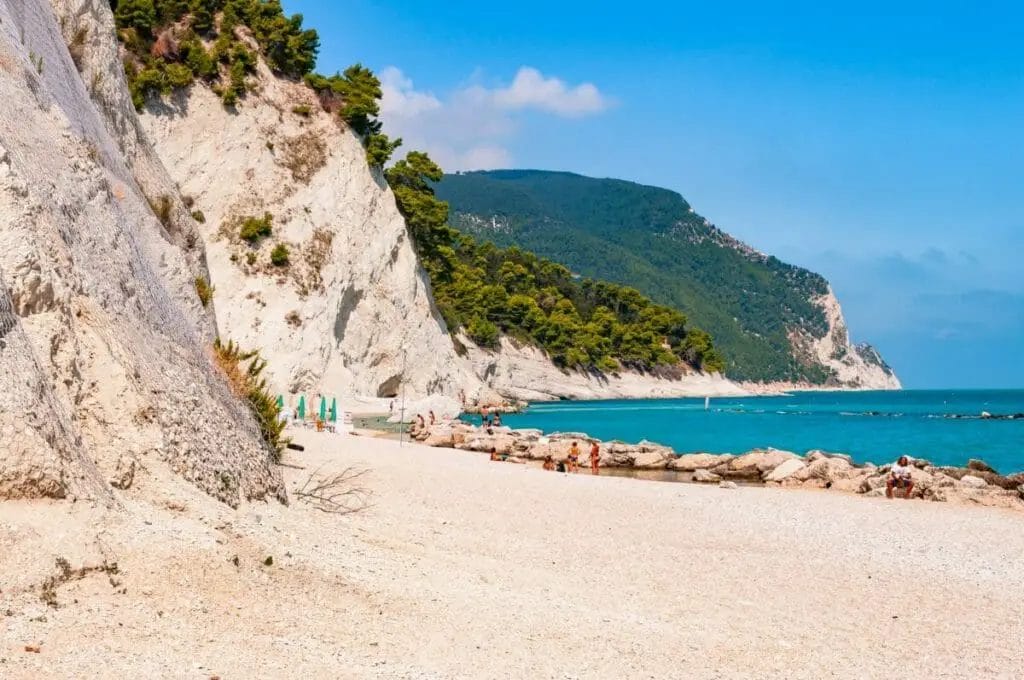 The Numana Alta beach has two different bays to choose from, Spiagga del Frate (or Sottosanti) and Spiaggiola beach. These two Italian beaches are set underneath the historical center of Numana Alta with white rock cliffs and greenery.
The first bay is a touristic beach lined with cream umbrellas and lounge chairs. This is perfect for a comfortable beach day with the family.
The second beach has a private and public area, lounge chairs and parasols, and lots of parking. The walk between the beach is very short and there is a free shuttle from Numana Alta to the beach. Both bays have deliciously warm water, the occasional sea turtle, and pebble shorelines. 
18.  Pasjaca Beach, Croatia
Pasjaca beach in southern Croatia is one of the most spectacular beaches in Europe. Off the beaten path, it is one of the best-hidden gems of Croatia. It is a small, secluded beach below the sheer cliffs of Konavle and is surrounded by a crystal clear sea.
This beach feels like a romantic paradise and it is a great getaway from the more commercialized beaches with music and restaurants. Come here for natural tranquility, snorkeling, and refreshingly cold water. Just be warned that the path to the beach is rather steep and there is no shade, so you'll have to bring your own umbrella.
However, the lack of amenities is what makes this place more private, so you can remind yourself of this fact as you are hiking up the steep trail back to your car. 
19.  Porthminster Beach, UK
In St Ives, UK rests one of the most beautiful beaches in Europe, with golden sand and views of Godrevy Lighthouse. This lighthouse was in fact the inspiration for Virginia Woolf's famous novel To the Lighthouse. Unlike other parts of the UK, this area has a tropical feel with palm trees, warmth, and lots of sunny days.
On your beach day enjoy beachside games like 18 hole mini-golf, volleyball, and tug-go-war. There are also surfing paddleboarding, and kayaking lessons. If you prefer more relaxation, take a boat tour to see the stunning Cornish coastline or simply soak up the sun on the beach.
At night, walk the narrow cobblestone streets of St Ives and have a drink at one of many pubs or enjoy a dinner at a restaurant overlooking the beautiful harbor. 
20.  Playa de Los Muertos, Almería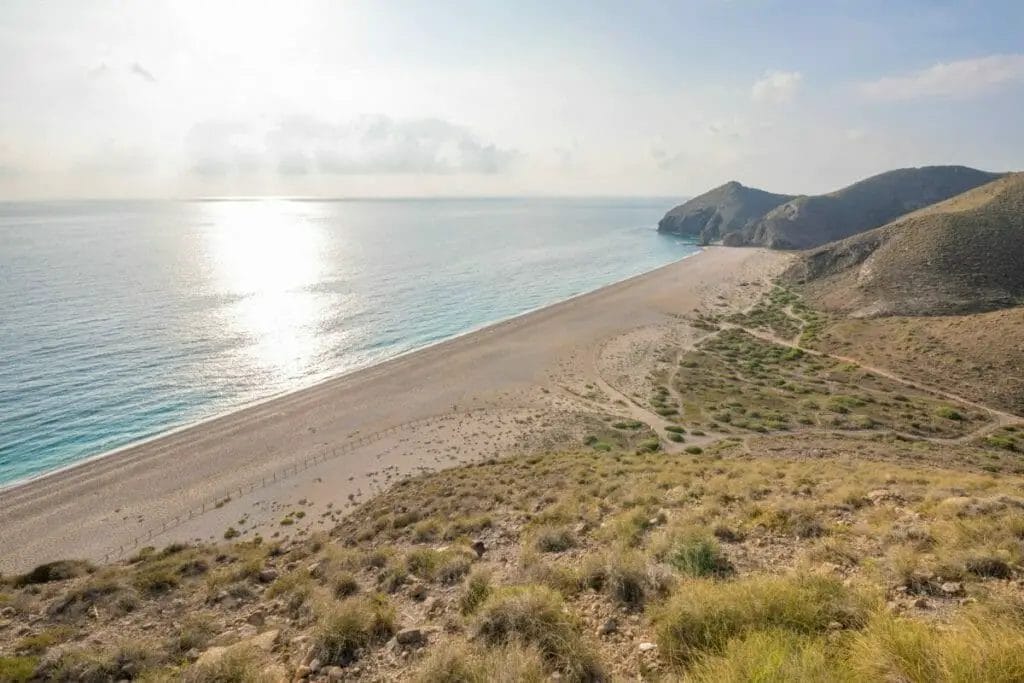 The Beach of the Dead, or Playa de Los Muertos, is a rare beauty on the Almerian coast of Spain. This beach received its dark name because it used to be a shipwreck beach where sailors would turn up after their boats sank in the rough currents. While the waters are still rough, there is no need to fear, if you stay close to shore it is safe and there is a lifeguard on duty during the summer.
Begin your journey by parking at the top of the cliff, taking some breathtaking photos, and then walking down to the seaside. There are no amenities so make sure to bring your own picnic supplies, chairs, towels, and umbrellas for the day. Here you can walk around the nature reserve, snorkel to see interesting underwater rock formations and marine life, and explore sea caves.
Either enjoy the sunset by sipping champagne on the beach or take a trip up to the Lighthouse of Mesa Roldán which sits on a volcanic mountain full of fossilized seashells. 
21.  Playa de Poo, Llanes, Asturias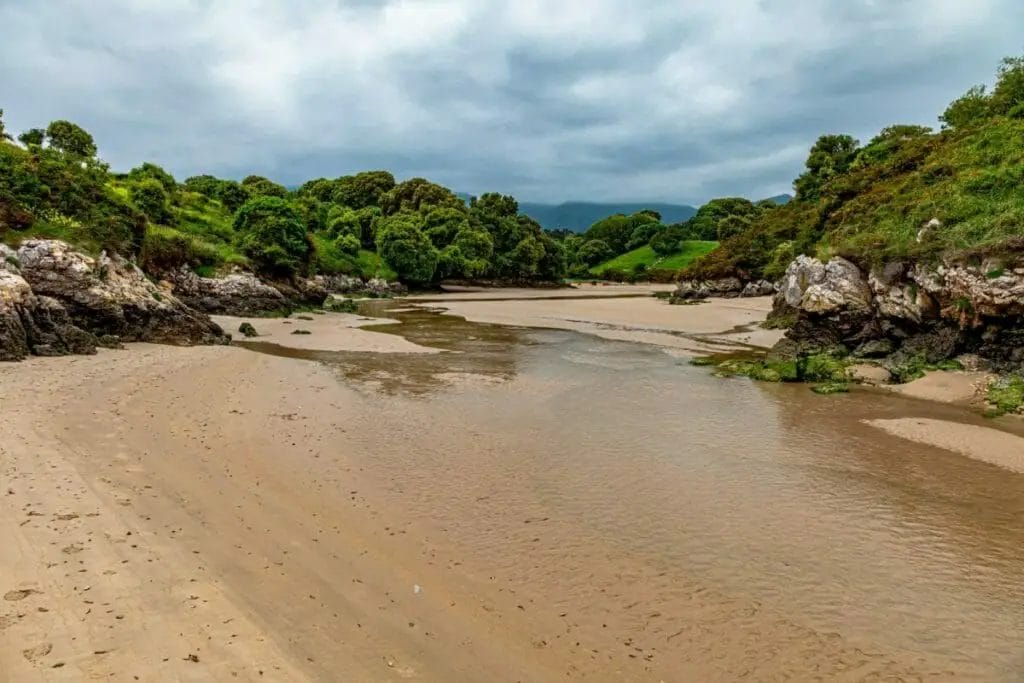 The name can be distracting for English speakers so let's address that first, this lovely beach is pronounced 'po' but of course, if you have kids you can bet the entire day will be filled with 'Playa de Poo' jokes regardless. Besides the name, this sheltered cove is the perfect place for a family trip. The kids can safely swim in the waters as there are hardly any waves and the water is fairly shallow. The sand is also perfect for building sandcastles and there are many sea coves to explore.
Right between the beach and the forested mountains sits Hotel-Restaurante Rocamar, a rustic hotel that is perfect for the family. Stay here and maybe even wake up for the sunrise, you'll surely be the only ones out and it is a magical opportunity to see this cove completely quiet. 
22.  Praia dos Galapinhos, Setúbal
Near Lisbon, Portugal you will find the remote beach of Praia dos Galapinhos. This paradise beach is in Arrabida natural park and it is a very popular destination. Many people want to avoid the crowds, but places become popular for a reason! You can't miss this half-moon, white sand beach with its clear, azure waters. Crowds or not, it is stunning.
Come here for spectacular snorkeling, sunbathing, swimming, and photography. It is only a 50-minute drive from Lisbon's city center so you can even come just for a day trip. 
23.  Positano Beach, Italy
Positano Beach is on the Amalfi coastline in Italy and it is one of the world's most Instagrammable beaches. The beach is surrounded by cliffs, greenery, and colorful houses. Picturesque umbrellas dot the sand and the water lapping the shore is stunning. After taking more than enough photos, pick out your favorite lounge chair to rent or head to the free section of the beach.
At the free section, you will find boat excursions for the Amalfi coast and tours for the smaller coves. Also check out the Scogliera, a great spot to come day or night. This is the ultimate European destination for foreigners, as it is a popular topless tanning deck.
At night, it also is home to Music and Rocks, a famous nightclub with vistas of the glowing Positano beach. It is truly a magical experience to come here, the interior is filled with purple light and the sea breeze enters from the giant windows, cooling you down as you dance. 
24. Saleccia Beach, Corsica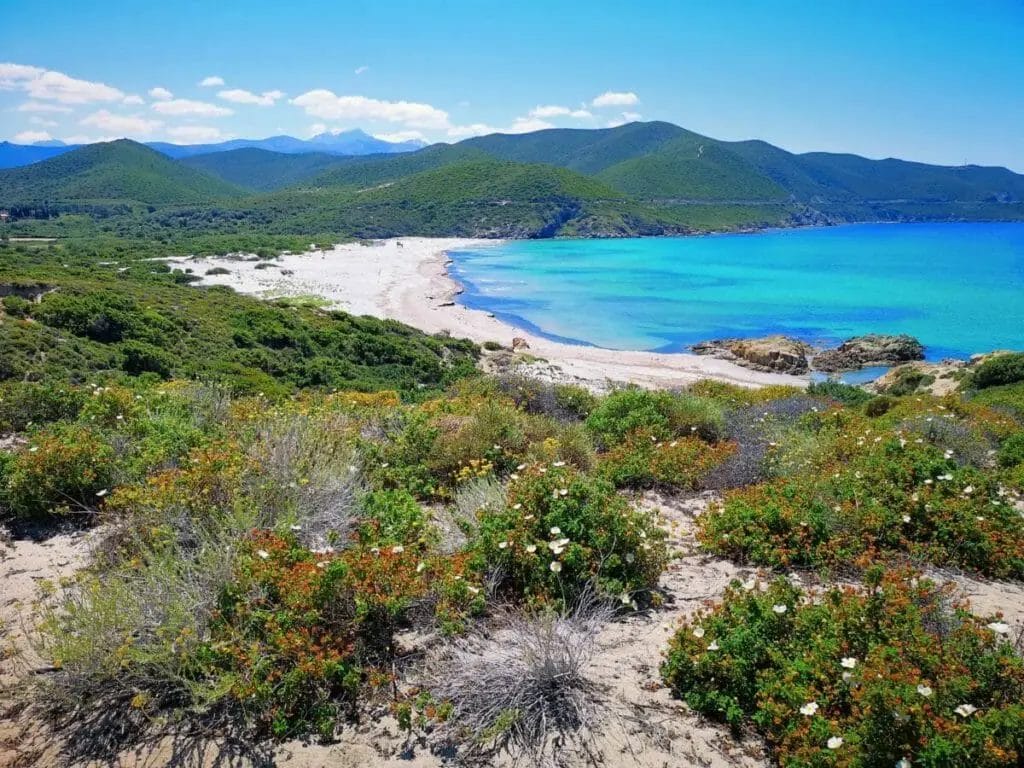 Come to the I'île de Beauté, Island of Beauty, in Corsica, France for an unforgettable bright white sand beach. The beautiful beach of Saleccia offers a great place to tan, watch happy cows meander close by, and swim in peace. There are no amenities for this wild area so make sure to pack all the necessities before going.
To arrive, take a short ferry ride from Saint-Florentina and stop by Lotu beach on the way. You can also reach Lotu beach by a gorgeous coastal path that takes about an hour and thirty minutes. 
25. St Nicholas Island, Turkey
St Nicholas island was given its name because St Nicholas (the inspiration for Santa Claus) was supposedly buried here. This is the best beach for snorkeling because of its clear, aquamarine water. The shore is rocky but this only encourages you to explore the adorable island that is filled with churches and other religious buildings.
Nearby there is a sandy beach if you absolutely need to tan, it is Oludeniz beach and it is a bay on the Blue Lagoon. Here the water is always calm and you can sunbathe, scuba, explore sea caves, and watch paragliders float down the mountains behind you. 
26.  Vlychos Beach, Greece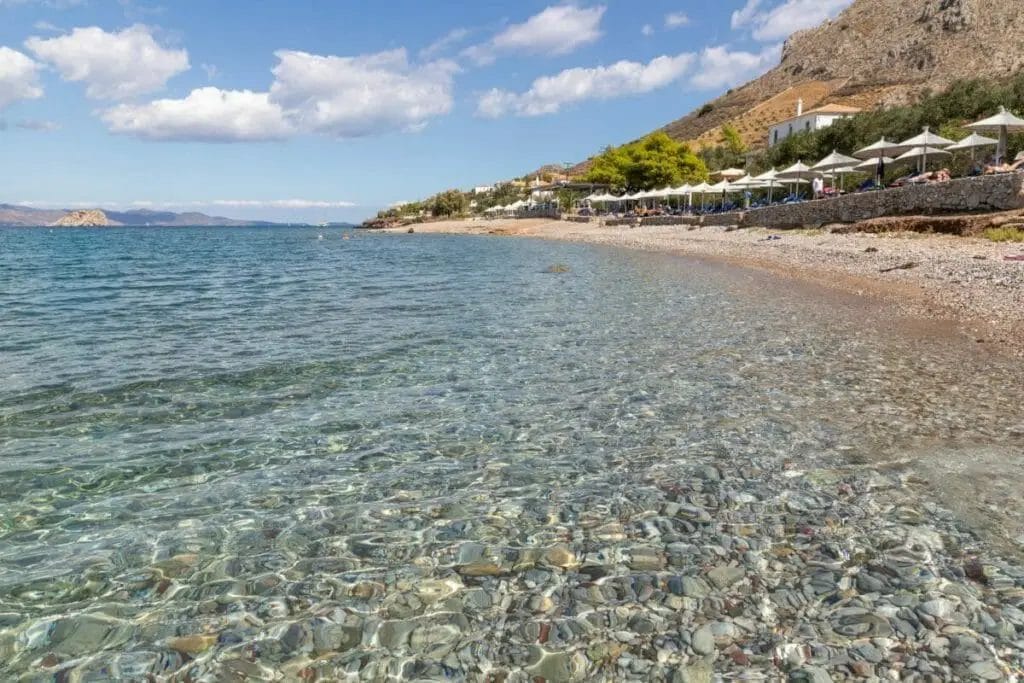 Vlychos beach is on the Greek island of Hydra. This sand and pebble beach is perfect for snorkeling, sunbathing, and relaxing. It is much cheaper to rent an umbrella and chair here (in comparison to other European beaches), it will only cost you a few euros for the day.
Enjoy luxury at a small price and perhaps treat yourself to some beachside cocktails. Vlychos beach is incredibly pleasing to the eye as well, it has a rugged hill background, azure water, and green vegetation that will bring you a sense of tranquility. 
27.  Villefranche-sur-Mer, Provence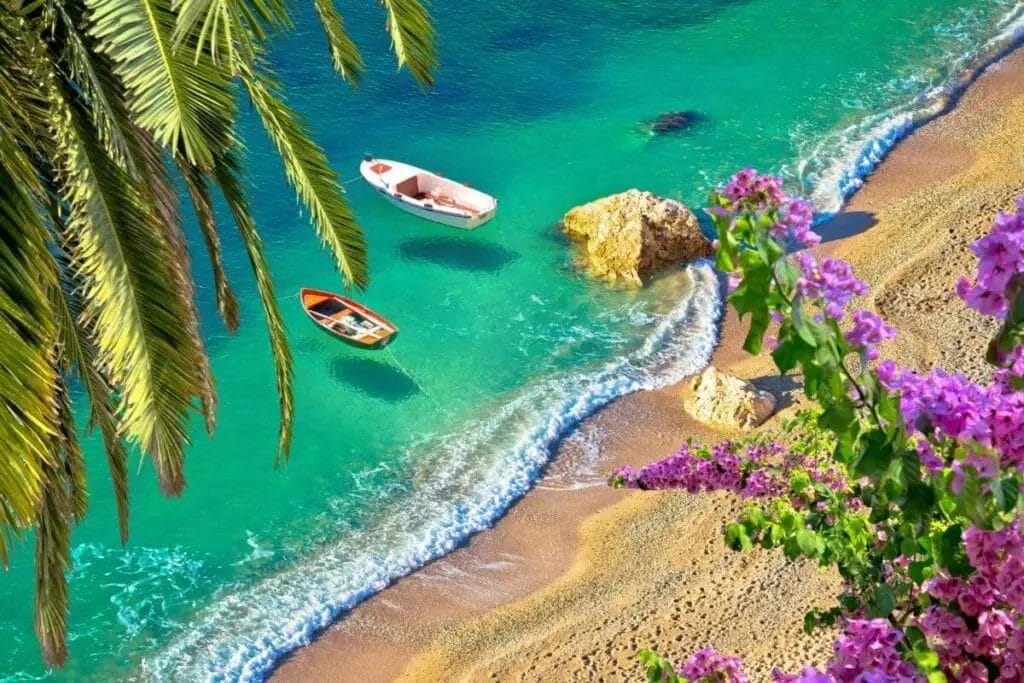 The last but certainly not the least on this beautiful beaches list is Villefranche-sur-Mer in the French Riviera. This beach is part of the luxurious town of Villefranche-sur-mer and so close to Nice that you can even take public transportation to arrive. Locals and tourists alike come to this beach to relax, play, and have a good time.
Try a new activity like paddleboard yoga, jet skiing, scuba diving, or a sunset dinner cruise. At night, you should pack a romantic dessert and a bottle of champagne to enjoy the beach at night. By this time, all the crowds are gone and you are left with the magical glow of the sparkling hilltop houses and the lulling sound of water lapping the shore. 
28. Myrtos Beach, Kefalonia, Greece
Myrtos Beach provides ample room to play and sunbathe on the sand. A semi-circle white sandy beach is set between green hills and the iconic Island of Myrtos. Did you know that these beaches are among Greece's best photographed?
This doesn't make the place incredibly crowded. A one-mile section of sand is not affected in urban development as sand is not permitted for permanent construction in these places due to laws prohibiting the construction. It's one of a few water activities that make Myrtos a clean beach.
Which European countries have beautiful beaches?
Some of the most beautiful beaches with golden sands and turquoise sea await you in France, Spain, Greece, Croatia, Italy, Turkey, Montenegro, and Spain.
Where are the best sandy beaches in Europe?
Here are 7 excellent European beaches:
Calgoloritze, Sardegna, Italy
Sopot beaches, Pomerol
Myrtos Beach in Kefalonia, Greece
Calamacarella in Menorca, Spain
Stefan Budva, Montenegrin Republic
Marina Grande beach at Positan, Italy
Calanquins de Cassis in France
Which European country has the most beautiful beaches?
Croatia has a number of the best beaches in Europe. Zlatti Rat beaches have some of their finest. The white-sand beaches of Bracia are a protected area that provides a popular place to surf and do other water activities.
Where should I go for Europe Summer Vacation 2022?
List of some good destinations and best places to visit Europe. in 2022. '… Rome, Italy. … Cavit, Croatia. … Florencia Italy. … Sibiu, Romanian Republic. …. The Kefalonia Islands, Greece. … Kotor, Montenegro
More beautiful destinations in Europe