Switzerland has a lot of landmarks and attractions that are worth visiting. The best way to explore Switzerland is by taking the time to visit the most famous landmarks and attractions. These are some of the most popular ones in Switzerland and should be on your list if you want to experience all there is to offer in this beautiful country.
How many landmarks does Switzerland have?
To make it short. A lot. Before we discover the most famous sights and landmarks in detail, here is a list of our Top 10 Highlights and Landmarks in Switzerland:
Matterhorn
The Panoramic Albula Bernina Express Train
Rhine Falls near Schaffhausen
St. Moritz
Zurich
Lake Geneva with Chillon Castle
Lucerne
Jungfraujoch
Zermatt
Basel
1. Matterhorn – The Top Landmark in Switzerland
The Matterhorn is one of the world's most famous mountains and it is a top 10 Switzerland destination. Straddling the Swiss-Italian border, this impressive mountain is 14,691 feet high and provides a gorgeous backdrop for the town of Zermatt.
You can either admire the Matterhorn from afar, perhaps by grabbing a drink at a restaurant terrace in Zermatt or by climbing the beast itself. You can embark on an excursion you will never forget by climbing the Matterhorn, by yourself or with a guide. If you are very experienced in alpinism, you can climb this mountain by yourself in about 8 to 12 hours.
You can also take a guided tour to the top, these tours usually take two days and cost around $1,447. Either way, you will get to visit the igloo village at the base of the mountain, which is home to the world's largest snow igloo. If hiking is not your thing, you can also take a helicopter tour, a typical tour takes you from Zermatt and provides you with panoramic views of the Matterhorn, for the price of about $215.
2. Albula Bernina Express – Panoramic Train
The Albula Bernini Express is a top 10 Switzerland attraction; this bright red panoramic train traverses the Swiss Alps and offers stunning views of the best natural sights in Switzerland. This train begins in Chur, the oldest city in Switzerland, and ends in Tirano, Italy. It is a 90-mile route that takes 4 hours.
The Albula Bernina Express has panoramic windows so you can see the 55 tunnels and 196 bridges you cross through, as well as plenty of gorgeous glaciers, mountains, forests, and countrysides. The train runs year-round and no matter when you visit, you will have stunning views: wildflowers in the spring, greenery in the summer, foliage in the fall, and snow in the winter.
The price for one adult ticket is $10.60 from December to February, $25.55 from March to May, $27.67 from June to September, $25.55 in October, and $21.20 from November to December. (Get your tickets here*) This will surely be one of your best experiences in Switzerland, no matter the season!
3. Rhine Falls near Schaffhausen – Landmarks Switzerland
One of the best Switzerland sights is Rhine Falls, the most powerful waterfall in Europe. This waterfall is located between the cantons of Zurich and Schaffhausen and is 75 feet high and 492 feet wide. You can either see it up close by boat, feeling the powerful wind and spray of Rhine Falls, or hike the Rhine Falls trail which is 2.7 miles out and back.
While you are in this area, make sure to visit the Swiss town of Schaffhausen. This town is on the Upper Rhine River and it has baroque buildings, museums, art, and a gorgeous old town. The landmark of the city is the Munot Fortress, a 16th-century building on a hill, with amazing views of the city and surrounding vineyards.
4. St. Moritz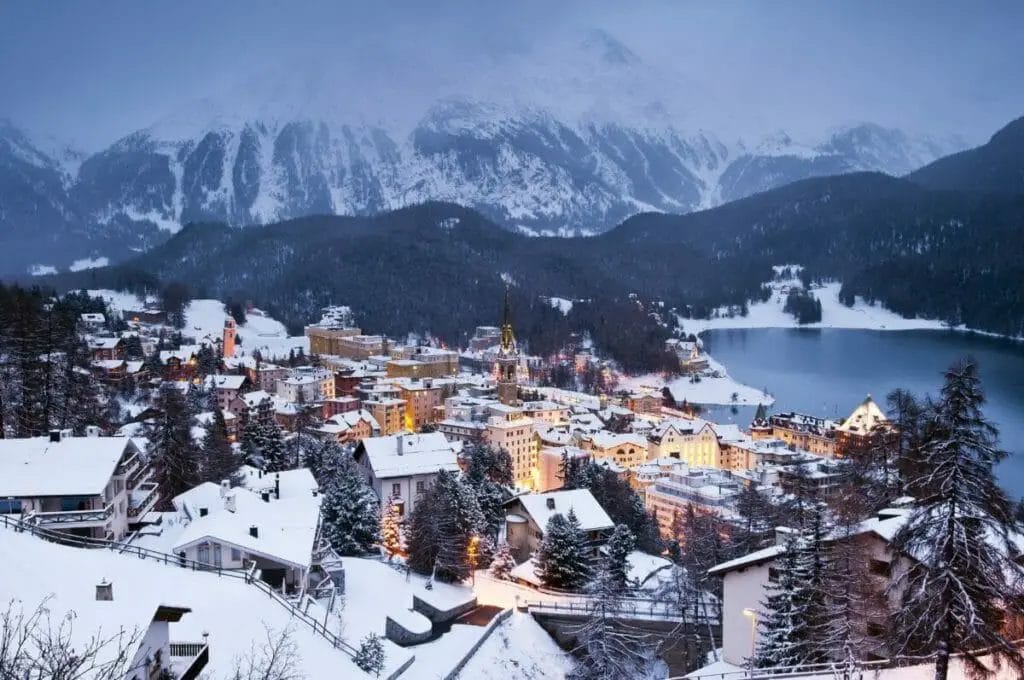 One of the top sights in Switzerland is the luxurious alpine & ski resort town of St. Moritz. This exclusive area is very expensive, but if you have extra cash and are craving a ritzy vacation, this will be the perfect spot for you. St. Moritz is especially famous for being the host of the Winter Olympics in 1928 and 1948, so they naturally have world-class ski runs and resorts.
After a day of skiing or snowboarding, stop by the bar Devil's Place for a variety of 2,500 whiskies and a lively atmosphere. Alternatively, stay at your comfortable hotel and have a deluxe spa day. During the summer there are also plenty of activities: hiking, biking, climbing, sailing, windsurfing, tennis, horseback riding, and golf.
One of the best year-round activities is the Glacier Express, which connects St. Mortiz to Zermatt, this train ride is 7 hours long and travels through mountains, gorges, valleys, mountain lakes, and forests. This train ride is perfect for nature fanatics, families with kids, and photographers. Other activities include taking the Muottas Muragl funicular and walking along the shoreline of Lake St. Moritz.
5. Zurich Old Town
Zurich's old town has everything you can wish for: cultural monuments, Switzerland famous landmarks, historic squares, cobbled streets, rich museums, haute cuisine, shopping, art, nightlife, and impressive churches. Begin your visit by simply walking the cobblestone streets, strolling along the Limmat river, and observing the tranquil environment around you.
As you walk, you will surely see the Grossmünster cathedral, a 13th-century building with stained glass windows and bronze doors, as well as the Fraumünster church which also has gorgeous stained glass windows. After you have finished your walking tour, make sure to visit the Lindt & Sprüngli Chocolate Factory, the Museum of Kunsthaus with over 4,000 works of art, and the street of Bahnhofstrasse for haute couture, souvenirs, and Swiss chocolate.
If you want a beautiful view of Lake Zurich and the Alps, stroll around the Bürkliterrasse park. For the best place to eat lunch, visit the Augustinergasse neighborhood which is not only home to delicious restaurants but also the colorful homes of medieval artisans. For the best dinner and nightlife scene, go to the neighborhood of Niederdorf, which has a lively night scene and plenty of bars.
6. Lake Geneva with Chillon Castle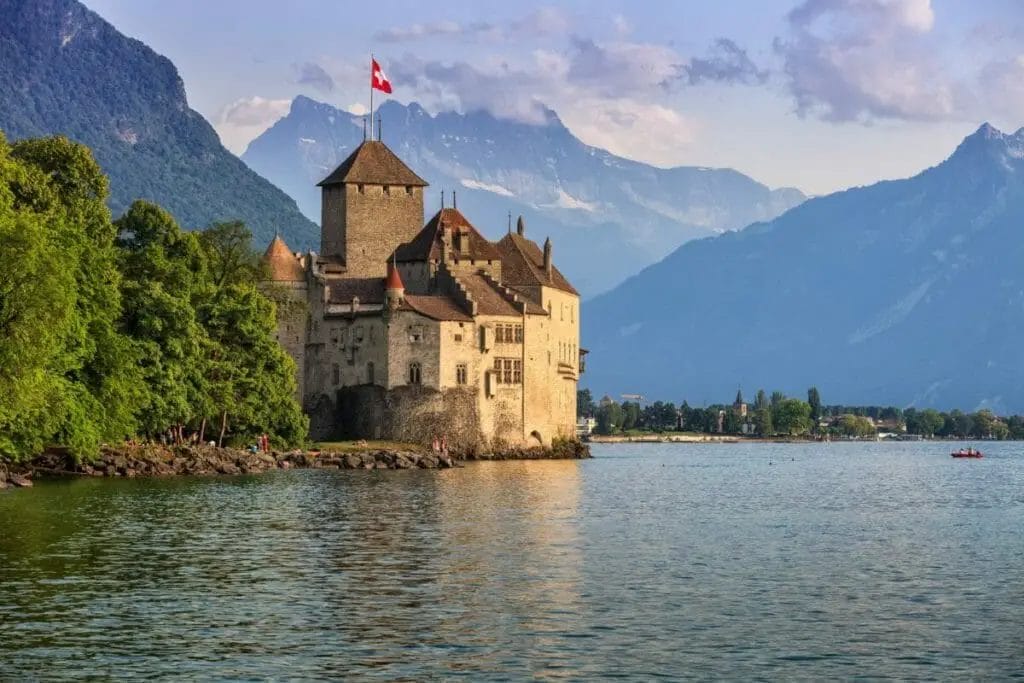 Lake Geneva is the largest freshwater lake in Western Europe and is one of the top sights in Switzerland. This lake is surrounded by vineyards, the Alps, and beautiful towns; it is no wonder that this has become a popular destination for artists and celebrities alike. Some of the top attractions include taking a boat tour, picnicking on the beach, tanning, sailing, swimming, and waterskiing.
Of course, the most famous attraction is Chillon Castle; it is the most visited historical building in Switzerland. This castle is a hotspot for Switzerland sightseeing, as it is one of the best-preserved medieval castles in Europe. Chillon castle is on a rocky island in Lake Geneva and its exterior is just as beautiful as its interior.
The southern side was built as a princely residence and the northern side is a defensive section. In the center, you will find the keep, treasure room, and three main courtyards. Inside, there are around 300 items on display, including art, weapons, furniture, armor, and antiques.
7. Lucerne
The medieval town of Lucerne has some of the best Switzerland sights, as well as rich history and lots of surrounding nature. Lucerne has a colorful old town, picturesque buildings, and the world's oldest serving truss bridge. While you are here, visit the Musegg wall for views of the city and lake, the medieval Romanesque basilica of Hofkirche, the Jesuit church, take a picture of the Chapel Bridge, and Mount Rigi for hiking or skiing.
During the summer, go to Lake Lucerne to swim, tan, take a boat trip, or try some water sports. For dinner don't miss out on the traditional dishes of meatloaf, raclette, and fondue with hot tea. These hearty dishes are especially tasty after a day in the snow.
8. Jungfraujoch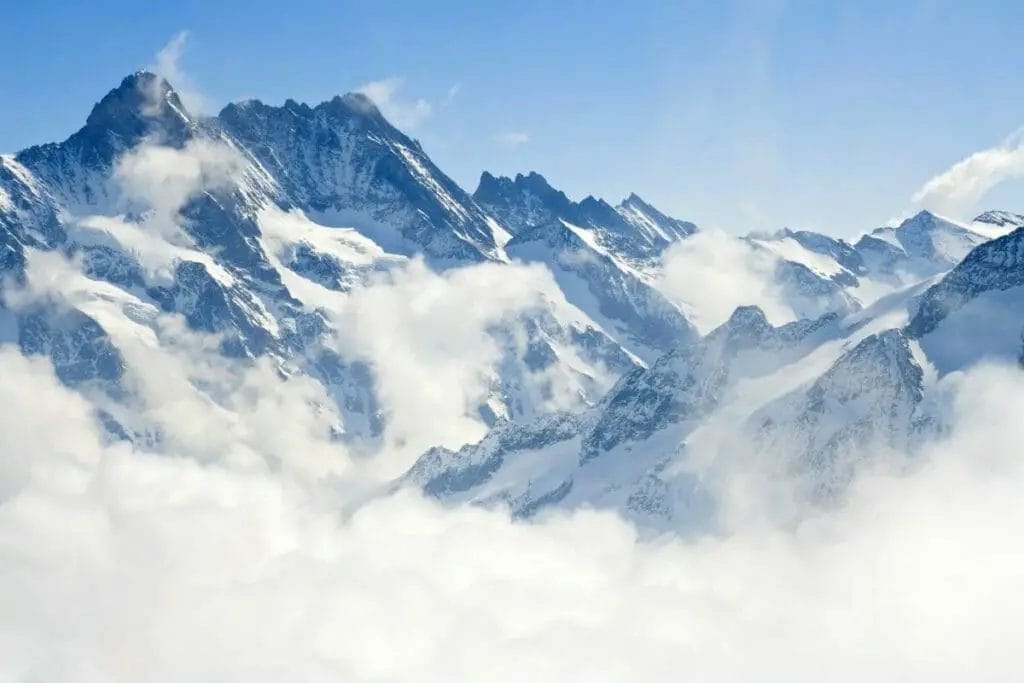 Jungfraujoch is a glacial pass between Jungfrau and Mönch mountain in the Bernese Alps and it is one of the best Switzerland landmarks. It is the highest railway station on the continent, hence earning the nickname, Top of Europe.
The best time to visit is from May to September, but don't worry, you will still see plenty of snow during these months. In fact, there is snow here year-round; the top activities include skiing, snowboarding, and snow tubing.
You also need to visit the Ice Palace, Lindt Chocolate Heaven, Alpine Sensation, and Sphinx Observatory. All of these attractions are great for families, couples, and friends alike. A great way to end your day at Jungfrauhoch region is by sipping hot cocoa at one of the alpine lodges and enjoying the sunset.
9. Zermatt
This top 10 Switzerland destination is most definitely worth visiting, the famous Swiss town of Zermatt is known for its natural beauty, cuisine, culture, and history. The first thing you will see when entering Zermatt is the Matterhorn that serves as the backdrop to this postcard-perfect town. You can walk around town and admire this Switzerland landmark from different angles or also check out the Zermatt Matterhorn Viewpoint for an unobstructed view.
Another place for amazing views of the Matterhorn is Gornergrat, an excursion destination since 1898. Take the eco-friendly railway from Zermatt station to Gornergrat and see bridges, forests, rivers, and of course, the Matterhorn. Back in the town of Zermatt, there are plenty of activities.
Dine at Michelin gourmet restaurants, sip beer from a terrace, go to the Matterhorn Museum to learn about the history of Zermatt, window-shop expensive stores, and simply walk around the town. One of the best sections to walk around is Hinerdorf, this old neighborhood is filled with timber houses and will fill you with nostalgia.
Other activities include world-class (and year-round) skiing, mountain biking, climbing, and hiking. Before you leave this wonderful city of Switzerland, make sure to try fondue, raclette, dried sausage, and apple strudel with custard.
10. Basel with Basel Cathedral
If you are sightseeing Switzerland, you must see the beautiful city of Basler. It is the oldest university city in Switzerland and has botanical gardens, parks, book shops, around 40 museums, and nearby ruins. Basler is considered the cultural capital of Switzerland with its historical town center and surrounding modern architecture.
The top attraction here is the Basler Cathedral, or Basel Minster, a Protestant church that was originally Catholic. This red sandstone church was built between 1019 and 1500 in Romanesque and Gothic styles. Here you will find the tomb of the 16th-century Dutch scholar, Erasmus.
The cathedral also offers amazing views of the Rhine River and the historic city center, if you climb the St George's or St Martin's tower. Before leaving Basler, make sure to try their delicious traditional Basel honey cake, perhaps while strolling along the romantic Rhine River.
11. Ice Grotto in the Rhone Glacier
One of the Switzerland landmarks on the Furka Pass is the ice grotto in the Rhone glacier. While the outside of the Rhone glacier is white, the inside is magically blue. You can walk through this ice grotto in an unguided tour that lasts 30 minutes, to see the blue ice tunnel and ice chamber.
The ice grotto has existed since 1870 but it is ever-changing; each year it moves 130 feet and melts significantly in the summer. This is one of the Switzerland sights you must see if you plan on visiting Furka Pass!
12. Furka Pass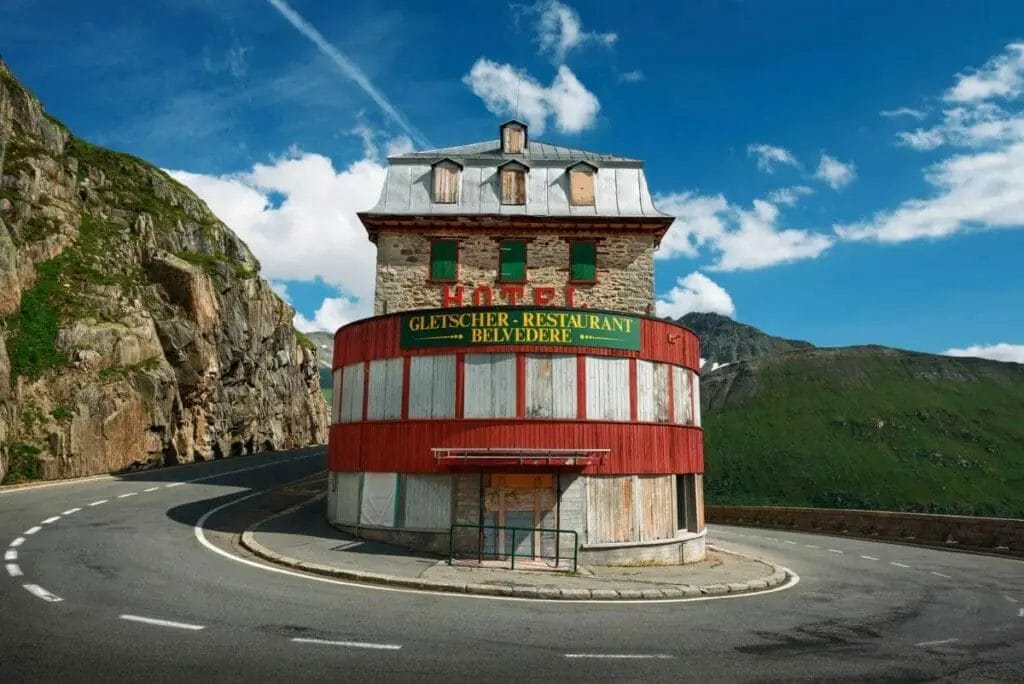 One of Switzerland's famous landmarks is Furka Pass, a high mountain pass on the Swiss Alps. This is one of the highest roads in Europe with an elevation of 8,000 feet and is considered to be a dangerous road because of its many tight turns and steep sections. It is definitely not recommended to drive at night or in the rain. In fact, during the winter the conditions are so dangerous that Furka Pass is closed.
This mountain pass is about 43 miles long and connects the towns of Gletsch and Andermatt. Gletsch is an old village in the German region of Switzerland, in the Upper Rhone Valley. Andermatt is a famous Swiss ski resort town with modern resorts, traditional alpine cottages, and beautiful hiking areas. Both of these alpine towns are lovely to visit for a day or two, they have a tranquil atmosphere as well as plenty of outdoor activities.
Furka Pass is best traveled by car, this way you can stop at the many viewpoints and villages along the way. This journey will provide you with some amazing opportunities for photography, with panoramic views of mountains, glaciers, countrysides, and forests.
13. Gotthard Pass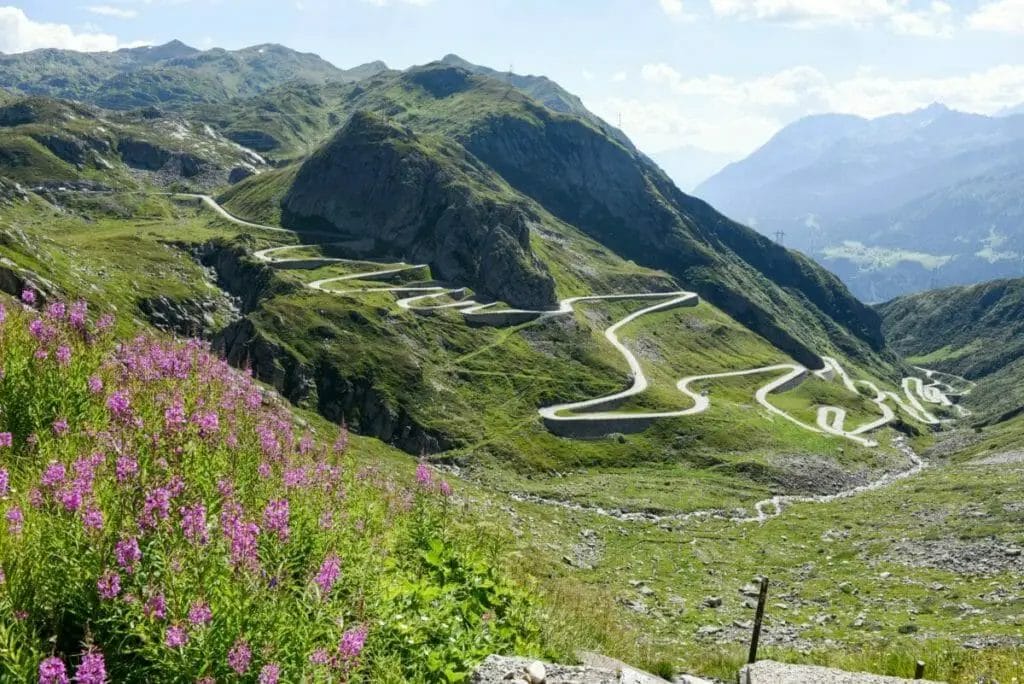 Gotthard pass is in the southern part of Switzerland, in the Saint-Gottardo mountain range. This is one of the most spectacular Switzerlands sights with breathtaking views of the mountains and valleys in Ticino. On this pass, you will also find hotels, restaurants, museums, and great hiking trails.
One of the best trails is the Five Lakes hike; true to its name you will see five spectacular lakes, as well as gorgeous mountainscapes. It is a circular hike that is about 8 miles long, you may want to pack a picnic to eat by one of the lakes and you will definitely need plenty of water.
To reach Gotthard Pass you can go by car, bus, or horse-drawn coach. Alternatively, if you want some exercise, you can also bike or hike to the top. No matter how you get there, you will have the same amazing vistas. 
14. Lugano and Ticino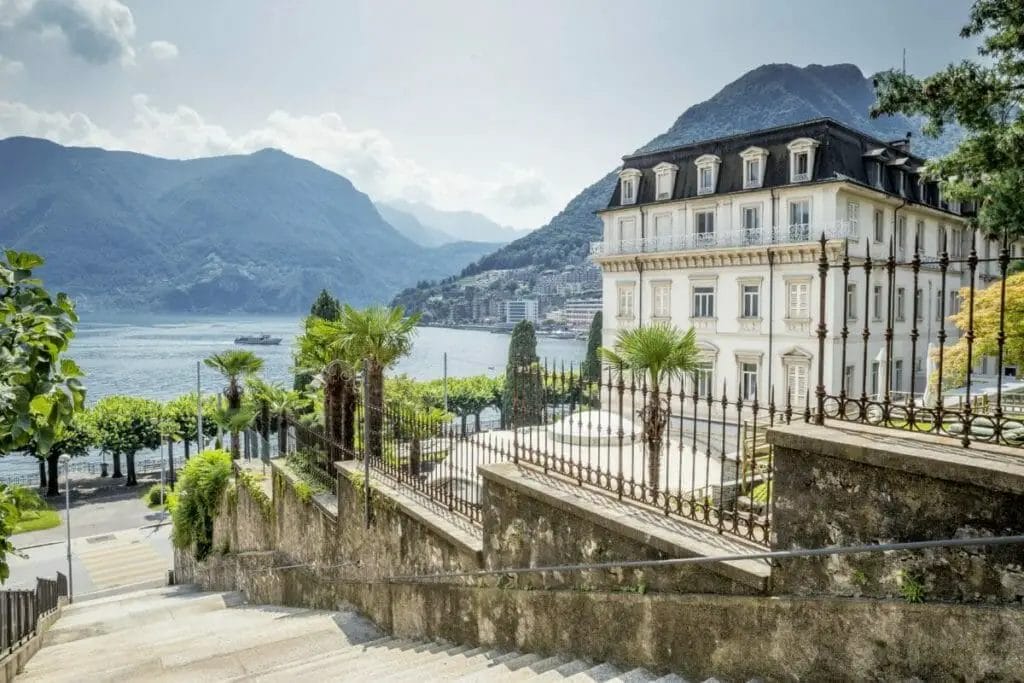 Ticino is a gorgeous, Italian-speaking region in Switzerland, known for architecture, cuisine, culture, and nature. It is also a great place for hiking, cycling, climbing, and water sports. The top attractions of this region are the Versasca Dam, Monte San Salvatore, Castles of Bellinzona, islands of Brissago, and Lugano.
Lugano is the largest city in Ticino and it is a wonderful place to visit when sightseeing Switzerland. This picturesque lakeside city has a relaxed atmosphere and there are plenty of things to do. The main attractions are Lake Lugano, Civico-Ciani park, the old town, and Monte Brè.
Monte Brè is considered the sunniest mountain in Switzerland, take the funicular up this small mountain and enjoy the sun, views, and quaint village. Alternatively, you can hike Monte Brè and enjoy the birds-eye view of Lugano and the lake below.
On Lake Lugano, you can boat, tan on the beaches, or participate in water activities. With endless natural wonders and its Italian-Swiss fusion, Ticino is definitely a great place for vacations in Switzerland. 
15. Lake Oeschinen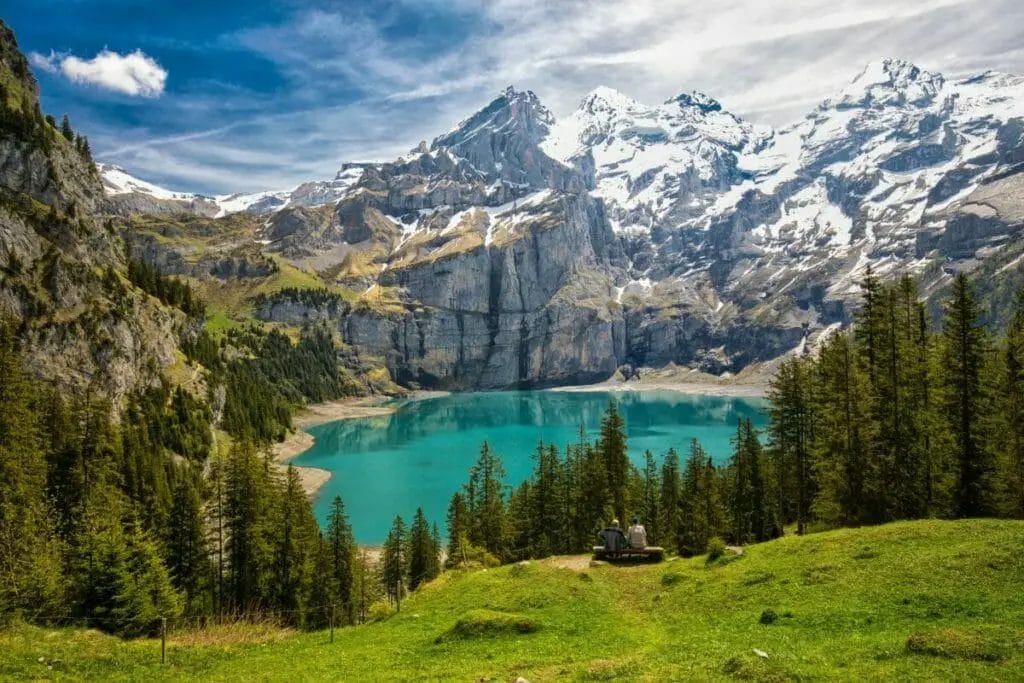 Lake Oeschinen is one of Switzerland's famous landmarks and a UNESCO World Heritage Site in the Oeschinen valley. This landmark is surrounded by mountainscapes, rivers, and forests, making it a great place for photography year-round. During the summer, enjoy the many hiking trails nearby; one of the best hikes in the area is the Oeschinensee Loop, which is 5 miles long and provides spectacular views.
When the weather is warmer, you can also swim in the lake (although it will still be freezing cold) and try the Oeschinensee summer toboggan run. In the winter this town is perfect for skiing, ice climbing, ice fishing, and ice skating.
Year-round activities include spa treatments, eating at traditional restaurants, and hiking (you can snowshoe hike in the winter)! A great place to stay nearby is the adorable resort town of Kandersteg, where you will find boutique hotels, rustic restaurants, and modern spas.
16. Ruinaulta aka the Rhine Gorge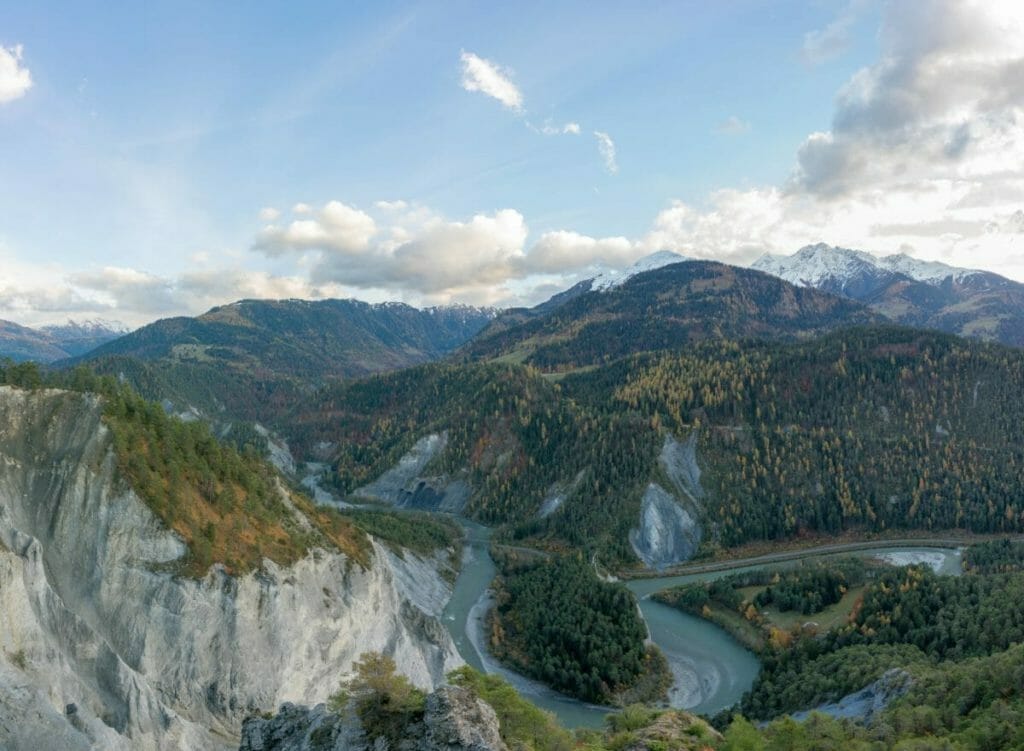 Ruinaulta, or the Rhine Gorge, is an important natural monument that you must see while Switzerland sightseeing. Here you will find craggy rock formations, greenery, forests, and the Rhine River that runs through the gorge.
You can explore this stunning area either by riding the Rhaetian Railway, hiking, cycling, rafting, canoeing, or driving. There are also many viewing platforms in the Rhine Gorge, the top ones to visit are II Spir, Islabord, and Crap Signina. Also in this area, you will find many castles, historic towns, hundreds of plants and animal species, and important landmarks.
17. Oberhofen Castle
This Switzerland landmark was built during the High Middle Ages by Freiherr von Oberhofen, near the medieval town of Thun. Oberhofen Castle faces Lake Thun and the Swiss Alps, making it not only a wonderful place to learn about history and culture but also a beautiful area to enjoy nature and take some pictures.
The castle costs about $13 to enter and you will be able to explore the gardens, a museum about Bernese culture, and the oriental smoking parlor. After visiting the castle, take a boat ride on Lake Thun for a relaxing sightseeing tour. This Alpine lake is surrounded by Romanesque churches, ancient buildings, traditional villages, and museums.
You can also walk around Lake Thun, but it is a several-day trek. However, if traditional Swiss villages are on your Switzerland sightseeing list, this trek may be worth your time because you will walk through many traditional villages and also spend the night at rustic chalets.
18. Trift Bridge
Visit the Trift bridge near Gadmen, to see the only suspension bridge in the Swiss Alps. This bridge is 557 feet long, 328 feet high, and costs $25 for an adult ticket. When you cross the Trift bridge you will have the thrilling experience of being very high up and also seeing incredible views of the Swiss Alps and Lake Triftsee.
To reach this bridge you can either take a gondola or hike. The gondola obviously takes less time, is more comfortable, and offers wonderful views. However, the hike is fun if you have extra time, want to save money, and want some exercise. The hike is 4 hours one way and is a great way for sightseeing Switzerland nature.
19. Viamala Gorge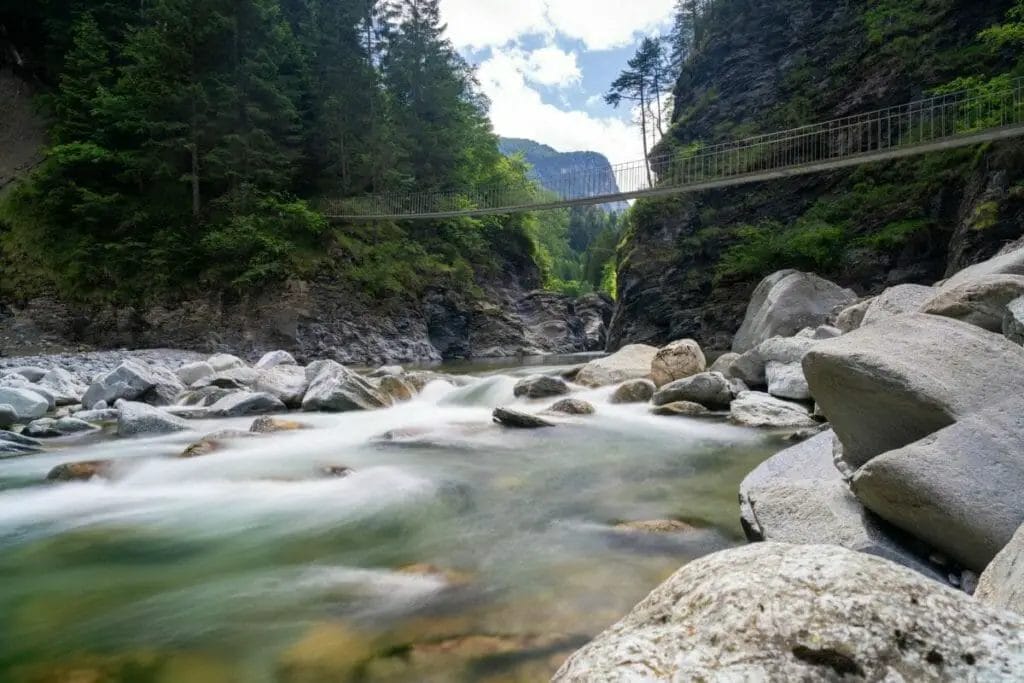 The Viamala Gorge is a narrow gorge along the Rhine River with massive cliffs and rich history. Your first stop should be the visitor center, this modern facility is a great place to learn about the gorge, Switzerland landmarks, nearby attractions, and the history of the land.
From here, either explore the gorge by yourself or take a guided group tour that is an hour long and costs about $129 for adults. If you want to stay near the Viamala Gorge, you can camp at the Camping Restaurant Paradiso Rania or Waldcamping Landquart, these establishments offer quiet campsites surrounded by serene landscapes.
20. Lake Lucerne (Vierwaldstättersee)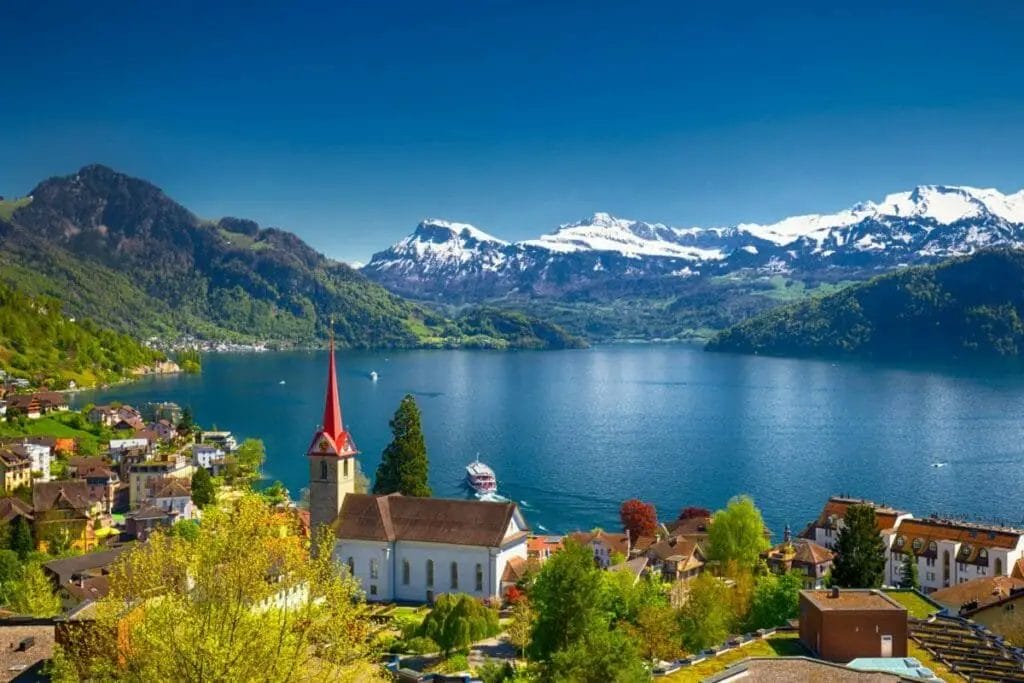 If you are looking for beautiful nature in Switzerland, Lake Lucerne should definitely be on your bucket list. This lake has stunningly bright blue water, beaches, watersport activities, and picnic areas. Explore the lake by walking around the shore, taking a panoramic sightseeing cruise, or riding the paddle-wheel steamboat.
On the shores of this fairytale lake is the town of Lucerne, this medieval town has historic buildings, cobbled streets, boutique shops, parks, and delicious restaurants. The top attractions here are the Museum of Sammlung Rosengart, Jesuit Church, and Glacier Garden. Lucerne is also a great home base for exploring Jungfraujoch, Mt. Rigi, Mt. Pilatus, and Mt. Titlis.
Discover more Landmarks and Places to go in Europe