Off the beaten track of European tourism, Romania is truly a gem for travelers searching for a place with unique history, cheaper prices, stunning landscapes, amazing cuisine, and plenty of activities. This list of 26 important Romanian landmarks and tourist attraction spots in Romania that you have definitely heard of.
Romanian popularity rose thanks to impressive natural surroundings and affordable choices on a budget. Most travelers understand Romania's relationships with Bram Stoker novels and the Gothic novels of Dracula and Xavier. Romania's past dates back to about 350,000 years. Its towns feature a mixture of traditional architecture and 19th-century hints as well as a few remnants of Stalin's design.
This list of places in this fascinating country and Romanian historical landmarks will hopefully give you all the inspiration you need to pack your bags and book your flight! 
1. Bran Castle, the Dracula castle of Romania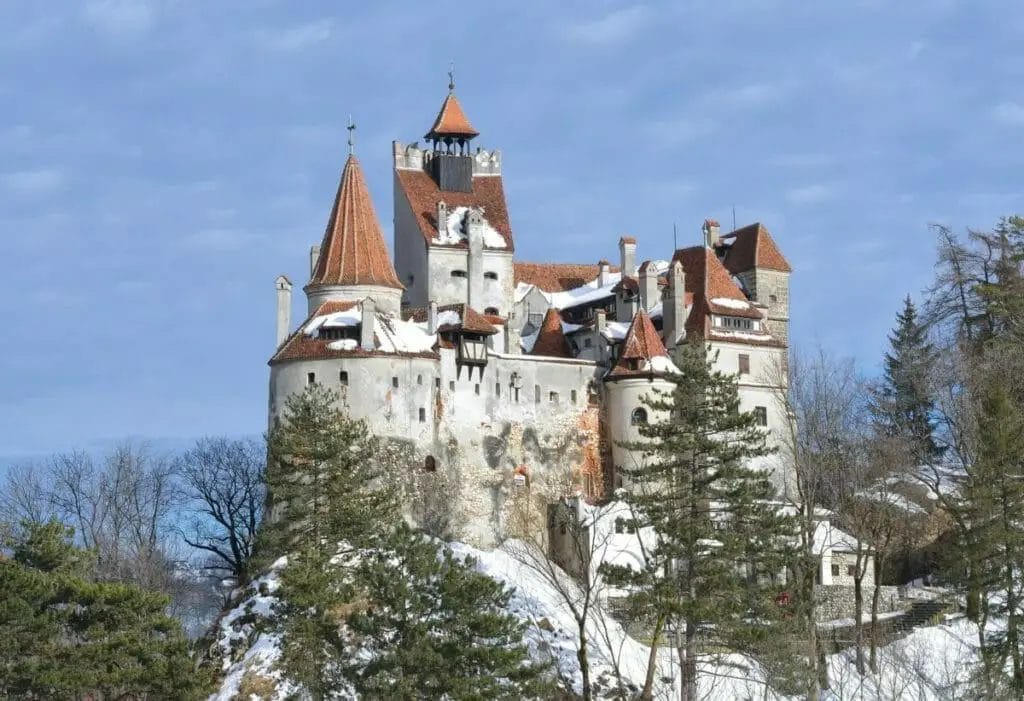 Bran castle is one of the most iconic landmarks in Romania thanks to Bram Stoker and his famous novel, Dracula. This monument is nestled in the forested alps of Transylvania and has been given the nickname Dracula castle because it fits the description of the fictional castle in Bram's novel (although it should be noted that Bram probably never even visited Transylvania).
While you are here you will see secret passages, royal bedrooms and living areas, dagger collections, costumes from King Ferdinand and Queen Marie, medieval torture devices, and ancient art on the walls.
If you happen to be around on Halloween, there is an epic vampire party*. It costs 259 euros, including accommodation, but the price is worth the bragging rights of saying you've spent Halloween at Dracula's castle. Besides, according to the website you get a discount if you are over 200 years old or decompose when sunlight hits you. 
2. Fortified church of Biertan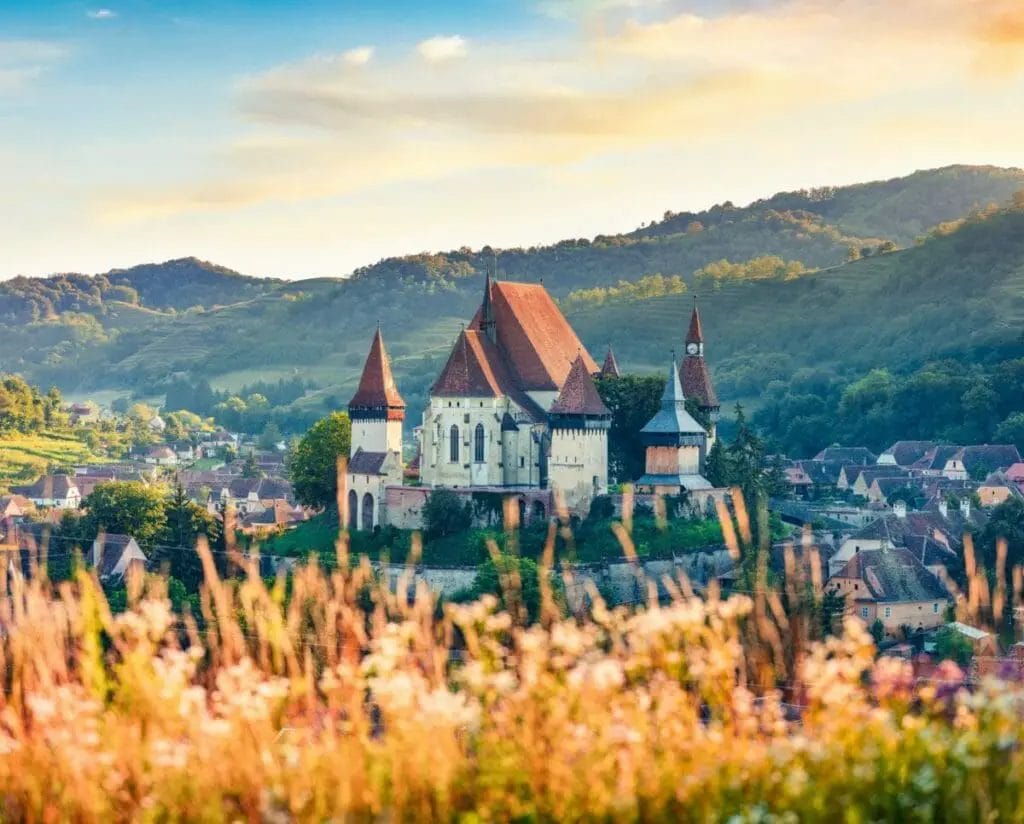 Another stunning historical building in Romania is the fortified church of Biertan. This 15th-century structure is a UNESCO World Heritage site and is surrounded by dreamy vineyards and forests. As you walk through this site you can admire the high walls, gothic architecture, towers, beautiful frescoes, and intricate pulpit.
One of the most interesting aspects of this landmark is the matrimonial prison. In this small room, couples who were seeking divorce were locked for two weeks and told to resolve their problems. The method is said to have been almost foolproof. 
3. Sucevița Monastery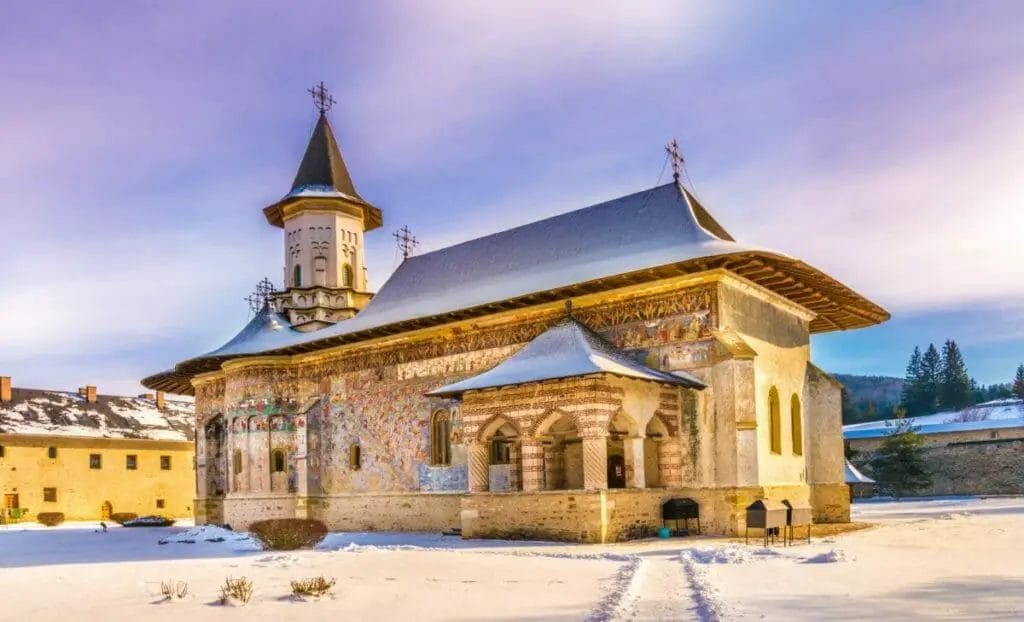 Of the seven Painted Churches of Moldavia, the Sucevita Monastery has the largest painted images. While all of the Painted Churches are beautiful, this monastery is especially breathtaking with its blend of Byzantine and Gothic elements, high buttresses, colorful paintings, and tall walls.
This is a great place to visit if you want to see medieval art, enjoy a relaxed atmosphere, and learn a little about Romanian history. After your visit, you can also walk along the green sloping hills, enjoy the fresh air of the countryside, and pass by the traditional houses spread across the area. 
4. Parliament Palace
Parliament Palace is one of the major landmarks in Romania and an impressive building to tour. It is the world's second-largest administrative building, after the Pentagon, and is believed to be the heaviest building in the world.
The construction of the palace of the parliament was finished in 1997 and was built to symbolize the triumph of communist rule in Romania. Originally it was called the House of Republic but was replaced with "People's House" when the communist regime in the country was overthrown. The standard tour costs about five dollars and with this, you can visit the expansive building, explore Romania's history, and learn about the late communist dictator Nicolae Ceausescu. 
5. Old town of Bucharest 
This historic city center in the capital of Romania is a vibrant hub for culture, nightlife, cuisine, and shopping. During the day you can wander through the colorful streets and visit many beautiful churches, monasteries, and interesting museums. There is also one of the world's most beautiful bookstores, Carturesti Carusel, the Dracula building, the Stavropoleos Church, and the fantastical Macca-Vilacrosse passageway to discover.
At night you can settle in for a delicious dinner of local Romanian food and later drink a craft beer at a trendy brewery or a cocktail at a rooftop bar. As the night progresses you'll see why Old Town is considered a nightlife hotspot, the streets will fill with people, clubs become packed, strippers dance behind bar windows, and live music floats down the streets. 
6. Arcul de Triumf (Triumphal Arch) in Bucharest
High on the list of landmarks in Romania is the Arcul de Triumf, Triumphal Arch, which sits at one of the busiest intersections of Bucharest. This structure was rebuilt many times. The first construction was in 1878, the second in 1922 after World War I, and the final version was inaugurated in 1936.
Standing at 27 meters high, this beautiful landmark is a great place for spectacular views of the city, if you don't mind climbing the stairs to reach the top. One of the best times to visit the Arcul de Triumf is on December 1st, Romania National Day when they have a military parade underneath the arch. 
7. The Bucegi Sphinx in the Bucegi Mountains.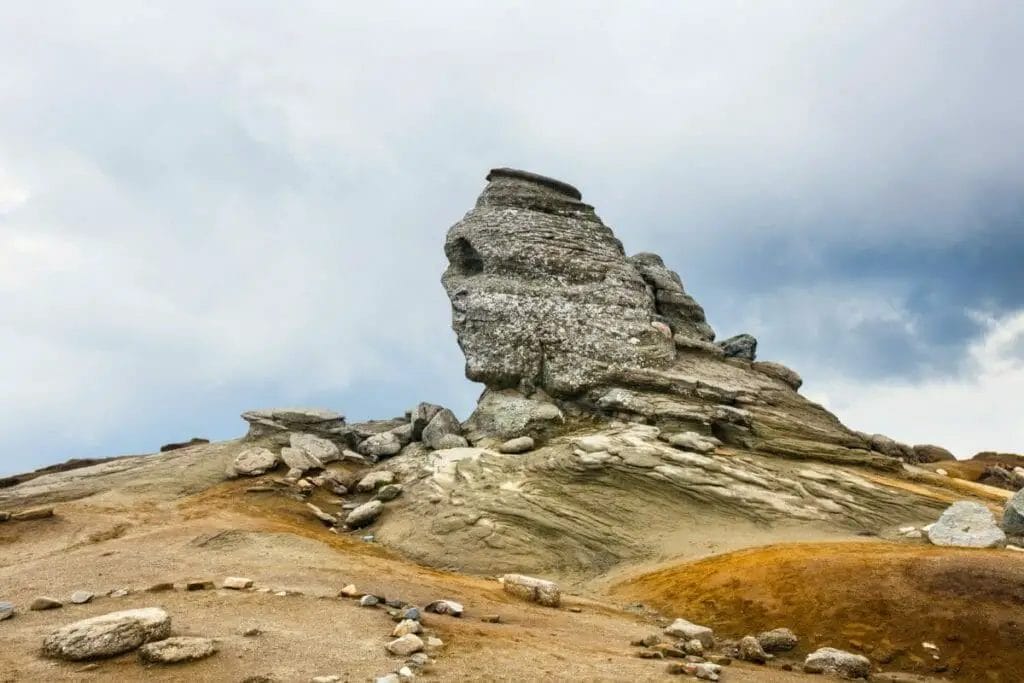 Located in the Southern Carpathians, the mysterious Bucegi Sphinx is one of the most known Romanian natural landmarks. Legends and conspiracies swirl around the creation of this rock formation, ranging from theories of advanced civilizations to alien invasions. It is even speculated that this sphinx was an inspiration for those built in Egypt.
According to scientists this landmark was simply created by wind and erosion, but isn't it more fun to pretend that the Bucegi Sphinx was created by aliens? No matter your theories, this is an impressive formation to visit and there is plenty to do in the Bucegi Mountains. In this area, you can explore caves, waterfalls, hiking trails, and nearby castles all while enjoying panoramic views. 
8. Historic center of Sighisoara 
The historic center of Sighisoara is certainly a uniquely wonderful place to visit with its interesting history, blended culture, rich artistic scene, and incredible cuisine. This quaint medieval town was founded by Transylvanian Saxons, Germans, which is why this place is especially unique.
Walk the streets of the historic center and admire the medieval German architecture, boutiques filled with ceramics and handmade gifts, 14th-century clock tower, scattered churches and castles, museums, and colorful houses sitting on cobblestone streets. If you still haven't gotten your fill of Dracula-related visits, there are plenty of vampire-themed attractions thanks to the fact that this is the hometown of Vlad III (the inspiration for the character of King of Vampires). 
9. Râpa Roșie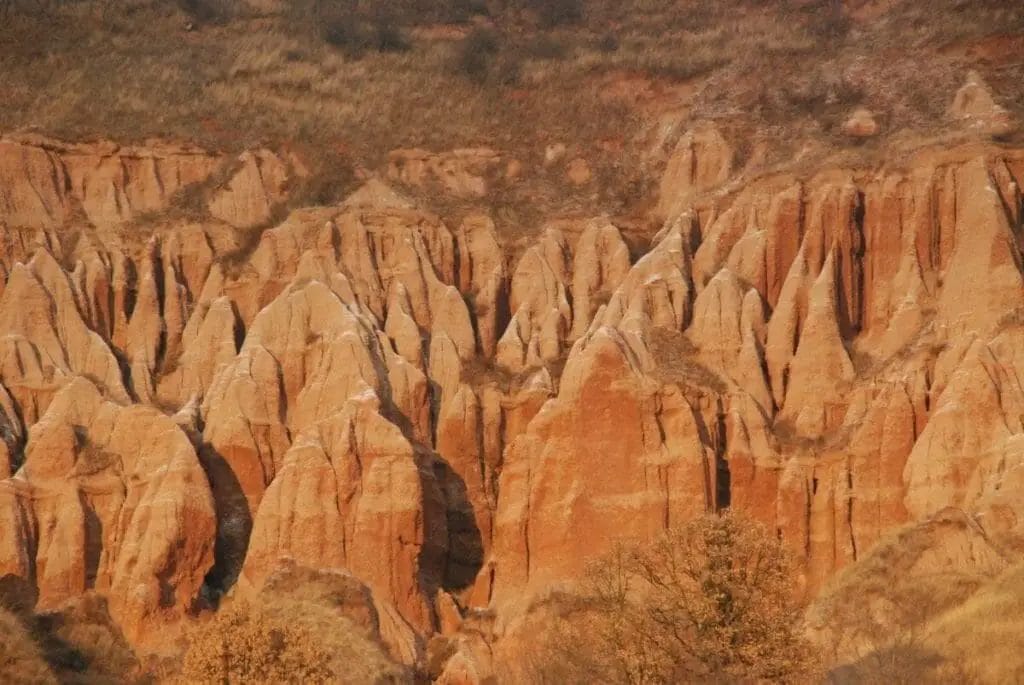 If you love to be in nature, Râpa Roșie is the place for you. This red gorge is an impressive natural formation of red clay and sandstone pyramids, columns, and pillars. It is in a geological and botanical reserve, so the area has been very well preserved and it is a tranquil destination for weary travelers.
The best time to spend time here is in April or May so that you can see the bloom of colorful wildflowers contrasting with the red rock gorge and lush green landscape. While you are there make sure to take a hike or two and visit the quaint town of Sebes which is home to the Calnic fortified church, a UNESCO World Heritage site. 
10. Snagov Monastery 
This unique medieval-era monastery is hidden on a tiny green island off of Bucharest. You can access it by driving over the small bridge that connects the island to the mainland or by boat. It is a short visit but well worth your time with the beauty of the Snagov Monastery, scenic location, and cute souvenirs (including Romanian wine) that you can purchase at the gift shop. 
11. Băile Herculane – Hercules bath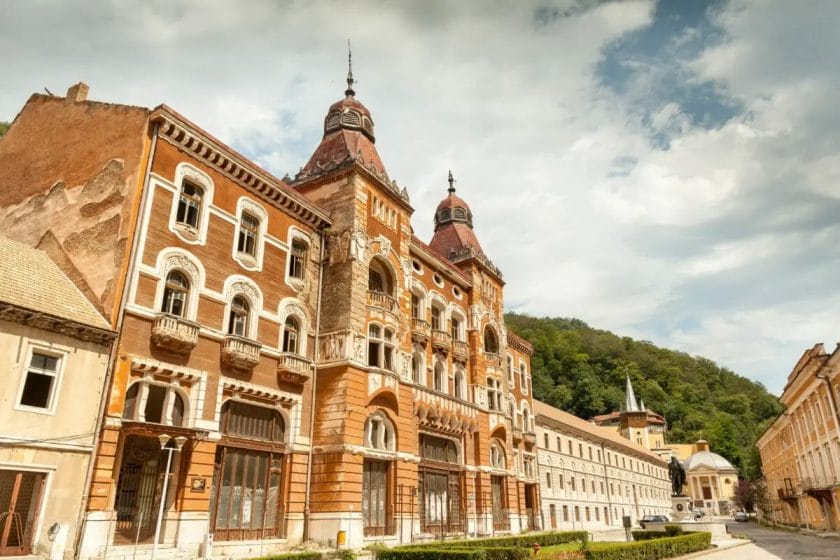 This historical site in the Banat region was once the stomping grounds of European elites, but it is now open for all to enjoy. Băile Herculane, Hercules bath, is a town nestled in a wondrous mountain gorge and is home to many sulfur springs baths.
Go visit to soak in their thermal springs filled with healing minerals, enjoy other spa treatments, explore the nearby waterfalls and hikes, spend time relaxing in nature, and take a boat trip around the Danube, the second-longest river in Europe. 
12. Peles Castle in Sinaia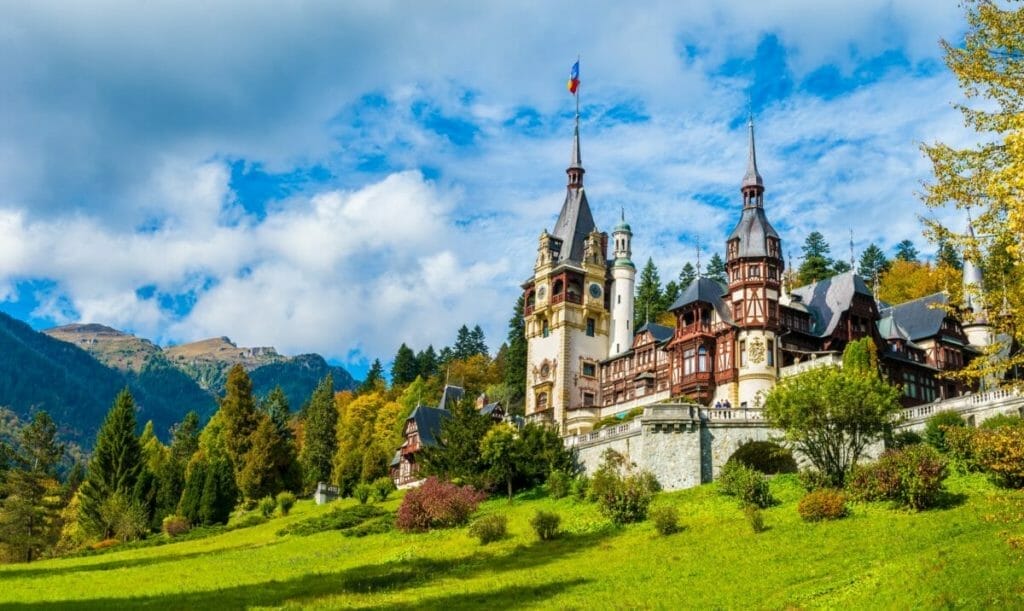 If you visit the Carpathian mountains, Peles Castle should definitely be on your list of places to see. It is one of the most beautiful castles in Europe with its Neo-Renaissance and Gothic revival fusion. Inside you will discover rare books, stained glass, exotic tapestries and rugs, Turkish vessels, weapons, ancient armor, amazing woodwork, and a gorgeous painting collection.
Once you have toured this impressive castle, which was the summer home of King Carol, you can also explore the beautiful mountain resort town of Sinaia. 
13. Berca Mud Volcanoes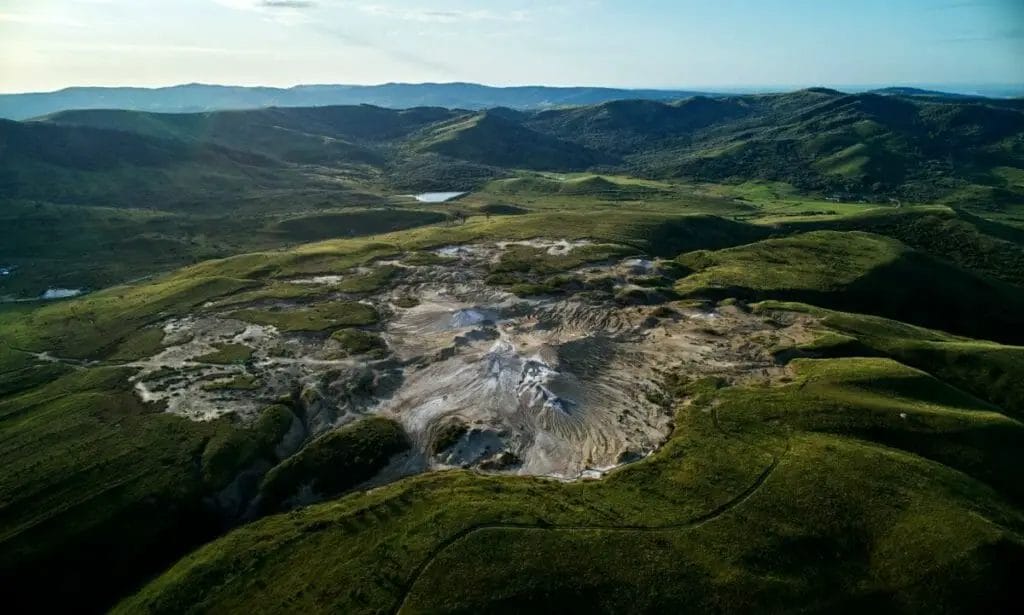 Mud volcanoes are extremely rare in Europe, making the Berca Mud Volcanoes an especially unique natural landmark to visit in Romania. These mud formations almost seem alive as they are constantly bubbling and spewing natural gas with giant bubbles.
It will feel as if you have landed on a different planet and is definitely a great place for a photoshoot. As you walk around keep an eye out for rare exotic plants such as Nitraria schoberi and Obione verrucifera. 
14. Danube Delta 
The Danube Delta has the third largest biodiversity index in the world and is the second-largest river delta in Europe. This vast area can be somewhat traversed by car but some areas like the colorful boat village of Mila 23 must be visited by boat. As you explore, you will see many streams, marshes, willow tree groves, floating reed islands, and even extremely rare birds.
Besides the Mila 23 village, you should also visit the Leteo forest and village for spectacular sand dunes and views of wild horses as well as the village of Sarichioi which sits near a freshwater lagoon on the shore of the Black Sea. 
15. Salina Turda – Turda Salt Mine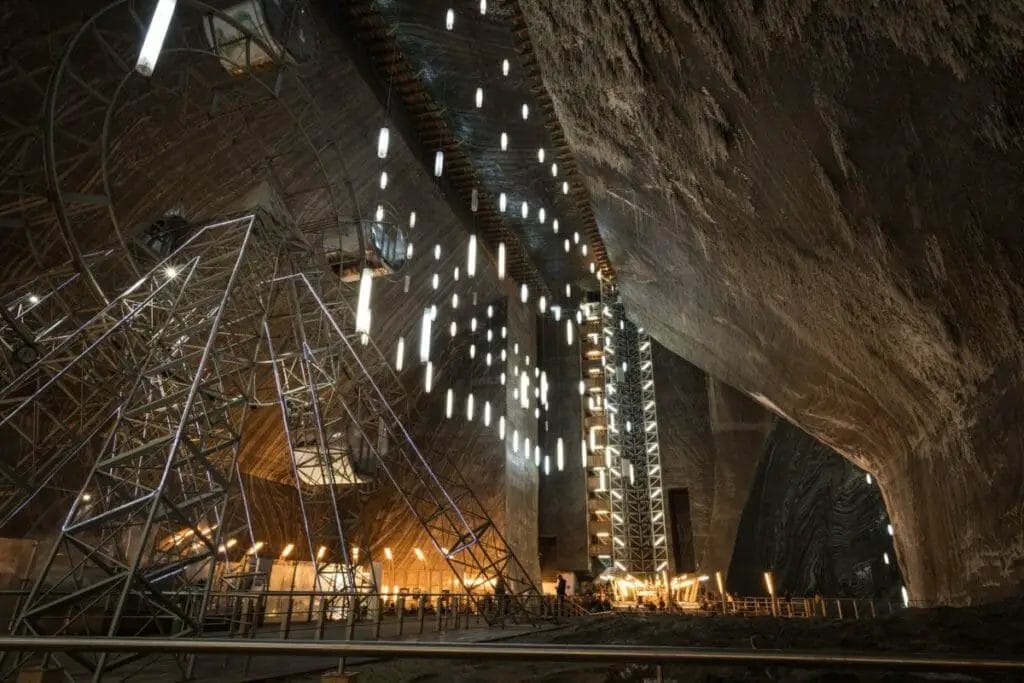 It is unlikely you will find another experience similar to the Turda Salt Mine in Northwest Romania. This renovated mine has been completely transformed into an underground theme park complete with a panoramic Ferris wheel, bowling alley, sports fields, an amphitheater for shows and movies, playground, mini-golf, wellness spa, and boat rides.
Turda Salt mine is a great place to take the family; the kids can play for hours while the adults can enjoy spa treatments and time in the sauna. Above ground, there are also the Salty Lakes with mineral water that is said to have healing and soothing qualities. 
16. Curtea Veche, the Old Court Church
Fürstenhof Curtea Veche, the Old Court Church or Old Princely Court, is a historical landmark in the capital of the country, built during the rule of Vlad III in 1459. Walkthrough this medieval monument and take pictures of its courtyards, offices, towers, and gardens while learning about the history of the old region of Wallachia. It is an important cultural and educational center, as well as the oldest church in Bucharest. 
17. Hunedoara Castle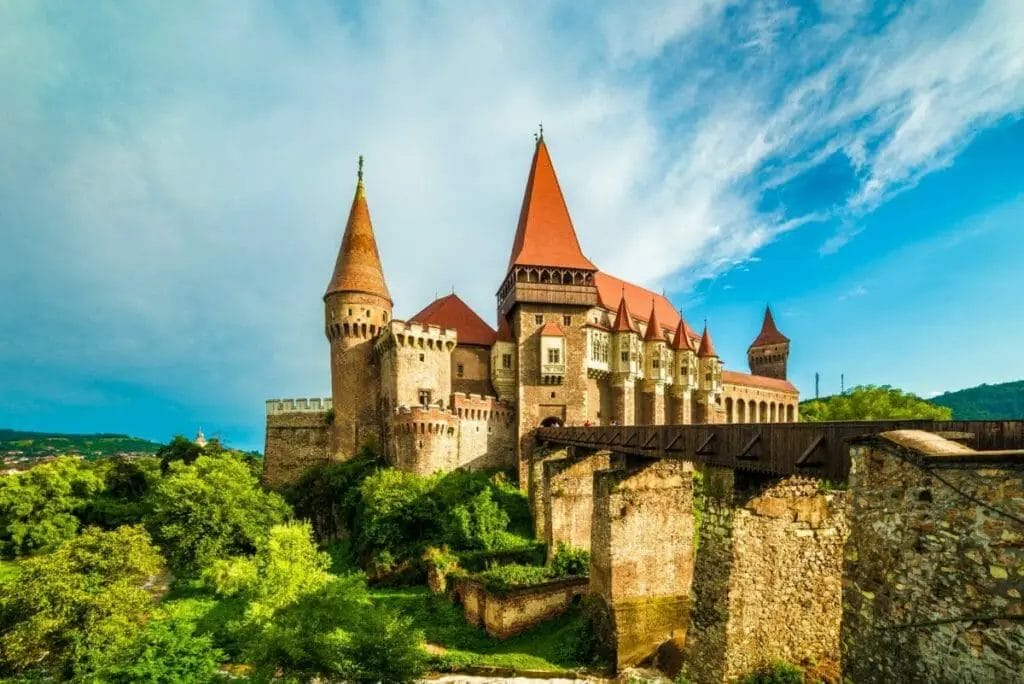 The Hunedoara Castle, or Corvin Castle, is a well-preserved gothic-style landmark in Transylvania. It was originally a fortress until the 14th century when it was transformed into its current fairytale-like form.
The entrance fee is about 4 dollars and for this small price, you will be treated to an exploration of Hunedoara Castle's beautiful halls, decorated rooms, medieval art, antique furniture, courtyards, spiral staircases, and serene chapel. Many people also come to the fortress because legend has it that Vlad III was imprisoned here for so long that he eventually went mad.
18. Merry Cemetery, Sapanta
The Merry Cemetery in Sapanta, Romania is a cemetery like no other. Instead of the usual bleak atmosphere and grey tombstones, this graveyard is a colorful memorial to play, reflect, and laugh. This open-air museum is wonderfully decorated with vibrant colors, funny epitaphs, poems, and flowers.
Not only is it a beautiful place to explore, but it may even change the way you view death. Before leaving you should also walk through Sapanta, visiting this rural town is like stepping into the past. There are people in traditional clothing, lots of farmland, and horse-driven wagons. 
19. Cluj-Napoca (Klausenburg)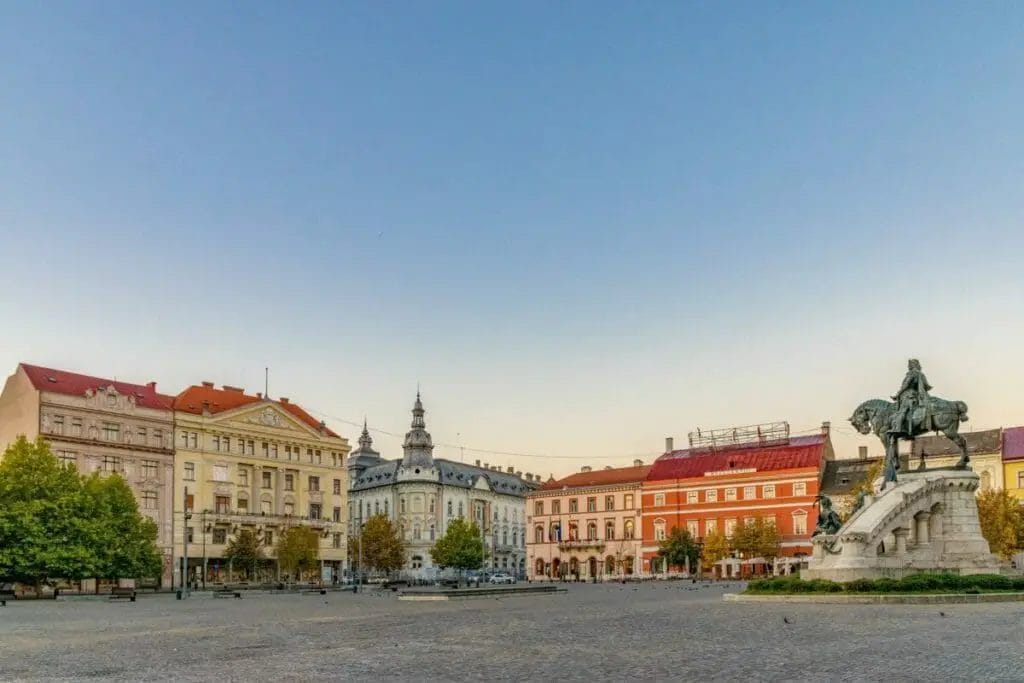 No matter what type of vacation you are looking for, Cluj-Napoca can offer the perfect escape. This unofficial capital of Transalyvania is surrounded by stunning nature, resorts, and spas, while offering a vibrant city life that centers around industry, academics, business, music, and culture.
For a relaxing vacation, you can spend your time in the forests, botanical gardens, and mountains. If you are seeking more activity, walkthrough Cluj-Napoca and see the many monuments, national museums, ancient ruins, palaces, and galleries.
At night you can attend a show at the Avram Iancu Square or a puppet show at Puck Theater. There is also a huge club scene that offers mostly house, techno, and rock music. 
20. Timișoara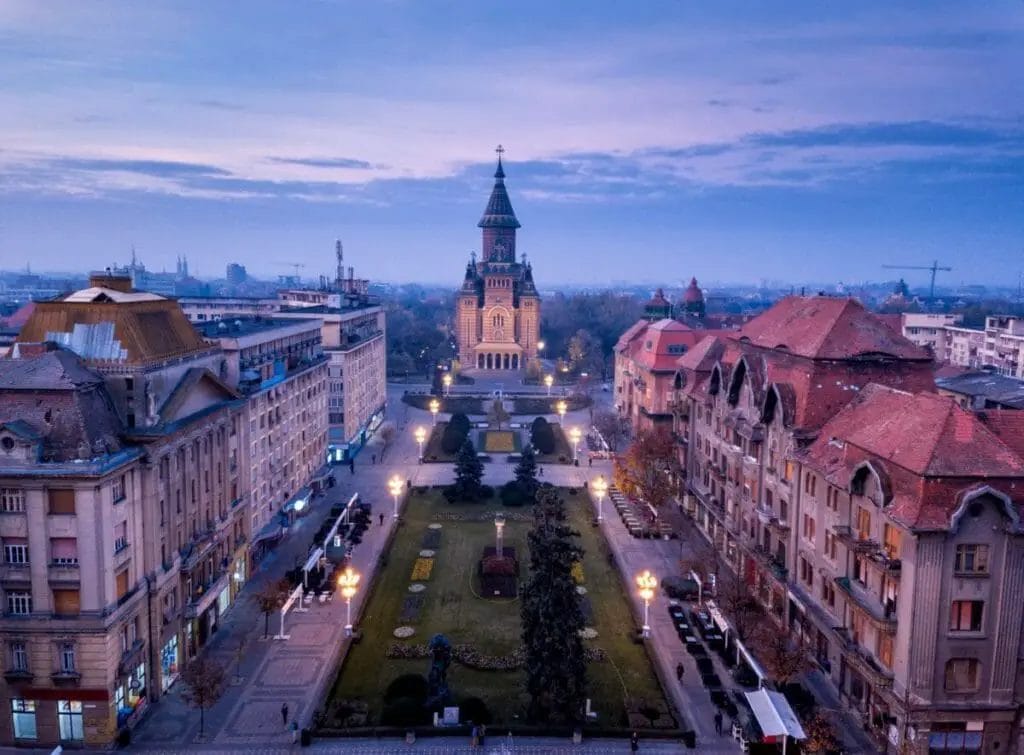 Located on the Bega River, the large city of Timișoara is a multicultural center with much to offer. This beautiful city has six universities, many historic monuments, so many parks that it has been nicknamed the "City of Parks", and several churches.
Two churches you won't want to miss are St. George's Cathedral and Orthodox Metropolitan Church. To capture some unique photos simply stroll through the inner city for Timisoara's oldest buildings, walk along the Bega river, and go to Umbrella street. 
21. Sibiu (Hermannstadt) 
Built by Saxons, the peaceful town of Sibiu is a charming place to stop by in the heart of Romania. While you are here see the Piata Huet Cathedral, Fingerling Stairway, and climb the Council Tour for panoramic views. As you wander through the town you will be pleasantly surprised by colorful houses, cobbled alleyways, and flowers hanging from balconies.
Make sure to try their local delicacies of sheep cheese, wild pear brandy, and pork sausages when you visit. Also, if you happen to be there in June you can attend the world-famous Sibiu International Theater Festival which presents spectacular theatre, dance, circus, music, seminars, and film events. 
22. Brasov (Kronstadt)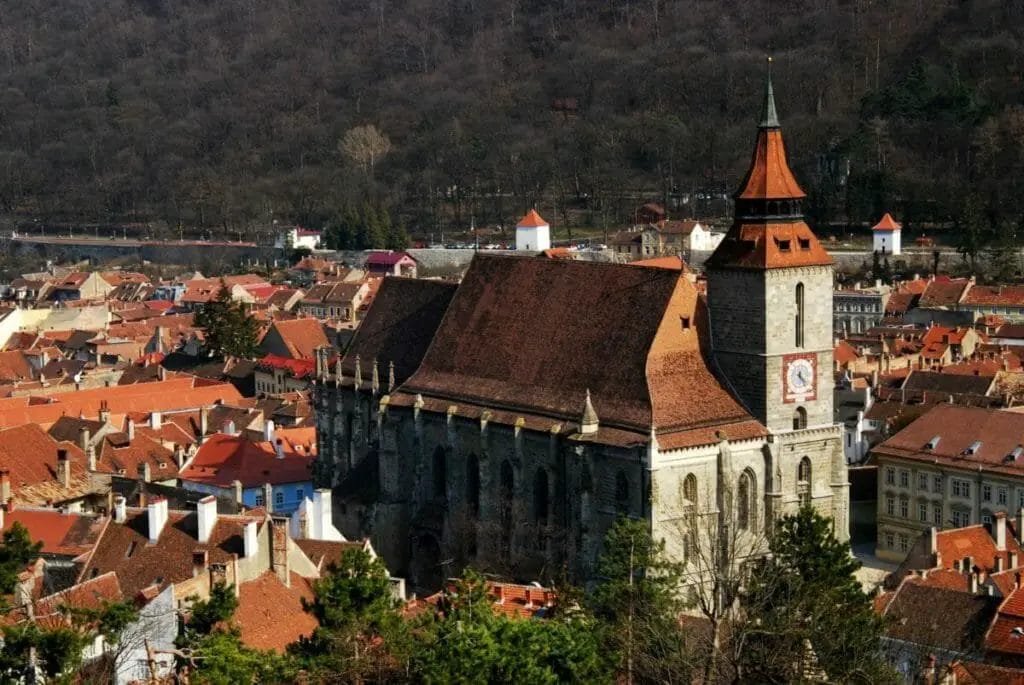 Once you walk through the fairytale gate of Brasov, you won't want to leave. This serene medieval city offers a break from stressful city life and is the perfect getaway for families. The narrow cobblestone streets are filled with the sweet smell of kurtos kalacs, a chimney cake on a stick often sold from street carts.
The most popular monument from this old Transylvanian town is the over 600 years old Black Church. Many consider the Black Church from Brasov to be one of the most beautiful churches in Romania. They have a monumental mechanical organ and a large, world-class collection of Oriental carpets outside Turkey.
For sunset, you can climb the Black Tower or White Tower for a romantic view of the glowing city. For a little more adventure you can also take a cable car up the Tampa Mountain or visit the Adventure Park which is the biggest in Eastern Europe and great for kids and adults alike. The entrance to this park costs about 13 dollars and includes obstacle courses, rope bridges, and ziplining.
23. Transalpina panoramic road 
Of Romania's famous places, the Transalpina panoramic road is definitely one you won't want to miss. This highway connects Transylvania to Wallachia and is the highest road in Romania, which provides spectacular views.
Plan several hours for this trip as you'll want to stop many times along the way for pictures (→ How to take better photos) and to explore the nearby villages. Some of the best stops include the quaint town of Novaci, Urdele Pass which is the highest point of the road, the ski resort town of Ranca, Vidra lake, and Oasa lake.
Along the road, you will also find some open-air markets that sell souvenirs, honey, garlic sausage with mustard, and more. But before you pack your bags, you should be warned that this road is only open from July to September! 
24. Constanta
Located at the shore of the Black Sea this major city, with a population of around 330,000 people, stands on the foundations of the ancient Greek city of Tomis, founded 2,700 years ago.
The most popular sights in Constanta include Mamaia beach, ancient ruins, the aquarium, a Byzantine basilica, necropolises, the national museum, and the spectacular architectural landmark of the Constanta casino on the seafront. It is the landmark of Constanta.
25. Mamaia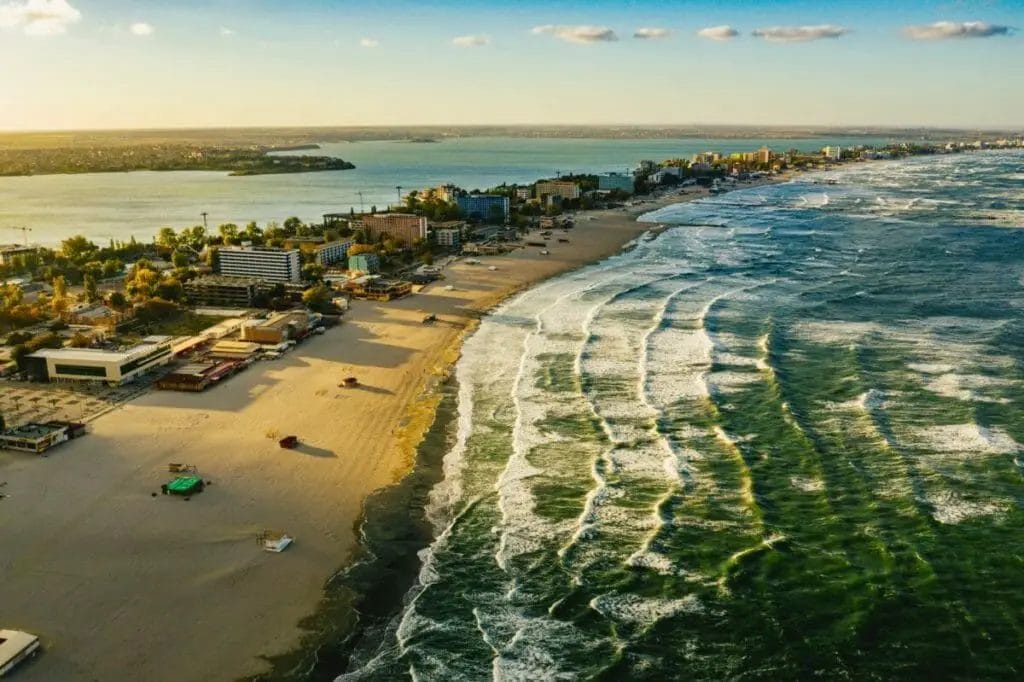 When you think of Romania, the thought of tanning and lavish beach towns surely don't cross your mind. Well, let's introduce you to Mamaia, the popular Romanian beach resort by the Black Sea. This is the place to go if you want to sip on fruity cocktails while lounging on the beach, eat delicious fresh seafood, party all night, and float in warm water.
Other activities include snorkeling, swimming, mud baths, and visiting Holiday Village. Holiday Village is a fun amusement park with rides, games, street food, restaurants, and other entertainment. 
26. Vaser valley railway in Vișeu de Sus 
You must visit Vișeu de Sus if you love romantic train rides and beautiful scenery. The Vaser valley railway in Vișeu de Sus runs through the deep valley and offers views of the forest, river, and mineral springs.
This steam-powered railway was once solely used for timber but now is increasingly becoming focused on tourism. A standard guided tour costs about 12 dollars and includes a ride on the train with stops for pictures as well as food and drinks.
The best part is, you can come here any time of year and it will be just as beautiful and worthwhile. When it is warm you will be treated to lush, green landscapes and when it is cold the forests are powdered spectacularly in snow. 
What castle is a historical landmark in Romania?
Bran Castle. For more than 3,000 years Bran Castle in Romania dominated strategic crossroads that today are renowned for its splendid medieval fortifications and tourist attractions.
Are there any famous houses in Romania?
Romania's finest and prominent parliamentary palaces are named Place-A-Pearlus because they had been built with assistance from the communist ruler Nicolae Ceeuşescu in the late 1940s and 1950s. Its 1,100 suites and 900 offices span 12 floors and 8 underground floors and are the oldest building in government.
Our Opinion on the Top Romanian landmarks and sights
Romania is a destination off the beaten path. You can still find many secret spots in Romania with comparatively few visitors.
The highlight is of course the Count Dracula Castle from the story of Bram Stocker, together with the real person behind it: the Wallachian prince Vlad the Impaler.
In addition, of course, there are buildings from the communist dictatorship. This is especially the palace of the parliament in Bucharest. Away from such places, the capital is a good destination for a long weekend with a day trip to Transylvania.
Away from that, of course, there are many interesting places like Sibiu, the Transalpina in the Carpathians and Constanta, or lesser-known places like the Retezat mountains, the Cotroceni palace, or the Fagaras citadel and the sights in the Maramures county and region.
Now it is your turn. What places do you like most in Romania?
Let us know below in the comments. Feel free to share this list to let more travellers know about it.
More travel inspiration for your holiday in Europe
Feel free to follow us on our social channels, like Facebook, Instagram, and Pinterest. On these platforms, we take you with us on our current trips and show you magical pictures & videos and reveal our best travel tips.
*In this post, we use so-called "affiliate links" (advertising links). These direct you to products and services that we can recommend to you 100%. If you book or buy something through these links, we will receive a small commission as a thank you. You will not incur any further costs. This advertising revenue helps us to offer all our content, images, and videos completely free of charge to you.
This might be also interesting for you