If you're torn between two of the most popular vacation spots in the world, Aruba vs Mexico, then this blog post is for you. Comparing the unique experiences and attractions each destination offers, it can be a difficult choice deciding which one is best for your next getaway.
In this article we'll compare weather conditions, tourist attractions, activities available and much more – so that by the end of it all you'll know exactly where your dream destination lies. Get ready as we take a closer look at Aruba vs Mexico.
Exploring Aruba vs Mexico: A Comparison
Aruba and Mexico are two popular holiday destinations, each offering distinct climates, sights, and activities for travelers. Aruba has a warm climate with temperatures between 80°F to 90°F, and a dry season from April to December. In contrast, Mexico's climate varies, ranging from tropical rainforest in the south to desert areas in the north, and experiences both a wet season and dry seasons.
Mexico is filled with attractions, including Chichen Itza Mayan ruins, colonial cities like San Miguel de Allende, and beautiful beaches such lavish resorts such as Tulum. It offers a playground for adventure-seekers and those interested in exploration and discovery.
In Aruba, visitors can enjoy swimming with dolphins at Dolphin Academy & Adventure Tours, or take a jeep tour with De Palm Tours. For relaxation, numerous spa treatments are available, such as those at the Hyatt Regency Aruba Resort & Casino Spa.
Thrill-seekers in Mexico can enjoy zip-lining over jungles and cenotes or surfing lessons at Sayulita beach near the capital city of Puerto Vallarta, as well as exploring natural caves and ancient pyramids throughout Central America.
When choosing between Aruba and Mexico, consider the type of experience desired: sun-soaked beaches or culture-rich cities full of history. Both destinations promise unforgettable family vacation and experiences.
Weather in Aruba vs Mexico
Aruba and Mexico have distinct climates, with Aruba experiencing consistent temperatures averaging 82°F (28°C) and minimal rainfall, resulting in sunny days and balmy nights. Mexico, on the other hand, has a more varied climate due to its size, with warmer temperatures in the south and a range of 25-30°C (77-86°F) across the country. Coastal regions in Mexico tend to be wetter, while deserts dominate inland areas such as Baja California and Sonora.
Aruba is one of the driest islands in the Caribbean, receiving only 20 inches (50 cm) of rain annually. This low rainfall creates beautiful landscapes and keeps humidity levels down, ensuring visitors' comfort during peak summer months and rainy season. In contrast, parts of central and southern Mexico receive up to 60 inches (150 cm) of rain annually, making them significantly wetter than Aruba, though still relatively dry compared to countries like Brazil or India.
The weather in Aruba is generally sunny and warm, while Mexico offers a diverse range of climates severe weather depending on the region. In terms of popular attractions, both countries provide unique experiences for tourists looking to create unforgettable memories.
Popular Attractions in Aruba vs Mexico
Attractions in Aruba
Aruba is famous for its stunning beaches, crystal-clear waters, and sunny, warm weather. Key attractions include the Natural Pool (Conchi), a rock formation filled with seawater, and Palm Beach, a lively location with hotels, restaurants, and bars. Aruba offers a laid-back atmosphere and friendly locals, making it ideal for a relaxing beach vacation with plenty of water activities.
Attractions in Mexico
Mexico is a diverse country with rich history and culture. Popular attractions include Chichen Itza, an ancient Mayan city with the iconic El Castillo pyramid, and Tulum, a coastal town with beautiful beaches, Mayan ruins, and eco-tourism activities like swimming in cenotes. Mexico is known for its vibrant cities white sandy beaches, lively nightlife, and rich cultural scene, making it a great destination for history, culture, and eco-tourism enthusiasts.
Beach Comparison
Aruba boasts beach access to some of the world's most beautiful beaches, such as Eagle Beach, Palm Beach, Baby Beach, Boca Grandi Beach, and Hadicurari Beach. In Mexico, visitors can find diverse coastlines and popular beaches like Playa del Carmen, Tulum, Los Cabos, Puerto Vallarta, Acapulco, and Cancun.
Cultural Attractions in Mexico
Mexico is home to ancient ruins from Aztec and Mayan civilizations of ancient world, particularly in the Yucatan Peninsula, with notable sites like Chichen Itza and Tulum. The country also showcases colonial architecture in cities like Guanajuato and San Miguel de Allende.
In conclusion, both Aruba and Mexico offer a range of attractions and sights for tourists. Aruba is perfect for a relaxing beach vacation, while Mexico caters to those interested in history, culture, and eco-tourism. The overall vibe and personal preferences will determine the ideal destination for each traveler.
Activities to Enjoy in Aruba vs Mexico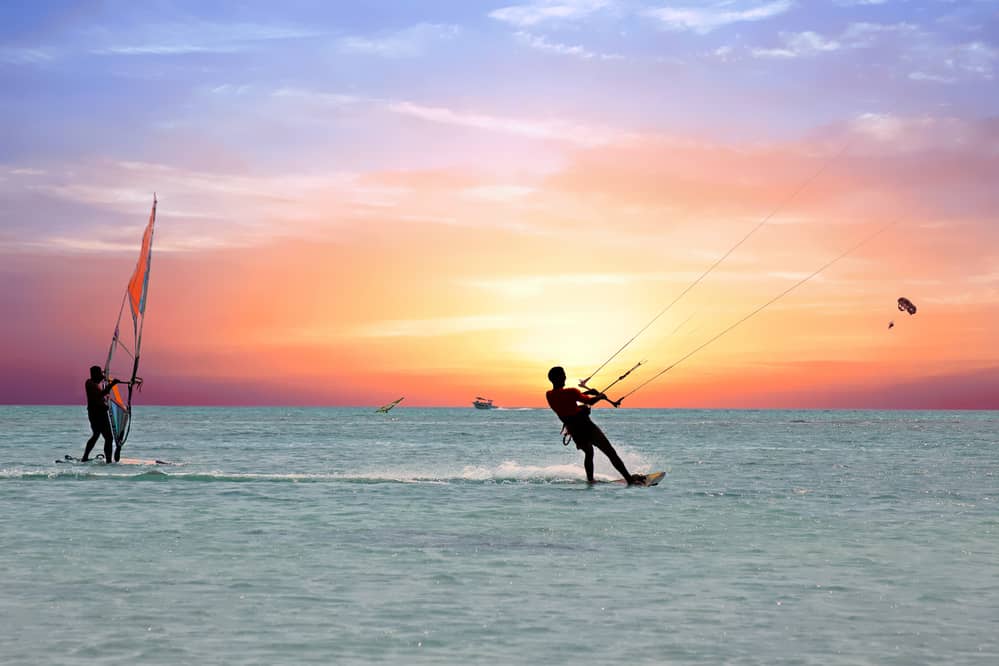 When it comes to enjoying activities in Aruba vs Mexico, there are plenty of options for travelers. In Aruba, beachgoers can take pleasure in the remarkable shorelines and engage in aquatic pursuits like snorkeling or kayaking.
There's also a variety of land-based activities such as hiking trails through Arikok National Park or horseback riding on the beach. For those looking for something more luxurious, they can stay at one of the many resorts like Hyatt Regency Aruba Resort & Casino or Tara Beach Resort & Spa.
In Mexico, visitors have access to an array of activities that range from exploring ancient ruins to relaxing on some of the world's most beautiful beaches. Cancun is known for its vibrant nightlife, and shopping opportunities while Tulum offers a unique mix between modern amenities and historical sites such as Mayan ruins.
Other popular destinations include Cozumel Island where you can find amazing snorkeling spots or Puerto Vallarta which has become a hotspot for eco-tourism experiences with nearby jungles and wildlife sanctuaries.
No matter which destination you choose, there are plenty of enjoyable activities in both countries. Whether you want to explore nature by going bird watching or savor some delicious local cuisine, both locations offer something special that will make your trip memorable. Furthermore, with direct flights available from major cities in the United States into both Aruban Flamingo International Airport (AUA) and Cancun International Airport (CUN), getting there is convenient as well.
Exploring the activities in Aruba and Mexico can be an exciting way to experience both destinations. Accommodations can be a major determinant in selecting your vacation destination, so let's take a look at the possibilities that affordable hotels in both Aruba and Mexico have to present.
Accommodations in Aruba vs Mexico
Aruba and Mexico both offer a wide range of accommodations, from luxury resorts to budget-friendly options, catering to various preferences and budgets. In Aruba, resorts provide a comprehensive holiday experience with amenities such as restaurants, bars, pools, beaches, and activities like golf and snorkeling. Boutique hotels are also available all inclusive resorts for those seeking affordable luxury.
Mexico presents numerous affordable accommodation and choices, including lavish beachfront resorts, economical hostels, and guesthouses. Beachfront properties may be more expensive, but they often feature amenities like pools and spas. For budget-conscious travelers, hostels offer basic rooms at reasonable prices with easy access to attractions like Mayan ruins and colonial cities such as San Miguel de Allende and Oaxaca City.
Both Aruba and Mexico have plenty of accommodation options, from five-star resorts and modern hotels to cozy guesthouses. It's essential to research different options before booking to find the best fit for your needs. Now let's explore the food and beverage options available in each country to help you make an informed decision about where to stay.
Mexico vs Aruba: Food and drinks
Food & Dishes
Mexico and Aruba both offer a diverse selection of regional food and beverages. Both countries boast traditional dishes and international favorites, but there are distinct differences between Mexican and Aruban cuisine.
Traditional Mexican food includes iconic dishes like tacos, which come in soft-shell or hard-shell varieties and are typically filled with beef or chicken, and garnished with lettuce, cheese, tomatoes, and sour cream. Another popular option is burritos, large tortillas stuffed with rice, beans, or meat, rolled up for convenient on-the-go eating.
Aruba's culinary scene is vibrant and unique, with popular dishes like keshi yena – a savory stew made with chicken or beef, olives, raisins, and spices, baked inside a hollowed-out pumpkin or squash rind. This dish is often served with pan bati, a cornmeal-based flatbread ideal for scooping up the stew.
Beverages & Drinks
In terms of beverages, Mexico is known for tequila shots and increasingly popular mezcal, which has sweet agave notes balanced by earthy undertones. Aruba, on the other hand, has been producing Balashi Beer since 1997 and is also known for its Pasito Blanco rum punch, a tropical concoction featuring a mix of pineapple juice, lime cordial, grenadine syrup, Angostura bitters, sugar cane liquor, spiced rum, dark rum, light coconut water, soda water, orange slices, maraschino cherries, ice cubes, and mint leaves.
Both countries offer a variety of food and drink options for those seeking unique flavors. Whether you're interested in traditional dishes like tacos, burritos, keshi yena, or pan bati, or want to try new beverages like mezcal or Pasito Blanco, Mexico and Aruba provide an array of options to satisfy your cravings during your travels.
Mexico vs Aruba: Transportation
When it comes to transportation, Mexico and Aruba have different options. In both nations, a multitude of cabs can be employed to get around town or take you from one spot to another. However, in Mexico public transport is more developed than in Aruba.
In Mexico, visitors can use buses, metro systems and even trains for long-distance travel between cities. The bus network covers most major towns and cities while the metro system operates in the largest urban areas such as Mexico City and Monterrey. Trains are available for longer trips, such as from Cancun to Merida or Guadalajara to Puerto Vallarta, and the traditional first-class El Chepe train runs through Copper Canyon on its way from Chihuahua to Los Mochis.
For those looking for a unique experience, they can also take a traditional first-class train known as El Chepe which runs through Copper Canyon on its way from Chihuahua to Los Mochis.
Aruba's small size limits its public transportation options; however, visitors can still take advantage of Arubus' buses running along main routes in Oranjestad and San Nicolas until late at night.
Additionally, the Arubus Express service connects these two towns every hour on weekdays with a thirty-minute journey depending on traffic conditions – so bear this in mind when planning your trip. If you'd rather have your own mode of transport to explore all that Aruba has to offer, car rental companies are also available across the entire island.
For the more daring, why not rent an ATV or quad bike to explore off-road trails with spectacular views – but don't forget your safety gear. These vehicles allow you to explore off-road trails while taking in breathtaking views. Be sure to don protective clothing prior to embarking on your off-road journey.
In Mexico, you can find a broad selection of transport means ranging from buses and trains to taxis and vehicle hire. On the other hand, Aruba has limited public transport but provides more affordable private car rentals. Now let's compare costs between these two popular tourist destinations.
Mexico vs Aruba: Costs
When it comes to costs, Mexico and Aruba have a lot of similarities. Both countries offer relatively low prices on food, drinks, and accommodations. However, travelers should take note of some important distinctions between the two countries before planning their trip.
In terms of airfare, Mexico is typically more affordable than Aruba. Flights to Mexico tend to be significantly cheaper than those bound for Aruba, with one-way tickets starting at around $150 compared to the typical $400 minimum cost of flights to Aruba. Additionally, many airlines offer discounted fares for Mexican destinations during certain times of year such as holidays or festivals which makes traveling even cheaper.
Mexico's accommodation tends to be more affordable than Aruba's, with basic hotel rooms in Cancun averaging around $50 per night while similar ones in Oranjestad can cost up to $100 or more. A hotel room in Cancun could cost roughly $50 nightly, while an identical one in Oranjestad might be as much as $100 or more.
Hostels are also available throughout both countries for budget travelers looking for an even cheaper option with dorm beds starting at just $10-$15 per night depending on location and amenities offered.
No matter where you roam, eating out is wallet-friendly with street tacos costing a few bucks and restaurants providing full meals (including drinks) for under twenty dollars. You can get beer at most bars/clubs in either country for around five clams apiece, so if it's something stronger than H2O you're after dinner – no worries.
Conclusion
Deciding between Aruba and Mexico for a getaway can be tough; there is no single, definitive answer. Both nations provide distinct adventures that can be enjoyed differently depending on the kind of explorer you are. Whether you're looking for a relaxing beach holiday or an adventure filled with sightseeing and activities, both destinations have something to offer.
When comparing Aruba vs Mexico, consider factors such as weather conditions, attractions available, transportation options, costs involved and food & drinks offered by each country before making your final decision.
Discover the best travel tips for exploring Europe and beyond with our expert comparison of Aruba vs Mexico. Find out which destination is right for you today!
More travel inspiration & tips for you
Feel free to follow us on our social channels, like Facebook, Instagram, and Pinterest. On these platforms, we take you with us on our current trips and show you magical pictures & videos and reveal our best travel tips.
*In this post, we use so-called "affiliate links" (advertising links). These direct you to products and services that we can recommend to you 100%. If you book or buy something through these links, we will receive a small commission as a thank you. You will not incur any further costs. This advertising revenue helps us to offer all our content, images, and videos completely free of charge to you.
This might be also interesting for you