There are so many famous French monuments in France you'd be difficult to choose one to begin with! With its huge size and variety, France offers many natural and man-made monuments ranging from ancient buildings to historic sites, It has a lot of French history and is the best place to explore it. The French capital alone consists of numerous natural attractions, including the Eiffel Tower, Mont-Saint Michel, and the Palais des Congrès.
1. Arc de Triomphe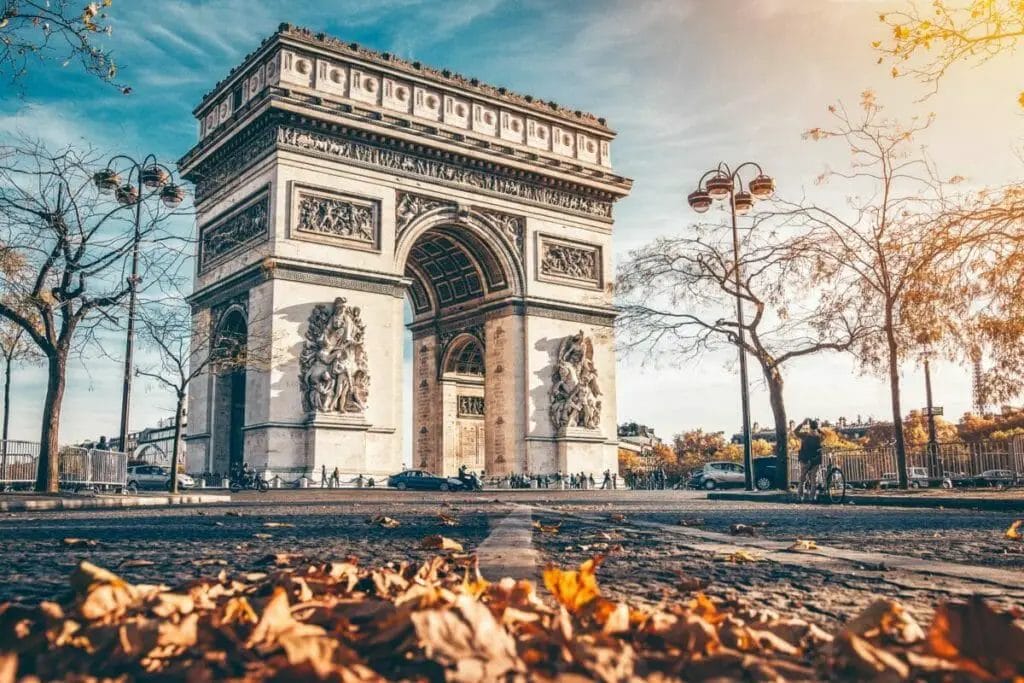 The Arc de Triomphe was built between 1806 and 1836 and it is one of the major landmarks of France. You will find this famous monument in Paris, at the western end of the Champs-Élysées. It was originally built to celebrate Napoleon's troops' victory in the Battle of Austerlitz. This magnificent structure is 162 feet tall and 150 feet wide.
Admission is $13 (→ Get Skip the Line Tickets) and there is also a free guided tour every day at 10:30. In the Arc de Triomphe, you will find a small museum with historical documents, photographs, and art, as well as a staircase leading to an observatory deck. From this deck, you will have a magnificent view of Paris. There is also an elevator available for those who are unable to climb the stairs. 
2. Old town of Strasbourg & Strasbourg Cathedral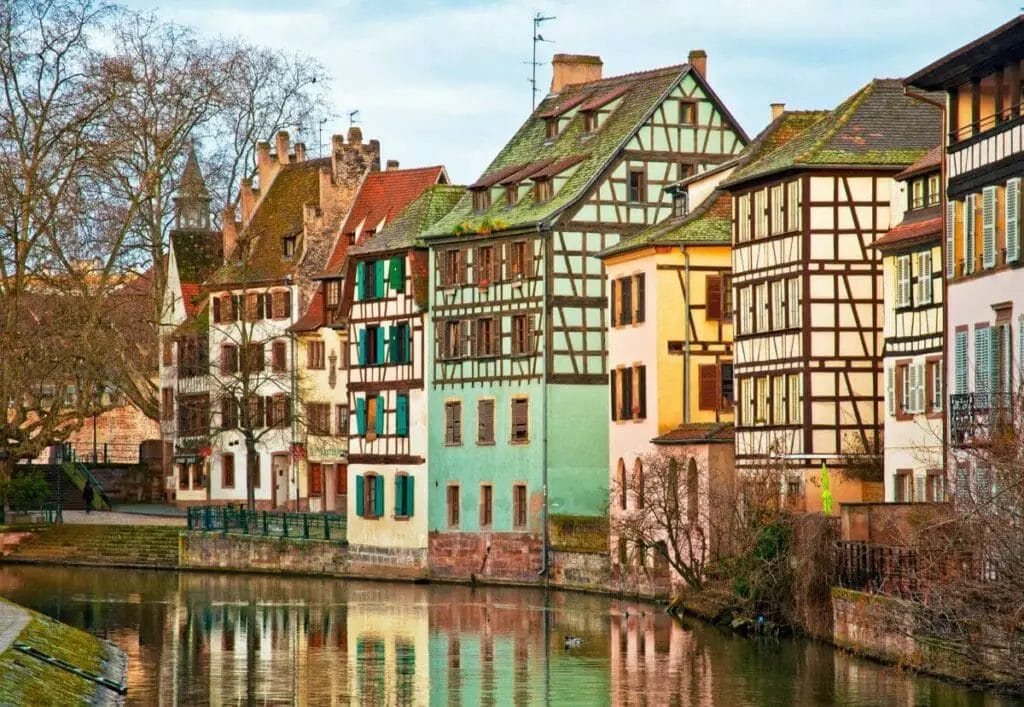 Sightseeing in France wouldn't be complete without a tour around the old town of Strasbourg. This historical city center on the banks of the Ill River is a beautiful destination for France sights. While you are here see the Kammerzell House, Palais des Rohan, Raven Bridge, Bridge of Tortue, Raven Court, Historical Museum of the City of Strasbourg, and Place Kébler.
Of course, the most important landmark of this area is the Strasbourg Cathedral. The entire old town is built around this Gothic cathedral. 4 million visitors come each year to see Europe's tallest medieval structure standing at 466 feet high. After touring the gorgeous Romanesque interior, make sure to visit the terrace for amazing views of Strasbourg. Strasbourg old town and cathedral are major landmarks of France, you will certainly enjoy your visit.
3. Avignon with Papal Palace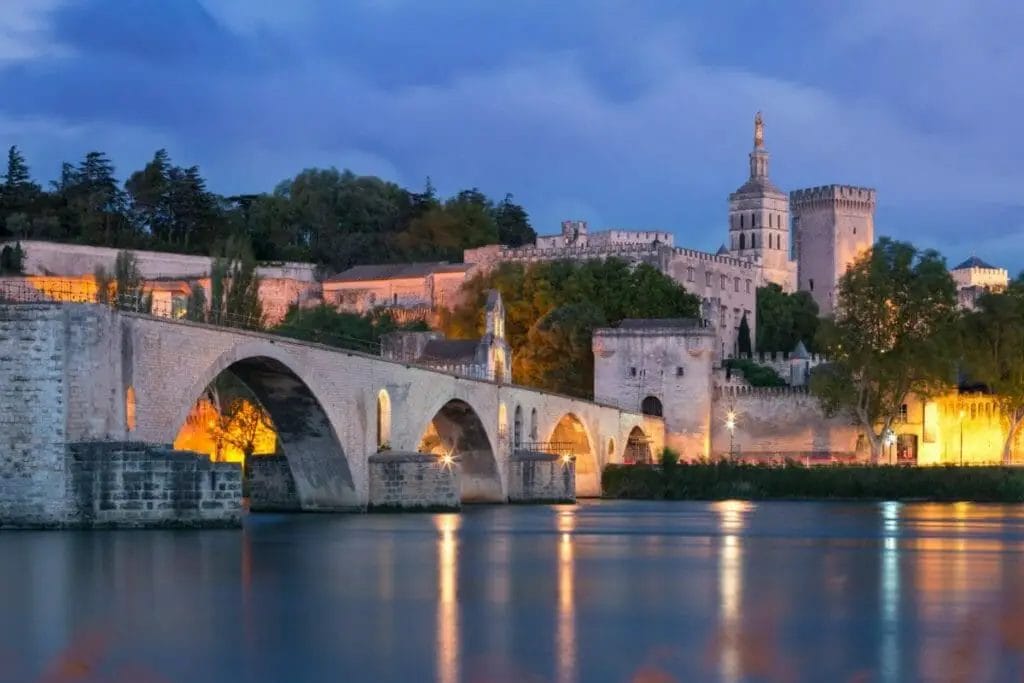 The medieval town of Avignon has a unique mixture of history and modern life, with lots of younger citizens and lively art, music, and cultural events. One of the best activities here is to visit the famous Les Halles food market for fresh produce from the Provence region and then make a picnic to eat at one of the many gardens. You could also buy a fresh pastry from this market and make your way to the beautiful Avignon Bridge to enjoy your food with a view of the river.
However, the best thing to do in Avignon is to visit the Papal Palace or Pope's Palace; it is the largest Gothic palace in the world and one of the top France sights to see. Here you will find 14th-century frescoes, ceremonial halls, a courtroom, and chapels.
You can also see the entire city from the palace's towers. If you are lucky, you can even catch one of the many cultural events, exhibitions, or concerts held here. 
4. Bordeaux
Located in southwest France, Bordeaux is the world capital of wine and one of the most beautiful cities in France. With incredible wine, castles, hillsides, architecture, and gastronomy, you must add this to your 'sightseeing France' list.
The top tourist attractions here are the Place de la Bourse, La Cité du Vin (a modern cultural center for wine), La Grosse Cloche, Porte Cailhau, Bordeaux Cathedral, and the longest pedestrian shopping street in Europe, Rue Sainte-Catherine.
Other activities include taking a wine tour within the city or visiting one of many world-famous vineyards in Bordeaux. You also can't miss the exquisite gastronomy of this region, make sure to try their local delicacy of the Bordeaux Canelé (a small custard pastry) and their famous rib steak cooked in Bordeaux wine. 
→ Big City Captions & Quotes for your Instagram & TikTok Posts
5. Champagne-Ardenne (Champagne Route)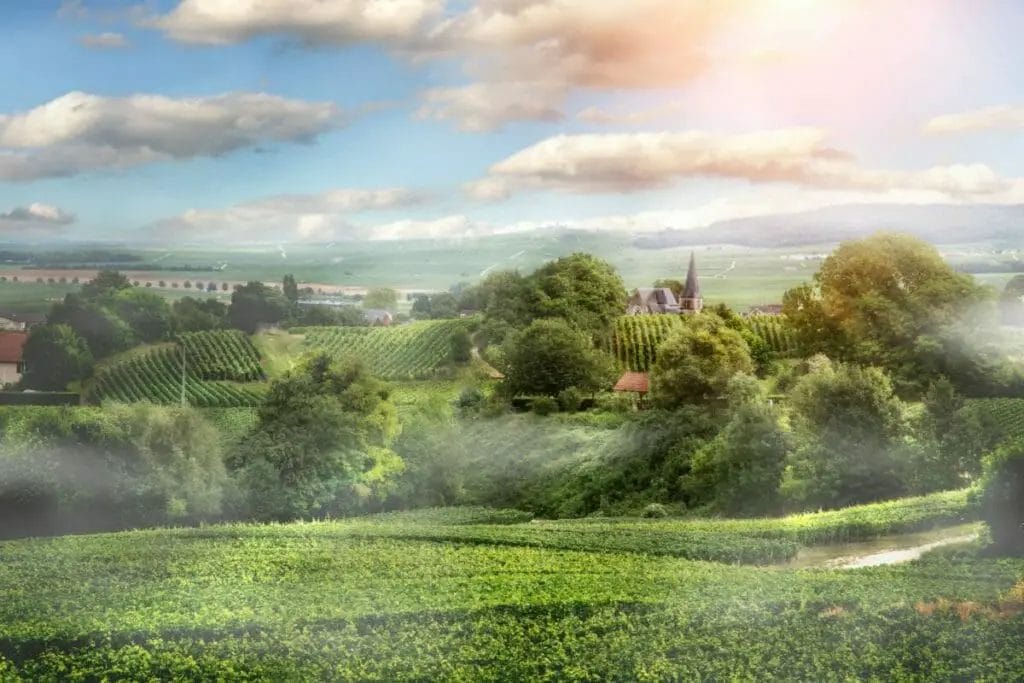 The region of Champagne-Ardenne is located in northwestern France, bordering Belgium, and it is most famous for its sparkling white wines. If you are sightseeing in France, you won't want to miss this rustic region with hilly countrysides, medieval landmarks, and vineyards.
One of the best ways to see this region is by taking a road trip on the Champagne Route. This delightful 435-mile route travels through quaint villages, chateaux, churches, ancient landmarks, and of course, vineyards. Take your time traversing this relaxed area of France, staying the night at villas or bed and breakfasts, and stopping at every vineyard that your heart desires. 
6. City of Carcassonne
The City of Carcassonne is a quiet medieval town surrounded by two walls and sitting on top of a picturesque hill. This UNESCO World Heritage Site is a wonderful place to learn about culture, history, and to simply relax and enjoy beautiful views.
Two important landmarks here are the Château Comtal, Musée des Beaux-Arts de Carcassonne, and Basilique Saint Nazaire. Walk the cobbled stone streets of this historic fortified city and enjoy some French street food before leaving. This is the best sightseeing in France if you are craving relaxation, beauty, and history.
→ Check out these beautiful Italian Cities too
7. Cirque de Gavarnie in the Pyrenees
Near the border of Spain, the Cirque de Gavarnie is one of the most amazing France landmarks. This glacially eroded rock wall is 5,000 feet high and is located in the Pyrenees mountains. It is near the small village of Gavarnie, there isn't much to see here but it is a great place for a hearty meal or drink after a day of hiking.
This area is full of hiking trails but two of the best are the Cirque de Gavarnie hike and Grande Cascade de Gavarnie. The latter is fairly difficult and 7 miles long, but it offers incredible views of France's tallest waterfall, Gavarnie Falls. You can also explore the nearby smaller cirques of Estaubé and Troumouse. 
8. Chamonix-Mont-Blanc
Chamonix-Mont-Blanc is a luxurious touristic alpine village filled with outdoor activities and opportunities for relaxation. This town borders Switzerland and is in the high mountains of the French Alps. Outdoor activities include hiking, alpinism, golf, tennis, rock climbing, skiing, snowboarding, and paragliding. Alternatively, visit Chamonix for a relaxing vacation and stay at a luxury hotel, treat yourself to a spa day, and enjoy Haute cuisine.
Many people also visit this beautiful destination solely to see the highest point in Europe, Mont Blanc. You can take a guided hiking tour up the mountain, which takes 3 days, or climb it yourself if you are experienced. 
Love mountains? Check out these Switzerland Landmarks
9. Disneyland Resort Paris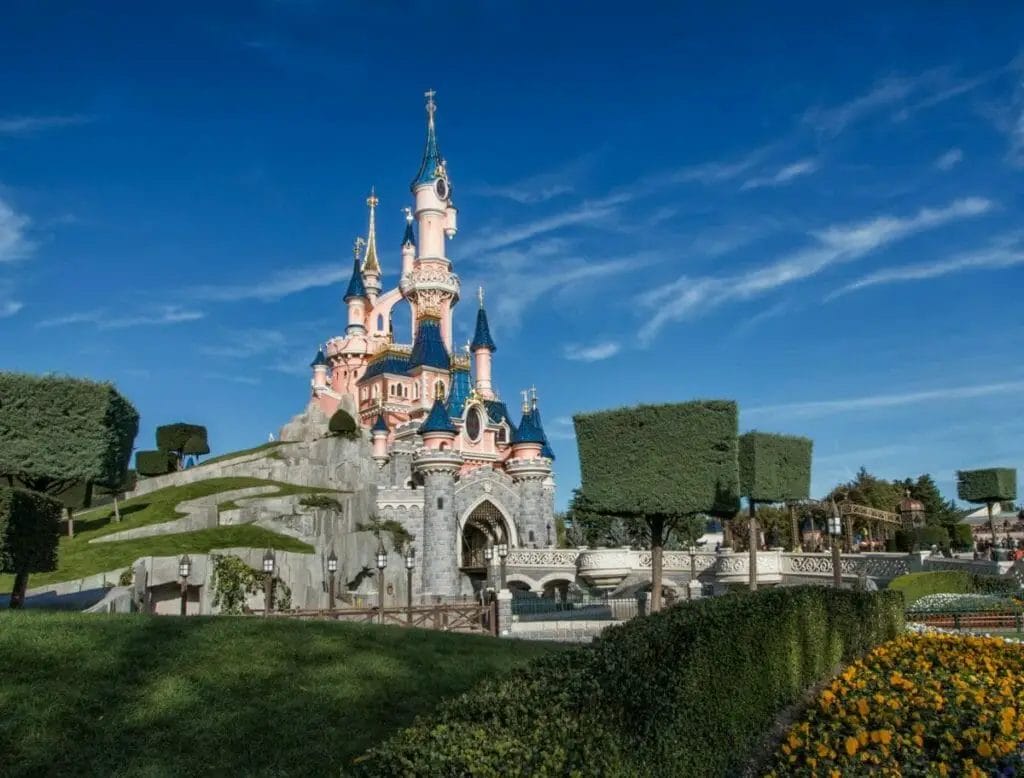 On a list of France's top 10 places to see, the Disneyland Resort Paris would certainly appear. This is one of the most visited attractions in France, attracting 14 million each year. Disneyland Resort Paris is a magical place located 40 minutes away from the Paris City Center and it is a great destination for families, couples, and friends. The resort includes 2 Disney Parks, 7 Disney hotels, a golf course, 29 restaurants, a railway system, and Disney Village.
Prices for the resort range from $128-$152 for adults and a night at a Disney hotel ranges from $392-$864 (and includes two day passes to the resort). The only other Disney Resorts with parks outside of the U.S.A are in Tokyo, Shanghai, and Hong Kong, making this Disneyland Resort even more unique and popular!
10. Dune of Pilat in Normandy
The Dune of Pilat is the highest shifting sand dune in Europe at 328 feet high and several miles long. This is one of the best France landmarks for sights of nature. Come here to walk along the dune and get great views of the Atlantic coast, ocean, and forest below. Besides walking along the dune, you can also climb up and slide down the large natural structure, something kids will especially enjoy.
There are many beaches, but the best is Corniche beach, where you can tan and swim. This destination is also perfect for birdwatching; you can pack a picnic of local cheeses and meats, Normandy cider, and a fresh baguette to watch the sunset and spot rare birds. Alternatively, another romantic sunset plan is to eat at one of the beachfront restaurants. 
11. Dinan in Brittany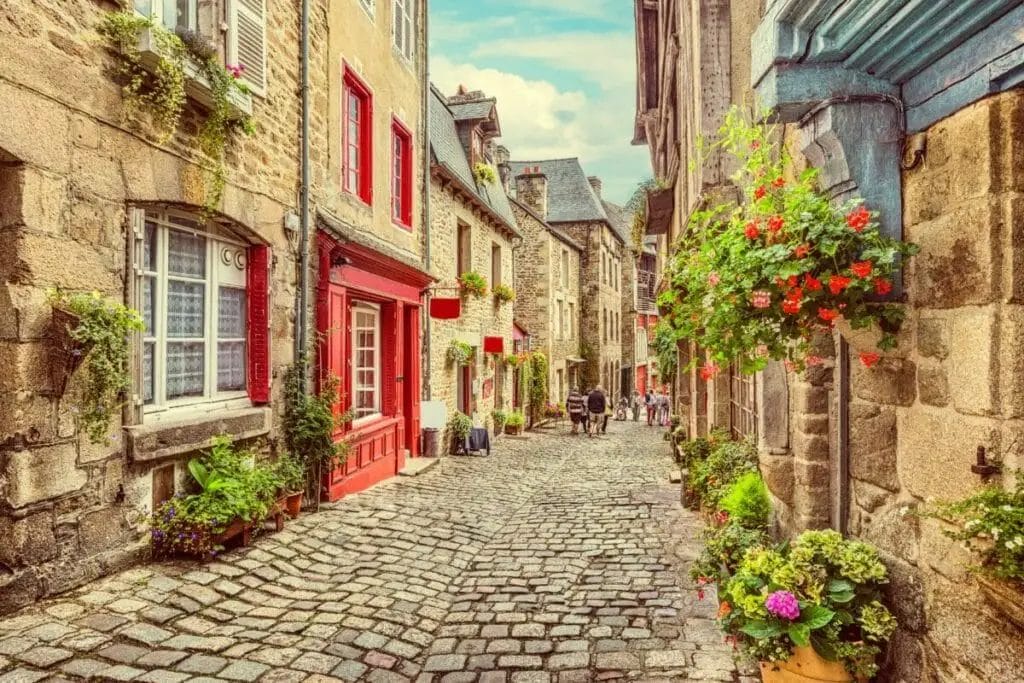 To see beautiful French sights, visit the magical town of Dinan in Brittany. This historic town sits on the Rance river and has old buildings, some from the 13th century. Dinan is a fairytale town with cobblestoned streets, half-timbered houses, plenty of greenery, and lots of flowers. It truly is the perfect place for a unique Instagram photoshoot or professional photography.
Some of the highlights of Dinan are the artisan boutiques, restaurants with traditional dishes, ancient ruins, and the St Sauveur Basilica which blends Gothic and Romanesque styles. Before you leave, make sure to try the local delicacy of Kouignn-Amann, a layered dessert consisting mostly of butter and sugar (so you know it must be good). 
12. The cliffs of Étretat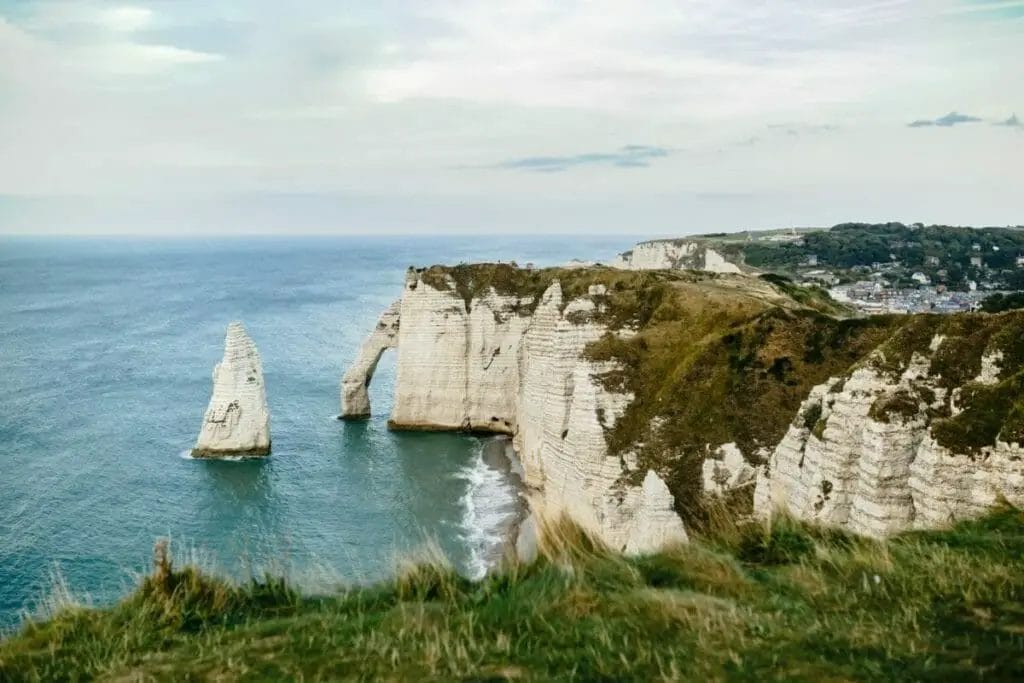 The white chalk cliffs of Étretat sit on the Alabaster Coast in Normandy and they are among the most famous French landmarks. These magnificent cliffs were formed underwater millions of years ago and consist of the skeletons of siliceous organisms, limestone, chalk, and flint.
The most popular sections of this cliff are the Porte d'Aval, Manneporte, Courtine, Roc Vaudieu, and the Aiguille de Belval. Either explore this natural landmark from above or by sea. If you decide to see the cliffs from the ocean, you can rent a kayak, paddleboard, or sailboat. Alternatively, hike the GR21 coastal trail from Le Havre to Le Tréport for spectacular coastal and cliff views.
13. Eiffel Tower in Paris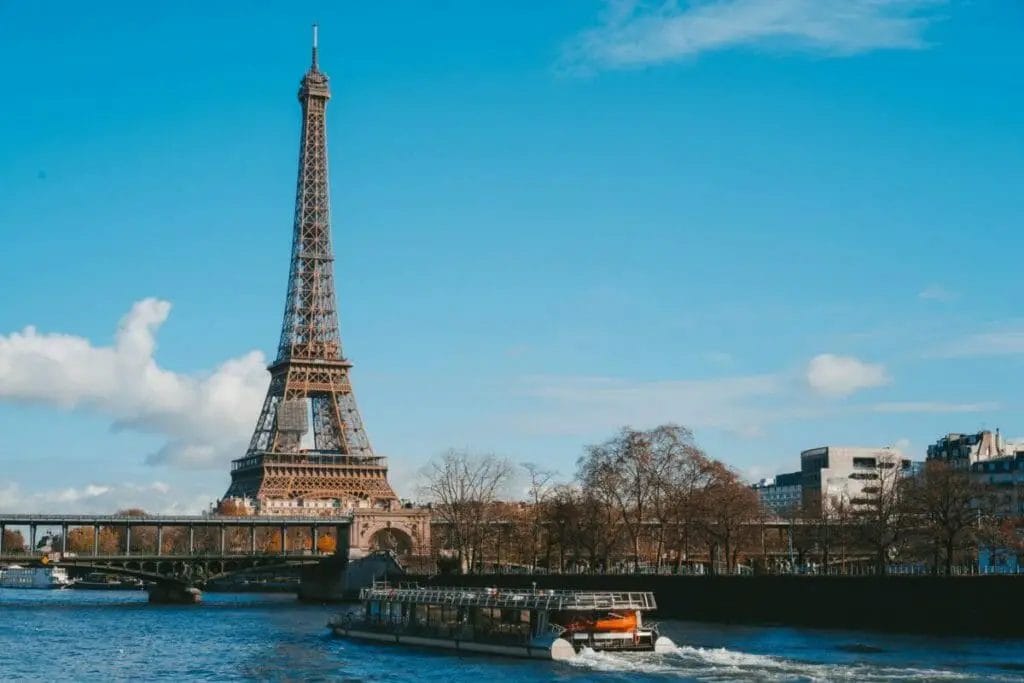 The Eiffel Tower in Paris is one of the most famous French landmarks and definitely a France top 10 destination. This is the tallest structure in Paris at 1,063 feet tall and it was built by Gustave Eiffel. It was completed in 1889 for the Paris World's Fair. Over the years, the Eiffel Tower has only grown in popularity and while it is a very touristic destination, it is worth all of the hassle.
Either admire this beauty from afar or buy tickets to enter, the latter is definitely worth the money. Tickets for the second floor are $11.80 for stairs or $18.83 for the elevator and to reach the very top is $22.34 for stairs and $29.38 for the elevator. You won't want to miss these amazing views of Paris, from either level. 
14. Gouffre de Padirac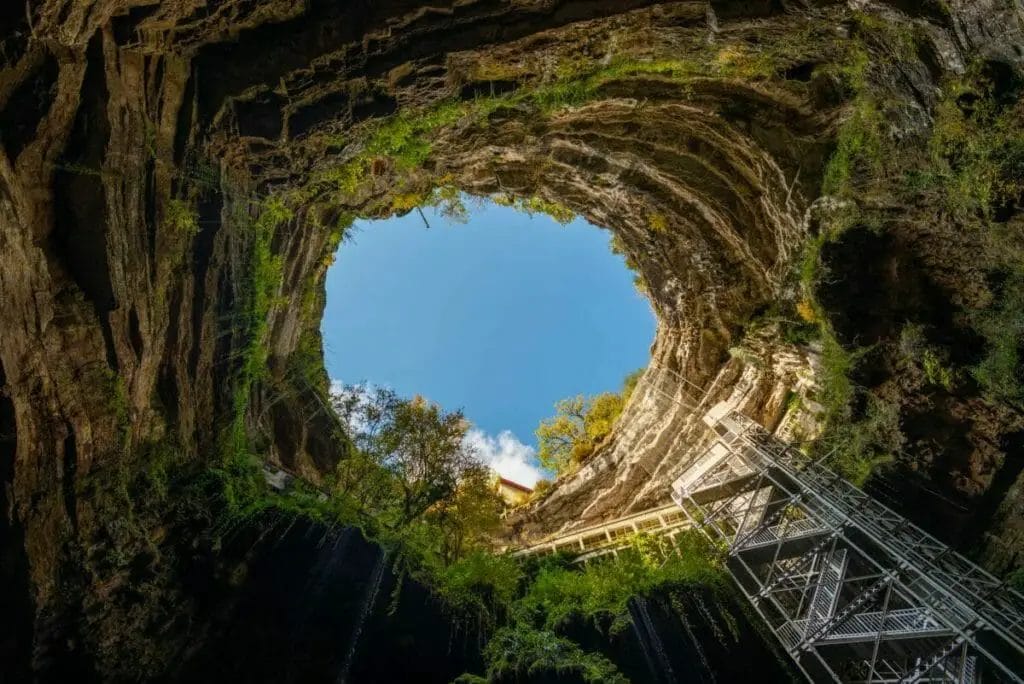 On the list of French sights to see is the magical Gouffre de Padirac, a spectacular cave in the Occitanie region. This cave is 338 feet deep and has plenty to explore underground. In the Padirac cave, you will find two underground lakes, Lac des Gours and Lac de la Pluie, an underground river, an enormous cathedral, and a boat system with a boatman guide.
It is truly a surreal experience to explore this underground world. Tickets are $22 for adults and the tour includes the boat ride and guide through the lakes, river, and Hall of the Great Dome. 
15. Gorge du Verdon (Verdon Gorge)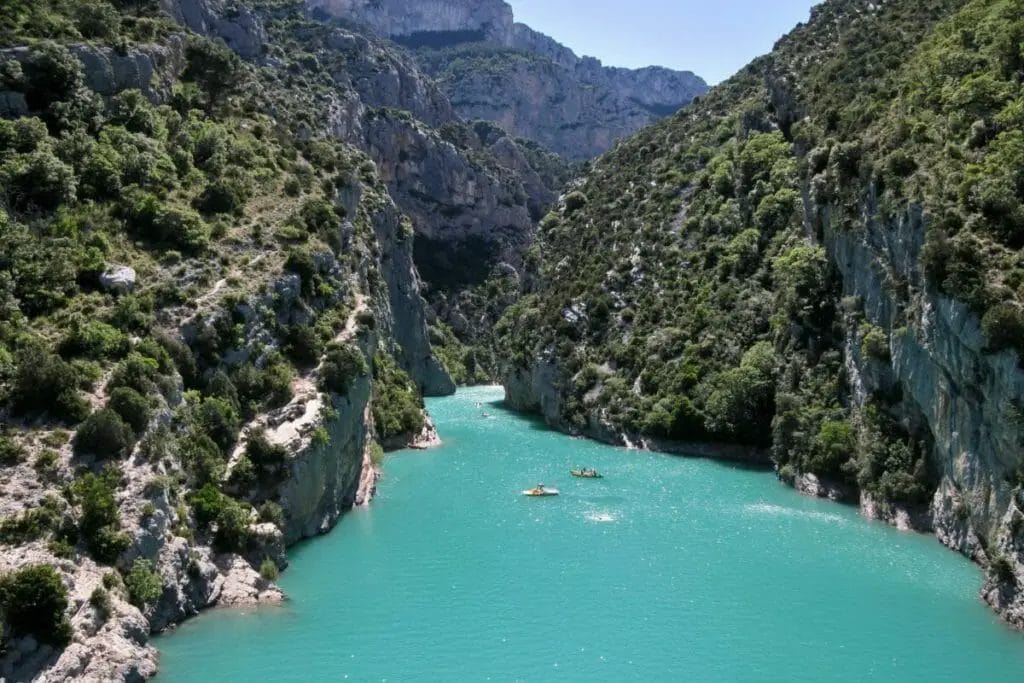 The Verdon Gorge, or Gorge du Verdon, is one of the largest canyons in Europe with some of its deepest points reaching 2,296 feet deep. This natural wonder can be found in central Provence and it is definitely a popular summer destination, although it is beautiful to visit year-round.
During the warmer months, some of the best activities are whitewater rafting, hiking, rock climbing, paddleboarding, cliff jumping, kayaking, and jet skiing. You can also simply swim in these turquoise waters and find small coves to tan. However, be careful which area you enter because there are many whitewater rapids. 
16. Cave of Lascaux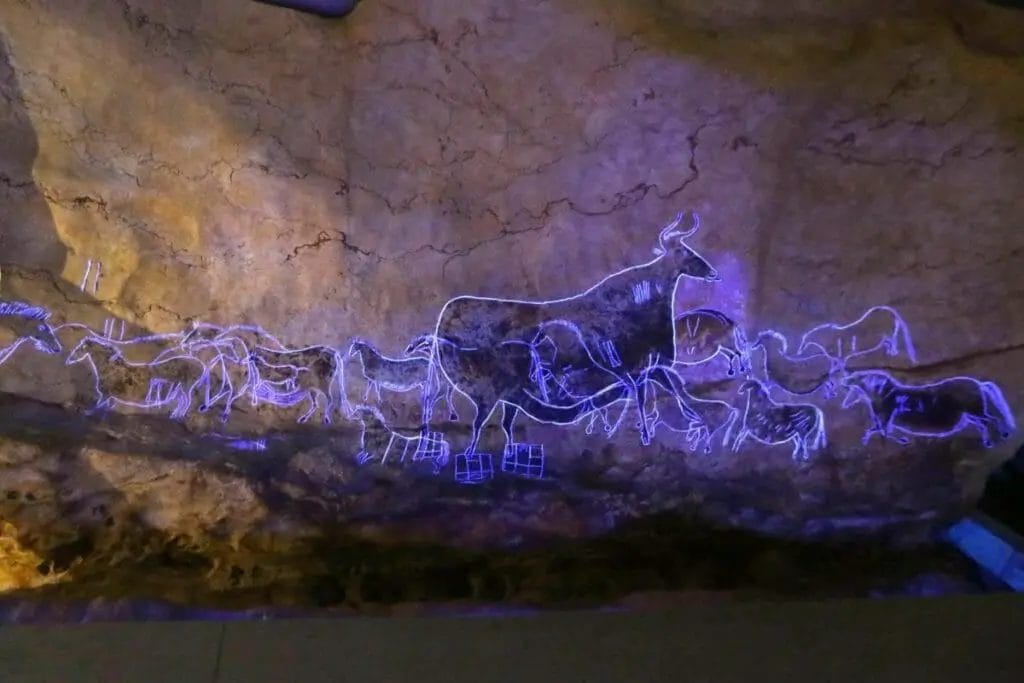 The Cave of Lascaux is a natural monument on the UNESCO World Heritage Site List. It is famous for its Paleolithic cave paintings; there are about 600 wall paintings in this cave alone. The Cave of Lascaux is one of 25 caves in the Vezere Valley, but if you can only visit one cave, definitely choose this one. It costs about $18 for an adult entrance ticket, but if you are searching for historical France landmarks, you won't want to skip this place. 
17. Cathedral Notre-Dame
This is one of the oldest Gothic cathedrals in the world and a France top 10 destination. Cathédrale Notre-Dame or Notre Dame de Paris is an incredible monument with flying buttresses, cathedral towers, gargoyles, stained glass windows, art, chapels, and more. It is also an amazing place to see views of the city. Sadly, due to the fire in 2019, this French landmark is temporarily closed but should reopen in 2024. Until then, make sure to see the exterior from Pont Saint-Louis on the Île Saint-Louis. 
18. Corsica: Porto, Aiguilles de Bavella to Bonifacio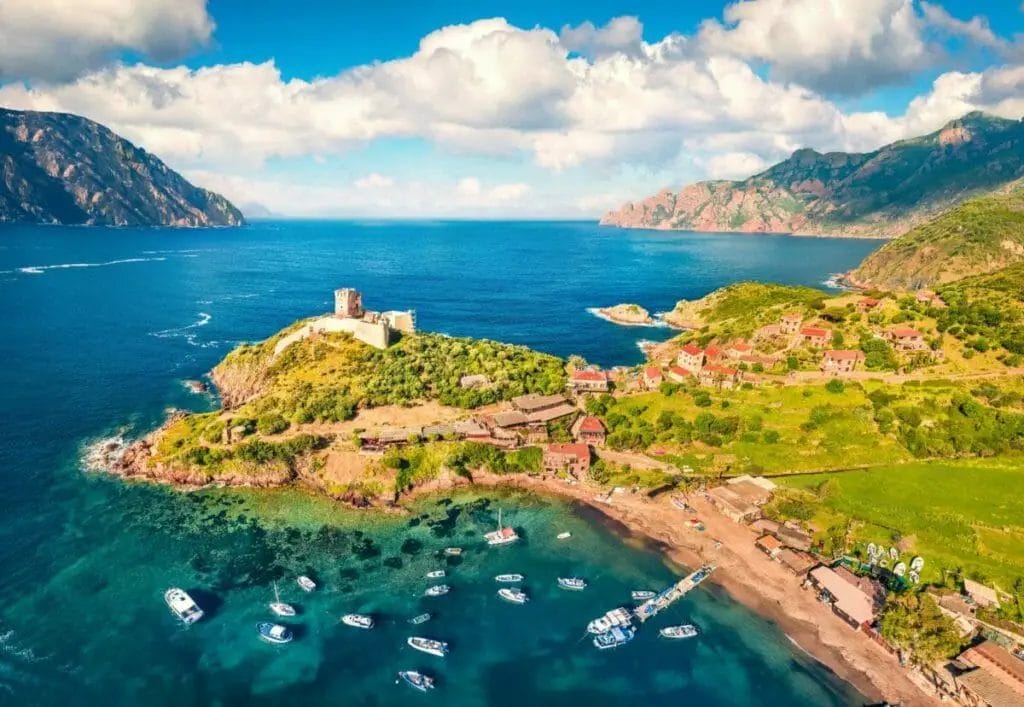 This stunning island on the Mediterranean Sea was nicknamed 'Island of Beauty' for good reason. Here you will find sandy beaches, rocky cliffs, medieval towns, mountains, rare animals and plants, and hiking trails. While Corsica is part of France, it is near Italy and has great Italian influence; the blending of these two cultures makes this island even more unique and exotic. One town you have to visit is Porto, this port town is framed by mountains and offers historic buildings mixed with modern hotels, boutiques, and restaurants.
Another place to see is Bonifacio, the city of cliffs. This medieval town is on the steep coast and is a great place for delicious food, beautiful nature, and history. From Bonifacio, you can drive about an hour and a half to reach Aiguilles de Bavella, the rocky red granite mountains in the National Park of Corsica. This area is ideal for hiking, rock climbing, birdwatching, and photography.
19. Lavender fields in Provence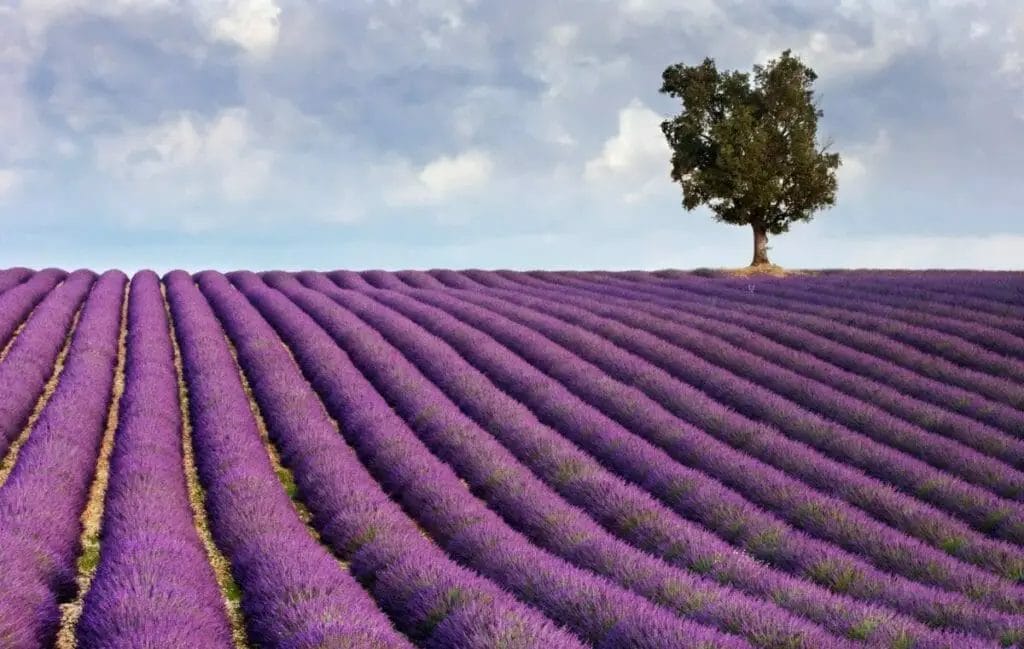 If you are sightseeing in France from mid-June through mid-July, make sure to see the blooming lavender fields in Provence. There are many fields to choose from, but the best are in Valensole. Besides the lavender fields, you will also see historical sites, sunflower fields, lakes, and charming villages. This would be a great road trip so that you can take your time exploring all there is to see in the area.
If you are a photographer, influencer, or just want excellent pictures, these fields would also make the perfect photoshoot backdrop. Besides Valensole, two other beautiful fields are the Salt Lavender fields and Luberon Lavender fields. 
20. Lourdes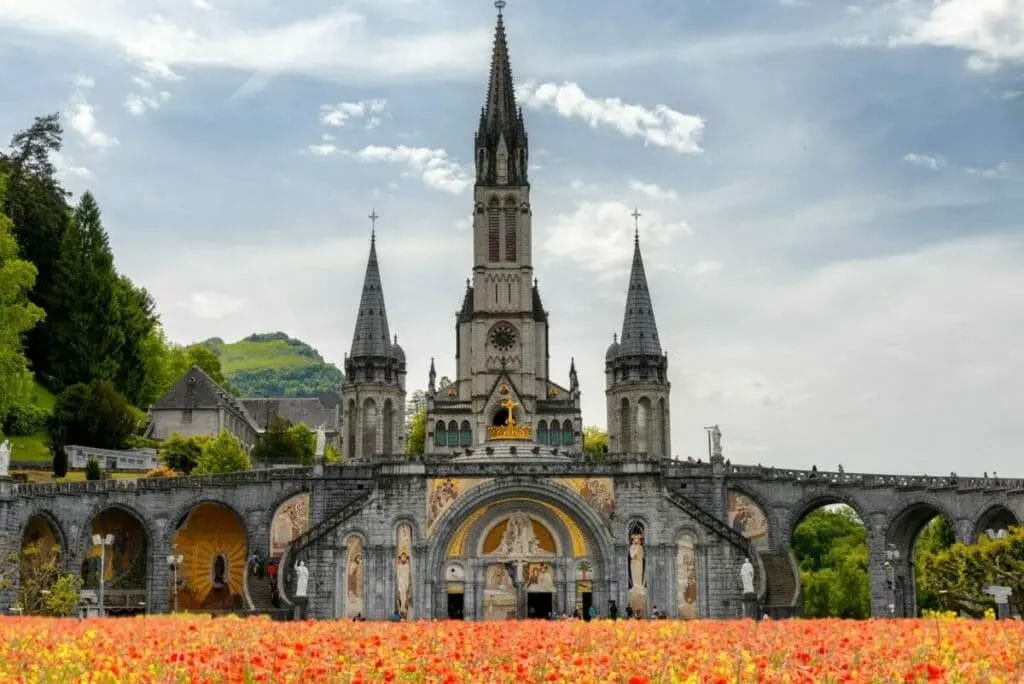 The town of Lourdes is in southwest France, at the foothills of the Pyrenees mountains. It is most famous for the sanctuary Notre-Dame de Lourdes and the Grotte de Massabielle, two significant religious sites. Notre-Dame de Lourdes is a major Catholic pilgrimage site and the grotto is a cave where a village girl 1859 claimed to have seen the Virgin Mary.
The Grotte de Massabielle is said to have been the place of 67 miraculous healings. Besides being a religious destination, Lourdes is also a wonderful place to connect with nature with many hiking trails and outdoor picnic areas. 
21. Menton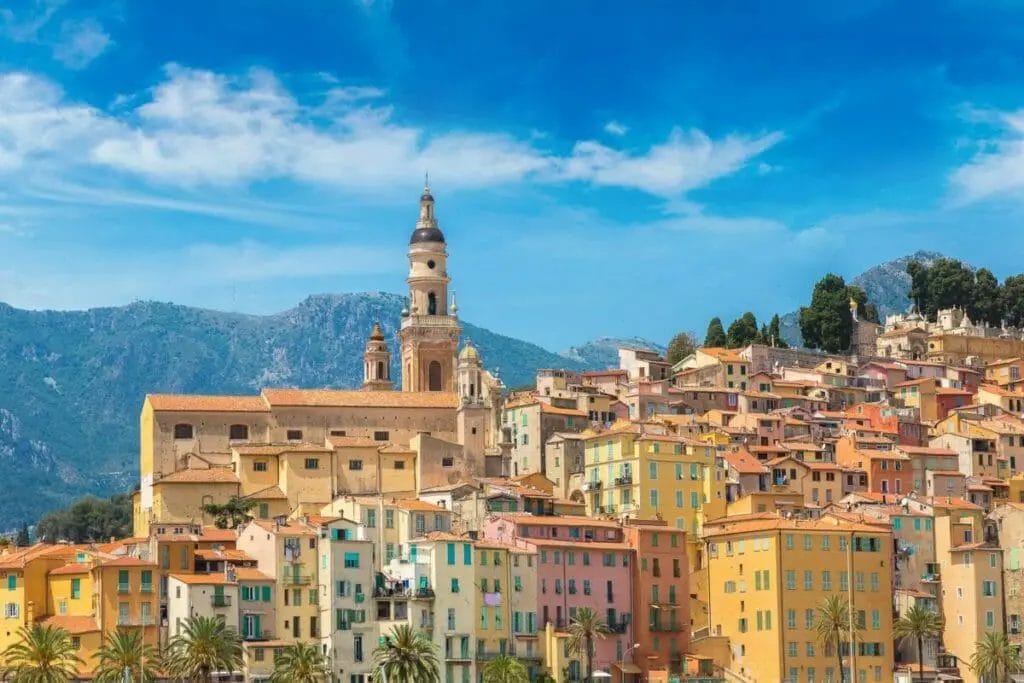 Menton is a medieval town on the French Riviera and it is nicknamed the 'Pearl of France'. Here the weather is warm year-round, there are beautiful gardens, French/Italian cuisine, colorful buildings, and an abundance of lemon gardens. While you are here make sure to see the old quarter, basilica Saint-Michel-Archangel, Russian Cemetery, and Val Rahmeh-Menton Botanical garden.
Also, if you happen to visit in February you will be treated to the Citrus Festival, a day and night festival with extraordinary floats and citrus-themed everything. Sightseeing France wouldn't be complete without seeing this terracotta, lemon, pastel paradise. 
22. Mont Saint-Michel
It is hard to find any other place similar to Mont Saint-Michel, this tidal island in Normandy is home to 44 residents and is on a tiny hill. Originally it was a fortress for the Duchy of Normandy, now it is predominantly a tourist attraction. This place is perfect for photos with steep streets, boutique shops, and cute restaurants.
The main attraction here is the Benedictine Abbey which costs about $12 to enter. Once you have seen the town, make sure to walk around the island at low tide before leaving. Remember that you cannot drive to Mont Saint-Michel, you have to take either a shuttle or horse-drawn carriage to arrive. You can also make this a day trip from Paris, tours normally cost about $170. 
23. Monaco and Monte Carlo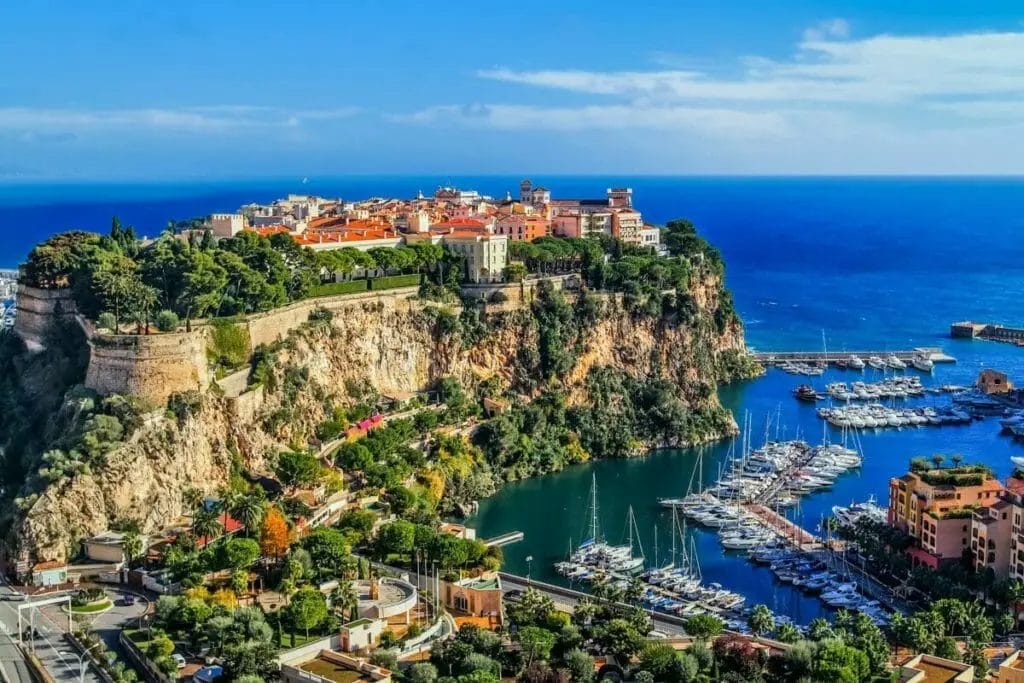 Welcome to one of the richest countries in the world; while Monaco is technically its own country outside of the European Union, many consider it a part of France because of its location on the French Riviera. Monaco is a hub for the über rich, so if high society fascinates you, this should definitely be on your bucket list. While you are here, visit the Palais du Prince, Jardín Exotique, Larvotto Beach, Nouveau Musée National de Monaco, Princess Grace Rose Garden, and Japanese Gardens.
Also, don't miss Monte Carlo, the administrative area of Monaco with the famous Monte Carlo casino, and the area where the Formula One Grand Prix annual race is held. This is one of those destinations that oozes luxury and opulence, there is no other place quite like Monaco. 
24. Musée du Louvre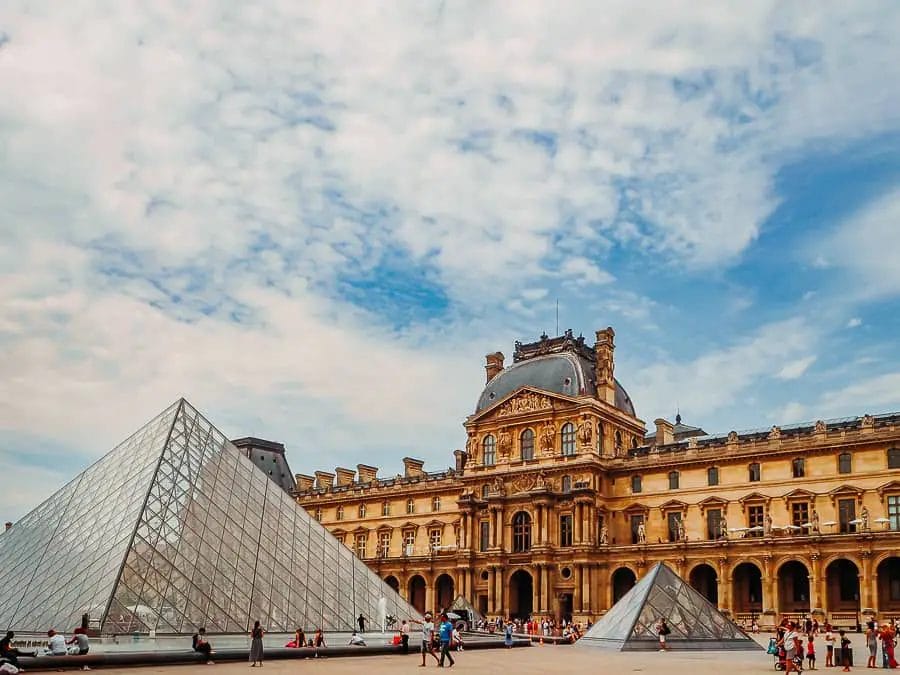 Musée du Louvre or the Louvre Museum is the world's most visited museum. Located in Paris, this incredible museum holds an incredible amount of art, 35,000 works to be exact. Famous artists like Leonardo da Vinci, Donatello, Michelangelo, Jacques-Louis David, and more, have work displayed here.
Plan to stay here for about 4 hours (or longer if you are an art fanatic). This is also where you will find the famous Louvre Pyramid, the famous rooftop glass pyramid. It costs about $20 to enter the museum and $6 for the audio guide. Of the France sights to see, this should be high on your list; if you only have a few days in Paris, this needs to be on your itinerary!
25. Pont du Gard, Nimes, Provence
The Pont du Gard is a Roman bridge built in the first century AD to carry water across the Gardon river. This UNESCO World Heritage Center is the perfect destination for people who love history and architecture. It costs $9 to enter Pont du Gard, but this ticket also includes the museum and film, as well as parking. The museum shows Roman architecture, artifacts, art, history, and culture. 
26. Promenade des Anglais in Nice (Côte d'Azur)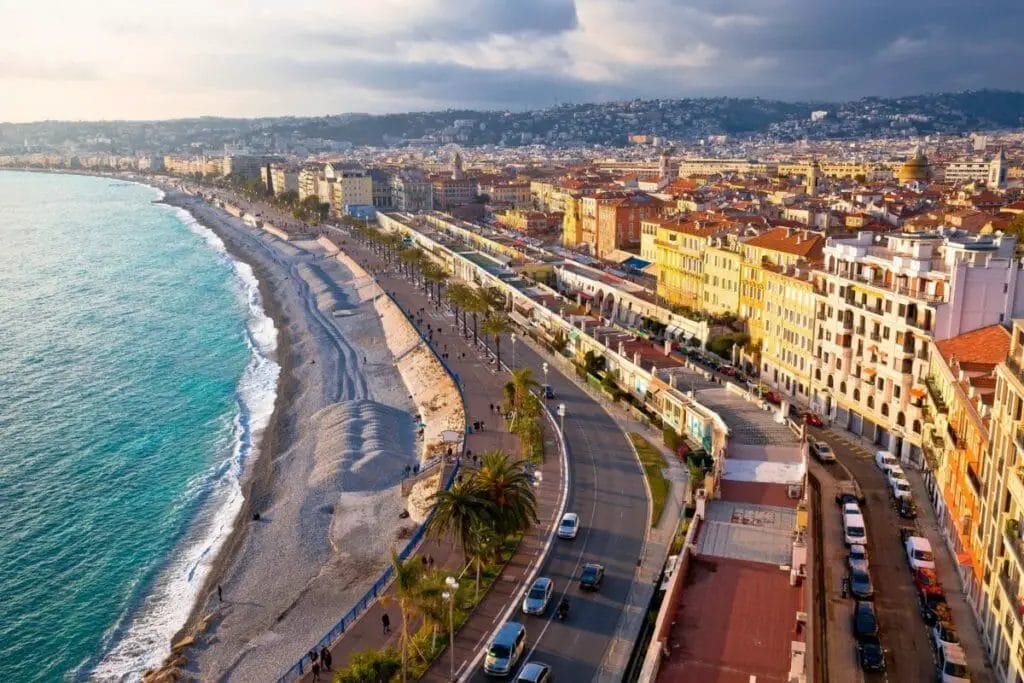 The Promenade des Anglais is a route along the Mediterranean coast, created by English people who were vacationing in Nice, hence the name "English Walkway". This gorgeous trail is 4 miles and stretches along the Mediterranean coast. It is one of the most important attractions of Nice, as well as a functional route where locals walk, roller skate, run, and skateboard.
The Promenade des Anglais is also where the Nice Carnival is held in February. The carnival is one of the largest in the world and it is truly a sight to see, with colorful floats, people in costumes, lively music, dancing, and delicious food. 
27. Castles of the Loire
There are 42 castles, or chateaux, in the Loire Valley but these are the best six. The first is Amboise, which is a 15th-century château overlooking the river and it was the favorite residence of many Kings of France. The second is Clos Lucé where you can see Leonardo da Vinci's most creative creations. The third is Chenonceau, also called the women's castle, which was decorated, built, and lived in by women.
Usse is the fourth, it is currently inhabited by a family but you can still see the ground floor, attic, and vineyard. Fifth is Chambord which is an important historical center and beautiful Renaissance landmark. Lastly, Azay-le-Rideau, a château with a whimsical moat and Italian Renaissance interior. The castles of the Loire are famous French landmarks and if you can see more than six, you definitely should!
28. Palace of Versailles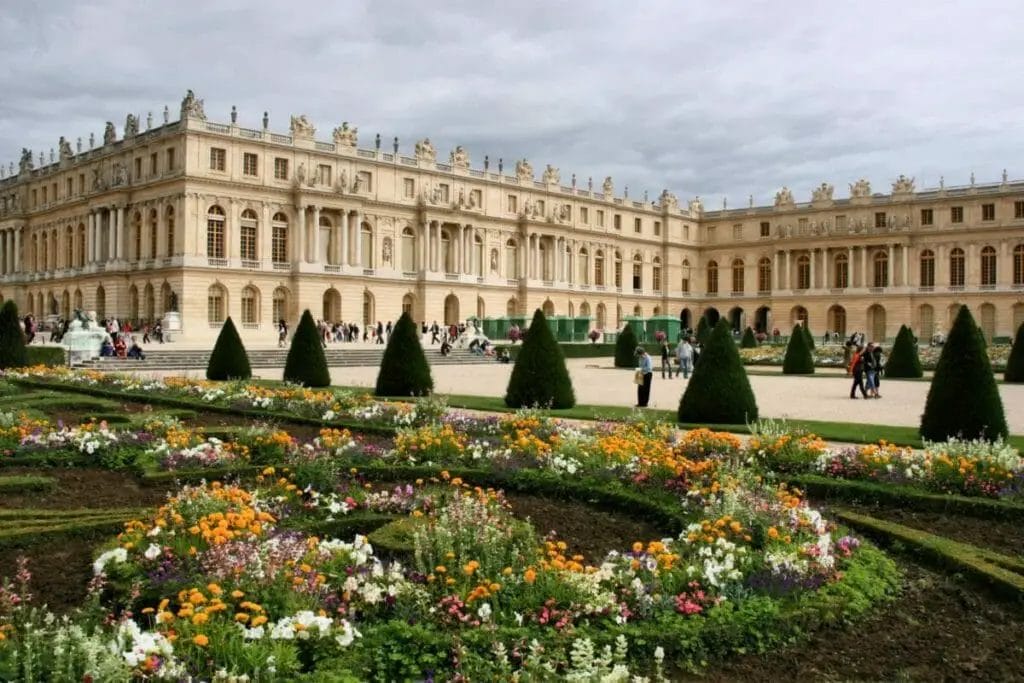 Versailles castle dates back to the 17th century and is most famous for the inhabitants King Louis XVI and Queen Marie Antoinette. When they lived here, they transformed the Palace of Versailles into the symbol of luxury and excess that it is today. This famous French landmark should be visited in the Spring if possible when there are fewer crowds and the flowers are blooming in the gardens.
However, if you come in the summer you will be rewarded with fireworks and light shows at night. It is free to enter the gardens and park, but it costs $20 to enter the palace and there are various extra fees for the Estate of Trianon, Equestrian Shows, Musical Gardens, and the fountains shows. 
29. Sacré-Cœur de Montmartre
This basilica in Paris is one of the major landmarks in France. Located on the hilltop of Montmartre, the Sacré-Cœur is the second-highest point in the city and it greets 10 million visitors each year. To reach this destination you can either hike the steep hill or take a cable car. From here, explore the Romano-Byzantine interior and then climb the 300 steps of the dome for incredible views of the city. 
30. Théâtre Antique d'Orange
Another one of the major landmark of France is the Théâtre Antique d'Orange located in Rhône valley. This theater is one of the best-preserved theaters in Europe and is on the UNESCO World Heritage List. This impressive landmark is 37 m high with Ancient Roman architecture; it was created under the rule of Augustus to serve as a stage for theater, poetry readings, and other events. Today it hosts the Roman festival, Summer Opera festival, theater, plays, operas, concerts, and more. 
More travel tips for Europe
Feel free to follow us on our social channels, like Facebook, Instagram, and Pinterest. On these platforms, we take you with us on our current trips and show you magical pictures & videos and reveal our best travel tips.
*In this post, we use so-called "affiliate links" (advertising links). These direct you to products and services that we can recommend to you 100%. If you book or buy something through these links, we will receive a small commission as a thank you. You will not incur any further costs. This advertising revenue helps us to offer all our content, images, and videos completely free of charge to you.
This might be also interesting for you