If you visit the Hawaiian islands, you won't be able to avoid the beautiful beaches even if you try. The question is, how do you find the absolute best Hawaiian beaches? Look no further than this list of the top 15 most beautiful beaches in Hawaii.
There is something for everyone, whether you are searching for adventure, a private escape, relaxing white sand coves, family-friendly spots, or a gorgeous place to take pictures. On this list, you will find the best coves for unforgettable snorkeling, where beginners can surf and where to watch the professionals, nudist areas, wildlife watching, jungle hiking, and cliff jumping.
There is also advice on which beaches are best for avoiding crowds and which places have amenities (hint: amenities and crowds go hand in hand). However, no matter the type of beach day you are searching for, you are guaranteed one thing: an amazing landscape and waters like no other. Keep reading and let the wanderlust wash over you. 
1. Hanalei Bay, Kauai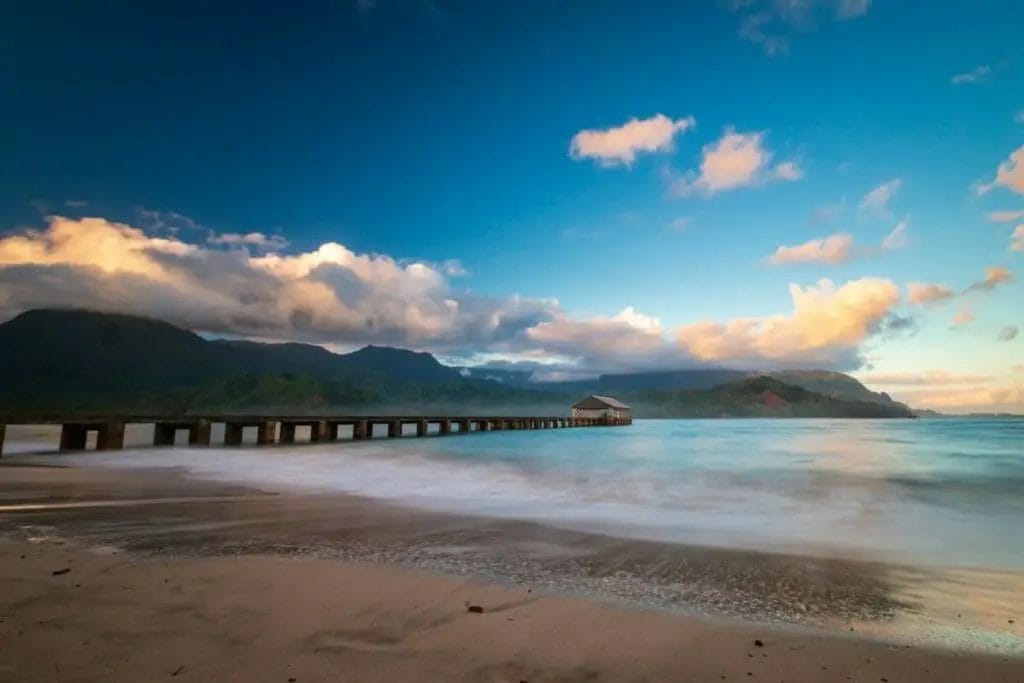 This stunning beach in Hawaii is a popular area for locals and tourists alike. Hanalei bay is surrounded by luscious hills, the water is clear, and the Hanalei river crosses through the beach. There are also many amenities such as restrooms, showers, picnic tables, and a camping area. Spend your time here swimming, surfing, fishing, or bodyboarding before you go to relax in the plentiful shade of the palm trees or soak up the sun on the sand.
This location is also a great place to snorkel (→ Molokini and Turtle Town Snorkel Tour with Lunch*), with its warm, crystal clear water and abundance of colorful fish. Besides beach activities, you can also walk on the picturesque Hanalei pier for sunset, rent kayaks and paddles on the Hanalei river, or hike along the steep cliffs for postcard-worthy views.
This white sand beach is especially perfect for families as it has plenty of shade, amenities, a friendly local crowd, and easy accessibility. 
2. Hamoa Beach, Maui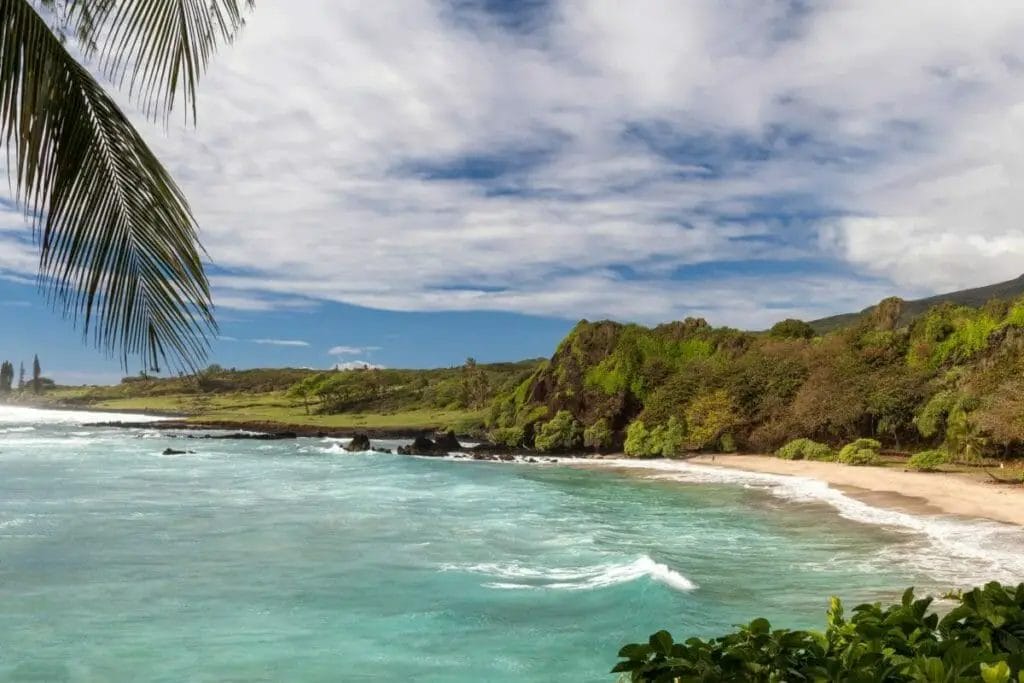 Hamoa Beach in Maui is considered to be one of the most beautiful beaches in the world. It is located on the road to Hana but doesn't receive enormous amounts of visitors because the access trail is fairly steep. However, once you arrive you will be glad you made it. Hamoa Beach is surrounded by a silhouette of lava rock cliffs and tropical plants, the waves are pristine, and the sand is a unique combination of white coral and black lava rock.
It isn't the softest sand to lay on, but you can spend hours sifting it through your hands and admiring the different shapes and colors. The currents can be powerful here, so depending on the day you may not be able to enter the water. However, this is a popular surf break and so you can always sunbathe and watch pro surfers carving waves. There are many amenities here thanks to the Hotel Hana Maui, their clean bathrooms and showers are open to the public.
3. Makena Beach, Maui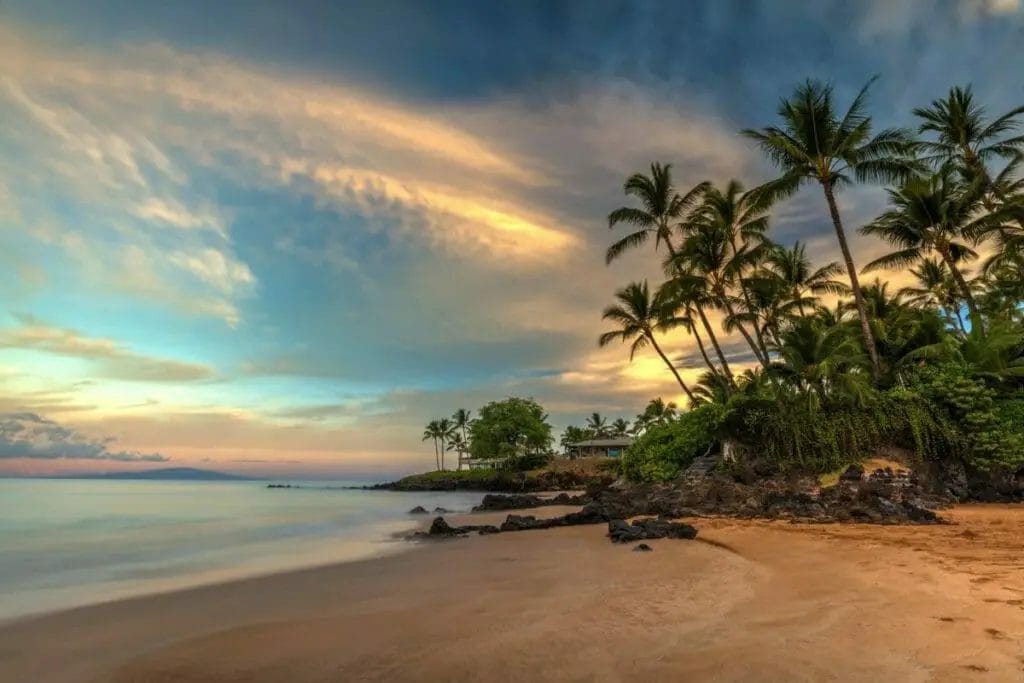 Come to Makena beach and enjoy not only a tropical cliff landscape, but snorkel through the shallow waters and see plenty of colorful fish, reefs, and turtles. This calm beach is a great place to relax, fish, swim, and suntan away from the crowds. Perhaps one reason it feels so uncrowded is that it stretches for 1.5 miles, making it easy to find your own space and gain a bit of privacy.
You can also escape to Little Beach, just a five-minute walk over the lava rocks, where people tan in their birthday suits. Sometimes they even have drumming and fire dancing in this little slice of party paradise. Back on the main beach, there is a lifeguard, picnic tables, restrooms, and even food. A popular food truck sitting five minutes away from the beach is Jazzy's Kitchen Mexican where you can get fresh, delicious fare with quick service. 
4. Polihua Beach, Lanai
Polihua Beach stretches out for 1.5 miles, making it the longest beach on Lanai. This destination is great if you are looking for an adventure and a bit of a hike, if you want a lazy beach day this is not for you. To reach Polihua beach you will have to walk a four-mile trail or possibly drive it if you have a four-wheel-drive vehicle and a confident driver behind the wheel.
Once you arrive, you will be rewarded with views of sloping sandscapes, rock formations, and local wildlife. If you visit during the winter you may even spot whales swimming close to the shore. This beach is not a great spot for swimming or water sports, there are often high winds and a very strong current. The wind also creates sand storms and so suntanning is not a very tantalizing option. It is best to spend your time here exploring the dunes, watching wildlife, and continuing your hike. 
5. Makapu'u Beach, Oahu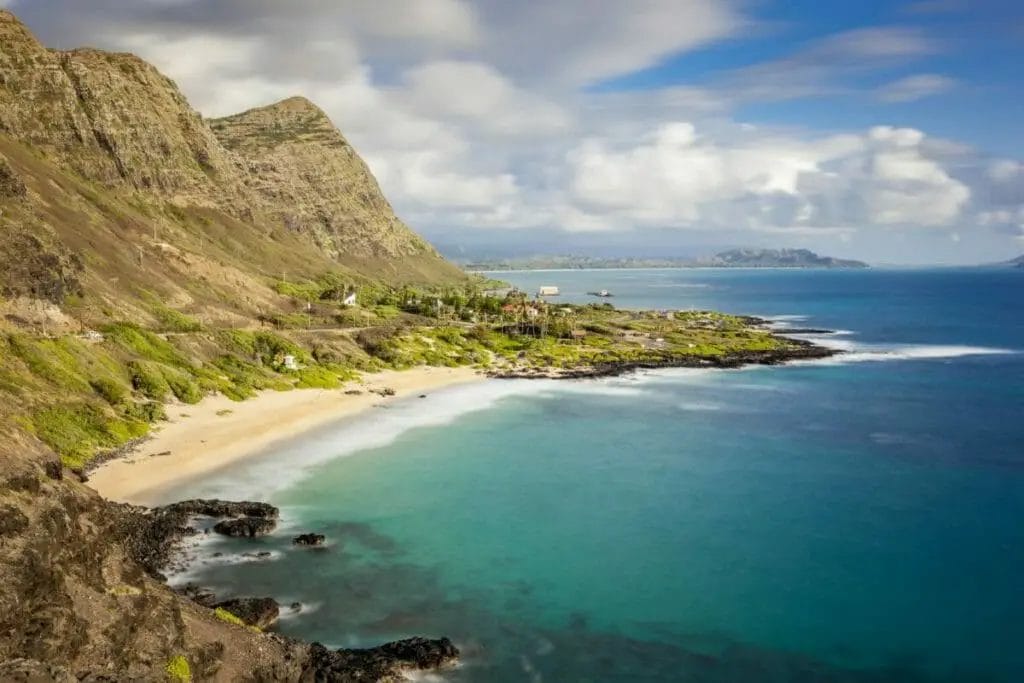 If you're in Oahu, take the time to visit this small white sand beach on the eastern extreme of the island. Inky lava rock cliffs, sand dunes, and tropical greenery make this place especially magical. It is a popular spot for surfers and bodyboarders because of its sizable waves. However, if you are not an experienced surfer or bodyboarder it is not advisable to enter the water since there is a powerful shore break and rip currents.
Luckily, there is plenty to do outside of the water; take a 1.75-mile hike to the Makapu'u lighthouse for stunning views, enjoy a picnic or cook a bbq with one of the public grills on the beach, walk along the sand dunes, or explore the tide pools for sea life. If you decide to hike to the lighthouse, you will also be rewarded with plenty of bird watching opportunities as the offshore islets are wildlife sanctuaries. Amenities at this beach include picnic tables, lifeguards, bbq grills, and restrooms. 
6. Honokalani Beach, Maui
Nestled in Waianapanapa State Park is the stunning Honokalani black sand beach. To reach this magical destination you must pay a fee of $10 by car or $5 if you are biking, walking, or being dropped off. This fee is to enter the state park so you can also explore this green jungle before relaxing on the beach. Waianapanapa (which means glistening water) State Park is a great place to hike, birdwatch, see archeological remnants, cliff jump, and camp (with a permit).
At the beach it isn't advised to swim as the rip currents are very dangerous in the area, most people come here for a quick picture and then leave. You can extend your stay by tanning on the black sand beach, exploring the sea caves and tidal pools, watching locals surf, or eating lunch at the picnic area. Even if you don't stay that long and only take a few pictures, this unique place is worth the visit just to admire its beauty. 
7. Secret Beach, Kauai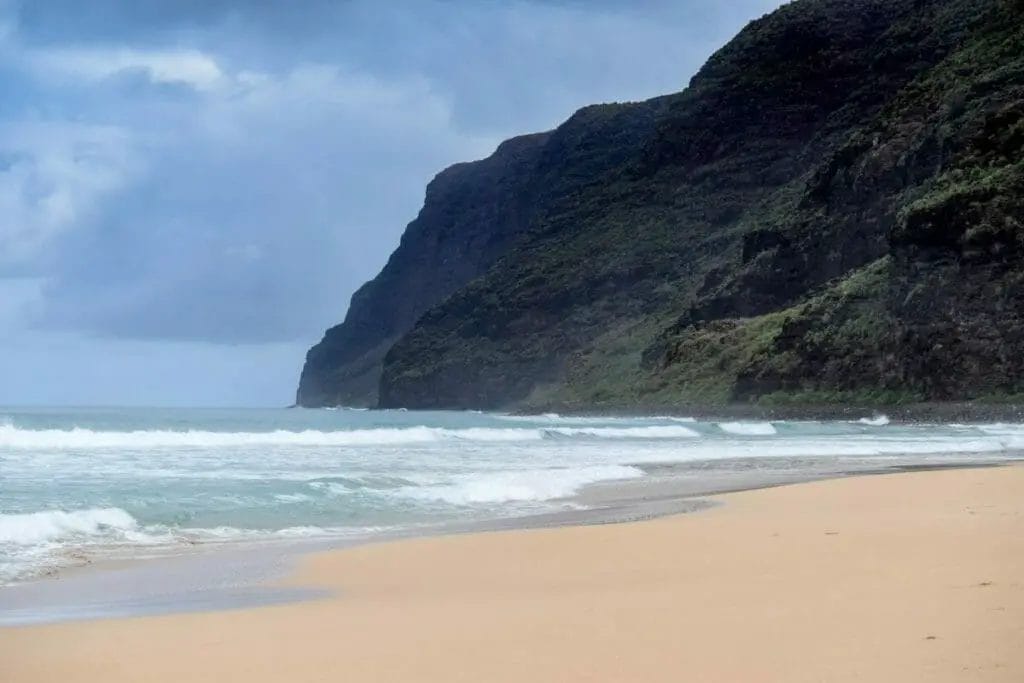 Secret beach, also known by its Hawaiian beach name of Kauapea, is a secluded shore with unmarked trail access and a rocky cliff backdrop. While it is called Secret beach, it isn't really a secret anymore, a quick google search can confirm this fact. However, it still maintains its intimate nature due to its large size; you can easily find privacy at this beach. There is even an unofficial nude area if you walk far enough. The current is very strong and unforgiving, so it is best to leave the waters to experienced surfers and swimmers.
You can pass the time walking along the expansive shoreline, snapping pictures of the gorgeous waterfall halfway down the beach, and playing in the tidal pools. Bring your binoculars if you visit during the summer and you may even spot whales and dolphins navigating through the turquoise waters. As a 'secret' beach, this destination does not offer restrooms, parking, or lifeguards, so plan accordingly. 
8. Halona Cove, Oahu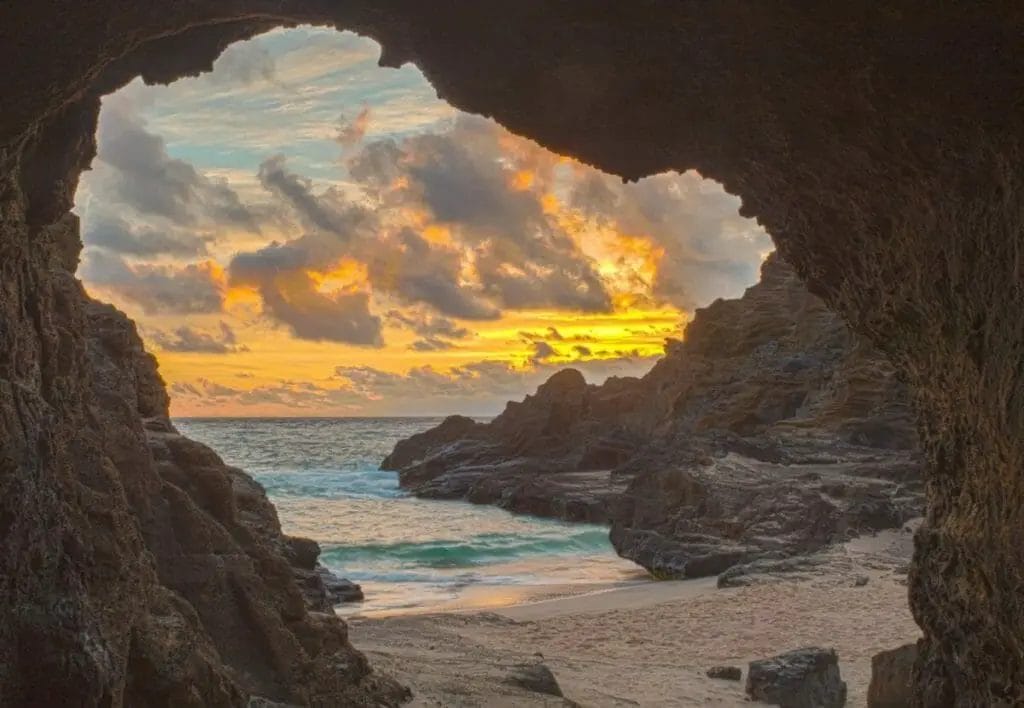 If you want to avoid the resorts and crowded tourist destinations, you need to visit Halona cove in Oahu. This beach weeds out plenty of people with its unmarked trail that is slippery and steep. However, if you make it to the bottom you will be rewarded with a fairly secluded beach, rocky cliffs, azure waves, and sparkling white sand.
Nearby you can adventure to the Halona blowhole which can shoot 20 feet or higher into the air. Swimming is not advised in Halona cove, but if you are an experienced swimmer and need a shot of adrenaline, there are many spots for cliff jumping.
This natural beach, which has been nicknamed the 'secret' beach, does not offer any facilities. Halona Cove is perfect for couples looking to take romantic pictures, groups of friends seeking adventure, and antsy adults who have just dropped their kids off at the resort daycare center. 
9. New Kaimu Beach, Big Island
True to its name, New Kaimu beach is one of the youngest beaches in the world, it was created in 1990 by the Kilauea eruption. The beach sits on what used to be an old fishing village before it was destroyed by the lava flow. New Kaimu beach does not offer any shade or protection from the wind so it is not ideal to stay here for long periods of time. The currents are also extreme, so it is not advised to swim or snorkel here as well.
Alright, now onto the things you can (and should) do: explore the lava field and see the lava flow from the nearby crater, take pictures of the unique lava formations, appreciate the coconut groves planted by locals, see dolphins and whales during the winter, and visit the farmer's market. The Wednesday Night Ho'olaule'a Market is hosted at Uncles 'Awa Club and if you visit you can expect delicious organic food, arts and crafts, artisanal vendors, live music, and dancing. 
10. Haena Beach, Kauai
This amazing Hawaiian beach in Kauai is full of activities, and natural wonder, and is a family-friendly destination. While you are here, you can embark on a kayak tour to see the rugged Napali coast, swim or surf, snorkel in Makua or Hauwa reef, and collect shells on the beach. It is also a comfortable place to picnic or play with the family, as there is a lifeguard, restrooms, and showers. You can even camp if you manage to get a permit.
In the backdrop you will see Mount Makana, a wondrous mountain shrouded in indigenous plants and overlooking the Limahuli Garden. Take pictures from afar or visit the botanical garden for a glimpse of Hawaiian culture, history, and natural beauty. During the winter you can expect giant waves, so if you are a pro surfer this is the spot for you. In the more likely case that you aren't a pro surfer who enjoys dropping into waves the size of houses, you can sit on the beach and have the unique experience of watching first-class surfers. 
11. Makalawena Beach, Big Island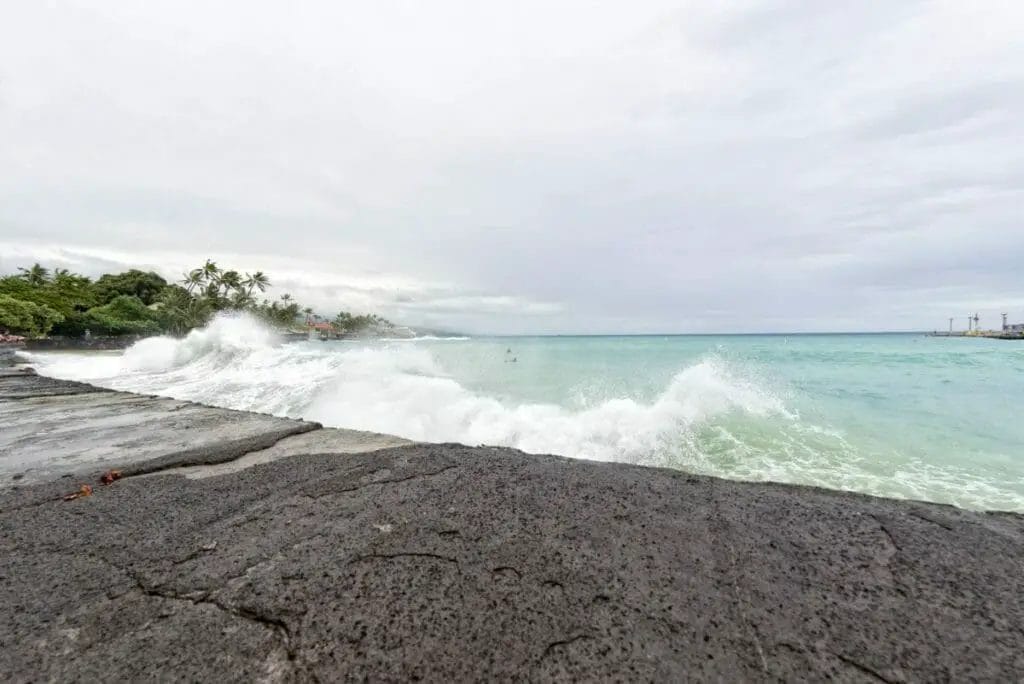 Escape the crowds and visit Makalawena beach on the Big Island for a relaxing and beautiful beach day. The lack of crowds is due to the fact that the shore is harder to access in comparison to others. To reach Makalawena beach, you will need to walk or take a four-wheel-drive vehicle.
There are two main paths to reach this destination, one is a 20-minute walk and the other is 40 minutes. Either way, these trails are beautiful in themselves, with scenery including large lava fields and white sand dunes.
Once you arrive at the beach you will find a tropical coastline, lava formations, an oasis of freshwater springs, and inviting palm trees. The waters are also relatively calm so you can swim and bodyboard here with ease. It may not be a great choice for families considering the complicated access and lack of facilities, but it is a great fit for adventurous friend groups and couples seeking privacy. 
12. Kaihalulu Beach, Maui
This beach is easily one of the most beautiful shoreline destinations in Hawaii with its red sand, greenery, sparkling water, and stunning red rock cliffs. While Kaihalulu beach has grown in popularity over the years, it is still a fairly secretive sanctuary. The cove is small and the steep access trail and lack of amenities deter many. The air of privacy at this beach also has led to many nudists, but there are not as many as in earlier years.
This beach is a perfect place to snorkel and swim, the waters are calm as the cove is protected from the larger waves crashing outside the rock line. The red rock cliffs also offer cliff jumping opportunities and you will often see kids leaping off the tall rocks. With nudists, a steep climb, and lack of amenities this may not be the place for families, but it is an amazing find for people searching for privacy and a bit of adventure. Lastly, all sunsets in Hawaii are spectacular, but the sunsets (and sunrises) at Kaihalulu are especially amazing as the sun reflects off of the red rocks and sand, creating a magically warm glow. 
13. Waipi'o Beach, Big Island
Hidden in the Waipi'o Valley, or The Valley of the Gods, you will find the stunning black sand beach of Waipi'o. This valley is worth a visit in itself, before you see the beach you should explore the valley's ancient temples, hiking trails, tropical jungle, and incredible cliffs. Many recommend taking a tour as much of the valley is private property and tour companies have special permissions to these sacred areas. You can embark on a horseback riding adventure, mule-drawn wagon excursion, or simple walking tour, in order to see this mystical valley.
To access the beach itself, you must hike the mile-long trail or use a four-wheel-drive vehicle. While you are here you can walk along the soft black sand beach, see the Kaluahine and Waiulili waterfalls, and watch experienced surfers navigate the strong waves. This is not the place for snorkeling, swimming, or surfing, as the current is very dangerous. The best time to come here is late afternoon so that you can enjoy an unforgettable sunset on the tropical shoreline or even hike a portion of the steep Muliwai Trail to see the evening glow with panoramic views. 
14. Poipu Beach Park, Kauai
Poipu beach is the most popular beach on the sunny island of Kauai and it isn't hard to see why it attracts thousands of visitors each year. These crystal clear waters offer a safe location for surfing, bodyboarding, fishing, and swimming. It is also perfect for inexperienced snorkelers to see colorful reef fish, snowflake eels, sea cucumbers, and possibly Hawaiian Green Sea Turtles. Out of the water, you may even be lucky enough to spot a Hawaiian monk seal basking under the island sun.
If you are craving even more wildlife sightings, you can also take a whale watching tour but keep in mind that the season is between November and March. This family-friendly spot is also ripe with amenities: parking, lifeguards, picnic areas, showers, and restrooms. There are even a few nearby restaurants if you forgot to pack a lunch, one of the best is Puka-Dog where they serve Hawaiian-style hot dogs with fun toppings like coconut, star fruit, or papaya relishes. 
15. Waikiki Beach, Honolulu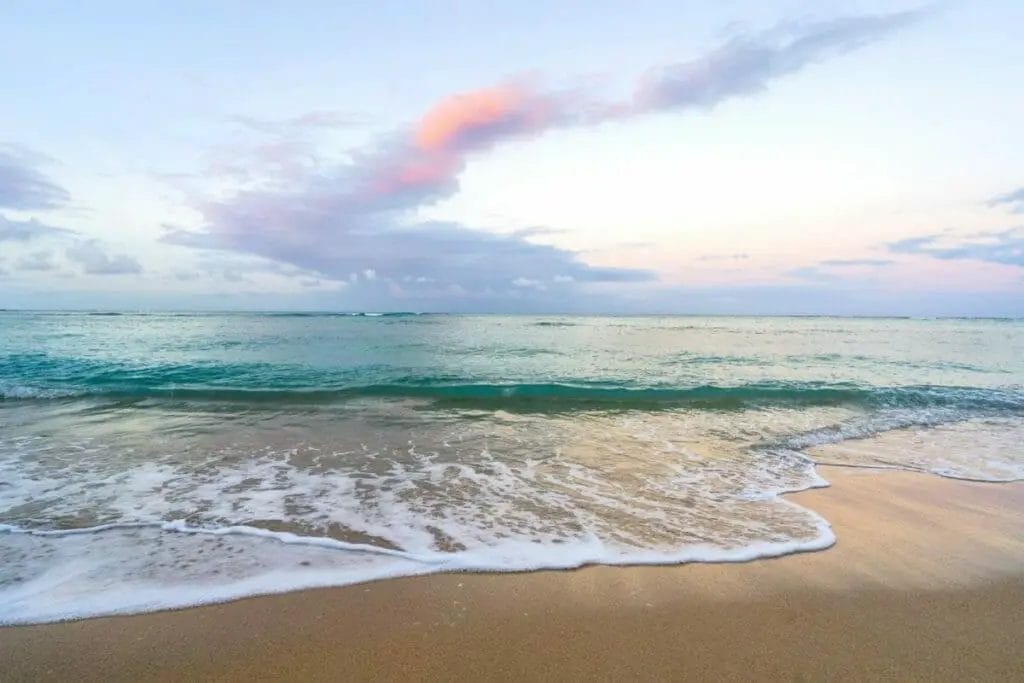 Unlike the other beaches on this list, Waikiki beach is a unique mix of city and nature. The crystal clear waters and white sand beach are framed by high rises and the rush of modern life. This popular area is also called The Gathering Place and it is a great beach to spend time with friends and family. It is the perfect compromise for people who consider themselves 'city folk' and don't want to trek through a jungle to reach a beach, while still enjoying the natural beauty Hawaii has to offer.
You can even see Mount Leahi from afar as you sip a cold cocktail in your lounge chair. Waikiki beach is also the perfect place for kids to boogie board, beginner surfers to take lessons, a snorkeling adventure, and easy swimming. The clear waters are very safe and relatively calm, making this place ideal for families and people hoping to simply relax in the water. It lends the opportunity for paddle boarding as well, a chance you won't get on the beaches with stronger currents.
Then after you have enjoyed your beach day, it is only a short walk back into the city where you can dine on the beachfront or window shop with a view of the stunning Hawaii coastline. 
More Travel Tips for You
Feel free to follow us on our social channels, like Facebook, Instagram, and Pinterest. On these platforms, we take you with us on our current trips and show you magical pictures & videos and reveal our best travel tips.
*In this post, we use so-called "affiliate links" (advertising links). These direct you to products and services that we can recommend to you 100%. If you book or buy something through these links, we will receive a small commission as a thank you. You will not incur any further costs. This advertising revenue helps us to offer all our content, images, and videos completely free of charge to you.
This might be also interesting for you