Are you ready to take a journey through different doors? Whether it's exploring the hidden gems of Europe, discovering the wonders of Asia or just seeking out adventure in your own backyard – travel blogs are one way to open up doors that lead to up new possibilities.
Different Doors Travel Blogs offer an insight into other cultures and what life is like beyond our everyday reality. From Dangerous Business and Loving New York to Expert Vagabond and The Blonde Abroad, these ten different doors travel blogs will inspire your next trip in 2023.
1. Dangerous Business Blog – One of the Best Different Doors Travel Blogs
Dangerous Business Blog is an excellent resource for travelers seeking unique destinations and diverse customs. The blog features captivating stories, adventures, and advice for solo or group travelers. The bloggers have extensive experience traveling throughout Europe and beyond, offering insights into local culture, customs, and safety precautions.
Dangerous Business helps readers make the most of their journeys while staying mindful of potential risks. With expert advice and firsthand experience, the blog is a reliable source for those looking to have a safe and memorable travel experience.
2. Loving New York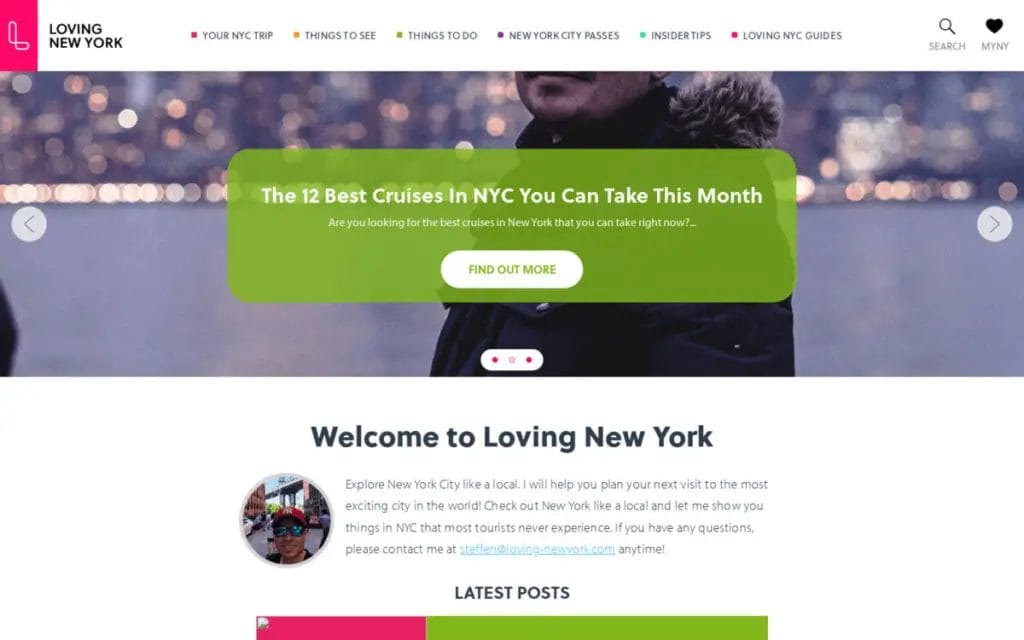 Loving New York is an adventure that should be experienced by all travelers, whether they are from the Big Apple or just passing through. From iconic landmarks to hidden gems, there's something for everyone in this city of dreams. Whether you're a solo traveler looking for some personal stories and inspiration or a weekender who wants to get out and explore familiar surroundings, Loving New York has some tips on how to make the most of your time in New York City.
Loving New York is another great feature that highlights all the best things about traveling to The Big Apple – from iconic landmarks to local hotspots. Whether you're looking to find reviews, for unique restaurants or fun activities around town – this section will help you get familiar with NYC quickly so that you can make the most out of your trip and stay there.
New York City is a bustling hub of activity, an incredible destination that never fails to astound.
3. Expert Vagabond Travel Blog
Expert Vagabond Travel Blog is a fantastic resource for those seeking new opportunities to traverse the globe and discover new locales. Whether you're a weekender, traveler, or city tripper, this blog has something for everyone. From seasoned globetrotters' tales to advice on travelling securely and economically, Expert Vagabond Travel Blog offers an array of resources for any kind of explorer.
The blog features advice on navigating unfamiliar surroundings with ease and confidence. It also offers practical tips on outdoor adventures such as hiking, camping, kayaking and more – perfect for solo travelers or groups alike. Plus, there's plenty of travel inspiration, from inspiring travel bloggers sharing their experiences around the globe – it's like having an expert tour guide right at your fingertips.
For those seeking adventure further afield than Europe and New York City, Expert Vagabond Travel Blog provides detailed accounts of various destinations across Asia Pacific including Japan, Thailand, and Australia among others. You'll find fascinating tales of culture shock when visiting these countries, along with useful information regarding visas and safety measures while travelling in each country; ensuring an enjoyable experience no matter where in the world you choose to go.
4. Blogger at Large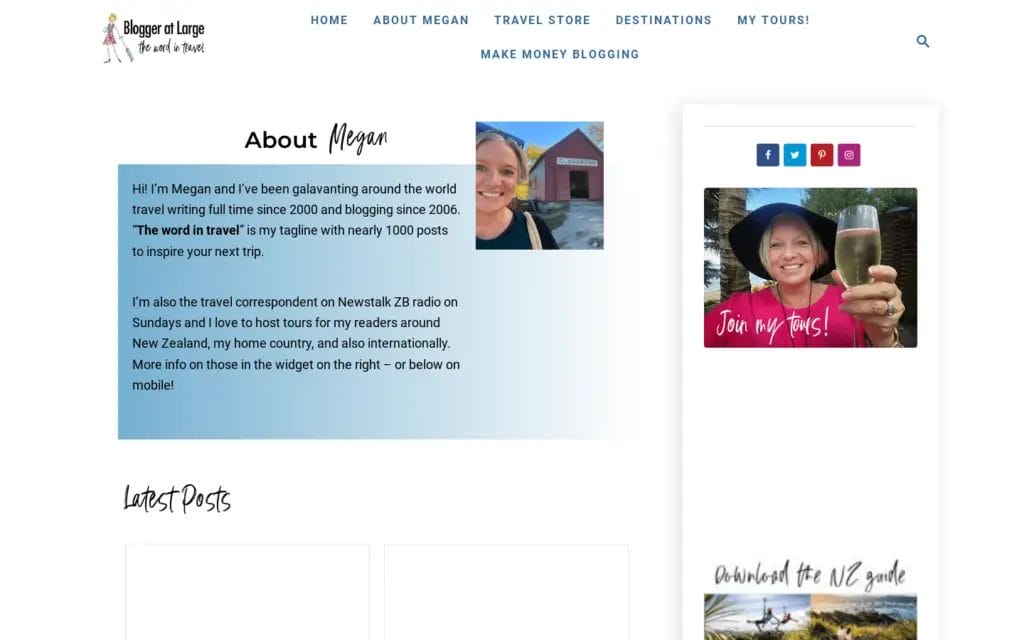 Blogger at Large is a popular travel blog run by professional travel blogger Megan. She shares personal stories and experiences from her travels around the world, making the blog an excellent resource for both new and seasoned travelers.
The content covers a wide range of topics, from budgeting advice to outdoor adventures, catering to solo travelers as well as groups. The blog provides insights into different cultures, money-saving tips, local customs, and reviews of accommodations and restaurants. Safety while traveling is also emphasized.
Megan inspires readers to step out of their comfort zones, offering stories of adventures like scuba diving in Thailand or trekking in South America. Blogger at Large encourages readers to live life without boundaries and explore the world, making it an ideal source of information and inspiration for travelers.
5. The Travel Hack Blog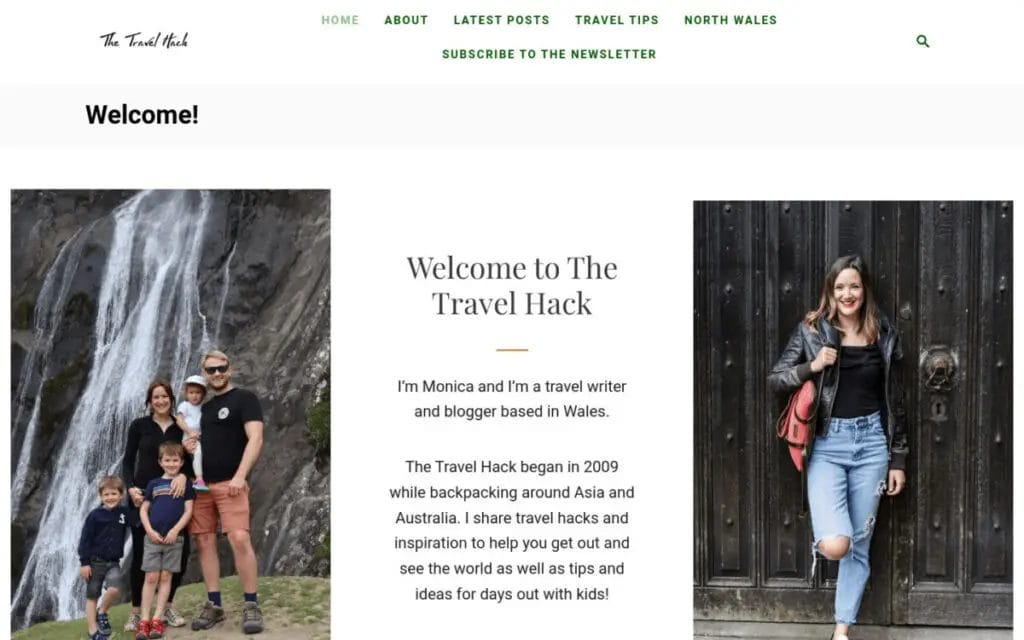 The Travel Hack Blog is a top Different Doors travel blog offering savvy guidance to help travelers save money and maximize their experiences. Covering topics such as budgeting, packing tips, backpacking, and money-saving, well organized into travel hacks, the blog is a valuable resource for budget-conscious travelers. Regularly updated with fresh content, it provides easily comprehensible advice for both seasoned and new travelers.
Focusing on safety, security, and cultural customs, the blog equips readers with vital information on common scams, staying safe in unfamiliar cities, and understanding local etiquette and laws. For those interested in budgeting, the blog offers resources on saving money during trips, getting discounts at popular attractions, and planning ahead financially.
The Travel Hack Blog is an excellent resource for travelers seeking reviews, travel hacks, advice, and strategies to optimize their journeys.
6. Bemused Backpacker Travel Blog
Bemused Backpacker Travel Blog is a comprehensive Different Doors travel blog that offers readers extensive information on destinations, tips, and tricks for exploring Europe and beyond. Created by an experienced traveler who has visited over 40 countries, the blog covers local areas, budgeting advice, packing tips, cheap flight options, accommodation choices, must-see attractions, activities, safety guidelines, and cultural experiences.
What sets this blog apart is its unique approach to providing useful content without overwhelming readers. Articles feature vivid imagery and succinct descriptions, making it easy for those with limited time to quickly gain insight into a destination. Bemused Backpacker also offers custom itineraries tailored to individual interests and motivational stories from fellow travelers.
The Bemused Backpacker Travel Blog is an excellent resource for travelers looking for new places to explore the world in an accessible and engaging way.
7. Legal Nomads – Different Doors Travel Blogs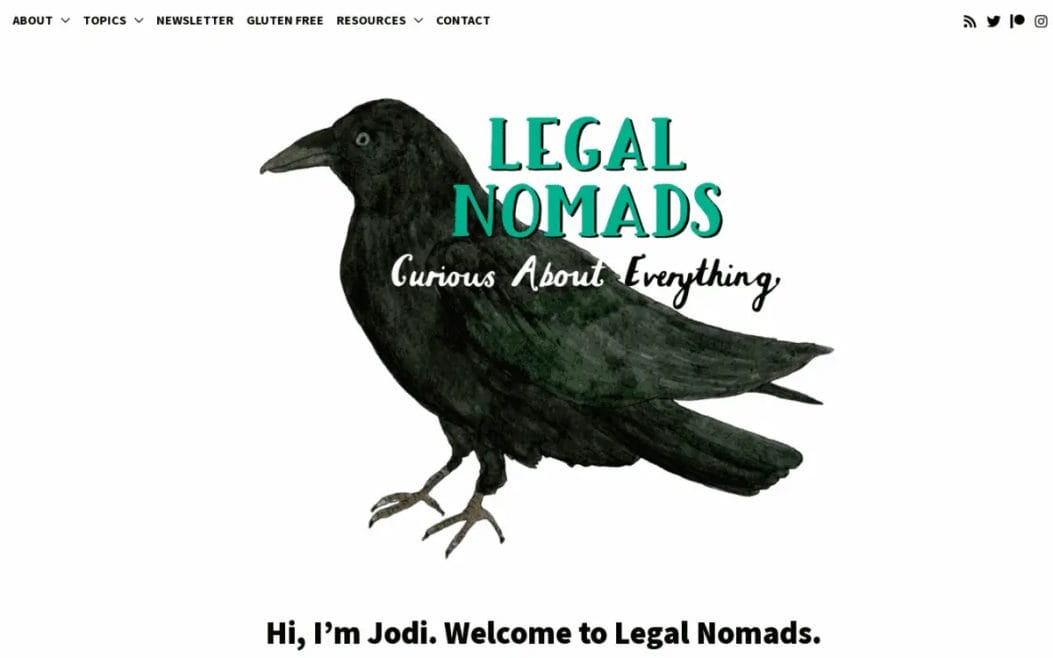 Legal Nomads, created by Jodi Ettenberg, is a popular different doors travel blog that captivates readers with candid writing and a wide range of topics, including budgeting tips, cultural observations, visa regulations, health insurance, and packing lists. Jodi's passion for exploration and her detailed accounts of food adventures offer insights into local cuisines and inspire readers to step out of their comfort zones.
In addition to personal anecdotes and travel experiences, Jodi interviews other travelers, providing valuable information about living overseas and fostering global citizenship. Legal Nomads is an excellent resource for those interested in studying abroad, learning about different cultures, or contemplating an extended trip, filled with helpful advice and engaging stories.
8. The Blonde Abroad
The Blonde Abroad, a popular Different Doors Travel Blog created by Kiersten Rich, offers helpful advice and resources for travelers. Covering topics such as budgeting, packing, photography, and itineraries, the blog is filled with inspiring stories and tips on becoming a digital nomad. Kiersten provides practical information on safety, visa requirements, health insurance, and cultural adjustment.
In addition to its comprehensive city guides, the blog features an invaluable resource section with up-to-date information on attractions, accommodations, and travel deals. The Blonde Abroad is an essential resource for anyone planning a vacation, from weekend trips to long-term travel, providing insightful suggestions for exploring Europe and beyond.
9. Nomadic Matt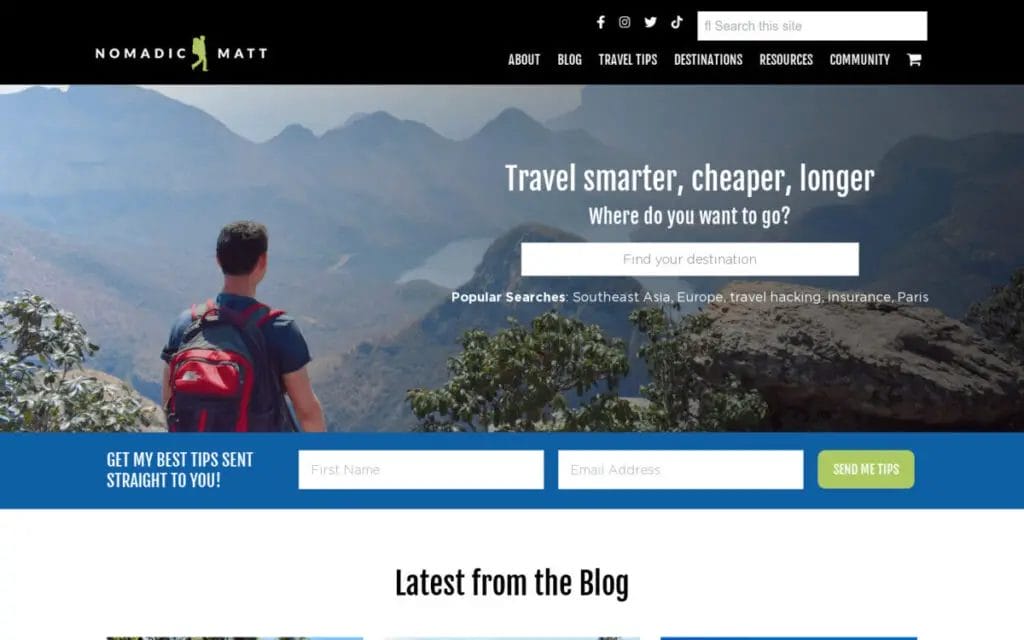 Nomadic Matt, founded by Matthew Kepnes, is a renowned travel blog that encourages cost-effective exploration of the world. Covering topics such as planning trips, flying solo securely, and discovering off-the-beaten-path destinations, the blog offers valuable advice and checklists for seamless planning. Kepnes shares personal stories and interviews with other travelers, providing diverse perspectives and insider's perspective on life on the road.
The blog features comprehensive city guides with information on attractions, restaurants, nightlife, and cultural activities in cities across Europe and beyond. It also includes tips for weekend getaways and longer vacations, addressing visa requirements and currency exchange rates. Kepnes encourages readers to immerse themselves in local culture and embrace the philosophy that getting lost can be a rewarding part of travel.
10. Atlas and Boots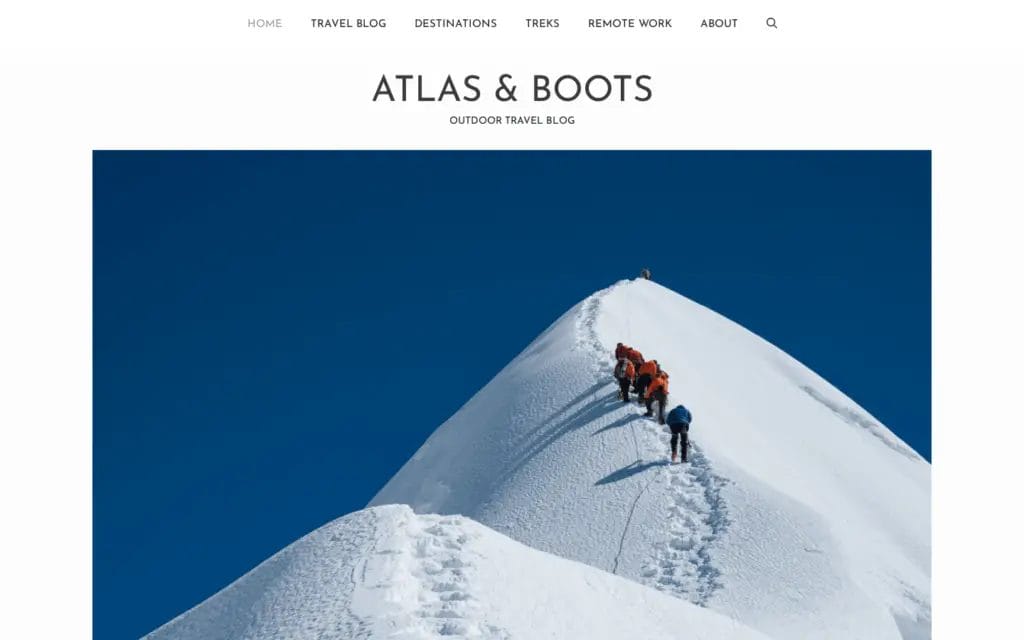 Atlas and Boots is an adventure-focused travel blog founded by brothers Peter and Paul. The blog offers travel tips, on budgeting, off-the-beaten-path destinations, and unique travel experiences that push travelers beyond their comfort zones. Topics covered include adventure travel, budget travel, culture shock advice, outdoor activities, photography tips, and wildlife watching ideas, accompanied by stunning photographs from their journeys.
What sets Atlas and Boots apart is its emphasis on sustainable practices and responsible volunteering opportunities while traveling abroad, aiming to reduce ecological impact and protect local habitats. The blog also covers domestic trips within Europe and North America, featuring hikes through national and regional parks and reviews of charming small towns. Catering to those seeking cultural insights or an escape from everyday life, Atlas and Boots has something for everyone.
FAQs in Relation to Different Doors Travel Blog
How do you write a travel blog article?
Writing a travel blog article involves understanding the destination, culture, and traveler tips. Thoroughly research the location, create a plan or outline, and use active language for easy reading. Include visuals and ensure accuracy in facts, grammar, spelling, and punctuation.
Who is the most successful travel blogger?
Nomadic Matt is a highly successful travel blogger with 10+ years of experience, visiting 75+ countries. He offers detailed travel advice, for budget and luxury travelers, with an engaging and instructive writing style. He provides resources, such as books and online courses, to simplify trip planning.
What are the different travel styles?
Globetrotting styles vary from relaxed vacations to extreme excursions. Typical travelers savor sights, while adventure seekers choose activities like rock climbing. Backpackers explore multiple destinations economically, and cultural tours offer local insights. Luxury vacations provide indulgent pampering and exclusivity.
How do you make an interesting travel blog?
To create a captivating travel blog, write up and research popular destinations, use vivid descriptions, personal anecdotes, and local tips in depth content. Incorporate multimedia for visual appeal and write regularly to build relationships with followers who anticipate new posts.
Conclusion
The world of travel is ever-changing and the different doors that it opens are endless. From Dangerous Business Blog to Nomadic Matt, there's something for everyone when it comes to finding a unique way to explore the world.
With these 10 Different Doors Travel Blogs you'll be sure to find an inspiring source of both inspiration and information on all your travels in 2023. So don't wait any longer – start exploring today with one (or more.) of these amazing blogs and make next vacation this year unforgettable.
Discover a new adventure and the best travel tips for Europe and other countries around the world with HHOT's Different Doors Travel Blog. Take your next trip to a whole new level of adventure!
More travel inspiration & tips for you
Feel free to follow us on our social channels, like Facebook, Instagram, and Pinterest. On these platforms, we take you with us on our current trips and show you magical pictures & videos and reveal our best travel tips.
*In this post, we use so-called "affiliate links" (advertising links). These direct you to products and services that we can recommend to you 100%. If you book or buy something through these links, we will receive a small commission as a thank you. You will not incur any further costs. This advertising revenue helps us to offer all our content, images, and videos completely free of charge to you.
This might be also interesting for you