Looking for the best Christmas Market in Germany? We put together the best Christmas markets in Germany for you to visit in 2021. The Christmas markets are today known for holiday stalls selling regional delights and crafts. The markets celebrate the Christmas season in Advent which is essentially four weeks before Christmas Day.
The origin of the Christmas markets goes back to late medieval markets in medieval German-speaking regions of Europe. Here the population stocked up on food and winter goods at the beginning of winter. It was not until the 14th century that confectioners, basket weavers, and toymakers were also allowed to open stalls.
The Christmas markets have only been part of pre-Christmas customs since the beginning of the 20th century. Today cities in all parts of Europe celebrate Christmas markets. If you need a Christmas market (or 10 or even more) to visit for your German holiday shopping experience check these top 23 Christmas market locations for Germany.
Which are the best Christmas markets in Germany?
There are around 150 cities in German towns that have established traditions around Christmas markets. Many places have several markets. Berlin has around 70. Then are places that have a rich history: the capital of the Hanseatic League or today's capital of Germany. Besides talking about all the interesting things to see and do in each destination, I also help to provide information on where to be there, where to visit, where to stay, and what to avoid. These are the best Christmas markets in Germany I recommend for you to visit.
1. Nuremberg Christmas Market
The Christkindlesmarkt is among the most important Christmas markets in the world. Nuremberg's world-famous Christkindlesmarkt, which was first held in 1628, attracts more than two million visitors every Advent season. Nuremberg Old City comes to life on November 26 when its delightful Christmas stands are tastefully decorated with fresh garlands and red-and-white cloth, along with tempting scents of gingerbread and roasted almond. The almost 200 wooden huts, uniformly in white and red design, create a cozy and festive atmosphere. Anyone visiting the Christkindlesmarkt should definitely try the Nuremberg gingerbread, Christmas stollen, and Nuremberg bratwurst – with the obligatory cup of mulled wine, of course.
 Opening dates: From 26th November to 24th December 2021
 Where to stay: Astoria Apartments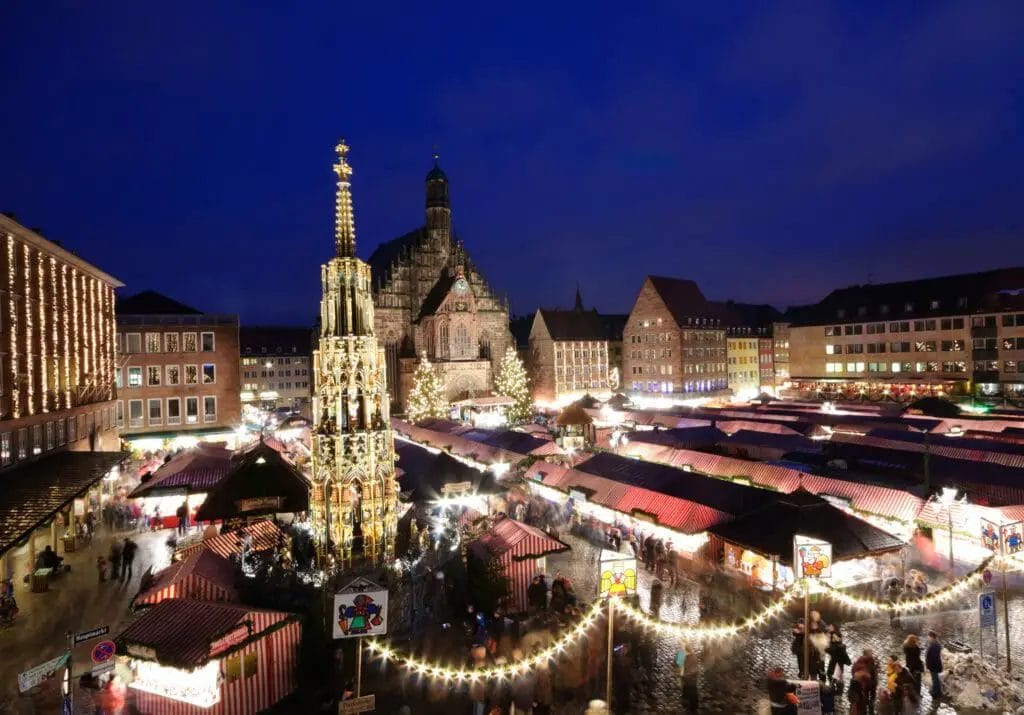 2. Dresden Christmas Market
Dresden Christmas Market also known as Striezelmarkt was the oldest Christmas market in Germany. Highlights of Dresden's major traditional Christmas market include the Stollen Festival the Pyramid Festival, a huge Christmas carousel, and the largest nutcracker. During the holiday season over 230 Christmas displays contain handmade pottery, candles, toys, and wood decorations. Twinkling Christmas lights add to the charming ambiance and foodies can choose with an array of Saxon kitchen delights. The baroque town of Old Town gives birth to the towering Church of Our Lady in its backdrop.
Opening dates: From 22th November to 23rd December 2021 – Cancelled for 2021 due to COVID-19
Where to stay: NH Collection Dresden Altmarkt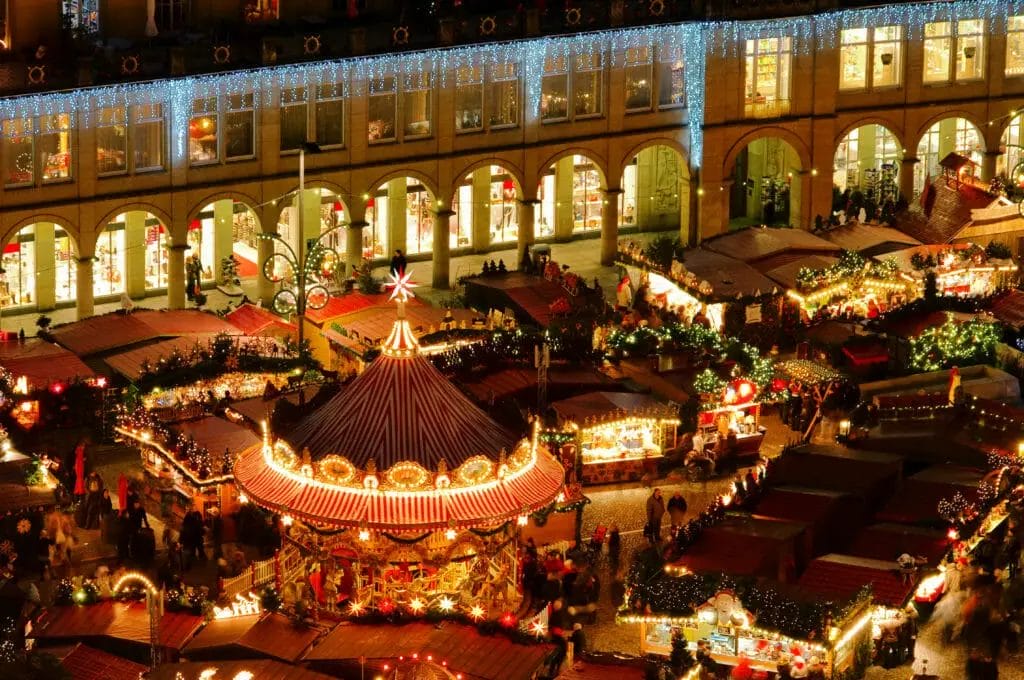 3. Cologne Christmas Markets
The Cologne Christmas Market contains a total of 1.620 stalls packed with life and magic. Cologne has the world's most famous Christmas market and has been the birthplace of the delicious mulled wine. Colognes Old Christmas Market stands out because of its traditional appeal perfectly complementing the cobbled Altmarkt. Equally enjoyable is the tenderly festooned Angels Christmas Market at Neumarkt and the maritimely themed Harbour Christmas Market with an overlook to the river. The hip Christmas Ave. at the Bermuda Triangle is Köln's gay and lesbian Christmas market.
 Opening dates: From 22nd November to 23rd December 2021
 Where to stay: Excelsior Hotel Ernst am Dom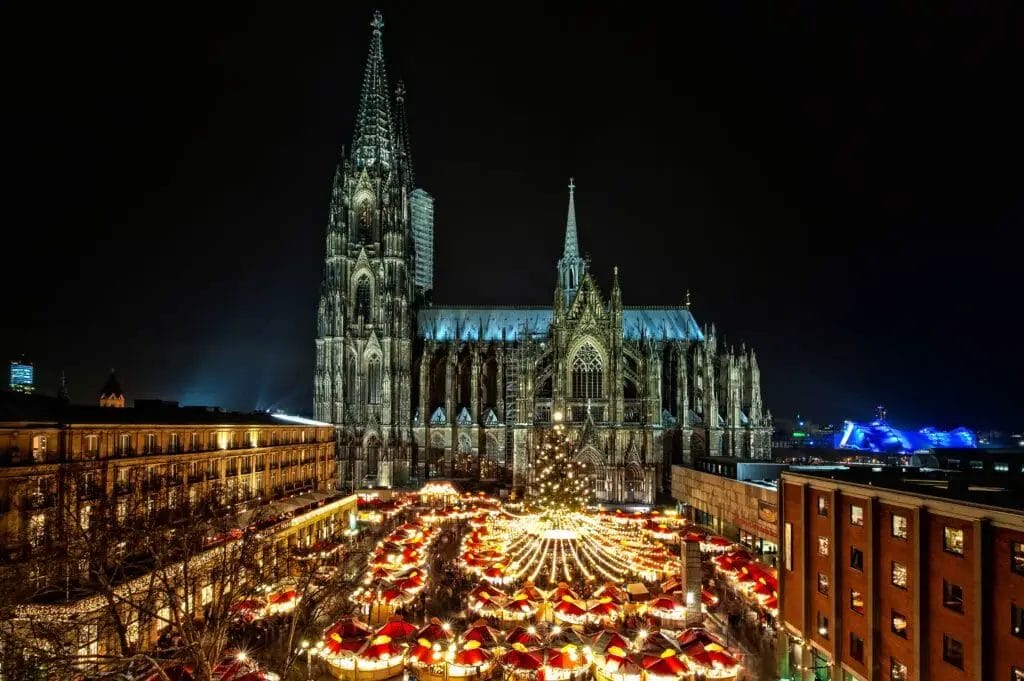 4. Munich Christmas Market – The Christ Child Market
Munich is a great place to spend Christmas in Germany as the city's market has spread throughout the town. The largest Munich Christmas market is the Christkindlmarkt on Marienplatz, which was first mentioned in 1310 as Nikolausmarkt, at the main center of the city. A must at the Munich Christmas market is the Kripperlmarkt, a part of the Christkindlmarkt, where artistically carved figures are presented. In front of the town hall, a thirty-meter high Christmas tree shines in the glow of its approximately 3,000 candles.
There are eight other Munich Christmas markets around the city, from the Chinese Tower in the English Garden to the Viltualienmarkt but each one has something that sets them apart. Go to the Christmas city Munich for Christmas Markets and you'll not be disappointed.
Opening dates: November 22 – December 24, 2021 – Canceled
Where to stay: Hotel MIO by AMANO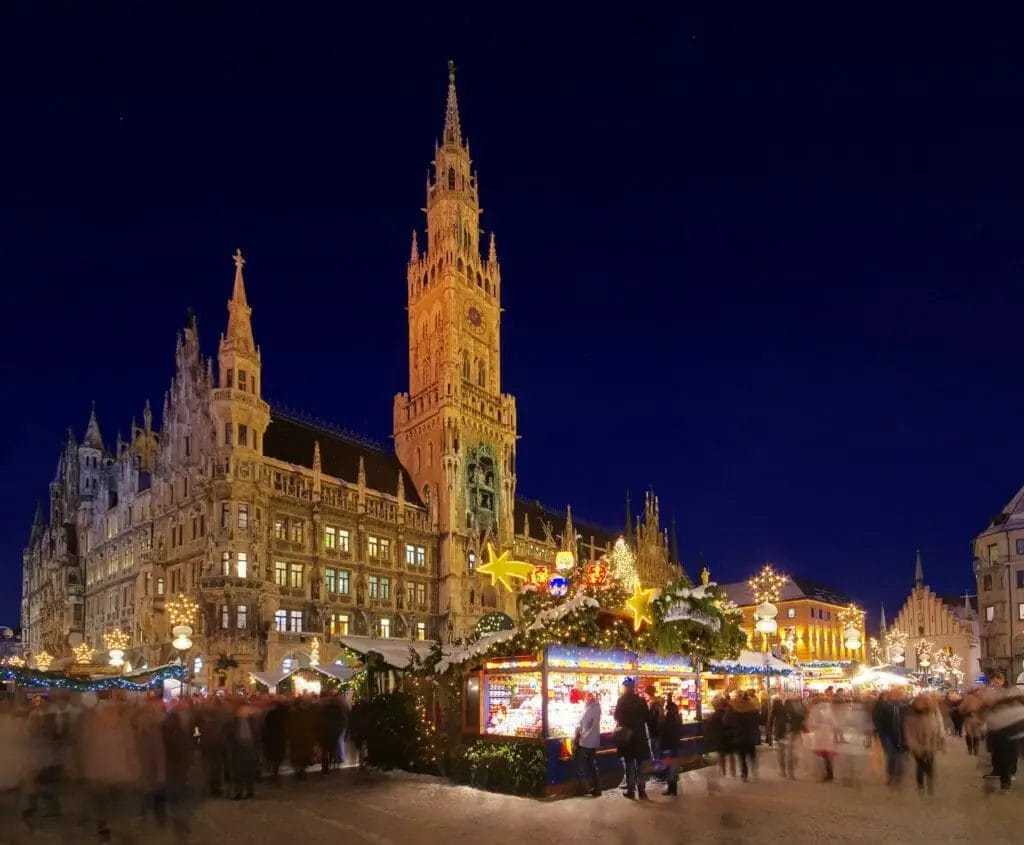 5. Hamburg City Hall Christmas Market
The main Christmas market in Hamburg takes place near the town hall in Hamburg. Local craftspeople and artisans show and sell their handicrafts in elaborate wooden structures which surround a giant Christmas tree. You'll find wooden crafts from Tyrol, pottery from the Lausitz region, original Nuremberg gingerbread, and even hand-made Christmas ornaments from Erzgebirge. The charming elegance that was the center of this city can be found in the collections of more than 30 Christmas markets, ranging from dog-themed to nautical-themed to erotic. Make also sure to visit one of the most unique Christmas markets at the famous Reeperbahn in Hamburg Sankt Pauli, for a bit naughtier experience with this erotic Christmas market.
Opening dates: November 22 – December 23, 2021
Where to stay: Hotel Fraser Suites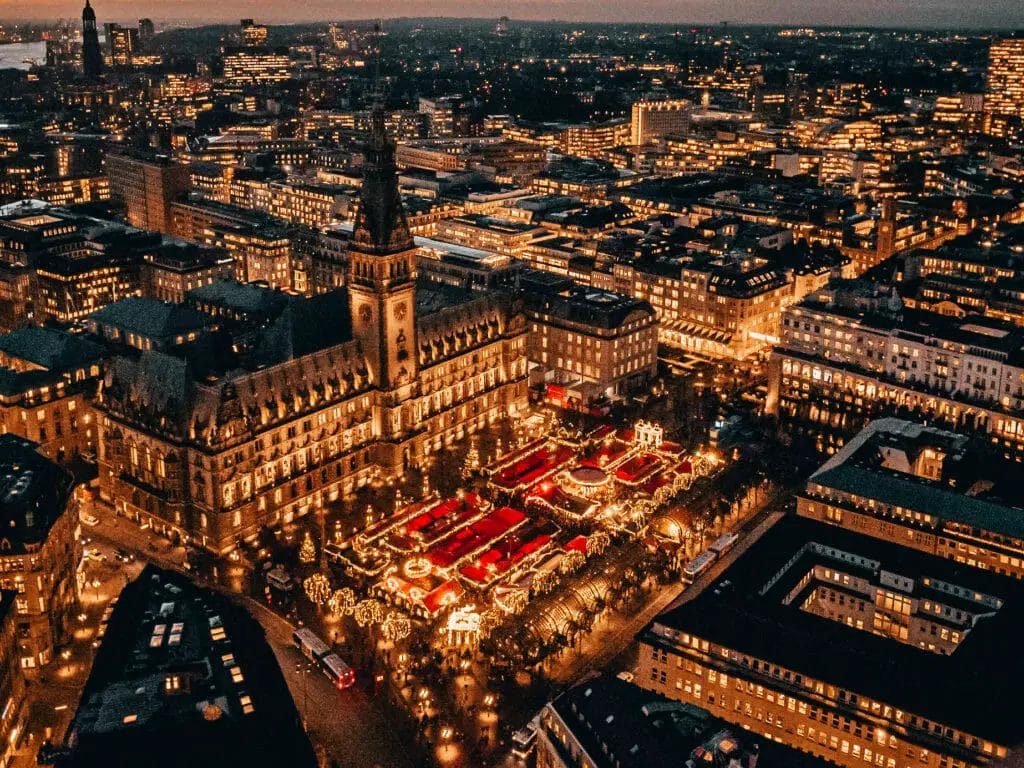 6. Leipzig Christmas Market
The Leipzig Christmas market was founded circa 1458. Opening from 23 November until 23 December 2021. More than 225 stalls encircle harmoniously the central area of this historic city. Visitors have a multitude of celebration delights such as a variety of culinary and leisure activities or exploring the traditional medieval markets. The main area of this German Christmas Market is the Marktplatz (market square) where visitors can marvel at a large spruce Christmas tree as high as twenty feet and enjoy the Christmas lights and a wide variety of performances in the marketplace. The city is one of the largest German Christmas markets and one of the oldest and most popular markets.
Opening dates: 23. November till 23. December 2021
Where to stay: Art Hotel City Leipzig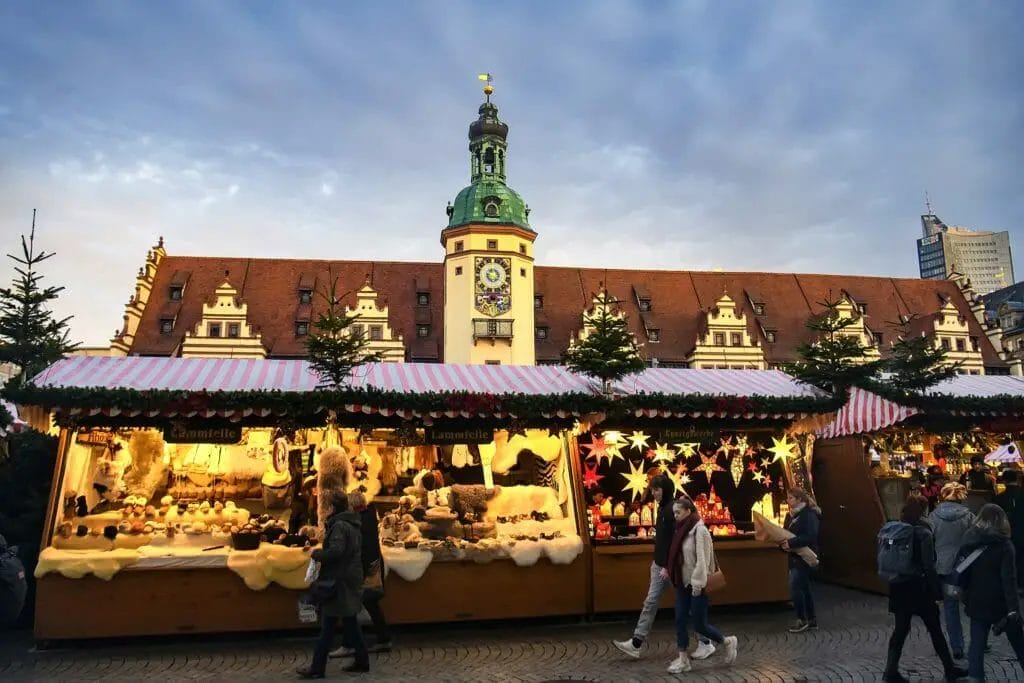 7. Berlin Christmas Market
Charlottenburg Palace sets the scene of Berlin's Christmas market. Wooded shelters and houses decorated entirely with natural materials create an elegant atmosphere. The market will open from November to January. In addition to traditional Christmas market stalls selling cold chestnuts, crepes, or Hungarian langos many hotels and restaurants provide fine dining in heated tents. There is an elaborate lighting panel that bathes the market, the buildings, and decorations as well as the walls and gardens of the palace in a charming glow.
Opening dates: From 22nd November 2021 to 6th January 2022
Where to stay: Motel One Berlin-Tiergarten 
8. Düsseldorf Christmas Market
The annual holiday markets in Düsseldorf promises something special this year. Each address has its own distinctive theme; starting with the standard Christmas markets on the market square to Scandinavia's traditional Christmas shopping markets on the Schadowplatz. Naturally, the spectacle will then be complemented by picturesque lights, nativity scenes, gingerbread houses, glowing crystals, and lots of nostalgic booths selling genuine Christmas goods. The fair is one of the very beautiful Christmas fairs in Germany with a large diversity of locations throughout the city.
Opening dates: From 18th November to 30th December 2021
Where to stay: Hotel Sir & Lady Astor
9. Frankfurt Christmas Market
Frankfurt's Weihnachtsmarkt dates back to the 14th century it has become one of the oldest Christmas markets in Germany. Over 200 vendors sell everything from local arts and crafts to authentic honey. A huge Christmas tree and singing carols will give an added festive glow. The historic market in the old town is famous for its regional delight including hot apple wines, small dried plum figurines, and traditional marzipan and almond biscuits. The market is located around Römerberg and has traditionally half-timbered houses and fairy-lit light installations. A large part of the action of the Frankfurt Christmas market is found in the old market square.
Opening dates: 22.11.2021 – 22.12.2021
Where to stay: NH Collection Frankfurt City
10. Ravenna Gorge Christmas Market
The Christmas market in the Ravenna Gorge is truly unique and one of the best Christmas markets in Germany! Under the almost 40-meter high railroad viaduct, the Ravenna Bridge, the market is framed by steep, wooded hills creating an extraordinary atmosphere. The market includes 40 chalets selling traditional handmade ornaments and delicious food and drinks like the hot apple wine. Free shuttle buses take visitors from Himmelreich and Hinterzarten stations to the Fair and out. The dreamlike ambiance is completed by live piano music and impressive light shows.
Opening dates: Only at the following weekends: 26.11.-28.11.2021; 03.12.-05.12.2021; 10.12.-12.12.2021; 17.12.-19.12.2021
Where to stay: Boutiquehotel am Stadtgarten in Freiburg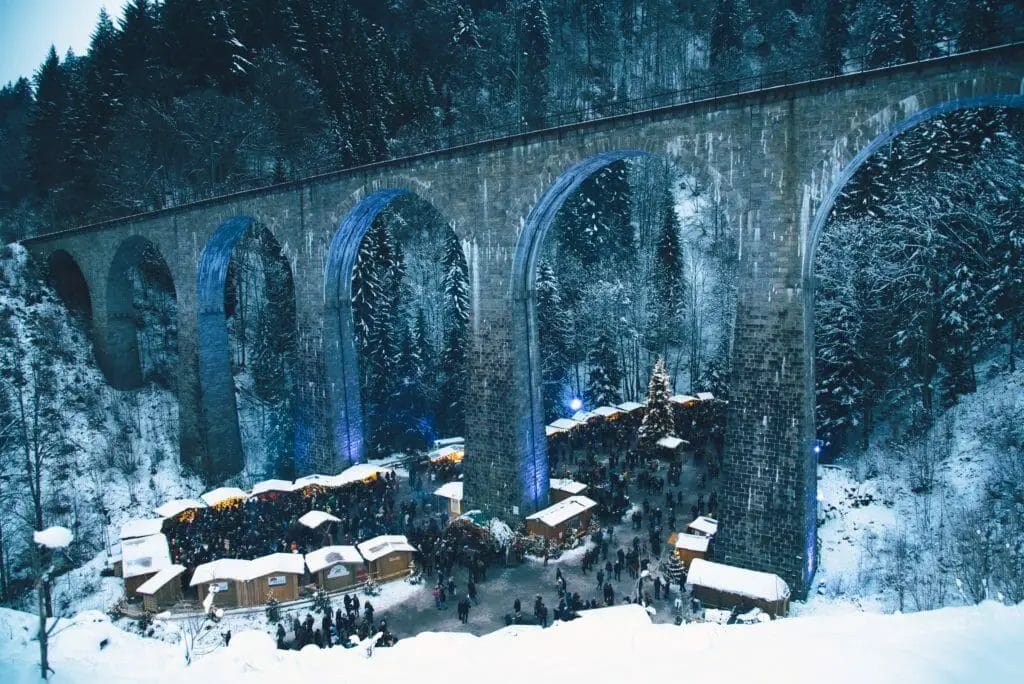 11. Esslingen Medieval Christmas Market
The medieval Christmas Market at Esslingen takes visitors on a trip back in time with musicians dancing and playing traditional songs and dances. Archery competitions medieval singing and dancing and unique workshops where one learns how to smoke and cook foods or look for craftspeople who practice the old crafts. Or make a choice between mulled wine, Glühbier or Mead – the honey wine widely consumed in the Middle Ages. A torchlight procession to Esslingen Castle, which rises high above the city on the slopes of the Schurwald, and a medieval concert add to the Christmas atmosphere of the Esslingen Medieval and Christmas Market experience.
Opening dates: From 23.11.2021 till 22.12.2021
Where to stay: Neo Hotel Linde Esslingen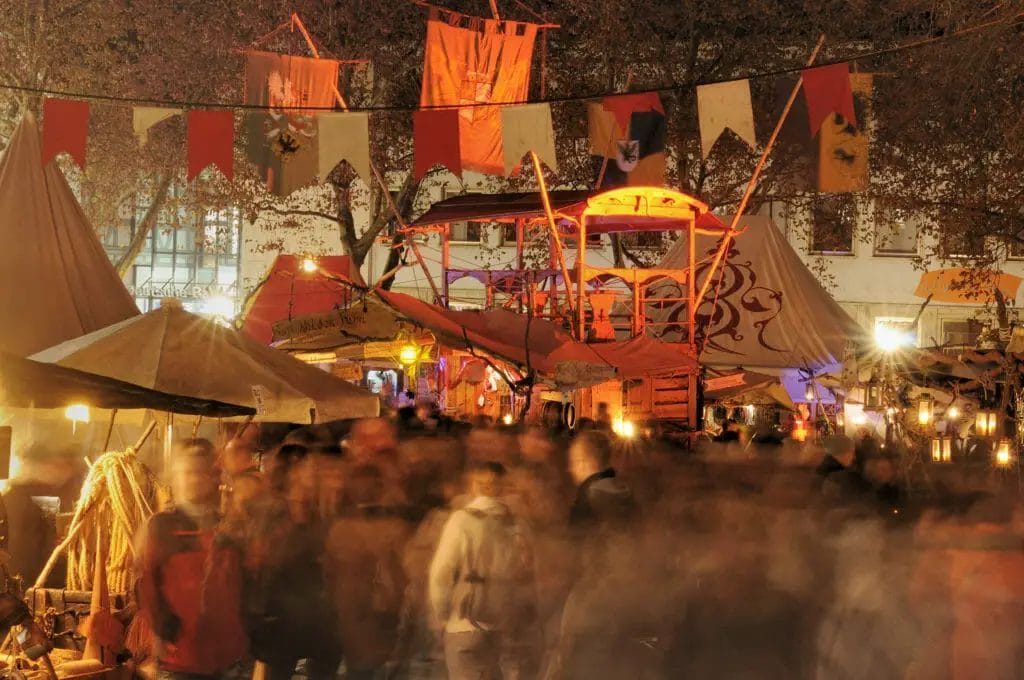 12. Rothenburg ob der Tauber Reiterlesmarkt
Rothenburg ob der Tauber is a tale book Bavarian town with imaginative half-timbered houses, red-painted roofs, and cobbled streets. The 15th – Century Reiterlesmarkt turns the town into a living Christmas card with guided torchlight walks ancient German pastries and a Christmas museum filled with history. A Must try is the Rothenburg snowball, a baked crumbly egg dough with different fillings. The city's Christmas market is one the most beautiful Christmas markets in the entire World.
Opening dates: From 26th November to 23rd December 2021
Where to stay: Hotel Reichs-Küchenmeister
13. Stuttgart Christmas Market
If you want to visit the most beautiful Christmas markets in Germany, you can't miss the Stuttgart Market. It is one of the largest European Christmas markets with over three million guests and nearly 280 wooden huts and shops. It also has a 300-year legacy and is the oldest and largest of its type in Europe. Visitors can enjoy a leisurely walk around the city. This will be a popular German Christmas market in the last few weeks of Advent. The city is known for its holiday atmosphere and traditional Christmas marketplaces. The Festival takes place in the heart of the center of Stuttgart.
Opening dates: From 24th November to 30th December 2021.
Where to stay: Motel One Stuttgart-Mitte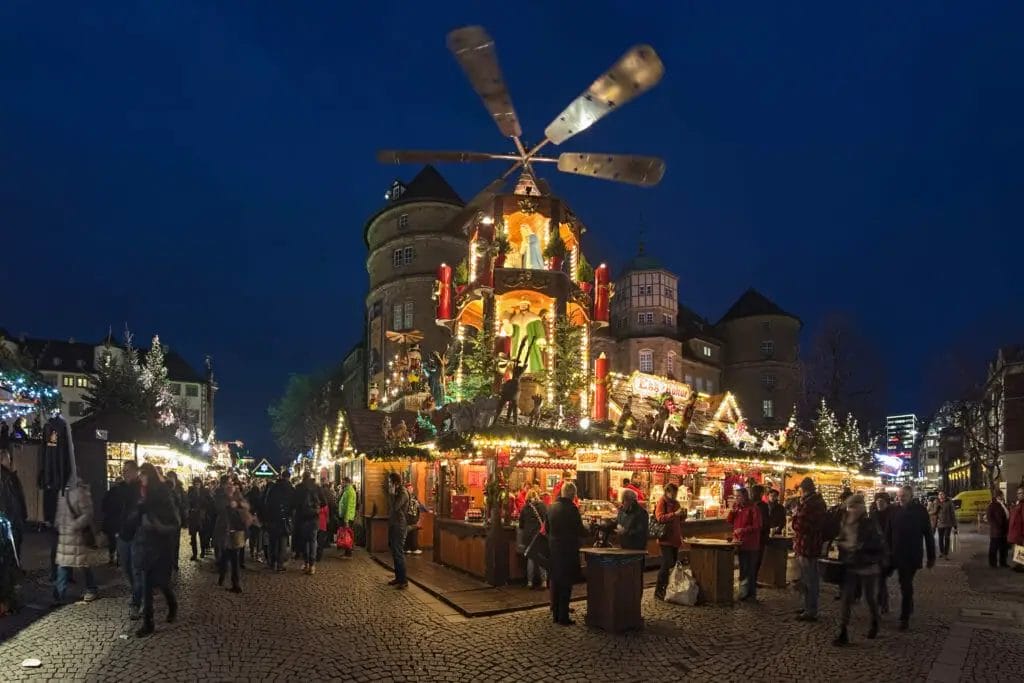 14. Aachen Christmas Market
The Christmas Festival in Aachen charms the younger and the elderly. The streets and squares around the Aachen Cathedral and the Aachen Main Palace become an oasis of lights and colors. The extensive variety among classic, luxurious, and valuable goods makes small and large dreams become reality. The offer of the 120 craftsmen and artists at the historical Christmas market entices to look & buy – not only small guests get shining eyes here.
 Opening dates: From 19th November to 23rd December 2021
 Where to stay:  Mercure Hotel Aachen Am Dom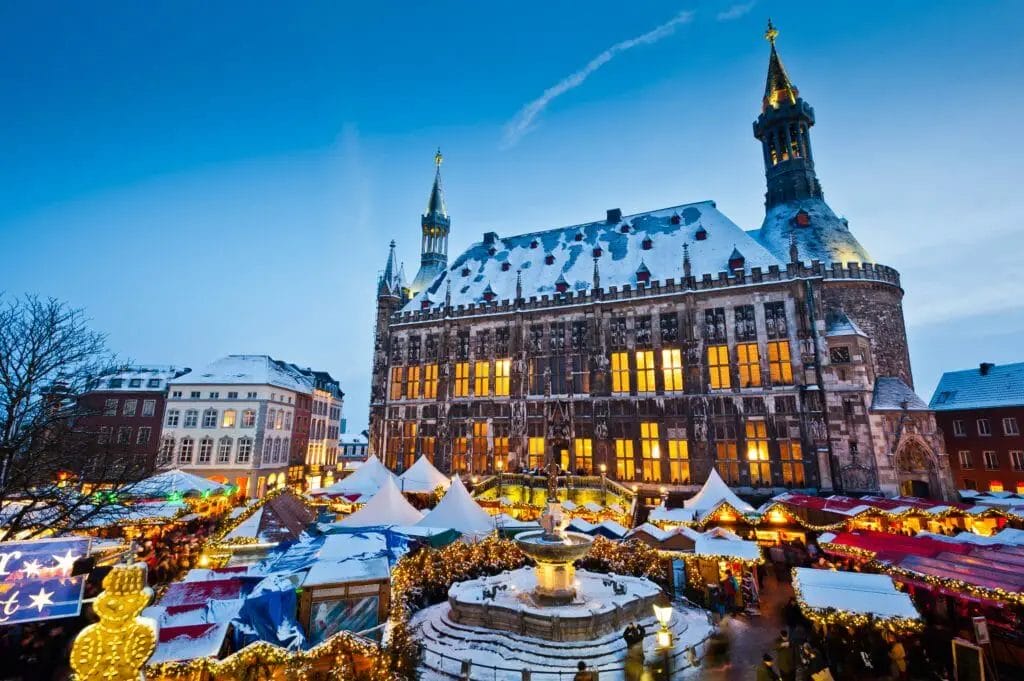 15. Baden-Baden Christmas Market
Framed by the wintry Black Forest mountains, the Christkindelsmarkt in Baden-Baden invites you to get in the festive mood for the Christmas season in front of the atmospherically illuminated Kurhaus backdrop. This charming Christmas market is situated at the very start of Baden-Baden's famous green corridor the Lichtentaler Allee, which is located in the center of the city. The scent of mulled wine and gingerbread accompanies visitors as they stroll alongside the cozy wooden houses. Visitors will find small streets of Christmas shops dominated by the romantic atmosphere intensified by the thousands of shimmering Christmas-lighted shops.
Opening dates: From 25th November 2021 to 6th January 2022.
Where to stay: Hotel Alte Laterne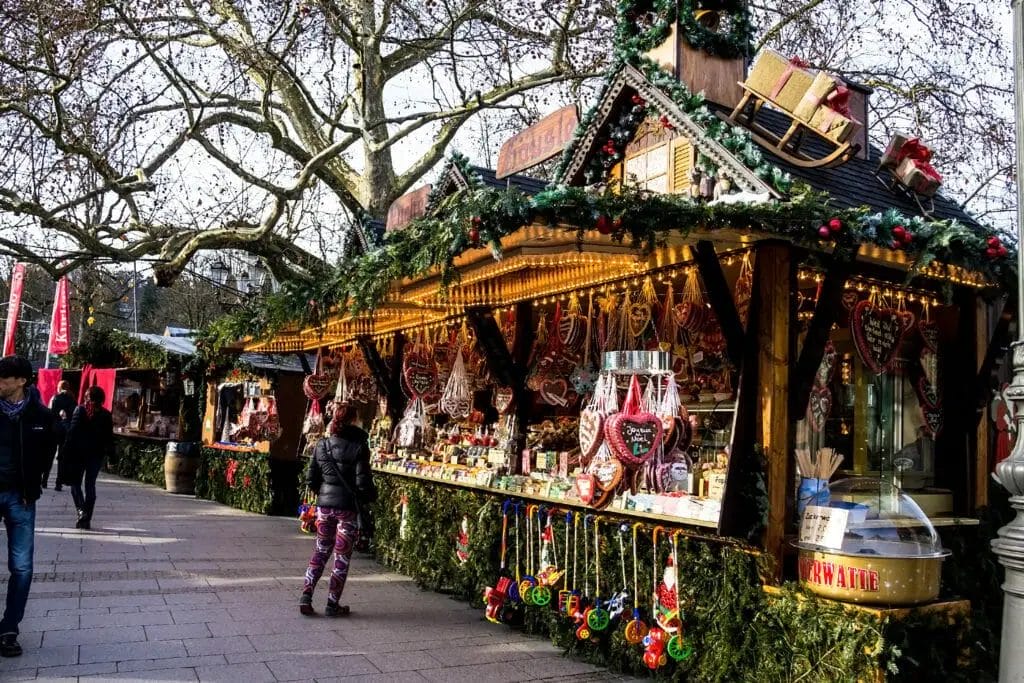 16. Rüdesheim Christmas Market
The Rüdesheim Christmas Market of nations celebrates the Advent and Christmas season at the River Rhine. Around the romantic heart of the old town of Rüdesheim on the Rhine, festive stalls are grouped with Christmas offerings from all over the world. More than 15 countries on 6 continents bring their products, offerings, and celebrations that match the season. An atmospheric program and attractive children's activities will make your eyes sparkle at the annual Christmas Market of Nations in Rüdesheim.
Opening dates: 22.11.2021 – 23.12.2021 – Cancelled due to the COVID-19 situation in Germany
Where to stay: Breuer's Rüdesheimer Schloss
17. Trier Christmas Market
The atmospheric Trier Christmas Market takes place against the charming backdrop of the medieval Hauptmarkt and in front of the imposing Trier Cathedral. The market's 95 or so festively decorated wooden huts offer Christmas decorations, wooden toys, ceramics, glassware, and gift items. Delicious fried sausages, potato pancakes, and sweet treats provide for physical well-being. Mulled wine and hot tea warm visitors in the cold outside temperatures. Varied daily events include performances by brass bands, live music evenings in the Domfreihof, craft activities, and the appearance of the historic Maatz puppet stage.
 Opening dates: From 19th November to 22nd December 2021
 Where to stay:  Limehome Trier Nikolaus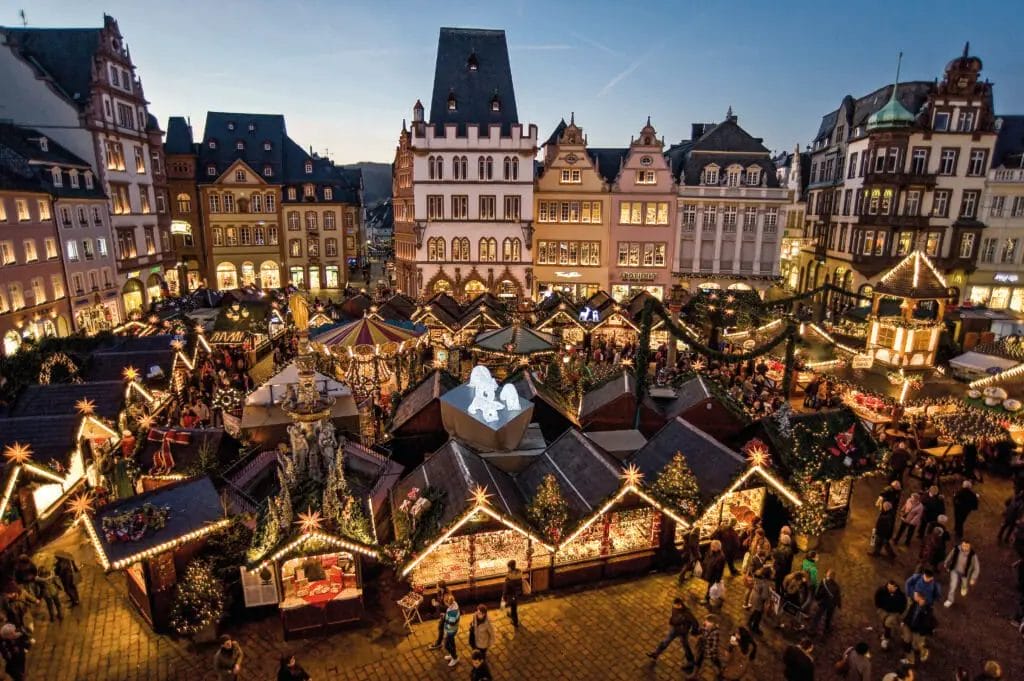 18. Würzburg Christmas Market
The tradition at Würzburg's highly scenic Christmas market dates back to the early 19th century. Visitors from worldwide enjoy a stroll through 100 wood stalls and taste Christmas cookies and roasted almonds. Products sold at the Christmas market are hand-knit robes and gloves made with traditional Christmas leaves and wrappings and handmade ornaments. Almost 40 craftsmen display their items in the festively decorated courtyard of the Town Hall all Saturdays in Advent. Mostly hand-made items are made here that are rarer to find elsewhere.
Opening dates: From 26th November to 23rd December 2021
Where to stay: Hotel "Zur Stadt Mainz" 
19. Braunschweig Weihnachtsmarkt
During the holiday season, the square surrounding St. Blasii Cathedral in the city centre becomes a stunning Christmas market with magical illuminations and a captivating atmosphere. 150 artisans who decorate and display in the historic setting will open their stalls to the general public. It draws hundreds of thousands of people every year. The Braunschweig Christmas markets are among the most attractive and atmospheric Christmas markets in Germany. The market is one of the most important in Germany and attracts about 100,000 visitors annually.
Opening dates: From 24th November to 29th December 2021
Where to stay:  Magni Boutique Hotel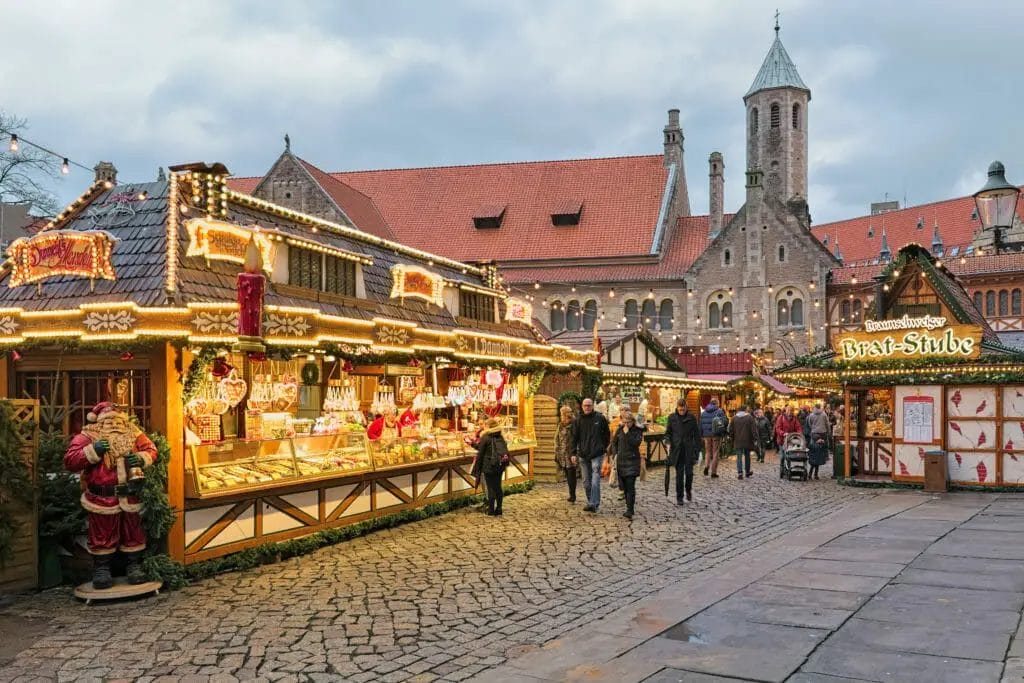 20. Erfurt Christmas Market
Erfurt is reportedly a well-preserved medieval town in Germany and the Erfurt Weihnachtsmarkt is one of Europe's largest and most atmospheric and unique fairs. Top attractions include an amazing Nativity Scene made of human-size wooden figures, the 12m-high Erzgebirge Christmas Pyramid, and a traditional Christmas floral exhibition held daily in the vault in Erfurt. Your eyes will be opened to see the beautifully designed wood-frames fascinated by their wonderful range of handcrafted items, colorful decorations, and regional delights. Above all, the well-known Thuringian specialties, such as the Erfurt Schittchen® and the Thuringian Bratwurst®, must not be missed at the Christmas market.
Opening dates: 23. November – 22. December 2021
Where to stay: Hotel Am Kaisersaal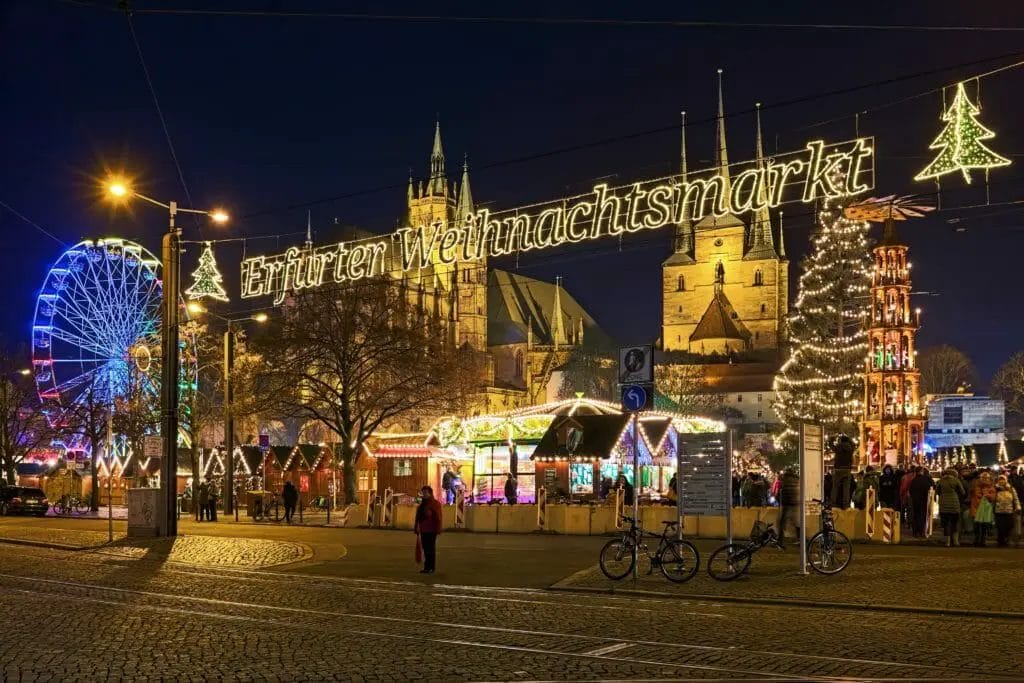 21. Tübingen Weihnachtsmarkt
Tübingen is a lovely postcard-perfect place for exploring and it is one of the most elusive and exclusive in this country is only open for one weekend in December. It is also among Germany's prettiest Christmas markets, featuring a baroque theme to match the architecture of this stunning little town. Original, imaginative stand creations brand self-made spread throughout the old town and merge with the bright half-timbered backdrop into an atmospheric whole. At the town square, there is also an extension of the market with a wonderful pyramid and a Ferris wheel.
Opening dates: Three Days only (!!!) – 10.12.2021 – 12.12.2021
Where to stay: Apartment Zentral
22. Heidelberg Christmas Market
Heidelberg Christmas market has the most romantic ambiance of all the German Christmas markets. A charming feature of Heidelberg's Christmas market is that it extends through the entire historic city center. On a total of six squares, visitors experience the Christmas ambiance and the smell of winter delicacies. While it's already one of the most atmospheric cities in Europe, it should come as no surprise that Heidelberg is also one of the best destinations to go to for amazing Christmas markets.
Opening dates: 18.11.2021 – 22.12.2021
Where to stay: City Partner Hotel Holländer Hof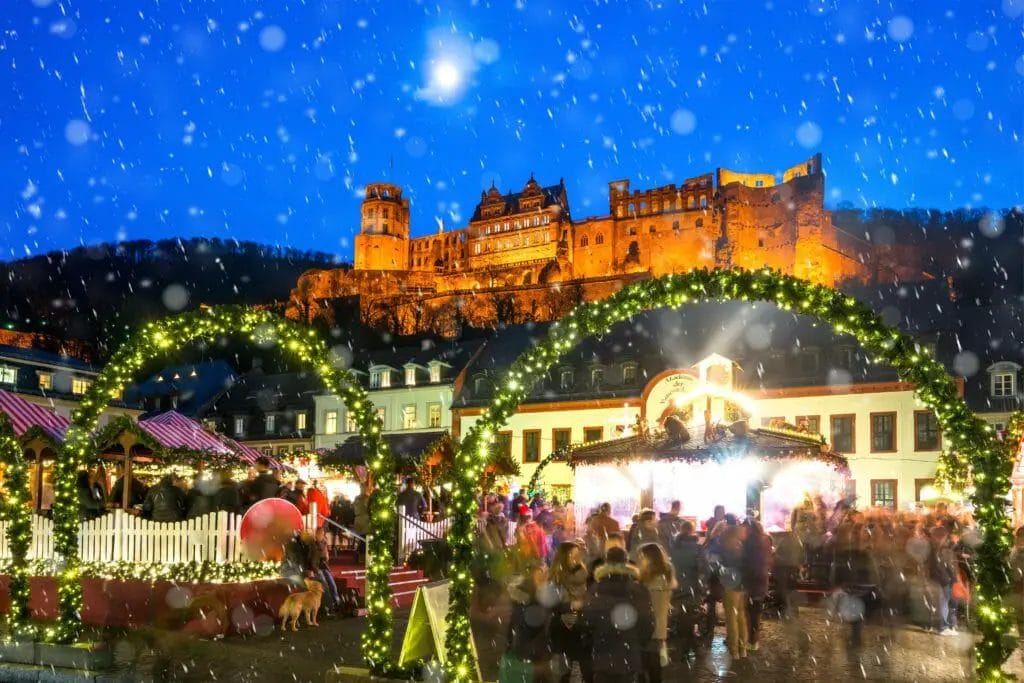 23. Lübecker Weihnachtsmarkt
The term "Lübeck Christmas Market" is actually incorrect: Lübeck does not have a Christmas market, Lübeck is a Christmas market embedded in a UNESCO world heritage site, the old town island. From the end of November, the entire city will live the Christmas spirit. The stalls for the Advent market have stood in front of the historic town hall every year since 1648.
A Ferris wheel towers above them, which creates a special atmosphere, especially in the dark. Incidentally, not only the people of Lübeck know that. Visitors come from Scandinavia in particular and stroll through the market. The organizers are particularly proud of the offer. Junk goods are not sold here, but rather individual gift ideas and often hand-made unique items.
In addition to the historical market in the St. Marien churchyard, Lübeck also has the Christmas wonderland, the handicraft market, and the handicraft market in the Heiligen-Geist-Hospital and the Lüb'sche Christmas handicraft market. As I said before, the whole of Lübeck is a Christmas market.
Opening dates: 22. November till 23. December 2021
Where to stay: Motel One Lübeck
The best Christmas markets in Germany that open up early
The Christmas market season in Germany starts the week before the first Advent Sunday and normally occurs until Christmas. But there are also some of the best German Christmas markets that open earlier than others. Here are some of the best city's Christmas markets that open up early during the festival season:
Aachen Christmas Market
Bochum Christmas Market
Bonn Christmas Market
Cologne Christmas Market
Dortmund Christmas Market
Düsseldorf Christmas Market
Duisburg Christmas Market
Essen Christmas Market
The best Christmas markets in Germany open late
Many of the most well-known Christmas markets in Germany close shop on December 23 or Christmas eve. So it can be hard to find Christmas markets that are open over Christmas, during the holiday, and till New Year's Eve. To help you find those open Christmas markets, are here a few markets that close out after Christmas which stay open after Christmas day:
Aurich Christmas Market
Baden-Baden Christmas Market
Berlin Christmas Market
Bielefeld Christmas Market
Braunschweig Christmas Market
Düsseldorf Christmas Market
Winter Tollwood which is one of Munich's many Christmas markets
What are German Christmas markets called?
The standard German phrase for Christmas Market is Weihnachtsmarkt. In the German southern states (including Switzerland and Austria) the word is Christkindlmarkt or Christkindlimarkt. Some towns have taken their own names for each market. The Striezelmarkt of Dresden is related to Strozel or Stroczel a word for historic stollen. A stollen loaf has been told to represent a tunnel reflecting the ancient period of tin and silver mining. In Neubrandenburg, the name "Weberglockenmarkt" refers to a local legend in which a weaver came to the market after a snowstorm on Christmas Eve.
What cities in Germany have Christmas markets?
There are more than 1.000 markets during the holiday season all over Germany. Nearly every city or village has its Christmas market, even if it is only a small one or only open for a short period of time. For the best Christmas markets in Germany simply check my list of recommendations above.
What is your personal Christmas market Experience?
Do you like visiting Christmas markets as much as I do? Am I missing any of your favorite Christmas markets in Germany? And do you like a romantic Christmas market with magical Christmas trees, an ice rink, and Christmas music? Let me know your personal experience and preferences in the comments.