This article will serve you as a US landmarks map, telling you which places you must visit if you are visiting the United States. There are so many stunning, unique, and exciting attractions in America and this list helps to narrow down to the very best options. Enjoy!
The U.S. is an immense and diverse destination worldwide that provides an extensive tourist list. There are all the fun activities in the United States that you could think of such as visiting adventure sites in the Grand Canyon or Yellowstone National Park and spending a warm weekend in California.
No matter what your families love, the United States offers you a wonderful array of luxury experiences in nearly every region, from entertainment on the Las Vegas strip, Times Square in NY, or the relaxing chalet in the Smoky Mountains and the sights of the impressive. A great way to see most of the landmarks is a three weeks stay in the USA.
1. Statue of Liberty, New York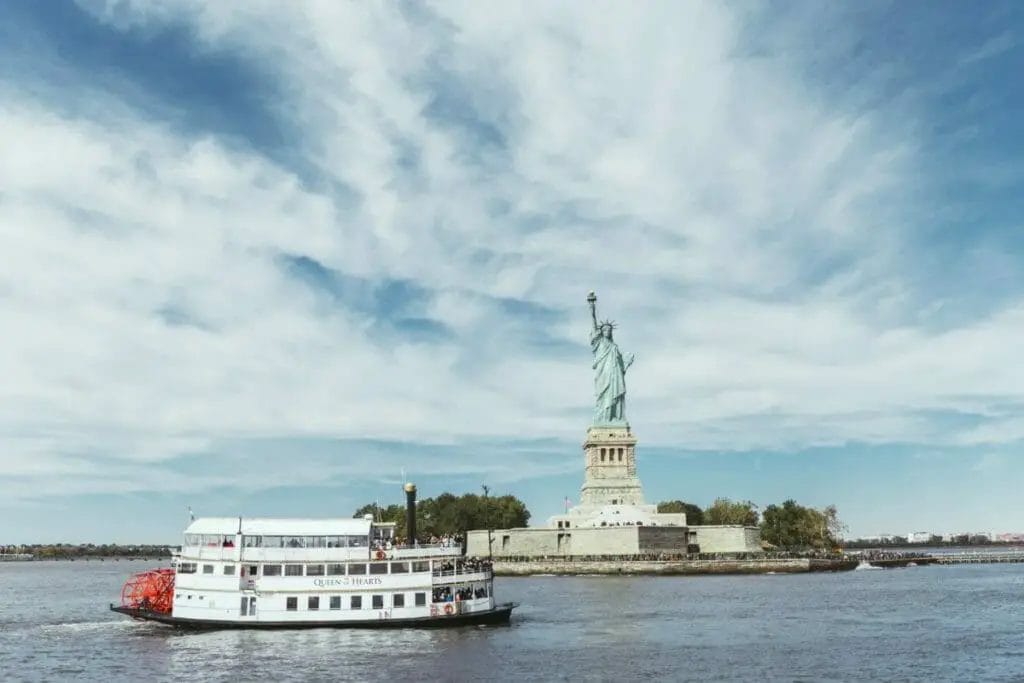 The colossal Statue of Liberty was a gift from France to the U.S. as a symbol of friendship and is one of the most visited tourist attractions in the US. The famous statue is 151 feet tall and stands on Liberty Island, close to the shore of mainland New York City. Take the free Staten Island Ferry to see the Statue of Liberty from afar as well as the classic Manhattan skyline.
If you want to step foot on Liberty Island, however, you will have to pay for a separate ferry which will cost around $23 for adults. Once on the island, you can take an audio tour, see the Liberty Island Museum, and climb to the Liberty Pedestal or Liberty Crown (prices vary for each activity).
While you are in the area you must also go to Ellis Island and visit their immigration museum. This historic island was where millions of immigrants began their journey to a new life in the United States and the museum is filled with interesting facts, stories, artifacts, and exhibits. 
2. Times Square, New York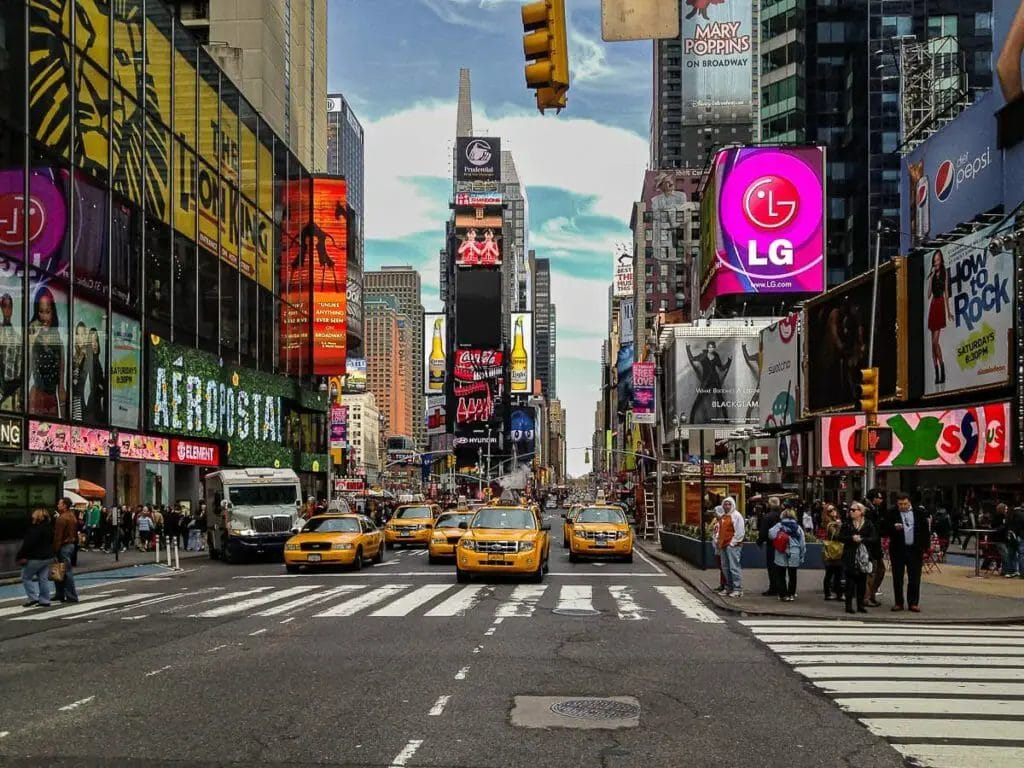 This pulsing tourist attraction symbolizes the life of New York City. One minute here and you will feel as if you've had five cups of coffee. The bright neon lights, music, sounds, and crowds will leave you buzzing for hours. The best tourist attraction here is of course Broadway, if you can only do one thing in Times Square go see a Broadway play. If that is out of your budget, however, there are other off-broadway plays or fun comedy clubs that will be a great time as well.
Times Square is also known for its shopping, there are many designer stores as well as fun (and giant) candy shops like M&M World and Hershey's Chocolate World. Also, if you are a Disney fan there is a giant Disney store that you must visit. If you want a mix of calm and crazy, take the carriage tour through Times Square and Central Park. This way you can experience the calmest and busiest sections of New York. 
3. Antelope Canyon, Arizona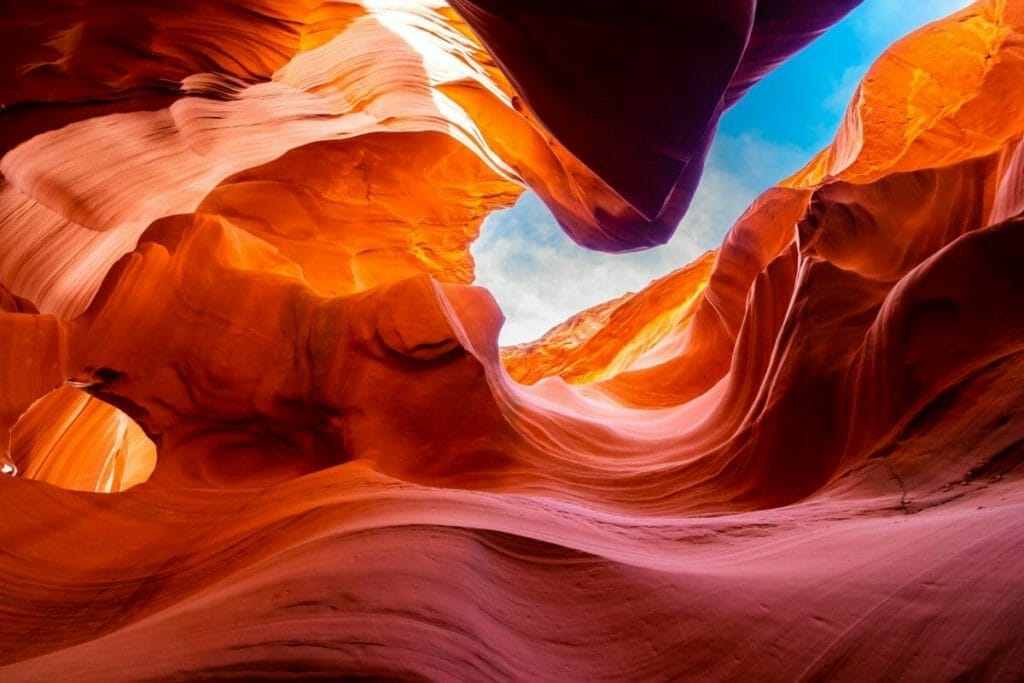 This is one of the best landmarks in the USA. Antelope Canyon is a beautiful sandstone canyon in Arizona and it is only accessible by guided tour*. You can choose between the Upper or Lower Antelope Canyon tour. Both are between one to two hours and normally cost $80 to $160.
The Upper Canyon tour is easier, and more popular, and the trail has more light. The Lower Canyon requires using stairs and ladders but you get more views. Either way, you will be treated to some pretty amazing photo opportunities. These red slot canyons are a photographer's paradise.
The best time for serious photographers to come is from March to September because this is when you can capture those great light shafts that reach the bottom of the canyon. 
4. Golden Gate Bridge, San Francisco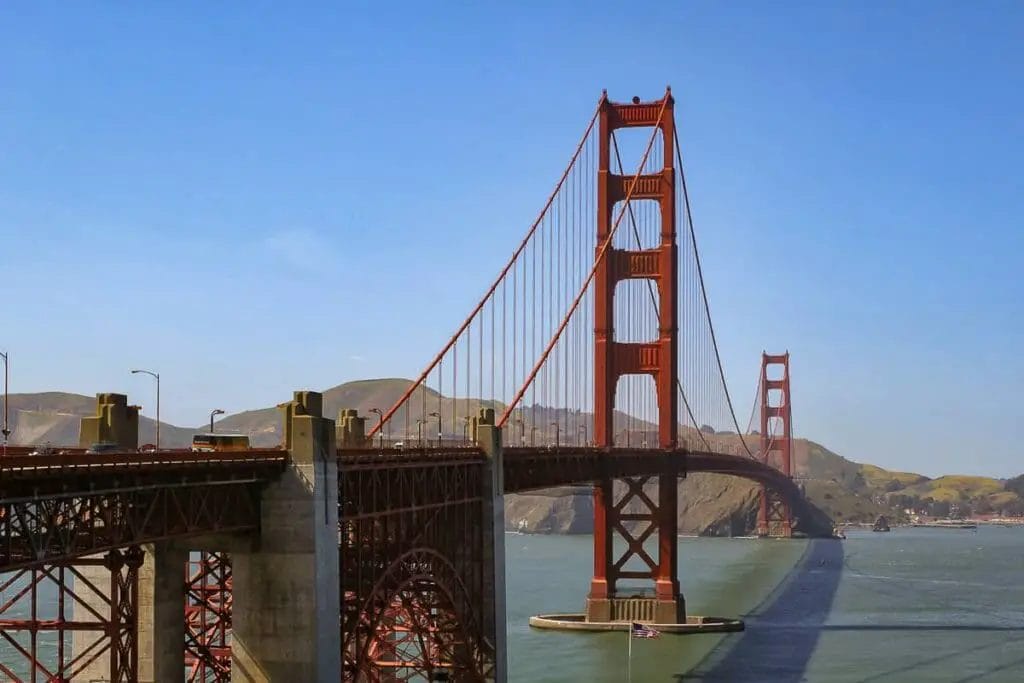 One of the top attractions in America, the Golden Gate bridge attracts millions each year. This iconic landmark stretches across the San Francisco Bay in the Golden Gate Strait and is on practically every SF postcard. This bridge officially opened in 1937 and at this time it was the longest suspension bridge in the world.
The famous reddish-orange color of the Golden Gate Bridge was originally supposed to be a white and blue striped pattern. However, when the materials were sent over in a burnt red it was decided this was a better fit. The official color is now called "international orange".
To see this incredible bridge in San Francisco, either walk or drive across, or see it from afar. Tolls for cars cost about $9 but walking is free and you can spend more time enjoying the views. Another option is to visit Golden Gate Park and see the bridge from this vista. This park not only provides a gorgeous view of the bridge and surrounding area, but it is also a lovely place to picnic, relax with the family, and check out the world-renowned de Young Museum. 
5. Niagara Falls, New York 
Niagara Falls is a massive waterfall between Canada and the United States that attracts millions of curious travelers each year. This is one of the best attractions in the U.S. and it just so happens to be free to enter! To see great panoramic views head to the Observation Tower or for a splash-mountain-like experience try the Cave of the Winds.
If you want to get even closer to these powerful falls, take a boat tour on the Maid of the Mist. The prices for adults are $25.25 and for kids, it is $14.75. Before you leave make sure to visit the charming town of Niagara Falls in New York State. Here you will find the official visitor center for Niagara Falls and you can learn more about its history, U.S. culture, and buy souvenirs. 
6. White House, Washington DC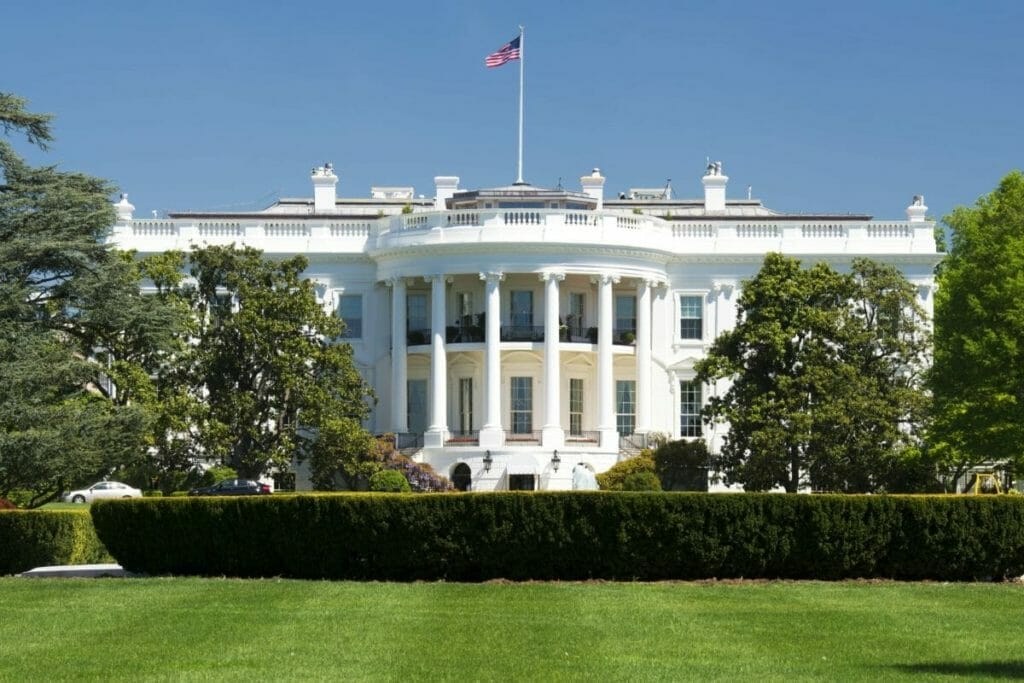 The White House is the official residence of the United States President and First family, it is one of the most important landmarks in the USA. It is not only the residence of the presidential family, but it is also a busy workplace.
If you take the East Wing tour at the White House you will see the presidential family and pet photos, the Library, China Room, Map Room, Green Room, Blue Room, Red Room, and the State Dining Room.
If you choose the West Wing you will see more of the business side, which includes the Oval Office (the president's office). You won't want to miss this classic American landmark, the White House is a must-visit.
7. Capitol, Washington, D.C.
This immense democratic monument is on the eastern end of the National Mall and it is where the Senate and the House of Representatives work. The Capitol building is 1.5 million square feet and has over 600 rooms. It is so big that there is even a subway system with three lines that government employees use.
When you arrive the first stop is the Capitol Visitor Center, where you can join a free tour of the building. The highlights of the tour include the Crypt, the Rotunda, and the National Statuary Hall, among much more. To see Congress in session is also free, but you must get a pass from your congressmen or if you are international, ask the House and Senate Appointment Desks. 
8. Empire State Building, New York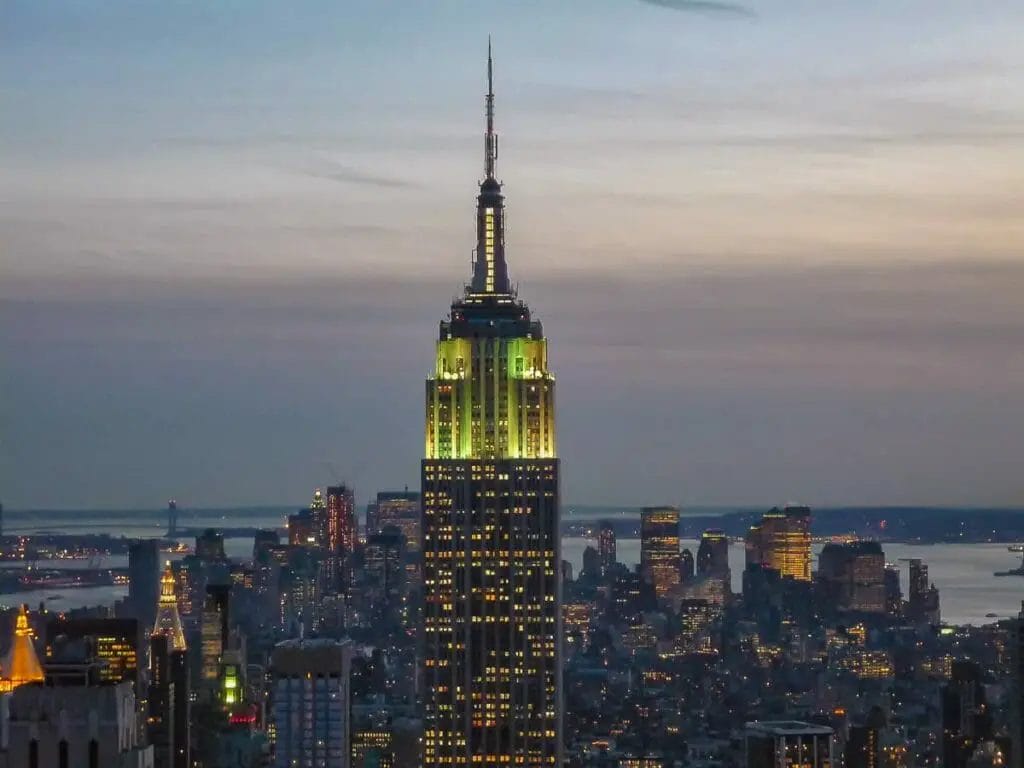 In midtown Manhattan you will find the breathtaking Empire State Building, standing 1,454 feet tall. Construction was completed in only 1 year and 45 days in 1931. At the time of its completion, it was the tallest building in the world but now it is the 43rd tallest.
However, despite no longer being the tallest, it is certainly one of the most famous. Millions come here each year to see the impressive structure and view the city from the observation decks.
There are two observatories, the 86th floor which is $44 for adults, and the 102nd which costs $77 (but also includes the 86th). Either of these decks is a spectacular place to photograph the city and enjoy panoramic views. To reach these floors you can either take the stairs (a whopping 1,576 stairs or 86 flights) or take the elevator. 
9. Everglades, Florida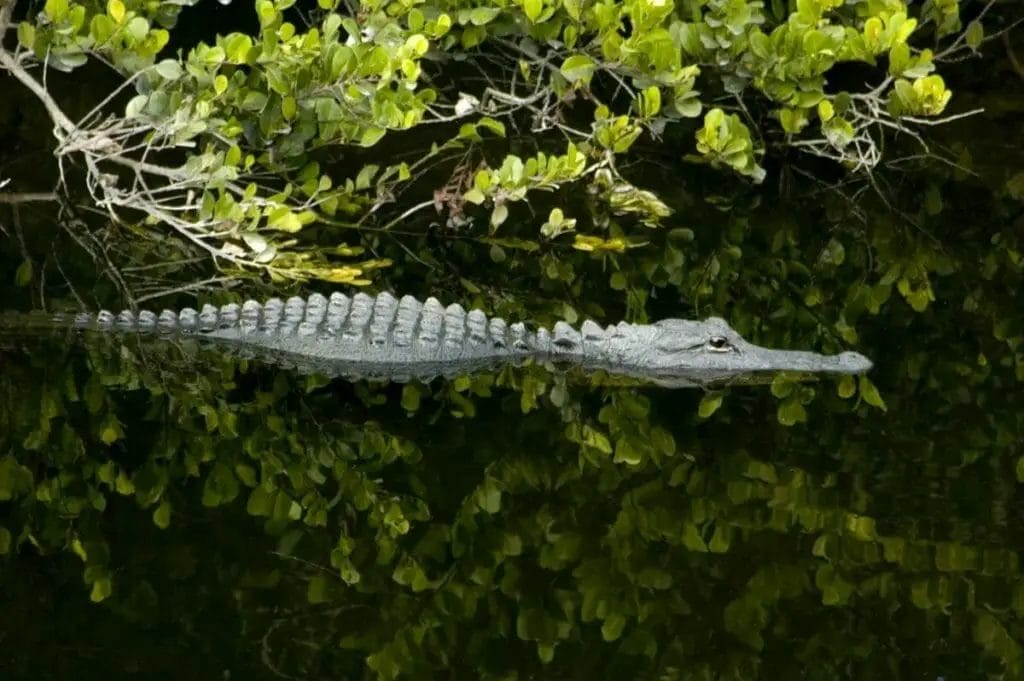 Florida is known for being a wild state (both in terms of nature and culture) and the Everglades is no exception. This world heritage site is a 1.5 million acre wetlands with over 350 species of animals such as coral snakes, alligators, panthers, egrets, peacocks, wild hogs, black bears, skunks, and river otters.
There are many ways to tour this unique place. You can drive to one of the entrances and then walk or bike, since driving in the park is not allowed. Alternatively, take an airboat, kayak, canoe, or helicopter tour.
Another option is the Shark Valley Tram Ride which is 2 hours long and costs $27 for adults (as well as the $30 park entrance fee). What is great about the tram is you don't have to exert energy in the humid, subtropical climate and you can see a lot in 2 hours. 
10. French Quarter, New Orleans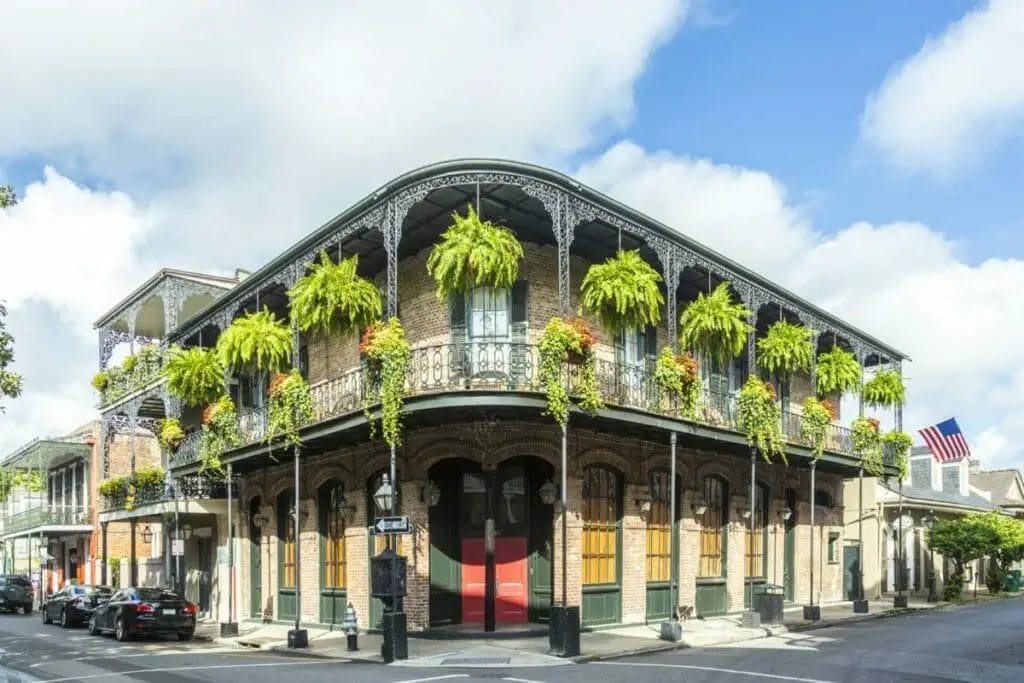 This is one of the best USA tourist attractions to visit if you love culture, parties, music, and food. Mardi Gras is the best (or worst, depending on your taste) time to visit the French Quarter. This Christian celebration marks the start of Lent, but the tourists that come to celebrate are rarely on a spiritual pilgrimage.
During Mardi Gras, the French Quarter turns into a 24/7 party zone with people drinking on the streets, loud music, parades, and more. The Mardi Gras parades are especially fun, with extravagant floats and people dressed in costumes throwing beads, candies, toys, and other trinkets to the people below. If you prefer less chaos, definitely don't visit in February or March.
Besides drinking and parties, the French Quarter has a lot to offer. Here you will find the famous Bourbon Street which offers historical buildings, voodoo stores, popular restaurants, jazz clubs, and gay bars. Before you leave the French Quarter, make sure to grab a beignet (a hot, doughnut-like pastry) at Cafe du Monde, a famous chain that even locals regularly visit. Eat your delicious beignet with coffee while sitting outside and people-watching.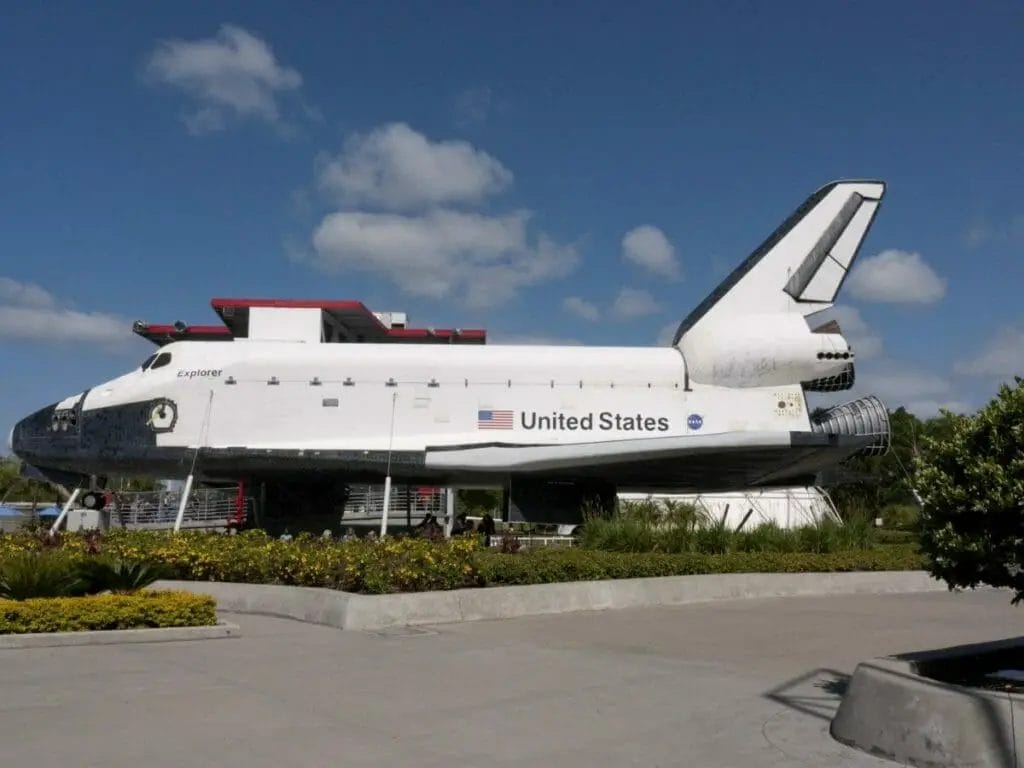 The city of Cape Canaveral is a popular cruise ship destination with lots of beaches, nightlife, activities for families, and unique cuisine. While you are here make sure to try fried alligator bites, conch fritters (fried sea snails), boiled peanuts, and frog legs.
Of course, out of the top attractions, Kennedy Space Center ranks far above the rest. This is one of 10 NASA field centers and is the number one launch center of human space flight for the U.S. There is so much to see here, besides seeing real rockets.
While you are at the space center check out the U.S. Astronaut Hall of Fame, Rocket Garden, Bus Tour to see restricted areas, Lunar Theater, Apollo Treasure Gallery, Moon Tree Garden, Hubble Space Telescope Theater, and training simulators. Kids and adults alike will love this space travel center. 
12. Grand Canyon National Park, Arizona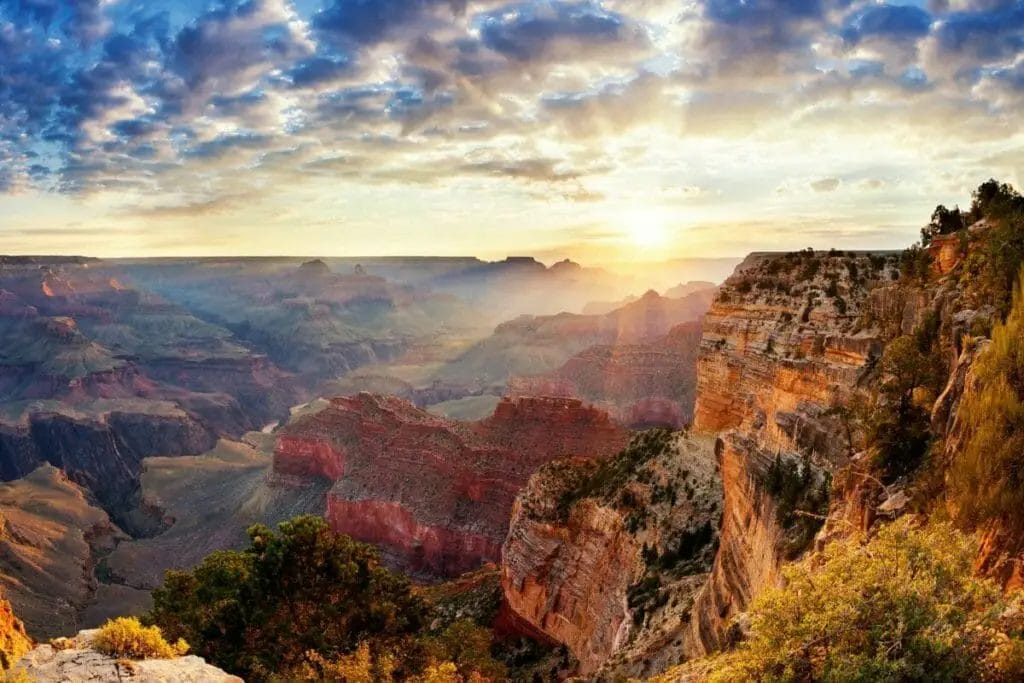 This natural landmark in Grand Canyon National Park is over 6 million years old, 277 miles long, a mile deep, and 18 miles wide. The Grand Canyon is truly an impressive sight to see, which is why millions of tourists came each year.
A popular attraction with stunning views is The Skywalk, a horseshoe-shaped lookout with a glass floor. If you prefer to avoid the crowds, check out the Tuweep Overlook. Here you will be much more secluded and have views of the North Rim and Colorado River.
Some of the best ways to explore the canyon include hiking, mule trip, white water rafting, and helicopter tours. You can even extend your stay in this magical place by camping or staying at a lodge at the bottom of the Grand Canyon. 
13. Great Smoky Mountains National Park, North Carolina and Tennessee
This incredible area in the South is the most visited national park in America. Come to the Great Smoky Mountains National Park for incredible biodiversity, mountains, forests, lakes, waterfalls, outdoor activities, and more.
While you are here you are likely to see black bears, elk, white-tailed deer, wild boars, fireflies, and coyotes, to name a few. Some of the best places to see include Newfound Gap, Cades Cove, Clingmans Dome, Abrams Falls Trail, and the Appalachian Trail. In this area, there are plenty of places to camp or you can stay at a mountain lodge or hotel. This national park is truly a great place to immerse yourself in nature and enjoy the outdoors. 
14. Horseshoe Bend, Arizona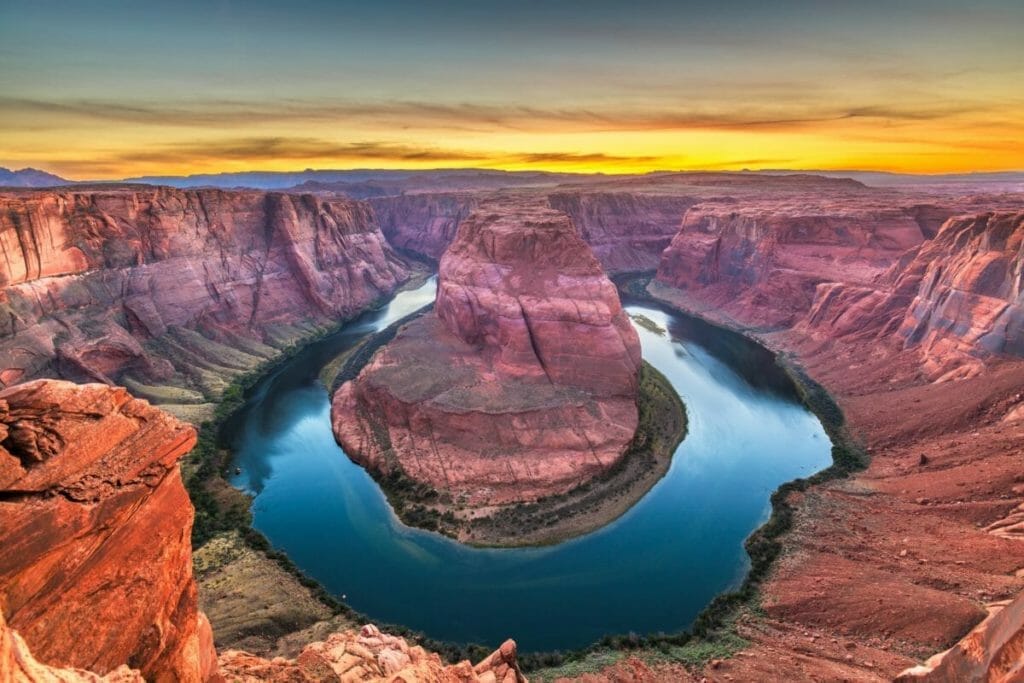 Horseshoe Bend can be exactly described by its name, it is a horseshoe-shaped rock formation that creates a bend in the Colorado River. This is a gorgeous natural landmark to see, with its red sandstone rock and greenish-blue waters, it almost seems like it belongs to another planet.
Stop here to take plenty of Instagram-worthy pictures and then hike on one of many nearby trails. Make sure to also see Glen Canyon Dam, which is close by. This 710-foot high structure is impressive to witness and a great spot to take more pictures.
There aren't many hotels in this area but the camping is great. Two of the best campsites nearby are Lone Rock Beach and Wahweap RV & Campground. Both are wonderful places to relax, see the stars clearly at night, and swim in the water. 
15. Walk of Fame & Hollywood, Los Angeles, California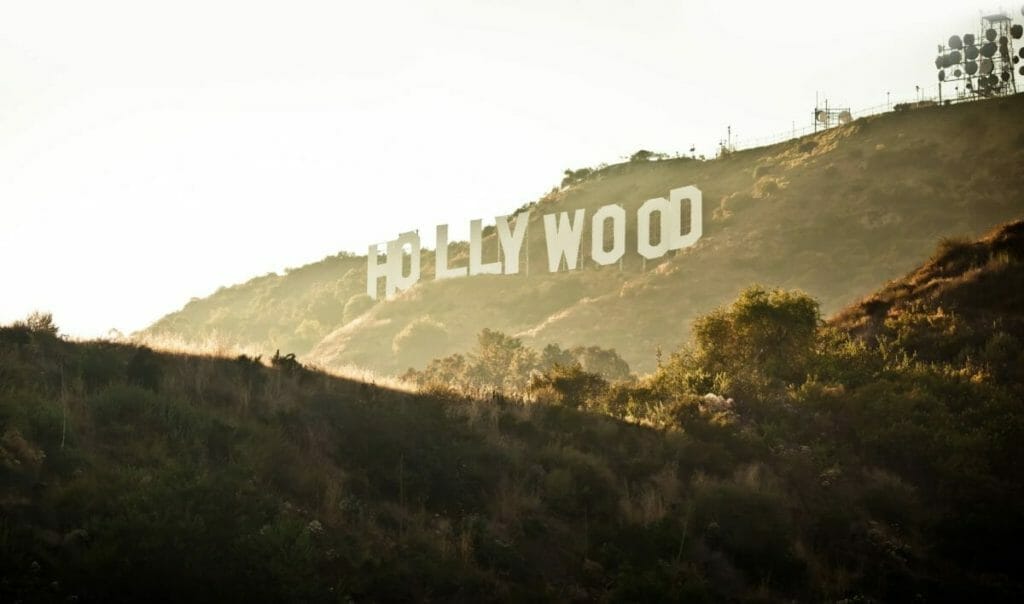 Along with Venice Beach, Hollywood is another California fantasy that you can't miss. Hollywood is home to the Oscars, Paramount Pictures, Universal Studios Hollywood, the Walk of Fame, and hundreds of other famous tourist attractions.
The Hollywood Walk of Fame is definitely worth visiting, this iconic sidewalk is studded with more than 2,600 stars and lined with shops, restaurants, and souvenir stores. Another cultural icon is Hollywood Boulevard, which stretches from West to East Hollywood. Here you will find museums, other landmarks, and maybe even run into a celebrity.
A fun (and slightly cheesy) activity to do before you leave is a double-decker bus tour. These tours are usually led by hilarious guides and you will get a great view of the Hollywood district. 
16. Las Vegas Strip, Nevada
Las Vegas has often been described as Disney World for adults. This vibrant city has mini versions of famous landmarks from around the world, such as the Eiffel Tower, Arc de Triomphe, Grand Canal, Statue of Liberty, and more. It is also an adult paradise because it is a city filled with gambling, drinking all day, adult entertainment, exclusive clubs, fancy hotels, and fine dining.
The Las Vegas Strip is of course the most iconic part of Las Vegas. Here you will find the famous Caesar's Palace, the Bellagio, Circus Circus, Planet Hollywood, movie theaters, restaurants, bars, strip clubs, gift shops, and anything else you can imagine. This is a great destination to party, in fact, it is one of the U.S.'s top destinations for bachelor and bachelorette parties.
On the Las Vegas Strip, you can drink fun cocktails on the street during the day, check out strip clubs that are open 24/7, and dance the night away at an exclusive dance club. This is the best place to visit for younger adults, friend groups, and couples looking for fun. 
17. Miami Beach, Florida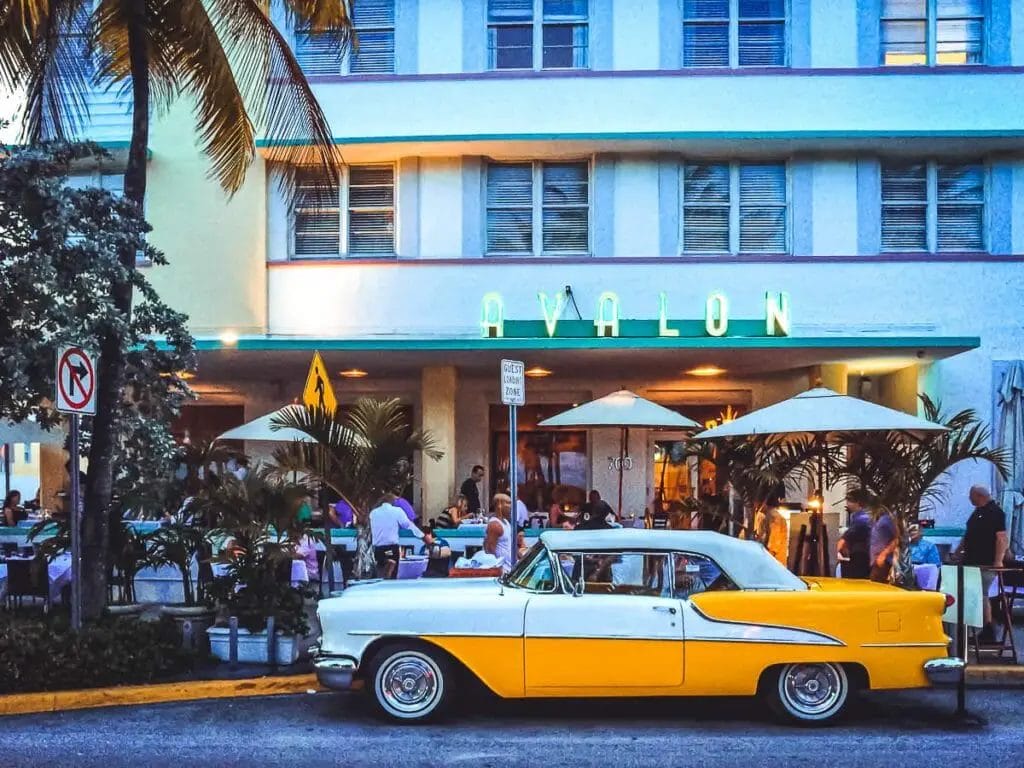 Miami Beach is a luxurious island city connected to mainland Miami by bridges. This is a beautiful destination with fine dining, exclusive nightlife, art, activities, sports, and vibrant culture. The most popular attractions include the Historic Art Deco District, Wilzig Erotic Art Musuem, 12th Street Beach, Jungle Island, Miami Beach Botanical Garden, and South Beach.
At night go to The Palace for a drag queen show or LIV nightclub for a pulsing dance scene. Since Miami Beach and Miami have an international charm, the restaurants here offer an incredible variety of cuisines. The best places to eat include Yardbird Table & Bar for American, CV.CHE 105 for Peruvian, Joe's Stone Crab for seafood, and Santorini by Georgios for Greek.
18. Alaska – Top US Tourist Attractions
The state of Alaska is primarily known for its breathtaking beauty and wild landscapes. Of its many national parks, Denali National Park should be on the top of your list. This area is six million acres of taiga forest and high alpine tundra.
The mountain of Denali is the highest peak in North America and is one of the most important landmarks in Alaska. Many come here to photograph wildlife and landscapes, camp, hike, and bike. For the adventurous, you can even plan an expedition to the top of Denali.
If that seems like too much but you still want an outdoor adventure, grab a permit and go backpacking in the Denali wilderness. Other options include driving along the 92 mile road that runs through the park and stopping along the way for vistas, wildlife sightings, and birdwatching.
Another incredible sight to see is the Hubbard Glacier in Wrangell-St. Elias National Park. This impressive glacier is 76 miles long, 7 miles wide, and 600 feet tall. The park itself is 13.2 million acres and is home to many glaciers and large volcanoes.
Lastly, make sure to go to Kenai Fjords National Park to see the Harding Icefield, which is the largest icefield in the United States. The park is a great place to see orcas, otters, bears, mountain goats, and much more wildlife. 
19. Cliff Palace, Mesa Verde National Park, Colorado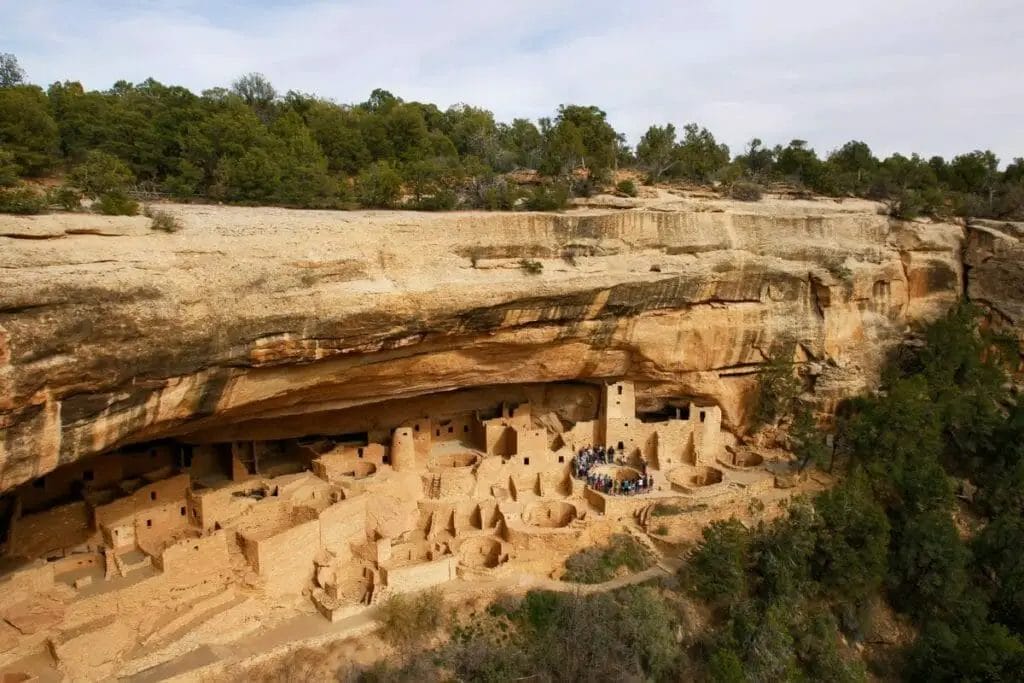 Cliff Palace in Mesa Verde National Park was built over 800 years ago by Ancestral Puebloans. It used to be a town of about 100 people and here they would socialize, complete administrative tasks, and hold ceremonies. The structures are primarily made of sandstone, mortar, and wood. It is truly amazing to see this ancient village still standing and to imagine how people used to live.
You can only enter this protected area by guided tour which lasts about an hour and involves very little walking. For a more private experience, you can go on a backcountry tour with a ranger where they will show you other dwellings such as the Mug house which had 80-100 residents, the Square Town House which has the tallest building, and Spring House which is the largest excavated dwelling in the area.
20. Mount Rushmore, South Dakota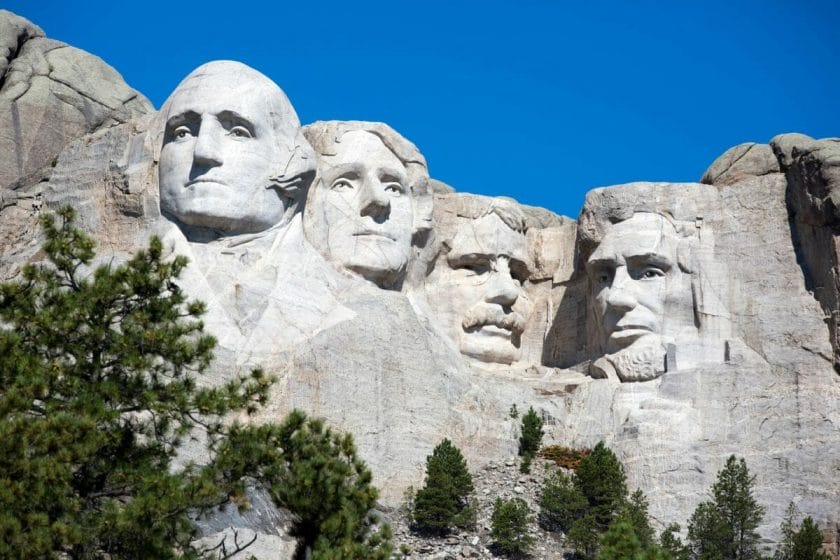 Mount Rushmore National Memorial is an iconic area in South Dakota that celebrates the democracy and freedom of the United States. Mount Rushmore is the primary monument and it is a giant sculpture carved into the Black Hills. The presidents chosen for this art piece were George Washington, Thomas Jefferson, Theodore Roosevelt, and Abraham Lincoln.
There is truly nothing quite like it in the United States. Come to this national park to take your picture in front of these American presidents, then walk in nearby hiking trails, have dinner on-site at The Carvers' Cafe, and enjoy a light show on the Black Hills when night falls.
21. Glacier National Park, Montana
This stunning park is shared between the United States and Canada, straddling the Continental Divide. Due to its location, Glacier National Park experiences extreme weather but this is part of its wild beauty. When you visit, you will be treated to lakes, open fields, mountains, wild animals, incredible flora, forests, glaciers, and waterfalls. Common animal sightings include grizzly bears, mountain goats, pikas, coyotes, and bighorn sheep.
To experience this magical place you can either hike, bike, take a guided tour, camp, or drive through the park. If you prefer not to exert too much energy but still see spectacular views, drive on the Going-to-the-Sun Road, stroll the .6 mile trail of Running Eagle Falls, take a horseback ride, or take a bus tour. The beautiful Going-to-the-Sun Road offers many stops, including Triple Arches, Jackson Glacier, The Loop, and Lake McDonald. For those looking for a hike, check out Logan Pass, Avalanche Lake, Grinnell Glacier, and Bowman Lake. 
22. Venice Beach, Los Angeles, California 
Venice Beach neighborhood in Los Angeles is the quintessential California dream. Come visit for dreamy beaches, people watching, fine dining, bohemian shops, street art, and trendy cafes. The top tourist attractions include the Electric Lodge Performing Arts, Venice Beach (the actual beach), Venice Beach Boardwalk, Mosaic Tile House, and the Venice Canals Walkway.
After strolling through this magical neighborhood, stop at the beach and either take a surf lesson, swim in the refreshing water, or tan on the sand. Once the sun begins to set, choose your favorite rooftop lounge to watch the California sunset. A highly recommended lounge is the High Rooftop Lounge, which offers tapas, specialty cocktails, and DJs at night. 
23. Waikiki, Honolulu, Hawaii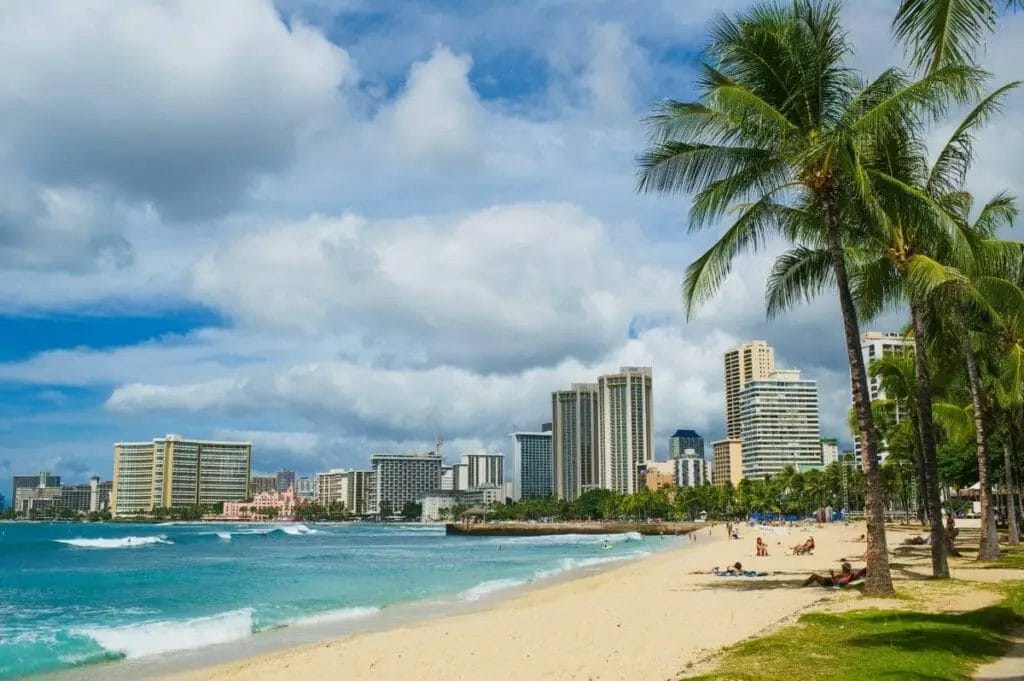 The postcard-perfect neighborhood of Waikiki sits on the south shore of Honolulu and is most known for its stunning beaches. This area is truly unique with its bright blue water, pristine white sand, urban backdrop, and Mount Leahi in the background. This is a wonderful place to surf, swim, tan, and build sandcastles.
Once you've finished at the beach, check out the Waikiki Aquarium, Kapiolani Park, Diamond Head Crater, and the International Market Place for shopping. There are many delicious restaurants for dinner, but two of the best are Duke's and Hula Grill, both of which have views of the ocean and fresh seafood. 
24. Walt Disney World Resort in Orlando, Florida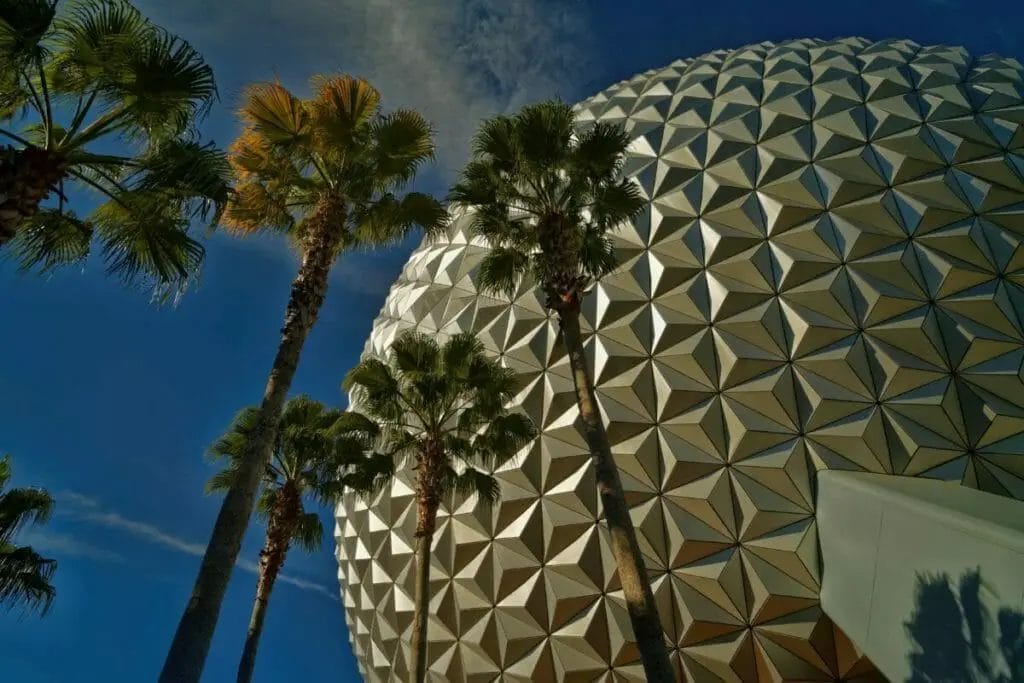 The Walt Disney World Resort has some of the most popular attractions in the world, people of all ages come to explore "the happiest place on earth". A one-day ticket for anyone above 10 costs between $109-159 while kids between 3 and 9 cost $104-154. The Walt Disney World Resort is a step above Walt Disney World, which seems impossible until you visit the resort.
The most popular attractions include Magic Kingdom Park, Epcot (exploration of space, sea, nature, time), Hollywood Studios, Animal Kingdom Theme Park, Blizzard Beach Water Park, and Typhoon Lagoon. This place is easily considered one of America's greatest attractions, you'll never want to leave and in fact, you won't have to. This park offers everything from lodging, restaurants, shopping, movies, and spas. 
25. Yellowstone National Park, Wyoming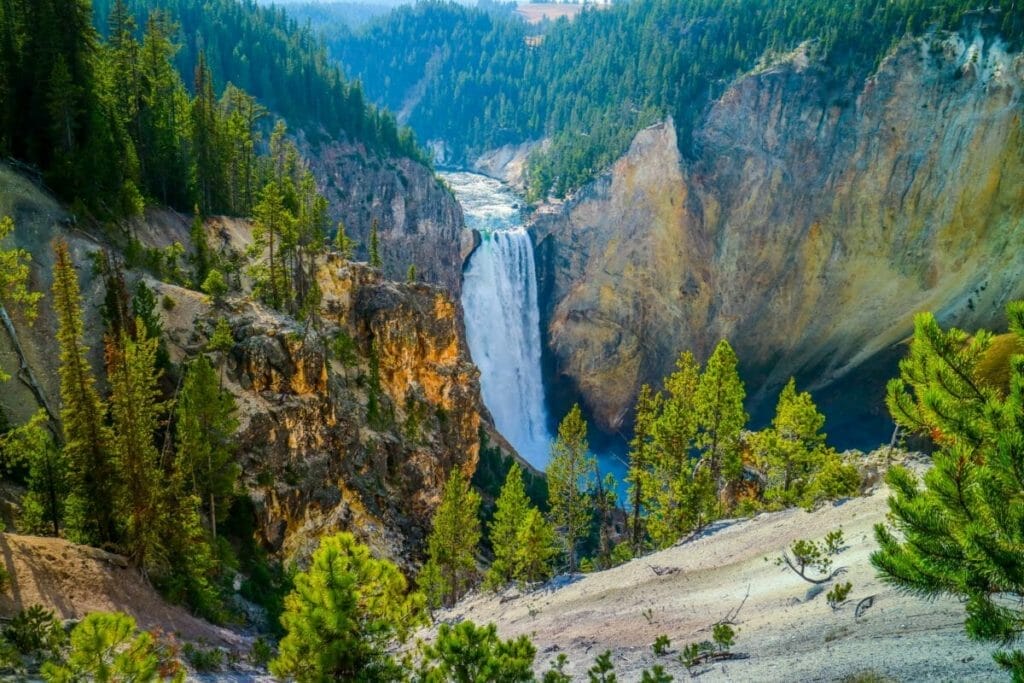 Yellowstone National Park is an impressive park of about 3,400 square miles and was the first national park in the U.S. It is one of the top USA sights to see because of its beautiful canyons, lakes, volcanoes, mountains, geysers, and wildlife.
The most famous geyser here is Old Faithful, this beauty erupts every 60 to 90 minutes, is 106-185 feet tall, and lasts between 1 and 5 minutes. Another top attraction is Steamboat Geyser, it is the world's tallest active geyser. Its eruptions are between 300 to 400 feet and can erupt every 3 days to 50 years, so clearly if you visit this area you won't know if you will see this beauty erupt.
Thankfully, there are plenty of other active geysers that erupt regularly nearby. Spend your time here hiking, taking pictures, animal watching, and camping. 
26. Yosemite National Park, California 
Another gorgeous national park, Yosemite is a California favorite with 750,000 acres, beautiful wildlife, incredible hiking trails, world-class climbing, and fun accommodation. Here you will find some of the best US attractions, like Half Dome, Yosemite Falls, and El Capitan. This national park accommodates all, whether you are in a wheelchair or love to hike miles each day, you will have a blast in Yosemite.
For those less inclined to activity, drive through the Yosemite National Park and spot wildlife, picnic near Yosemite Falls, walk through the Giant Sequoias, and relax in the classic Yosemite Lodge. If you prefer more activity, try rock climbing in Yosemite Valley, hike Cathedral Lake, climb Half Dome, and stroll through the Grizzly Giant Loop Trail. 
27. Zion National Park, Utah
Lastly, the beautiful Zion National Park in Utah. In terms of sightseeing in the USA, this should be at the top of your list. This nature preserve is known for its iconic steep red cliffs, forest trails, deep chasms, and pristine rivers.
The best places to visit in this national park include Angels Landing, The Narrows, The Subway, Observation Point, and Kolob Canyons. In this area, there is plenty of camping as well, so it is a great place to bring the family to enjoy the outdoors for a weekend getaway. 
More Places to Visit