Last week, I was invited by Saucony Germany and Saucony Sweden to join their event #runyourworldstockholm in Stockholm. It was a two days event with a lot of activities like running and biking as well as a workout-session by one of the world's top triathletes. For the fun part, they planned an exclusive boat trip on a yacht, Mexican dinner and we enjoyed a healthy lunch in the hip Södermalm area.
STOCKHOLM WITH SAUCONY
The whole event and program matching their current campaign #RUNYOURWORLD: Go out, Hang out and Work out. Shown to us by a group of local hosts.
We were a very diverse and funny bunch of people from across Europe and got along very well. It's always nice to meet new open-minded people. The Hotel we stayed in (Downtown Camper by Scandic) was located in the heart of the city, 5 min from the old town, and it was a really cool place to stay.
FIRST IMPRESSIONS STOCKHOLM
I arrived quite early in Stockholm that day due to the flights and had a chance to explore a bit of Stockholm's old town (Gamla Stan) before the actual event started.
As it was still early when I arrived in Stockholm city, I used the opportunity to wander through the alleys of Gamla Stand, capturing the beauty of the city without having too many tourists around or people waking accidentally in your shot. Still, if you really want nothing to disturb the perfect shot, you need to get up even earlier as sometimes all the delivery trucks, waste trucks, etc were blocking the best view.
The light was perfect though and with a bit of patience (or kindly asking the people to move out of the way) I got some pretty decent shots of Gamla Stan. Enough to fall back in love with this city, which I visited the first time more than 20 years ago, and which is since then one of my favorite cities in the world (and I've been to quite a lot since then, like Manchester).
SIGHT-RUNNING ACROSS STOCKHOLM
The event itself started with a quick overview of Saucony and its mission. It was really brief but interesting. After that, we did a quick introduction round to get to know each other better and I was surprised at what kind of achievements some of my fellow participants already had in their lives.
Then the fun started with a cool run through the city lead by Anders Szalkai, a former Stockholm marathon winner and chief editor of Runners World Sweden, passing by his favorite spots in the city and taking a photo break at the Stockholm Olympic Stadium (which is open for everyone to train in). At the Olympic Stadium, we also did some exercising involving going up and down a lot of stairs (Puuh ;)) and some tips for smarter and more efficient running. But as you can see from the photos below the fun was ours all the time.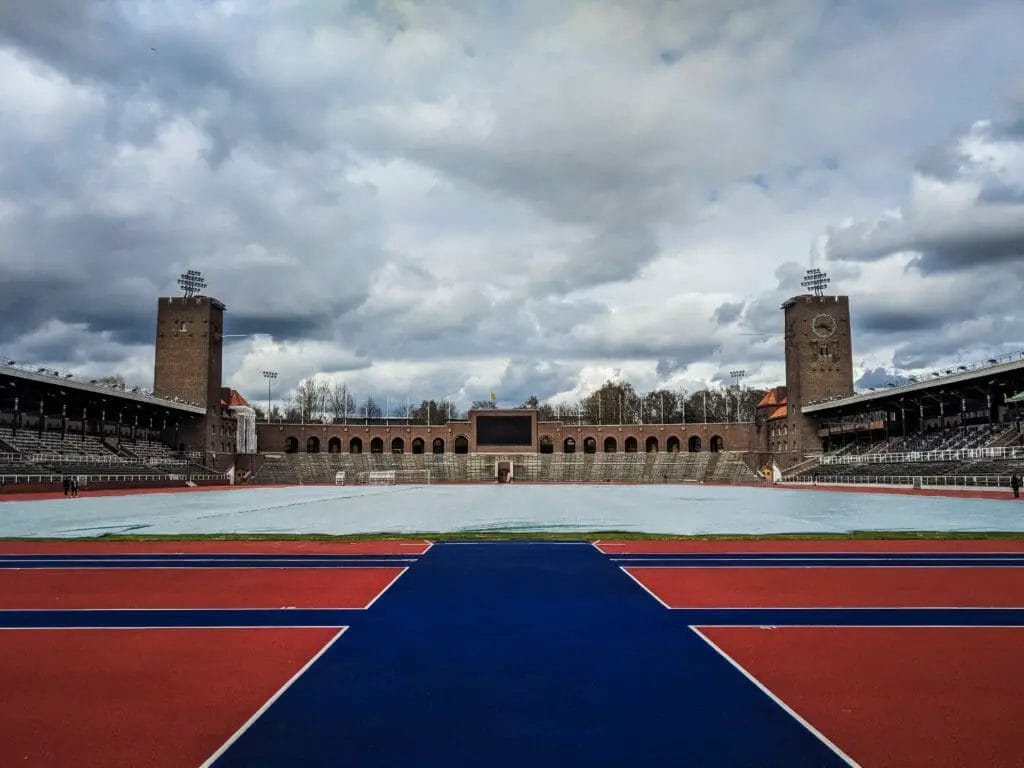 Run. Jump and Take Selfies.
When a bunch of crazy people from all over Europe meet and want to have some fun, you get this. It was really a pleasure.
YACHT TOUR IN STOCKHOLM
The second activity, after a short recreation break, was a yacht tour around the Stockholm islands. We had plenty of photo opportunities along the way. And champaign and some snacks were served. As you can imagine, the yacht ride was used to get creative and take some cool pics and videos.
GO OUT IN STOCKHOLM
After the yacht tour, we went straight to our dinner place, YUC Mexican, in the heart of Stockholm. We got a lot of Tacos, served in Saucony shoes. As you can imagine the crowd went wild, when the "Shoe Tacos" arrived 😉 We finished up the dinner and the evening with tasty Margaritas.
BIKE TOUR THROUGH STOCKHOLM
The second day started early with a bike tour after a vitalizing breakfast. We made our way from the city center passing the Opera, Royal palace, through the alleys of Gamla Stan to Södermalm, where we stopped at our work out spot for today, the SPR Athlete Factory.
WORK OUT IN STOCKHOLM
The work out session was hosted by Åsa Lundström, a successful Swedish Triathlete. We did some specific running exercises before the really hard work out for me started. In teams (thanks Richard for being an amazing training partner) we did an exercise for 30 seconds and then changed the exercise our parter was just doing. This for three minutes and countless (at least it felt like countless) rounds. Anyways, afterward, I was exhausted but very, very happy (thanks endorphins). The others seemed to feel the same and we were even still able to put on some smiling for the team photos and pull off some other stunts 😉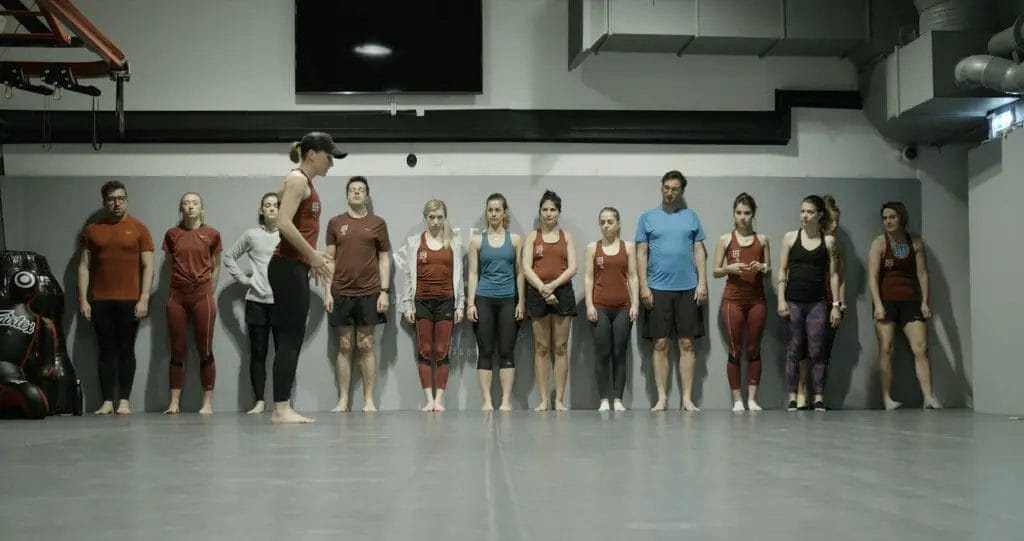 HANG OUT IN STOCKHOLM
After the work out we continued our little bike tour through Stockholm, especially Södermalm. During the bike ride, we stopped not only for the work-out but also on multiple scenic viewpoints, especially in Södermalm, and for dinner for sure. The place is called Omayma and served us with a healthy salad and delicious smoothie. After a coffee, or two, we took advantage of the sunny weather and did a short photo session in front of the typical red Swedish houses, before biking back to our Hotel. A funny and perfect ending of an epic event.
After saying goodbye to the Saucony team and my fellow participants, I used the rest of the day to further explore Stockholm on my own.
ALLEY'S OF STOCKHOLM
If you follow me on Instagram (@oliverbock), you know I never get tired of beautiful alleys and try to capture them in whatever city I am. What I love about the alleys in Stockholm's old town is that there are mostly cobblestone streets (yes I do love those in my photos) and the bright orange and yellow colors. Coming from Hamburg, a city with less colorful houses, this is a welcomed change and I love it when the sunlight reflects on the facades of these houses and gives them a bright atmosphere. That gets me every single time and I have to pull out the camera and take a shot, no matter how many I have already done.
FACADES & DOORS OF STOCKHOLM
Like the alleys, I have a thing for those colorful Scandinavian house facades and doors. The more shabby a door looks like the better. Same for the facades it needs to show some signs of aging and "stories".
I put together a couple of my favorite facades and doors from Stockholm below. Hope you enjoy them. If you want to know where exactly these doors and facades are, make sure to scroll down to the end, where I unveil the exact location of all my shots in this article.
EVENING STROLL STOCKHOLM
On the second day, I used some free time in the late afternoon / early evening to explore a bit more of Stockholm other than just the (beautiful) old town. So I made my way to Skeppsholmen, then along the waterfront of Gamla Stan towards Södermalm and back.
Along the way, I captured a bit more of Stockholm's beauty but also made sure to just take a break for a view and a coffee 😉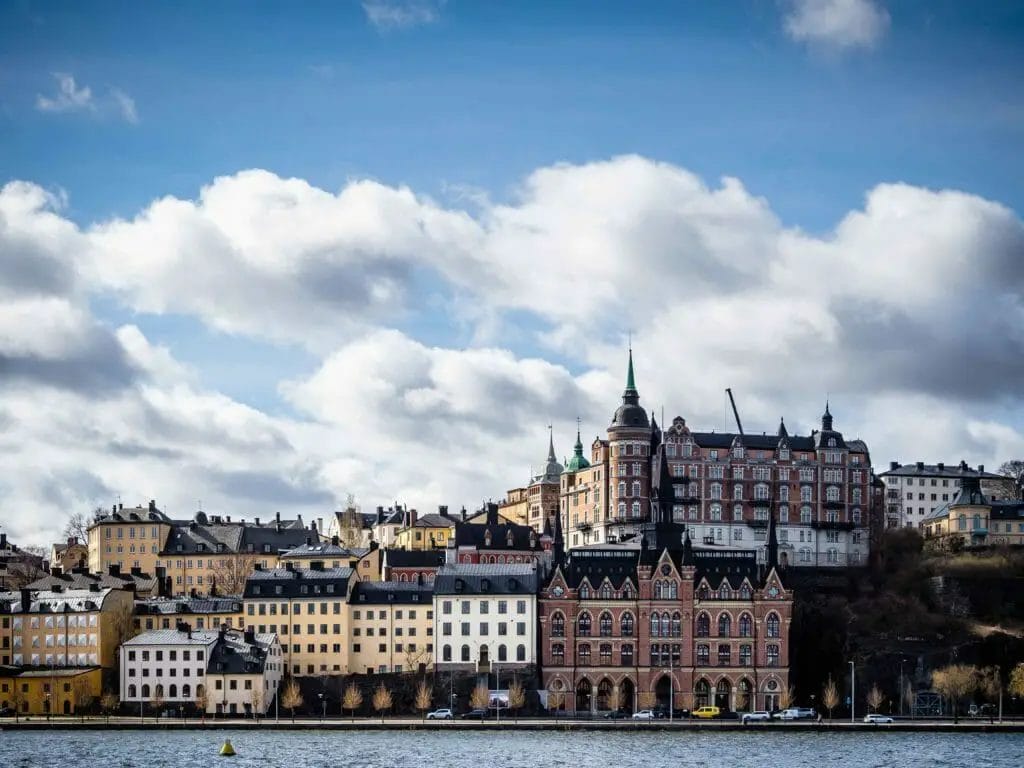 SUBWAY ART IN STOCKHOLM
If for whatever reason the weather is bad or you think you have seen all of Gamla Stan make sure to take your time and visit some Stockholm subway stations. They are art by itself. One is more beautiful than the other and none of them compares to a standard boring one you might know from home.
As I only had a couple of hours left before flying home, I did a bit of research on the stations I really wanted to visit upfront and put together a plan which would be most efficient (it wasn't in the end). Some of the spots I wanted to take pictures of were easy to find. Others, like the lifelines spot at the Odenplan, weren't. I needed two attempts and a bit of help from some fellow Instagramers to finally find it 😉
The stations I managed to visit are:
T-Centralen / Stockholm City
Odenplan
Thorildsplan
Rådhuset
St.Eriksplan
Fridhemsplan
Hötorget
Other stations that you should visit (and I will the next time) are Stadion, Solna Centrum, Kungsträdgården, and Mörby Centrum. But there are many more beautiful ones waiting to be discovered and photographed your way by you.
BONUS – PHOTO SPOTS MAP OF STOCKHOLM
Don't have the time to research good photo spots on Stockholm by yourself but want to know the exact locations where I took all my photos? No problem I prepared a map with all photo spots for you. Just leave your email here and I'll send it to you to easily take amazing shots from Stockholm by yourself.
Want to know all the photo spots in Stockholm? Check out Giovanni's article on the best Instagram spots in Stockholm.