While Judith was running a ridiculous 400km in 10 days through Sweden, I decided to do a short 5 day trip to Manchester and Liverpool and explore those two cities (This post is about the time I spent in Manchester, another one about Liverpool will follow).
QUICK FACTS
Manchester England is a major city in the northwest of England with a rich industrial heritage. It has ~530k citizens. The name Manchester originates from the Latin name Mamucium or its variant Mancunium and the citizens are still referred to as Mancunians.

The Castlefield conservation area's 18th-century canal system recalls the city's days as a textile powerhouse, and visitors can trace this history at the interactive Museum of Science & Industry.
Source: Wikipedia & Google Maps
GETTING THERE
Flights are pretty straight forward from Hamburg to Manchester, it is just a little bit more than an hour and you are in Manchester.
I contacted a couple of Instagramers before I went but unfortunately, nobody I knew had time or wasn't in the city during the days of my stay. So I had to explore the cities completely on my own.
I used Instagram to get inspiration for nice places to go and get some shots, but mainly I simply wandered around and followed my curiosity. By the way, please take a look at my Instagram profile for stories and more travel inspiration.
PHOTO GEAR
If you wondered which camera(s) I used to take all these pictures with, you might be surprised that I took most of them with the Google Pixel XL and the rest (e.g. long exposure shots) with an Olympus E-M10.
NOW LET'S GET STARTED…
ARRIVING IN MANCHESTER
I arrived in Manchester by plane and after an easy 20min train drive (an open return ticket costs about 8 GBP) I arrived at Manchester Piccadilly Station, left my luggage at the Piccadilly Station (quite a nice station actually) and started exploring the city right away.
Here is what I explored and discovered during my stay…
STREETS OF MANCHESTER
What can I say, I love streets and alleys, especially the back alleys. Even better when they are wet and old or cobblestone. So you can imagine that I left the main streets and tried to move through all the little (and sometimes really dirty) side streets to get the photos I wanted. As the weather was really unstable (except for the first day: blue sky only) I really got a mixture of very moody street shots and some very light ones with a clear blue sky.
What fascinated me was the typical yellow lines at the side of the streets (which we in Germany do not have like this) and how it stands out and leads the eye in the photos.
SPINNINGFIELDS
Spinningfields is an area of Manchester city centre, in North West England. It was specially developed in the 2000s as a business, retail and residential development of Manchester, and is located between Deansgate and the River Irwell.
Source: Wikipedia
Not much I can add to this. Here you get all the fancy new office buildings with a lot of glass, great reflections and nice alignments. Spinningfields is also where the Crown Court is located and it seems to have a nice courtyard, but unfortunately, I didn't manage to get in.
NEW & OLD
Another interesting thing about Manchester, England is the contrast between old brick buildings and new glass office buildings so close next to each other. First I thought: "Man, that's ugly", then I started seeing the beauty in this and also the change that a city makes from the past to the present and future.
I tried to capture this contrast in my images and together with the mood in the images I really like it now.
CENTRAL LIBRARY
DEANSGATE, CASTLEFIELD & BRIDGEWATER CANAL
Actually the area I enjoyed the most. It's kind of hidden and slightly off from the city center but it is worth going there. Here you find all the old industrial ship canals, which still work, old storage houses and a Romain heritage site. As I love old brick storage houses, I enjoyed wandering around this area. Here somehow all transportation ways meet, you have water canals with train bridges above them, crossed by roads.
I somehow felt like being back in the industrial age (not that I've ever been there. Too bad no one has invented time travel yet ;)). If you want to learn more about the history of this area, check out Wikipedia.
MEDIA CITY & THE QUAYS
To be honest I was a bit disappointed by the Media City and The Quays. I saw a couple of really nice photos from this area on Instagram, but I wasn't quite getting the shots I wanted. Maybe the weather and light weren't right (maybe I should have gone there in the evening) or I simply wasn't in the mood for a good photo.
So the reflection in the BBC building had to save the day 😉
Btw: The Lowery Outlet shopping mall was a disaster. Total disappointment.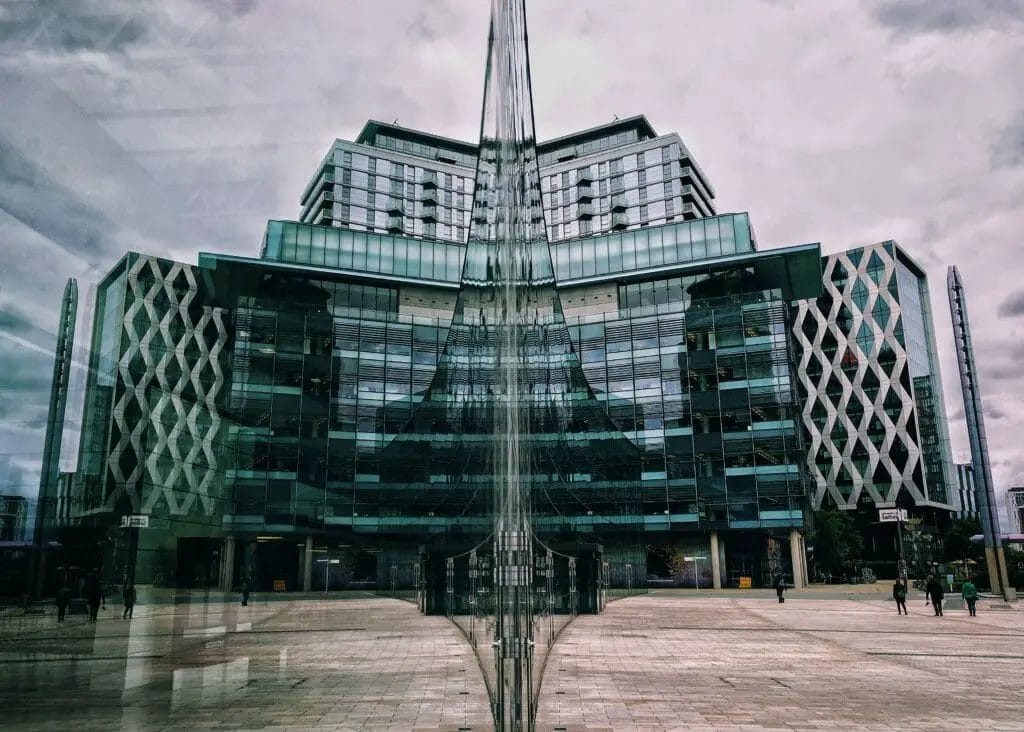 MUSEUM OF SCIENCE AND INDUSTRY
Worth a visit. Entry is free (like all museums in Manchester) and the area is quite large and shows different aspects of science and the industrial revolution, including halls with trains, airplanes, and cars.
It also has a nice café, which I stopped by several times actually 😉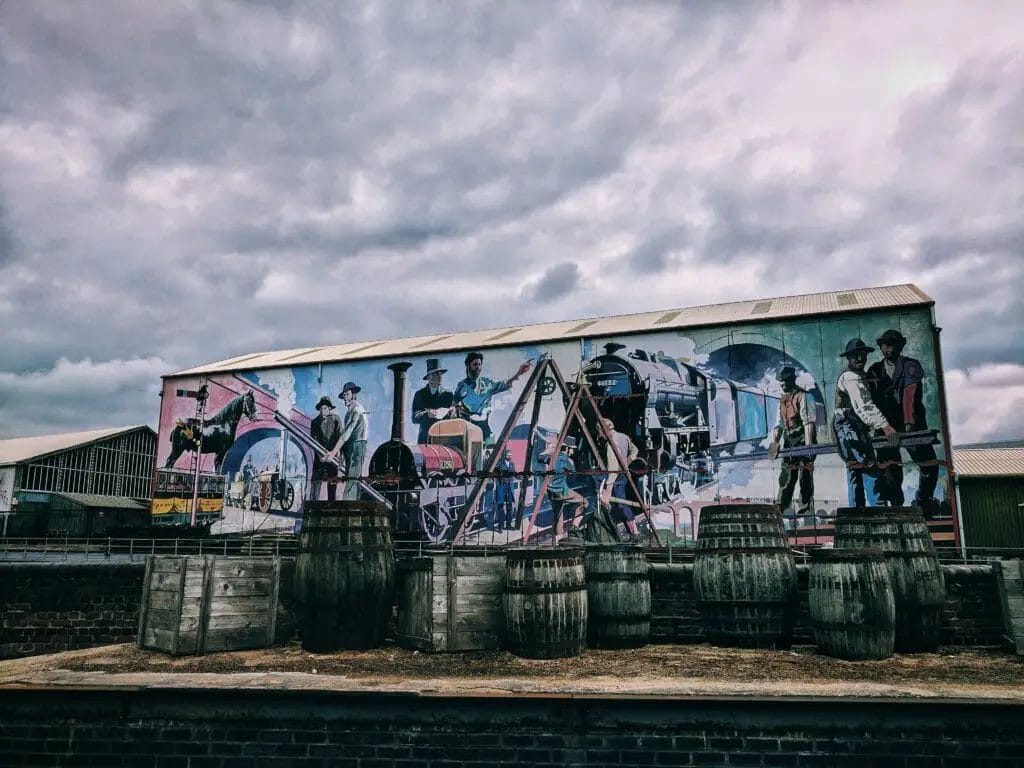 THE JOHN RYLANDS LIBRARY
This one really got to me. I didn't expect such a great building. I passed by the library on the first day but postponed going in to later, as the weather was too good that day to spent it inside. I'm so happy I came back a couple of days later.
This is a great example for me on how the new and old fir together perfectly. You start in a very modern and clean entrance, everything is white, nice stairs and it looks like a cool modern building attached to an older one. Then you walk into the older part and it's like time travel (so maybe someone invented time travel after all ;)). You are entering a wonderful neo-gothic hallway and rooms. Incredible. The library also holds a Gutenberg bible by the way.
From a photographers standpoint, there were a lot of things to take photos of, including the first hallway. Unfortunately, people were getting in the way most of the time. But then there was this little time window when nobody was there. I additionally discovered some handheld mirrors lying around and quickly used them as a reflection surface (since that day I always carry around a handheld mirror now) and got this one photo which it seems everyone liked.
I never got any of my photos reposted so often as this one. The best thing: It even made it to the official newsletter from the John Rylands Library itself (I'm so proud of me now. I'm a Rockstar… näh don't think so).
So if you're in Manchester, make sure to visit The John Rylands Library.
DOORS OF MANCHESTER
The architecture of Manchester demonstrates a rich variety of architectural styles. The city is a product of the Industrial Revolution and is known as the first modern, industrial city.[1] Manchester is noted for its warehouses, railway viaducts, cotton mills and canals – remnants of its past when the city produced and traded goods. Manchester has minimal Georgian or medieval architecture to speak of and consequently has a vast array of 19th and early 20th-century architecture styles; examples include Palazzo, Neo-Gothic, Venetian Gothic, Edwardian baroque, Art Nouveau, Art Deco and the Neo-Classical.
Source: Wikipedia
If you follow me on Instagram, you know I have these things with doors. They somehow mesmerize me with all their different colors, forms, and age, etc. So wherever I go, I need to capture a couple of them for my feed.
INSIDE
While I was most of the time exploring the streets and the architecture from the outside, sometimes it was worth peeking into a building just to find some spectacular architecture.
Here we have the Royal Exchange Theatre, the Barton Arcade, and St.Ann's Church.
COFFEE & BURGER
Life starts with coffee. A quote which keeps spinning in my head since I read it in front of a cafe in Bristol on our previous trip. And it's right. The day only really starts after coffee….and Burgers 😉
STRIDE-BYS
AROUND GAY VILLAGE
Canal Street is the center of the Manchester Gay Village with multiple bars and restaurants for the lesbian and gay community. I'd explored the backstreets and area around it while exploring the way to Castlefield. By day the area seems quite unspectacular except for some nice alleys to shoot.
RANDOM SHOTS
Everything else that didn't fit in any of the topics above but is still worth showing. Puddles, #sundaycarpicks, lookups, staircases, etc.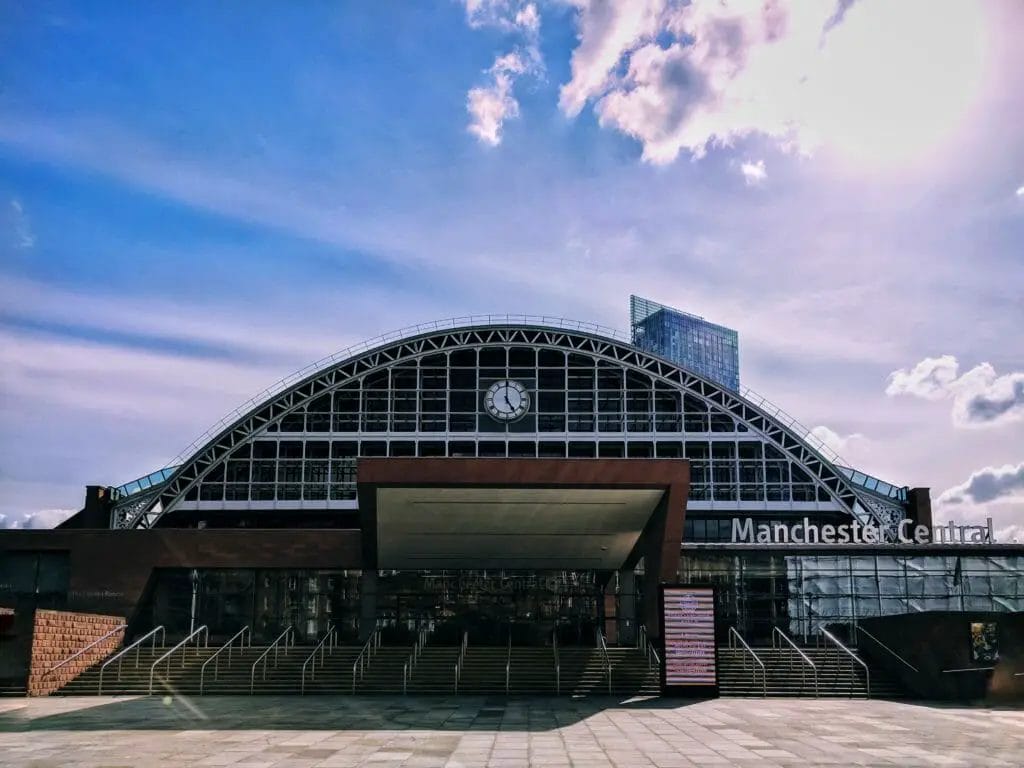 BY NIGHT
Last but not least a couple of shots I took at a later hour. I didn't really go out for night shoots (except once in Liverpool), as I was quite exhausted after running around in Manchester for hours.
BONUS – MY MANCHESTER WALKING ROUTES
If you're interested in my complete walking routs and the exact spots where I took the photos, I added these maps down below for you. The rout is not a 100% match but it's close to what I did. And for the rest, you know, it is all about exploring on your own.