Skåne? Where the heck is Skåne? That were our first thoughts when the tourism board of Skåne contacted us and invited us to explore the region. But hey, we are adventurers and explorers, aren't we? So a quick look at Google Maps shed some light. South Sweden. Great, that sounds good, like a place where no-one has gone before. More or less.
ABOUT SKÅNE
A second look at the website of the tourism board of Skåne and we were sold on the idea of exploring that part of Sweden. It says "[…]patchwork quilt with fertile farmlands, lush forests and clear blue lakes. The extensive plains and deep forests are surrounded by over 400 kilometers of coastline in three directions that alters between inviting sandy beaches and steep rocky precipices. The rural areas and the charming fishing villages are littered with castles, manors, museums and magnificent gardens.[..]"
They say "Once you've visited Skåne, you'll want to come back. Again and again." We had no idea how right they are.
But one after the other. Let's start at the beginning.
GETTING TO SKÅNE
As we live in Hamburg, the decision for us was either flying to Copenhagen and then via rental car to the NorthWest of Skåne or drive all the way right away. 6 hours driving with a 45 min ferry crossing break didn't sound too bad, so that's what we were going for. If you like, you can even do a night-over in Denmark, which is what we did on our way to Sweden.
It turned out that having a car in Skåne was a convenient option, as it meant we were very flexible when it came to planning and seeing things spread out over the whole region.
LANDSKRONA
Our first stop in Skåne was Landskrona. We desperately needed some coffee and Heini also some Swedish Kanel Bullars (Cinnamon rolls). So we quickly went into a bakery, got the things we desired and went to the harbor for coffee with a view. It felt like holidays right away.
While enjoying the view, we heard a lot of cheering and loud music, that needed to be explored. To our surprise there was the "Swedish Championships Week" MS Veckan going on. It's an event which is held twice a year (once in summer and once in winter) where athletes compete for the national championship in over 50 disciplines like Footgolf, Tennis, Trampolin or Cricket.
CLIMBING PARK UPZONE
Unfortunately we didn't have much time to watch, as our own discipline, the Upzone climbing park in Ängelholm was waiting to be conquered by Helga and Heini. A quick security intro on how to work with the gear and be safe all the time and off we went, 5 different tracks were waiting for us. Should we start with the "Risk Zone"? Or maybe "Adventure Zone". We decided to start slow and then work us up in difficulty, so we started with the an easy Yellow track, with a lot of Ziplines between the trees.
Yeah! More, please! Heini was in his element, Helga a little less, but together the track was no match for us. So let's do another one. More obstacles and even a sled (when is Christmas again?). More yeahs. It's fun, but if you are afraid of heights it can be really challenging. Second course done. We are getting in the mood now. Let's do the Workout track….Oh, jumping on a ball and flying looks like fun… More ziplines? Even more fun. Third track done. We want more… Short break and then up onto the risk Zone… Oh no, our time is up. 2,5 hours were flying by. We definitely have to come back and beat the other courses.
ÄNGELHOLM
After the exciting adrenaline rush, we're strolling along the river next to the climbing park and enjoyed the perfect sunny and warm weather (looks like the Swedish weather is spoiling us), before we hit the road again to drive to our cottage in Vejbystrand, our Home for the next couple of days.
VILLA SIGRID
When we opened the door of our cottage "Villa Sigrid" (the house belongs to the hostel in Vejbystrand) and stepped in, we were blown away. It presented this classy Scandinavian design inside, a lot of white and light colors, everything perfectly arranged with flowers, pictures and little details. We immediately knew we would like it here and don't want to move out when the time would come. The fridge was filled with welcome gifts like raspberries, chocolate sweets, apple juice and more. Even before unpacking our bags, we took the little fruit basket and went out to our porch, sat down and just enjoyed our arrival at this charming place in the upcoming golden sunlight. Aawwwhhh. Skål, Skåne!
VEJBYSTRAND
Sunset isn't before 10pm in Southern Sweden at this time of the year and as two yellow rental bikes were beaming at us from the yard entry, we decided to go for a short bike tour to explore Vejbystrand and watch the sunset at the beach. Good decision, the light was perfectly smooth and yellow for some photos and the atmosphere was very relaxing. A perfect ending for our first day in Skåne.
FROM BÅSTAD TO HOVS HALLAR
To get ourselves ready for the day, we took some time to enjoy the first breakfast in our lovely holiday Home. Fresh bread with marmalade – yummy! The preparation of two big bowls of fruits and cereals soon became a habit each morning (oh, and Heini got a small bowl, too).
BÅSTAD
Today's plan was to hike the northern slopes of Hallandsåsen Ridge along a section of the Skåneleden trail.
The Skåneleden trail is a marked long distance hiking trail through the countryside of Skåne. In total, it's measuring over 1000 km and it's divided into five subtrails by geographical area and the different characteristics of nature.
Our choice was to begin with an easy coastal walk in the very northeastern corner and so, right after breakfast, we drove to the beach town of Båstad, our starting point.
We parked our car at the edge of the town and started walking through the neighbourhood. Here already, the trail is marked with orange signs so we always knew which direction to go. However, it took us a while to reach the harbor of the small town because Helga had to stop at each and every raspberry bush (and then there was this fitness parcours…)
After a short visit to the harbor which we decided to pay more attention to on our way back, we took a lot of time to enjoy the hike with coastline views, forest and fields… We hope you enjoy the pictures.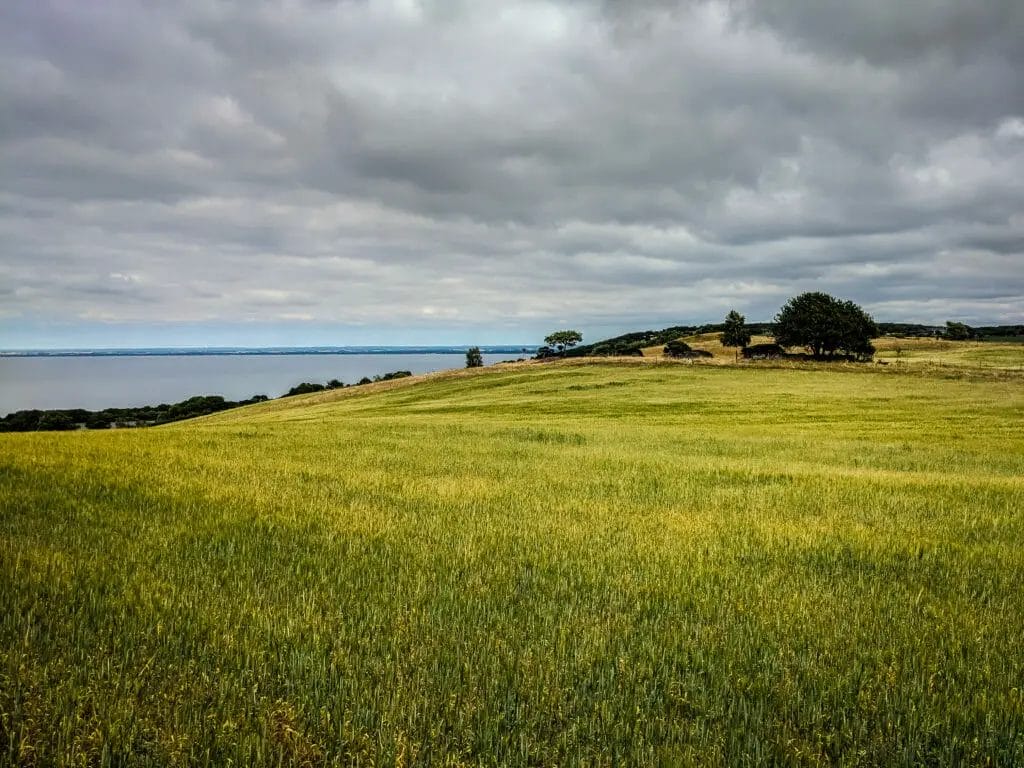 SELFIE MIT DEN KÜHEN
HOVS HALLAR
And there we are! 14 km further to the Northwest, the final path over coastal meadows led us to the astonishing cliffs Hovs Hallar at the northern tip of the Bjäre Peninsula. Over a length of about 1,5 km, waves and wind formed these heavily rugged cliffs, creating up to 30m high dramatic formations along this nature reserve. Wow, what can be better than reloading energy in an atmosphere that is created by sun, wind and water? Unfortunately, we ate all our snacks along the way, so a proper reload had to wait.
14km… By running it would probably have taken about an hour (or two), but we lingered over the trail and spend around 5 hours out there. We were undecided whether to hike the same way back or take a shortcut on the main road towards Båstad. After replenishing our water bottles, we started hitting the road…
SWEDISH WELCOME
When the first car passed us, we thought it would be fun to hitch-hike. Every Swede we met has been extremely friendly. So, thumbs out! Hearing a car approaching from behind, we looked over our shoulders and into two smiling faces who're apologetically pointing towards the overflowing loading space of their van… Ok, that's full.
Two minutes later, a nice lady stopped her Mercedes next to us. "Jump in!" 🙂 She just knocked-off work at the hotel and we agreed she'd take us to next to her home (which would be half-way for us, perfect!). At the end she made a big detour and gave us a complete ride back to Båstad harbor. Wishing her the best and hoping one day someone (us?) will also give her a ride and a lovely conversation on top!
BÅSTAD AGAIN
Overwhelmed again by the warm hospitality of the people and the beautiful landscape, we bought something for dinner at two of the little food shops, watched the sunset by the water and made our way home.
Whenever you're in Båstad don't miss (like we did…) the option to hop on a Stand up paddleboard! It's on our list for our next visit.
TO BE CONTINUED…
Thanks for exploring Skåne with us so far. We'll continue our adventure in Skåne in the next posts "Breathtaking nature spots in Skane" and "A photo lovers guide to Österlen".
And while you are at it, you also can follow us on Instagram (@helga.and.heini.on.tour)
BONUS – PHOTO SPOTS MAP ONLY FOR YOU
Want to know where exactly we took our photos? Or don't have the time to research good photo spots in Skåne by yourself? No problem we prepared a map with all photo spots for you.
Just leave your email here and we'll send it to you for easily take amazing shots in Skåne by yourself.