Mid-September, both of us loaded our bags into Olli's car for an extended weekend trip to a destination only a few "northern lights" might know: Hvide Sande. It is a lovely little town located on the outmost Western edge of Denmark on the coast of the North Sea.
HVIDE SANDE REGION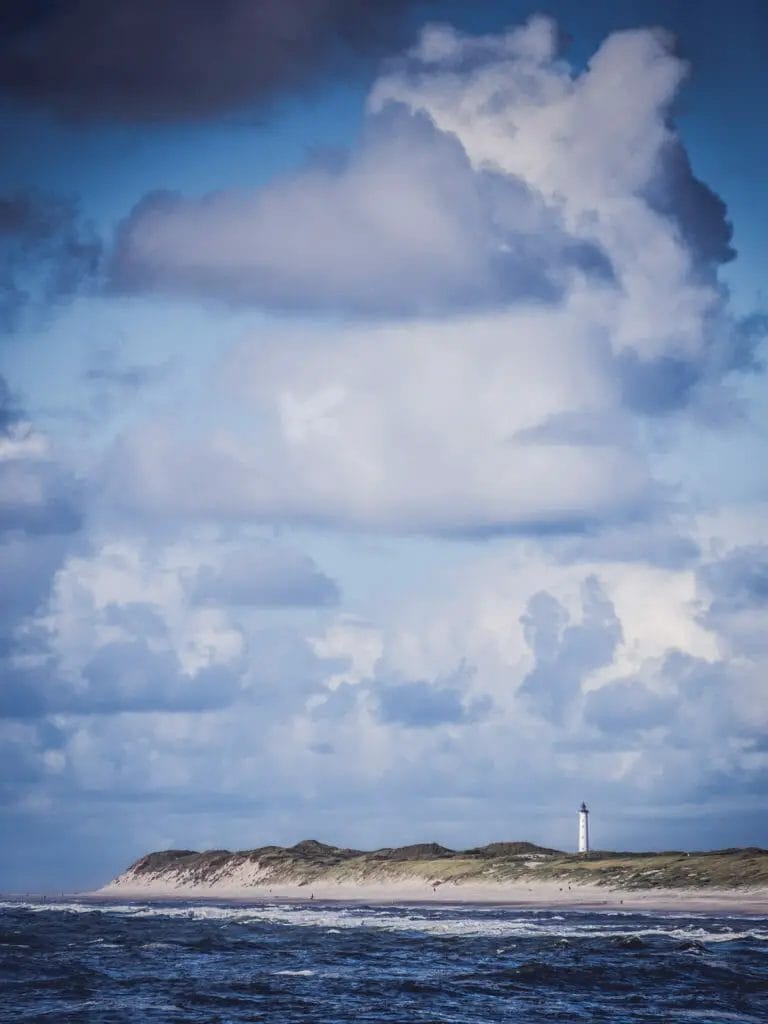 HVIDE SANDE HAVNEN
Heini/Oliver explored the harbor side one morning while Helga/Judith was exploring the running tracks along the dunes.
Although it was only built in 1931, the Hvide Sande harbor is now the fifth-largest industrial and fishing harbor of Denmark. It is placed around an artificial canal that connects the Ringkobing Fjord with the North Sea. Check out the Hvide Sande Harbor website to learn more about the harbor and its vision for the future.
In the harbor area, you find a lot of large and small fishing ships, as well as bigger industrial ships. You also can take harbor and sea trips from here and there are quite a lot of shops and restaurants in the area to walk around and maybe have a fish.
TYSKERHAVNEN
Tyskerhavnen in Hvide Sande is an idyllic place where time stays still and where artists and tourists in houseboats mix with local fishermen. The Tyskerhavnen is located at the Ringkobing Fjord and was established in 1912 to ship materials here to build the water locks and piers in Hvide Sande which wasn't much more than a settler community at that time.
We strolled around the area and enjoyed the old but colorful and charming little buildings. Green, Red, Blue… nearly all the colors were there. Some sheds were demolished and new ones, which looked much more like small holiday or summer houses were built. We also found some floating homes, which accommodate tourists as rental homes with a nice view of the Ringkobing Fjord. We used the good weather, a pier and the colorful houses for some nice photos including people/portrait shots (you'll find those further down in this article)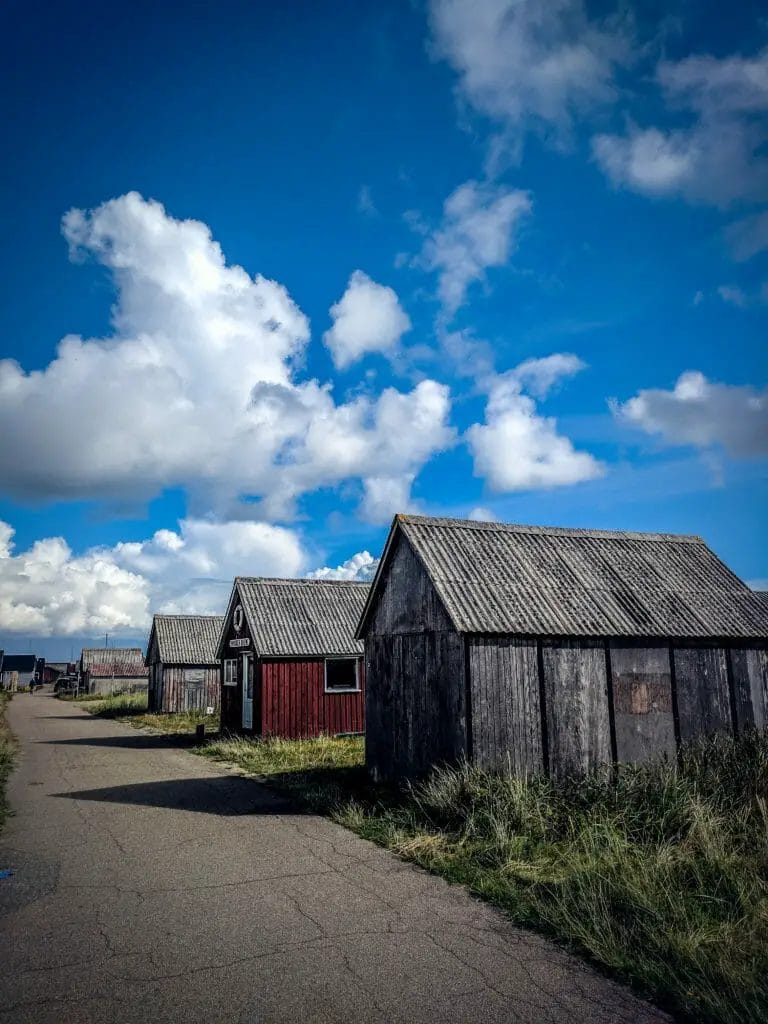 LYNGVIG FYR LIGHTHOUSE
The Lyngvig Fyr Lighthouse is the youngest lighthouse in Denmark and according to the tourism office people go crazy about it and it's probably the most photographed attraction in the area. We totally understand this, as it looks awesome from every angle and perspective, no matter if you can spot it from far away only or stand right next to it.
The lighthouse sits enthroned on a 17m tall dune and there's a wooden staircase with 69 steps leading from the foot of the dune to the tower, which itself has another 159 steps (yes, we counted them) that lead through a hobbit-like little door to a balcony with a panoramic view. Our way back down was lighted by mini-lighthouses which were placed on the staircase – very romantic!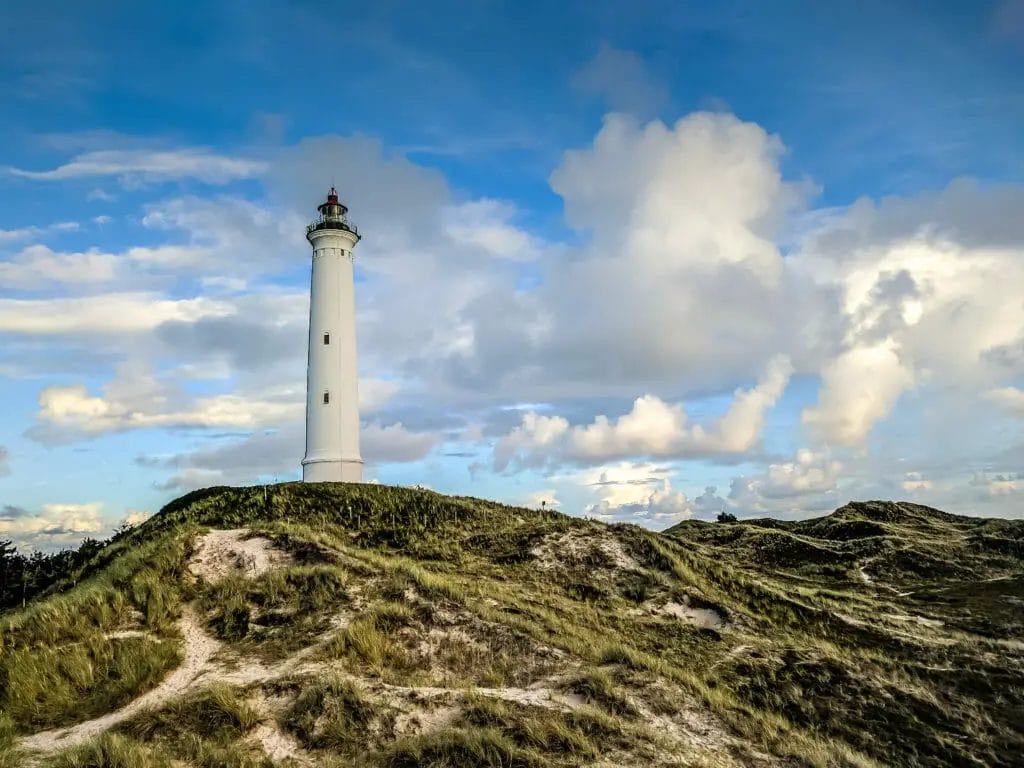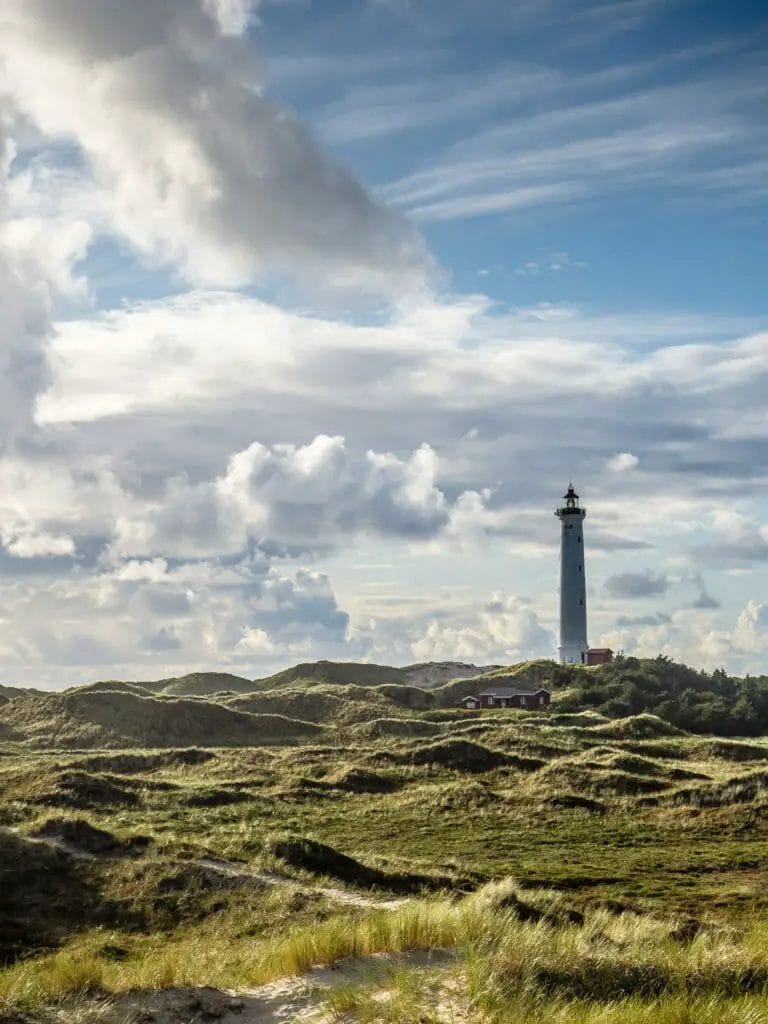 RINGKØBING
When we arrived in Ringkøbing on Sunday morning it was still and calm and nearly no one was out on the street. All the cafés and restaurants were just getting ready to serve the tourists later on. Some old men made their way to the bar for a Sunday morning beer.
We used this morning calmness to stroll through the nice alleys and streets of Ringkøbing, admiring the beautiful red brick houses, so-called Plesner houses and the cobblestone streets.
"Here are idyllic, stonepaved streets, beautiful old town houses and merchant houses that tell stories about a time almost lost in the past. Today, the old town is busy with trade and plenty of activities, sidewalk café's, and trade at the market place."
Source: http://www.hvidesande.com/ln-int/hvide-sande/ringkoebing
We moved on to the fisher harbor where we spend some time to do some people and portrait shoots before walking around the old fishing sheds and back to the town center for a short coffee and waffle break. I (Oliver) wasn't sure if I should have tried my waffle with soft ice and licorice sauce, so I waived the later 😉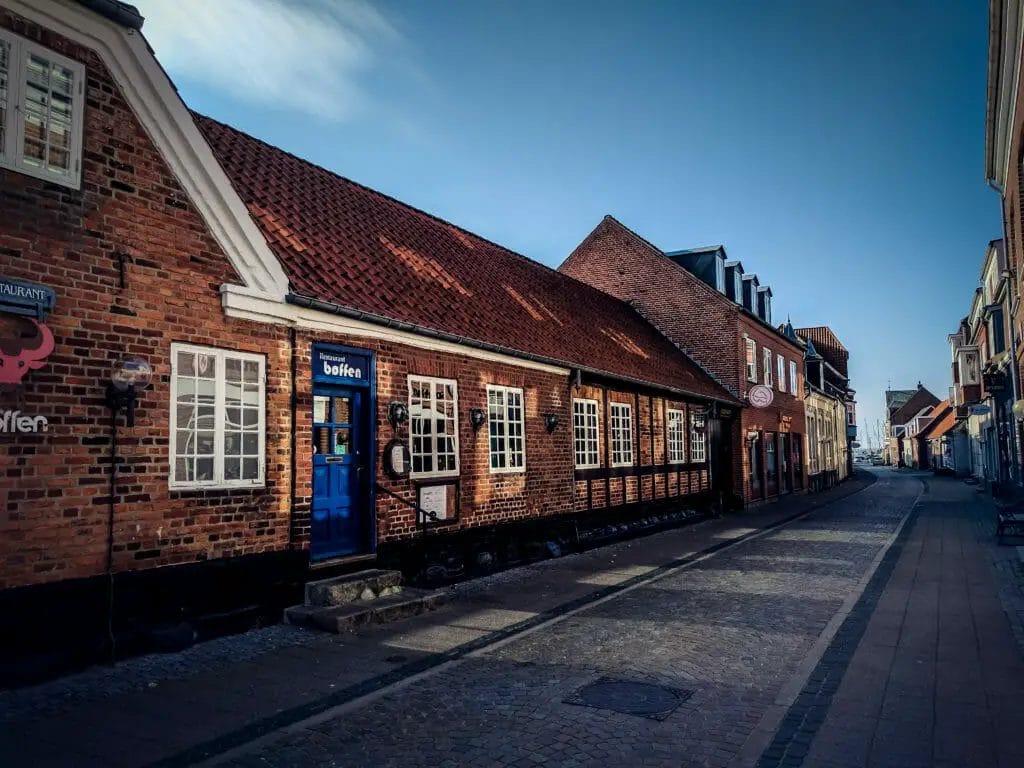 SKJERN MEADOWS
Skjern Meadows is a large (2200 hectares) wet area around the city of Skjern, with a lot of flooded areas, rivers and lakes.
It is ideal if you like to watch birds. There are a couple of watchtowers around the area. We stopped at one and had a look at the area around us and saw a lot of swarms of birds. Very impressive. The region is also known for witnessing the natural phenomenon called "Sort Sol" or "The Black Sun" when thousands of migrational starlings gather at dusk and form huge formations in the sky.
We originally planned to do some hiking in the area to experience the following adventures:
"On foot, bicycle and horse you can cross the river by two majestic suspension bridges and by rope ferries which are used as in the middle Ages."
Source: http://www.hvidesande.com/ln-int/skjern-meadows-gdk602818
But as it was, unfortunately, raining a lot at the time we only did a short tour along the river Å. where we also used our drone again to get a different perspective and some drone running shots for Judith.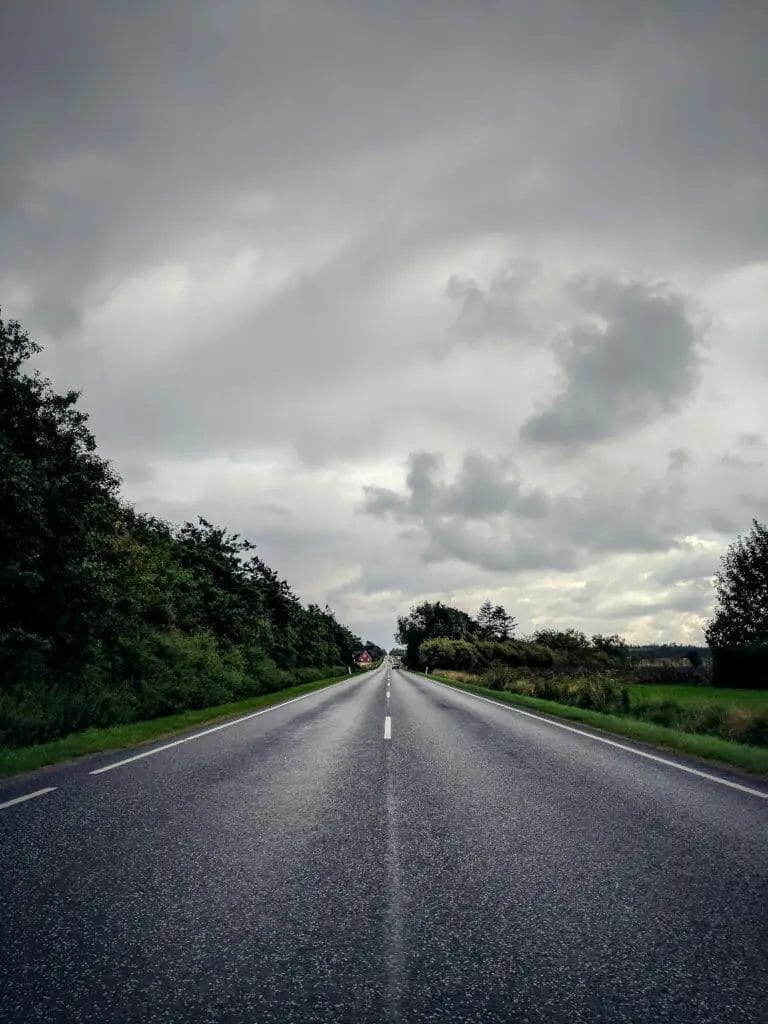 DRONE VIEWS ON SKJERN MEADOWS
BEAUTIFUL SUNSETS OF HIVDE SANDE
Sunsets. Who doesn't like sunsets? We do like them a lot. So the second day, after exploring the Ringkobing Fjord and the town Sondervig we relaxed a bit at the beach and enjoyed the really nice summer weather. We kept an eye on the watch and when it was time for the golden hour and sunset we found us a good spot in the dunes and watched the sun go down in flames over the North Sea. In between we had a lot of fun and also did some people shooting (Olli shooting, Judith being the model ;)) to make most of the great light that evening (you'll find some of these photos a bit below in the Portraits section).
When it was time for the sun to finally go down, the camera clicked all the times to not miss any moment. 😉 Guess we took hundreds of photos that evening from the sunset… We cut it down to only a handful to show here in the blog, so you won't get bored.
LANDSCAPES & NATURE
Landscapes & Nature. What can you tell about it? It is best enjoyed with your own eyes or even better live.
It's surprising how diverse nature is in Hvide Sande. Next to the beach, tall dunes border flowering heaths and not far you'll find large meadows along the river Skjern Å.
Nature and adventure meet at the unspoiled West Coast of Denmark. We loved the calmness and relaxed atmosphere of the area, allowing you to unwind and stay away from everything else than yourself, combined with a lot of space and opportunities to have an active holiday here.
We tried our best to capture the diversity of the Hvide Sande nature with our photos. Enjoy!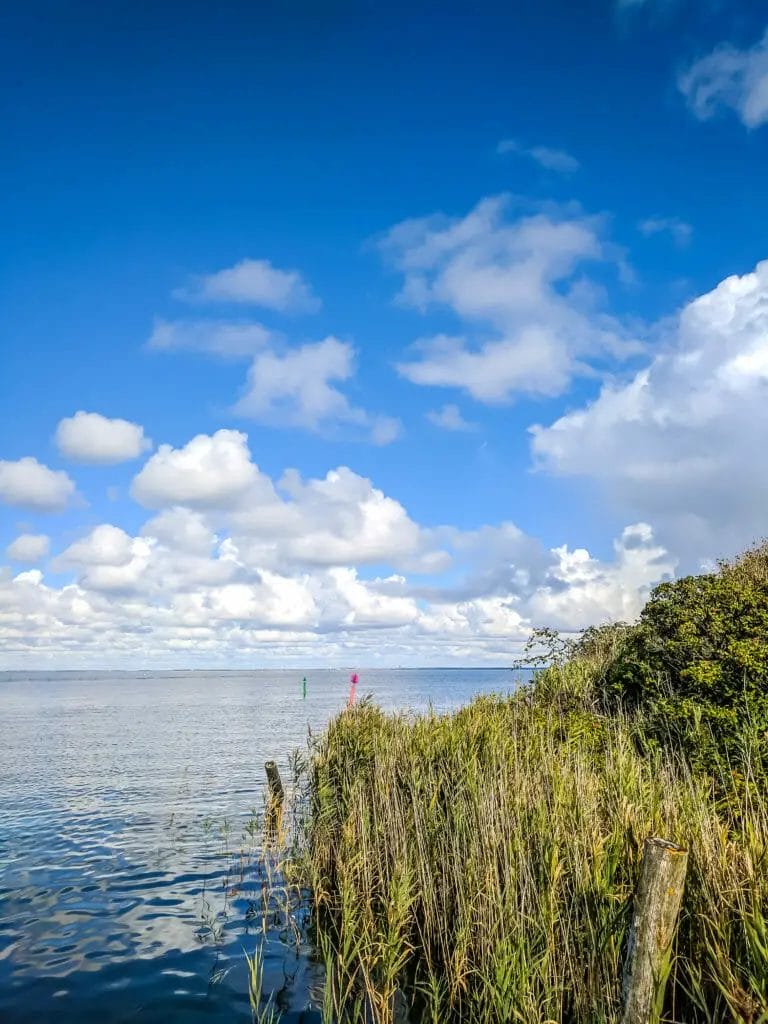 AERIAL VIEWS
A couple of drone views on the area around the Stien over Baggers Dæmning area.
SPORTS IN HVIDE SANDE
When we're on holiday, we usually spend as much time as possible outdoors – and Hvide Sande is an ideal place for outdoor lovers.
All varieties of surfing are performed both at the North Sea and on the Ringkobing Fjord. The kite surfer group we met for breakfast told us about the perfect waves and perfect conditions they had during their stay – made us want to try that next time.
Early mornings, Judith did her long runs along the North Sea beach and through the flourishing heaths and dunes which were covered with waving grasses.
Facing the roaring powers of the North Sea and feeling the forces of nature (and meeting a little seal during one of the beach workouts) provides enormous energy for the whole day. 24/7 outdoor pursuits… count Judith in!
We also met a lot of people on bikes on the paths at the Skjern A river delta.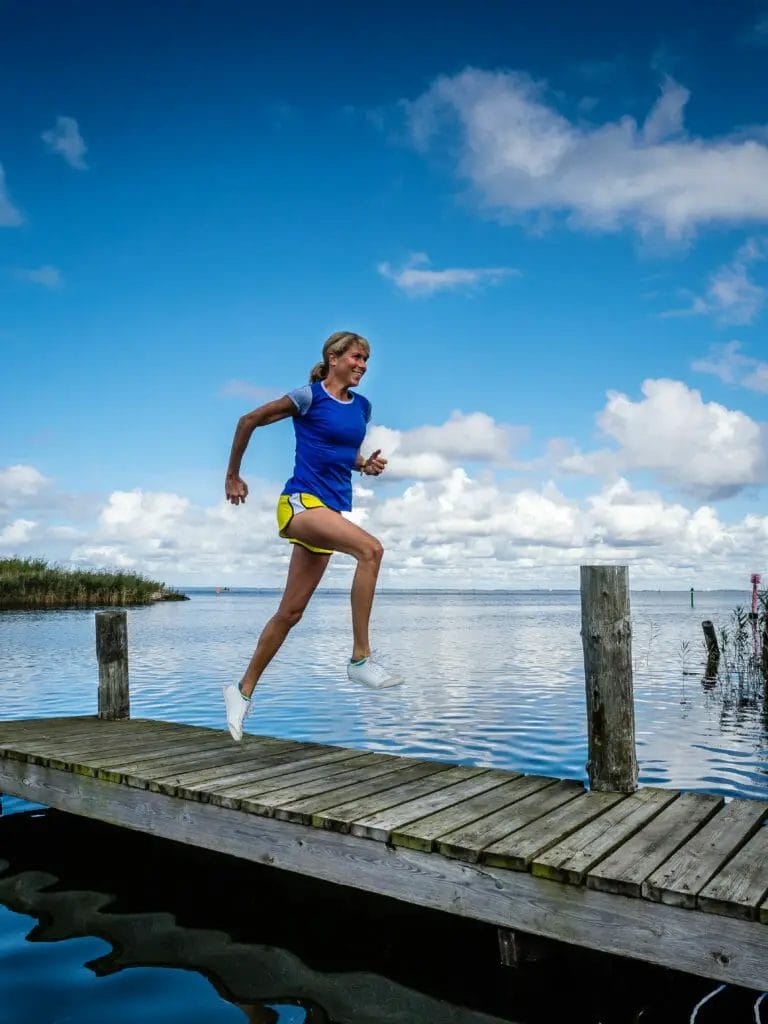 PEOPLE/PORTRAITS
As you can imagine we wanted to use the days in Hvide Sande to also do some running and people shots. We were thinking about all the nature, nice colors, sunset lights, some lonely pathways to run, etc. – basically Oliver/Heini being the photographer and Helga/Judith being the model.
We had a couple of ideas on what we wanted to try out and even ordered red & white balloons, took the helium for the balloons with us to Denmark, bought a yellow rain jacket, a red umbrella and so on.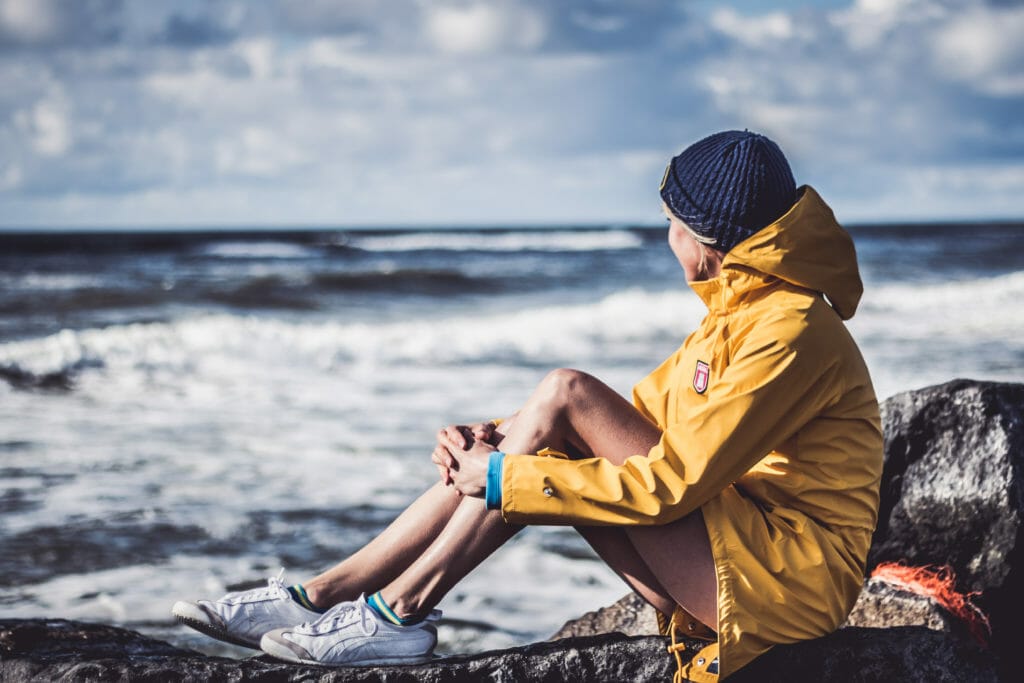 It turned out we never used the balloons (and the helium) nor any other accessories we brought (okay we used the yellow umbrella twice), except the yellow rain jacket and a blue beanie. Ask Judith how she liked it to have a wool beanie and a heavy rain jacket on while it is 18 degrees outside and the sun is shining…
Nevertheless, we think we managed to get some nice shots and are happy with the results.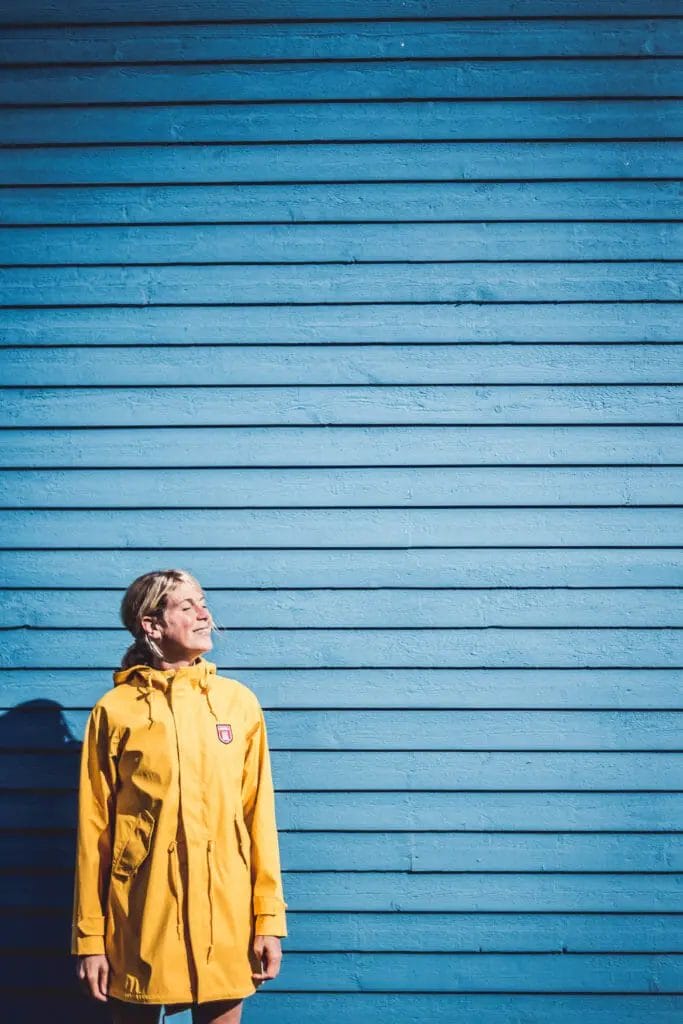 WHERE WE STAYED IN HVIDE SANDE
We stayed at the Drivethru Surfcamps Bed&Breakfast Hvide Sande, a traditional farmhouse style B&B with private access to the Ringkøbing Fjord. It is a bit outside of the town, Hvide Sande, directly at the main road to Søndervig. But don't get me wrong, it is easily reachable and it was very quiet at night (we always sleep with the windows open).
It was a really nice B&B with great hosts, two girls from Germany. The other guests were also German and the relaxing atmosphere in the house made it easy to get in touch (maybe because most guests are surfers). 😉 We had some great talks over breakfast with all of them.
The best start of the day though was the sunrise on our second day that we could experience from our room or better even still lying in bed. So beautiful. See for yourself.
If you are more the holiday home type, there are plenty of holiday homes available and fun to stay in, as you can read in our article "3 Generations, 2 Weeks, 1 Holiday Home"
GETTING TO HVIDE SANDE
Getting to Hvide Sande was really easy for us. We live in Hamburg and from here it is only about 90 min to get to the Danish border by car. So for us, it was clear that we take the car to get to Hvide Sande, which took us about 4 hours, to stay flexible during our stay.
You also can get to the region via train or bus etc. You also easily can fly to the next airport and take a train or bus to Hvide Sande. The public transport system is quite good in Denmark.
CAMERA GEAR
GOOGLE PIXEL XL
This time I (Oliver) took everything I have on camera gear with me. As usual, I have my Google Pixel XL with me, which stills accounts for the majority of my photos. I'm still a big fan of mobile photography, as it is very simple, not too many settings to worry about, it is always at hand, you directly can edit your photos after you took them and share them. The last part is quite important for me, as I like to share my adventures via Instagram and Instagram stories almost immediately.
OLYMPUS OM-D EM10
Another camera I have with me almost all the time when traveling is my Olympus OM-D EM10. I like the camera as she is very small (mirror-less), but still powerful. I can exchange lenses, so I can change between a Tele and a "standard" lens if needed. The camera gets me also more control over the settings, e.g. shutter speed when I take some running shots for/of Judith.
CANON 70D
This time I also brought my Canon 70D with a fixed 50mm lens (for portraits) and a wide-angle lens for better landscape shots. All this plus extra batteries etc easily fit into my camera bag, although it is heavy when walking around for hours exploring.
DRONE DJI MAVIC
New this time was also for me to bring my new drone, a DJI Mavic. It brings in new perspectives and possibilities of shooting, although I'm really just starting and still have to learn a lot. So far I'm happy with the outcome I could produce. If you plan to bring your drone to Denmark, make sure you make yourself familiar with the rules (e.g. you need to register your drone and also have insurance for it).
OUTTAKES
Okay, not sure if we really should put this section here, but we liked the idea of showing some not so perfect shots or behind the scene photos from our stay in Hvide Sande to show that all photos and even the blog article only tell a part of the story and that not everything was perfect or worked out liked we wanted. But we think that is life and that these "outtakes" are an important part of it.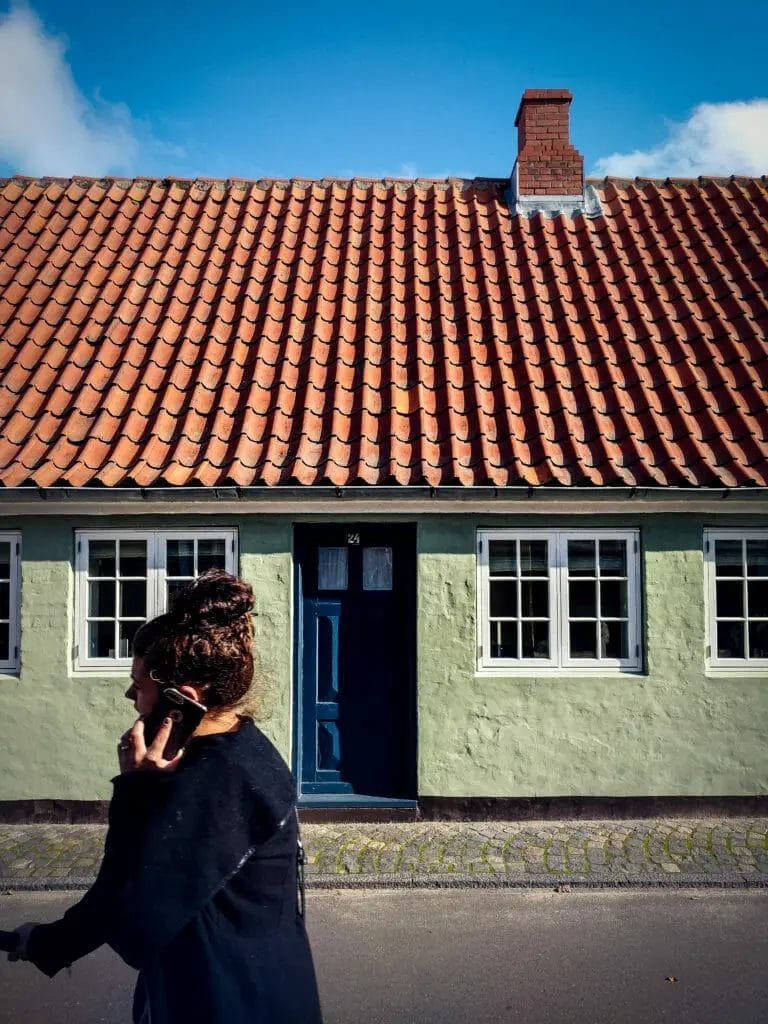 Disclaimer: We have been invited by the Hvide Sande tourism board to stay a couple of days in the region and explore, take photos and write about it. Nevertheless, all opinions and views are our own.