Heini aka Oliver here with a new photo story. You probably didn't know it, but I was born in the town of Celle in the last century (yes I'm that old ;)). Finally, after years of ignoring it, I decided to get up early last Sunday and drive to my hometown (about 120km south of Hamburg) and do some photographic exploring (while everyone was still sleeping).
HOMETOWN LOVE
I put together some a couple of photos of the city center of Celle for you. I wanted to explore more but had some time constraints and it also was getting too busy at around 10 am for my plans. So I'll have to do this again and probably will update this post with more photos.
As always you can find all of the exact photo spots where I took all the photos at the end in one single map for your convenience.
QUICK FACTS
Celle is one of the most significant historical ducal residences in Lower Saxony. For almost three centuries it served as the permanent residence of the dukes of Brunswick and Lüneburg.
Celle has a history going back more than 700 years. European nobility resided here. For this reason Celle is still proud to be known as a "ducal town".
Until recently members of the British royal family have been guests in the town. Among them were the Queen Mother, Her Majesty the Queen herself, her son Charles and the late Princess Diana, the Queen's daughter Anne and the Duke of Kent.

http://www.celle.travel/travel-tips/places-of-interest/about-celle.html
SUNRISE MISSION
I started my exploring tour of Celle at around 6.30 am to get the first rays of light as the sunrise was supposed to happen at 6.23 am or so. For me, that is normally too early but I didn't regret getting up for a single moment that day. If you look at the photos below I think you know why 😉
THE DUCAL PALACE
You can't miss the palace in Celle. It's white color really shines and stands out, especially when the sunlight is reflecting in it. If you live in a city you somehow get used to it and never really explore the things around you. This is what kind of happened to me and the palace. I know it is there, but never really looked at its beauty, till now. I remember watching my first theatre play in the palace theatre though. Really need to get in there again
TIMBER FRAMED HOUSES
I think this is what Celle is famous for. It's half-timbered or timber-framed houses. It is something I always loved since I'm a child and why I always considered my hometown as quite beautiful. Strolling through the streets on a Sunday morning, with this awesome early light and more or less no one else on the streets I finally had time to enjoy this beauty a bit more. I tried to capture the atmosphere and beauty of the houses with my photos below. Enjoy!
DOORS OF CELLE
If you follow me on Instagram you know I love facades and also doors. So here is a small collection of some #doortraits I found in Celle.
COFFEE ROASTER
For me one of the most beautiful storefronts in Celle. The Huth's Kaffee still has the charm of the old days. it was founded in 1851 and they still brew coffee inside in their own coffee roasting. Inside they also kept all the old shelves, furniture and equipment from the early days, which gives this place a special feeling.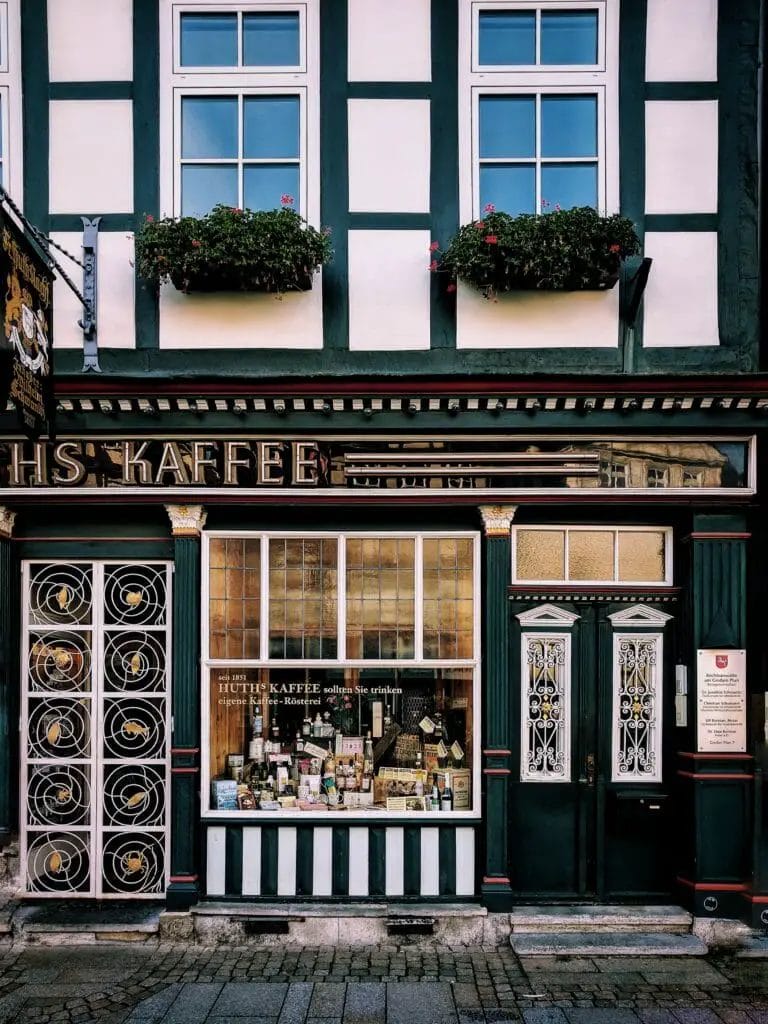 SIBLINGS
You get this view when standing in front of the palace and face towards the city center. You see the museum in the front and the tower of the St. Mary's church rise in the sky. Both with their white color forming a perfect contrast to the blue sky.
If you like you can go up to the tower (something I will do next time) and get a pretty nice view of the city from above. The tower is opened all year and costs just 1€ entrance fee. And if you like music, you should listen to the Trompeter which plays every day from the top of the church tower as well. For more information check out the website of the Celle Tourism board.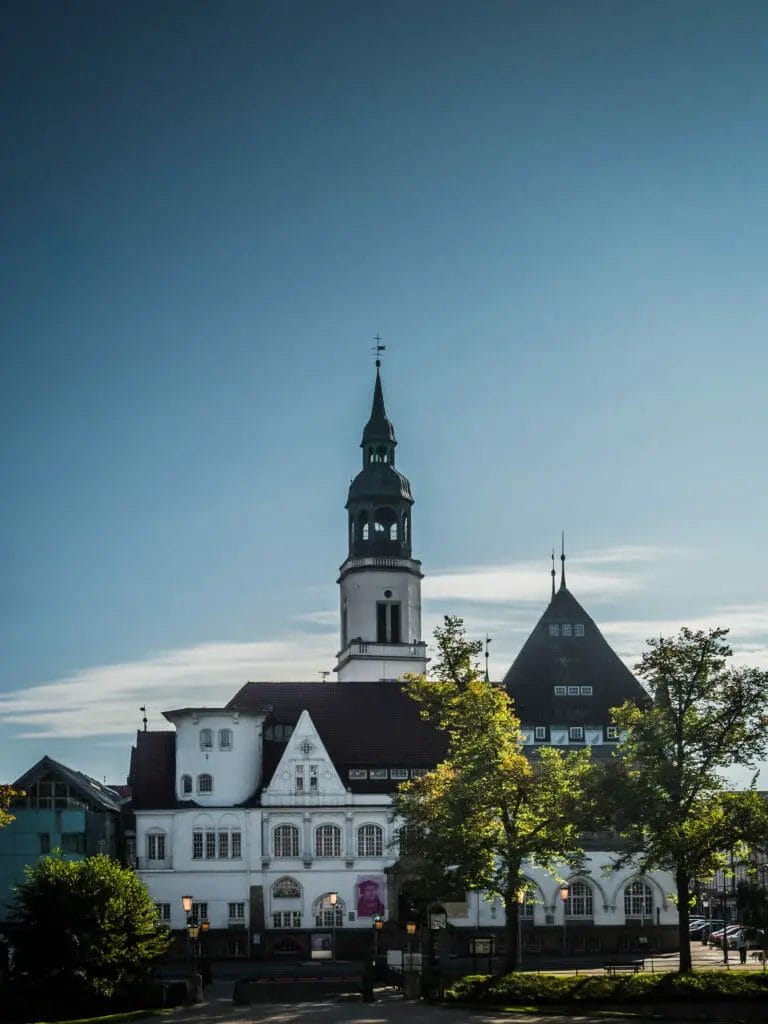 ALLEY HEAVEN
Celle is pure alley heaven for all of you who like the leading lines of small alleys and streets. Combine this with the beauty of the timber-framed houses you will find everywhere and you nearly can shoot blind and still get a good picture. Add even some really nice light around the golden hour and you have a perfect picture to show all your jealous family members and neighbors.
OLD CITY HALL
Look closely enough and you will see that what looks like stone bricks is in reality just painted on the facade to create an illusion of single stones. If I remember correctly the old city hall was painted in yellow when I was younger but this is what the building supposed to look like originally. But as rebuilding the stones was too expensive they decided to create this illusion instead. In the early days I never really liked it, no I think it is kind of cool.
Next time I also will explore the new city hall which is a bit outside of the city center in an old army barrack (former Taunton Barracks). Actually one of the largest brick army barracks in the world if I remember correctly. It is about 180 meters long and 25 meters high.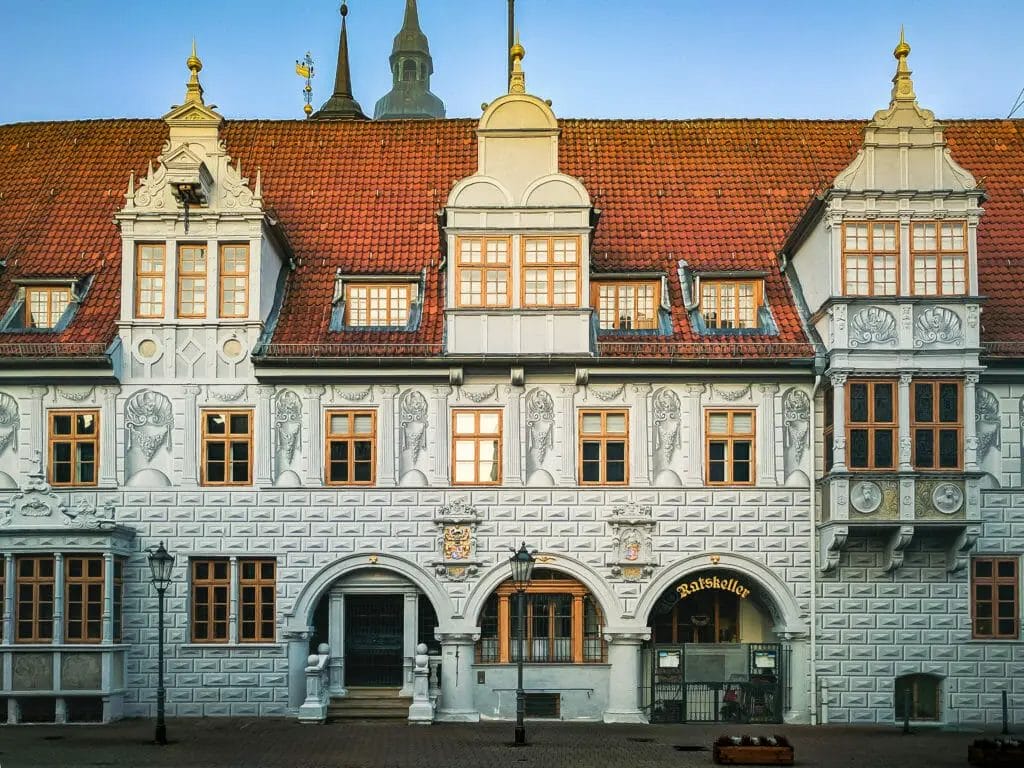 CELLE IN REFLECTION
Although it was a really nice day, I was able to find some leftover puddles and reflecting windows to show you Celle from this perspective. Sometimes this even turns a not so nice street or alley into a great photo.
CORNERS
A collection of some random street corners in the old city center I found during my stroll through Celle. No particular order nor a story I can tell you on them. Sorry guys…
TO BE CONTINUED…
I hope you enjoyed the photos and a little story behind it so far. As said earlier there is more to explore in Celle and I will definitely go back there for more exploration, simply didn't have enough time this time. And hopefully also then get the photo below without the crane, houses without scaffoldings or the city hall without a mobile toilet house in front of it. But life isn't perfect, we all have to deal with the situation as it is, don't we…
I'll then update this blog post as well, so stay tuned.
PHOTO GEAR & PHOTO EDITING
If you wondered which camera(s) I used to take all these pictures with, you might be surprised that I took most of them with the Google Pixel XL (affiliate link) and the rest with an Olympus E-M10 (affiliate link).
Most photos have been edited with Snapseed (I favorite the mobile editing on the go) and Lightroom. If you are interested in learning more about how I edit my photos, please leave a comment (at the end of the post) and I get in touch.
BONUS – MAP OF THE EXACT PHOTO SPOTS
I created a detailed photo spot map with all the exact spots where I took the photos above. If you're interested in the map, just leave your email address below and I'll send you the map right away.