Lindgrens Länga, Kivik, Ales Stenar, Sandhammaren & Ystad
In first part of our Skåne Adventure we explored Landskrona, Vejbystrand, Båstad, Hovs Hallar & more. In our second part of exploring Skåne, we explored Jympa, went on a canoe trip, biked to Torekov and hiked around Kullaberg and Söderåsen.
In our last episode in Skåne will show you the south of the region by hiking around Österlen, discovering breath-taking beaches like Sandhammaren, and pay the city of Ystad a visit. Enjoy and don't forget that we have a free map with all our photo spots for you at the end!
TIME TO SAY GOODBYE
After 6 days (5 nights), it's time to say Goodbye to Villa Sigrid.
Whenever we're on holiday, we try to not re-arrange things in our temporary Home too much and keep it as tidy as possible every day – to avoid the big clean up at the last day.
It never works out. – Despite the daily dishwashing, there's always a big mess of cups and plates again after breakfast. A spoon here and a fork there… crumbs of bread in the sofa crevices (intention to only eat at the kitchen table never comes off). Pillows and blankets spread on the floor… Who brought all the sand grains onto the carpet? And who placed the big plant into the other room just to make space for our backpacks?
Finally, we returned the keys and the cottage in its original sparkling condition and made our way to southeast Skåne.
ÖSTERLEN
Our hike of the day in southeast Skåne was a circular walk following Skåneleden Trail's sub-trail SL4, Österlenleden Trail, and the local Backaleden Trail.
We started the course at Rastplatz Brösarp. The plan was to follow the description that the skaneleden.se website provides for this trail, but somehow we missed to read one of the first sentences "Go to the very back of the parking area and follow the orange markers leading west." So we went to the entrance of the parking area and followed the orange markers leading east… (no problem, we just head to read the description in reverse order from here :-)).
We enjoyed the walk over the rolling hills of this broad and sandy heathland. The slopes are criss-crossed with the trails created by cattle as they wander through their grazing lands.
ÖSTERLEN – LINDGRENS LÄNGA & KIVIK
Back at the car, it was time to look for a building that Heini absolutely wanted to get in front of his lens. We found the house (Lindgrens Länga) hidden in a beautiful, rolling landscape and took some shots. Further on our way, we made a quick stop at Kivik for coffee and Kanelbullar and spend the rest of the afternoon in Stenshuvud national park by the sea.
KÅSEBERGA
Time was flying and we had a late check-in at our hotel (Kåseberga Gårdshotell & Spa) in the fishing village of Kåseberga. The owner was lovely and gave us a tour of her newly opened resort before we went to dinner in the harbor restaurant (Kåseberga Café & Bistro) which she owns as well. As dinner was included, she'd asked us in advance about food intolerances – one of us is vegan and the other with lactose intolerance.
Helga had to stifle a laughter when both of us received a vegan plate with various little dishes. Hungry Heini's face dropped, he's not a fan of fruits and vegetables at all. However, the food was amazing! It's not easy to prepare a good vegan meal when you're not used to it. In some restaurants, the only vegan option would be a (boring) salad with nothing but green leaves. By contrast, this plate was full of tasty little gems! Heini was putting up a brave front and also started eating a bit of hummus here and some lentils there… but somehow the chef must have noticed that he's not completely happy. A big plate of fish and chips found its way towards him. With a big smile, the lady said "for the man who's not vegan".
With perfectly filled stomachs, we could have gone directly to bed but we're so close to another special place that we wanted to visit…
ALES STENAR
Just a short walk away from the harbor, majestically located on the ridge above the village, is Ales Stenar. "Sweden's Stonehenge" consists of 59 massive boulders arranged in the 67 meters long outline of a ship. Not sure if it's an astronomical clock or a grave monument, we were simply amazed by this mystical spot. But so were others that stood in line to take pictures of the sunset behind the stones. We stepped aside, had a last fabulous view over Österlen's hilly landscape and the Baltic Sea, before strolling back in order to slide into the warm water of the hotel's whirlpool.
THE LAST DAY
The last day. "Oh NO" was going through our heads. "It can't be". But you have to accept reality, so we were looking forward to what this day would bring instead of looking back and wine about how fast the time passed here in Skåne.
We started the day slow with a healthy breakfast in the sun. Helga was in heaven because the hotel owner made vegan food extra for her for breakfast – not only the porridge was delicious! Oh, it feels so good to have a tasty breakfast with fresh fruits outside while the sun kisses your face! So we took our time, lots of coffee in the sun, eating and eating and making plans for the day. Unbelievable, the weather forecast said something about clouds…
SANDHAMMAREN
It was time to hit the road. We wanted to visit the beaches Sandhammaren and Mälarhusen and pay Ystad a visit before heading home to Hamburg. Luckily for us, the beaches were only about 10 minutes from our Hotel. After a quick drive, we put off the shoes and felt the fine sand of Sandhammaren.
Even better: despite being one of Skåne's most popular beaches, Sandhammaren was almost empty, maybe because the weather had changed drastically and it was all cloudy and not warm at all any more.
But weather never really stopped us from doing any activity. We went on a long walk along the wonderful linear stretch of fine white sand towards Mälarhusen. We did a stop here and there to take some pictures of this enormous sandpit or just sat in the dunes and looked towards the horizon. Meditating by the sea and listening to the sound of waves is always a perfect method to calm the head. Time flew by and at some point we had to make our way back to the car, leaving this fantastic beach behind us, and headed to Ystad.
YSTAD
Ystad was the complete opposite of an empty and calm beach. The city was filled with people wandering through the alleys and shopping streets. There was an international festival going on that day, that's why. We moved with the stream and took some turns to the alleys left and right, which were much more unruffled. Heini was in his element shooting all the alleys…. YEAH!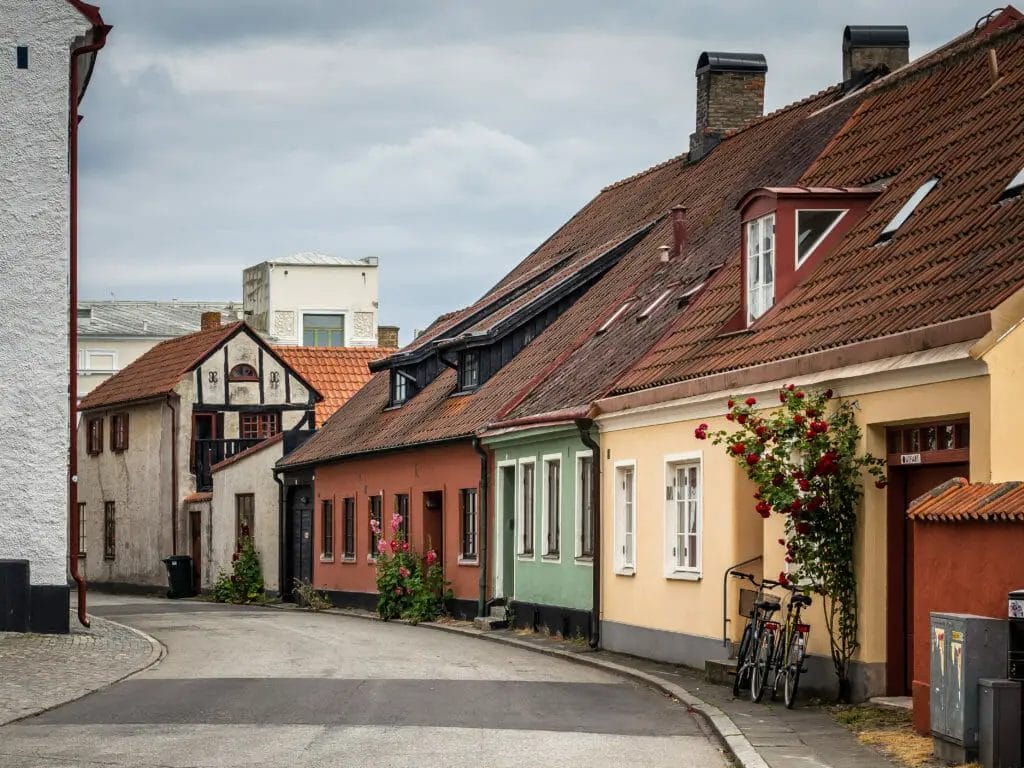 At some point hunger hit us and we looked for food… Not an easy task…again. We ended up at a bistro just before it started drizzling. Heini ordered a burger and Helga a salad with falafel and we were sitting outdoors, protected by an awning from the now pouring rain, around us the people covering their shopping and trying to escape the shower.
When we were finished with our lunch, the rain stopped and we explored the city and the festival a bit more, before stocking up on supplies for our trip home and then we had to finally hit the road. Hamburg was calling. 6 hours journey ahead of us…
HEADING HOME
Fortunately, it felt much quicker and we had luck that we arrived at the ferry just before it left, so we didn't lose much time here. Kind of at our standard time at around 10pm, we arrived safe and sound in Hamburg and had, as so often in the last days, our late dinner, remembering all the great things we experienced the last week. One thing was clear for us that evening:
We definitely will come back to Skåne. It's like they said in the beginning "Once you've visited Skåne, you'll want to come back. Again and again."
Thanks a million for being part of our exploring adventure through Skåne. We hope we could give you all a great overview on this stunning area.
If you have question on our travel route, lodging, restaurants or cafés and the photo spots, feel free to ask. Best way is to leave your question below.
FREE PHOTO SPOTS MAP -DON'T MISS OUT ON THIS OPPORTUNITY
Want to know where exactly we took our photos? Or don't have the time to research good photo spots in Skåne by yourself? No problem we prepared a map with all photo spots for you.
Just leave your email here and we'll send it to you for easily take amazing shots in Skåne by yourself.